Traveling with babies can seem totally overwhelming, way more like a TRIP than a VACATION! There's definitely been times that I'm like, "Is this worth it?!" But after years of experience taking my kids on planes, trains and automobiles, I finally have THE routine down. I literally have a running list in my phone of things I canNOT forget when we travel with kids or with a baby (two very different scenarios ha!). Most of them are not 100% essential, but they truly make my life 100% EASIER when traveling. In this post, I am going to spill all my BEST baby travel ideas and gear!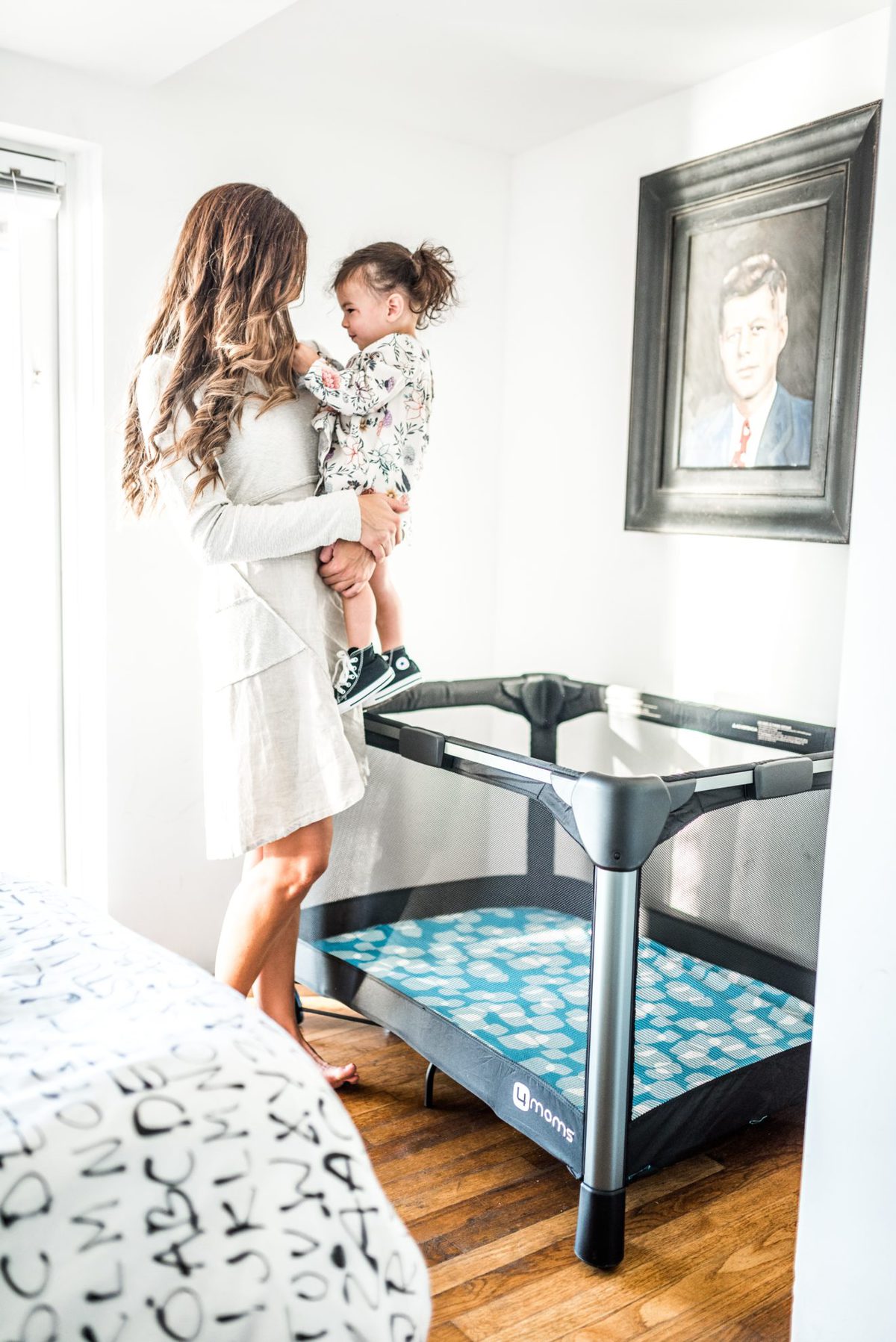 White noise machine
A white noise machine is a MUST (or at least a white noise app on the iPad!) This particular machine is my FAVORITE one I've ever used! I love packing this white noise maker because it's compact and plugs in anywhere. We use this at home and it's best to have on hand when traveling. I prefer it over a phone or iPad because it's sole purpose is the noise. No more sacrificing your phone all night to help the baby sleep! Fun tip: if you're staying somewhere that has Alexa, you can ask her to play white noise all night!
Portable blackout shades
If your kids are used to sleeping with blackout shades (ahem, MY kids) these portable blackout curtain blocks are life.changing. They have suction cups and are amazingly designed to not damage any window! They're so ridiculously easy to take on and off, and definitely the best option I've ever found for darkening rooms.
Before I bought these, I had even resorted to bringing tin foil with me for the windows! It has been such a source of stress for me, so I love that these are so versatile and functional. We bring three of these and it's always been enough for us. It's been so worthwhile to invest in these for any time we are staying somewhere where blackout curtains aren't available. They're also super easy to travel with and don't take up much space at all (only 1.4 pounds each!). There's definitely a reason why they've earned 1,000+ stellar reviews.
Baby sleep space
If you're in the baby mode of life, this sleeping space is a MUST! When you travel with a baby, it's almost impossible to figure out a place to put your little one down that won't cause tears (on both sides!) Most of the time in hotel rooms, you're limited to a super small closet that rarely actually fits the entire travel crib, or the bathroom, and neither is conducive to a restful sleeping situation. My babies are always used to being put down in their own room, in a crib and having their own space. That's just not possible for hotel rooms…UNTIL NOW!
This blackout baby tent works AMAZINGLY!! It takes about 10 minutes to put together but it is well worth it! We have taken it on several trips and it completely blacks out the baby's environment while still being totally breathable and 100% SAFE! Put a little white noise maker under the tent, and voila! The baby has their own sleep space and you're able to enjoy your evening without whisper-yelling at everyone to be quiet! It's like having two hotel rooms without paying for two hotel rooms because everyone is happy and well-rested!
Travel strollers
Babyzen YOYO Stroller
The Babyzen YOYO stroller is probably my favorite baby travel stroller of all time! It's the very best one we've used, mostly due to the fact that you can actually push it onto an airplane, fold it and fit it in the overhead compartment! It's so nice to be able to pull it down after the flight and put the baby right back into it so you can have your hands free for all the luggage. It is the MOST compact stroller, albeit a little pricey, but totally worth it. It also features a removable, washable cover, extendable leg rest and reclining seat!
Baby Jogger City Tour
The Baby Jogger City Tour also folds up into the airplane overhead space (in my experience), so no more waiting for your stroller on the jetway while your baby wriggles around in your arms!
My sister took this ALL OVER Europe last summer and raved about how amazing it was while they packed as light as possible. Seriously she shared a suitcase with her baby, that's how hard core she is about packing light! And this City Tour stroller was the perfect fit for their travels.
3D Lite Travel Stroller
This stroller is the highest rated Amazon umbrella stroller with over 4,400 glowing reviews! It's got a great undercarriage basket and at only $69.97-$79.39 (depending on the color), it is definitely the best bang for your buck if neither of my suggestions above are in your price range. I haven't personally used this one, but it's by far the highest rated in the small and lightweight stroller category.
City Mini GT
If you need a double stroller for travel, my favorite is the City Mini GT! The magic of this stroller is the one-handed, quick fold that makes it collapse instantly. It's lightweight for a double stroller and maneuvers like a champ!
City Mini Double
If you want to save a little money, the City Mini Double is also a great stroller. It's a slight downgrade from the GT, so the wheels aren't as smooth, but it's still an amazing option with lots of great features and saves you about $100!
Dental hygiene
I cannot tell you how many times I've forgotten to bring kids' toothbrushes and have to make a late-night drugstore run! I can literally pack everything my kids could ever potentially need for any scenario and STILL forget the toothbrushes and toothpaste.
My kids will NOT touch grown-up toothpaste ("too spicy!"), so now I've made a mental note, an iPhone note, and a post-it note to never forget the toothbrushes and toothpaste! My kids love this toothpaste because it's super fruity!
Car seats
You'll probably want to check a car seat unless you're traveling to Florida or NYC, where they have Uber Car Seat! This service provides car seats in UberX vehicles, which is amazing. But for the 99% chance that you aren't traveling to one of those destinations, a car seat is a must!
I've talked a lot about my favorite convertible car seats, but some are definitely better for traveling than others. Some people opt to take the car seats on the airplane, but we usually gate check ours because it's free!
Car Seat Cover
We like to throw the car seats in this $12 bag to keep them from getting filthy or wet after we check them. I also love this $40 version that not only protects from germs, but is padded to protect from damage! Pro Tip: we actually will throw the blackout blind shades into the bag to save space in our suitcases. The car seat bag is the perfect place to stow other non-breakable items (coats, baby tent, etc) because the airlines don't charge for car seats!
Inflatable Seat
If your child is aged 4-11 (40-100 pounds) the BubbleBum seat is going to change your life!! It's only $25, self-inflatable, and makes it totally safe for kids to travel in the car with just this seat and a seat belt! It's portable, packable and inflates in seconds. We travel with two of these for the big girls plus Millie's car seat, which totally feels doable.
Toddler bed
I'll be honest, my kids usually sleep on the floor at Gaga's house (my mom's) just fine, but at a hotel when you have no idea how long it's been since they've cleaned the carpets or for kids who need the security of a bed, This toddler travel bed is THE answer! This inflates in 30 seconds (it comes with an inflater!) and has side security rails to prevent rolling out.
I love that there are so many uses for this bed, including for guests when you aren't traveling, or little ones who want to come in your room at night! You can use this for YEARS, and has almost 2,000 amazing reviews.
Travel bag
Freshly Picked
Traveling with a baby and a backpack go hand in hand. Airport or car travel are both made infinitely easier when you have both hands free! I love my Freshly Picked backpack because it can also double as a work bag. It has a laptop sleeve in it and the sleek design is both timeless and gender-neutral!
Top-rated $25 Diaper Bag
Another option is this backpack, the number one selling diaper bag backpack on Amazon. It's only $25 and has over 1,200 stellar ratings! So if you don't want to invest in a Freshly Picked bag, this is an amazing option for a fraction of the price! It's huge, waterproof, and comes with a diaper changing pad!
Travel cribs
4moms
This 4moms portable crib is amazing. You just have to pull it out and push the center down and it pops right into place! It literally takes seconds to assemble. You probably wouldn't want to carry it around an airport because it is a little heavy, but if you're traveling in a car it's perfect!
If you're looking to invest in a travel crib that can double as a playpen, this is the biggest one I've found! It now even comes with a removable bassinet and changing table for versatility to grow with your child.
Babybjorn
If you're looking for a baby travel crib that is more lightweight this BABYBJORN one is amazing. We've been using the same one since I had Anabelle, so it's lasted through three kids and tons of trips. It assembles quickly (under 1 minute), and is a breath of fresh air after many other travel cribs have almost put me in tears of frustration over the years!
Baby Joy
I also got this travel crib that we use just for the beach. It's under $83, super lightweight, takes a little longer to assemble, but is a great basic option that gets the job done!
Lotus
My sister took this Lotus baby travel crib on her over-one-year trip around the world and still LOVES it! It has a carrying case that is also a backpack (!!), and for $209 is pretty affordable. It's a great happy medium between a higher-end crib and the least expensive option.
Here's a little pic of Millie sound asleep in the Lotus crib the day after my brother Jake's wedding. Snug as a bug!
Travel light, or not!
When you're spending money and trying to do fun things as a family, it's a huge bummer when lack of sleep or inconveniences can make everyone super GRUMPY! These baby travel tips and gear have been a lifesaver to our family (and our vacations) on more than one occasion, and I hope they work for you too!