You guys know I fancy myself the queen of the baby registry, so I'm always looking for deals on my most used stuff! I am super excited that buybuy BABY is having a massive sale and it includes so many items I use and LOVE! I'm talking tippy-top of my list items, stuff I tell every new mom about and gift to anyone I know who is having a baby!
buybuy BABY is the one-stop shop for anything and everything you'll ever need when having a baby and their Big Deal Baby Sale is a rare opportunity to get some of the best, most popular, useful and highly-rated baby gear at the greatest prices.
Nine years ago, when I got pregnant with Anabelle I mapped out, in true type-A over-planner fashion, everything I knew I wanted in the baby gear arena. Little by little I was able to get everything because I watched and waited to get it all when it was on sale (v v important when buying all the baby things)!! Before I ever blogged, it's always been in my nature to seek out the best deal before committing to a purchase. I love when massive retailers like buybuy BABY have these killer deals because you can knock out SO much of your list in one fell swoop! Keep reading to hear all about the stroller I've been waiting 8 years for and finally got, and which items I stock up on for gifts!
1. Bugaboo Stroller
Bugaboo invented the high-end stroller niche. We all saw the celebs with their Bugaboo stroller circa early 2000's and HAD TO HAVE! Bugaboo became synonymous with the IT STROLLER after gracing the pages of People magazine, and I've wanted one ever since. And let me tell you, it really is everything and more! This one went on sale and I was finally able to snag one! It is ALWAYS excluded from coupon deals, so getting $100 off is a BIG DEAL!!
The Bugaboo Lynx is a super highly-rated, lightweight version of the iconic original. It is so easy to maneuver, glides like a dream and has a massive undercarriage that fits all the things! It's super easy to flip the seat around forward or backwards and features a five-point harness that's a cinch to use. And my kids always love the security of a belly bar! I also love this deep sunshade and the fact that this stroller accommodates tall people with the adjustable handles!!
Word to the wise: while being lightweight, this stroller does not fold up super compact. So, if you don't have tons of garage/storage/trunk space, my other stroller recommendation would be the City Mini GT2 (more on that in a min)!
2. Bugaboo by Nuna
This stroller matches up perfectly with my very favorite carseat that was made to fit right into the Bugaboo! It's literally the same exact car seat that we've used and loved so much with 3 of our 4 babies but made to perfectly click into any Bugaboo stroller without the use of an adapter. Talk about a dream team right there! Right now, this carseat is $50 off, which is one of the best deals you'll see all year on it!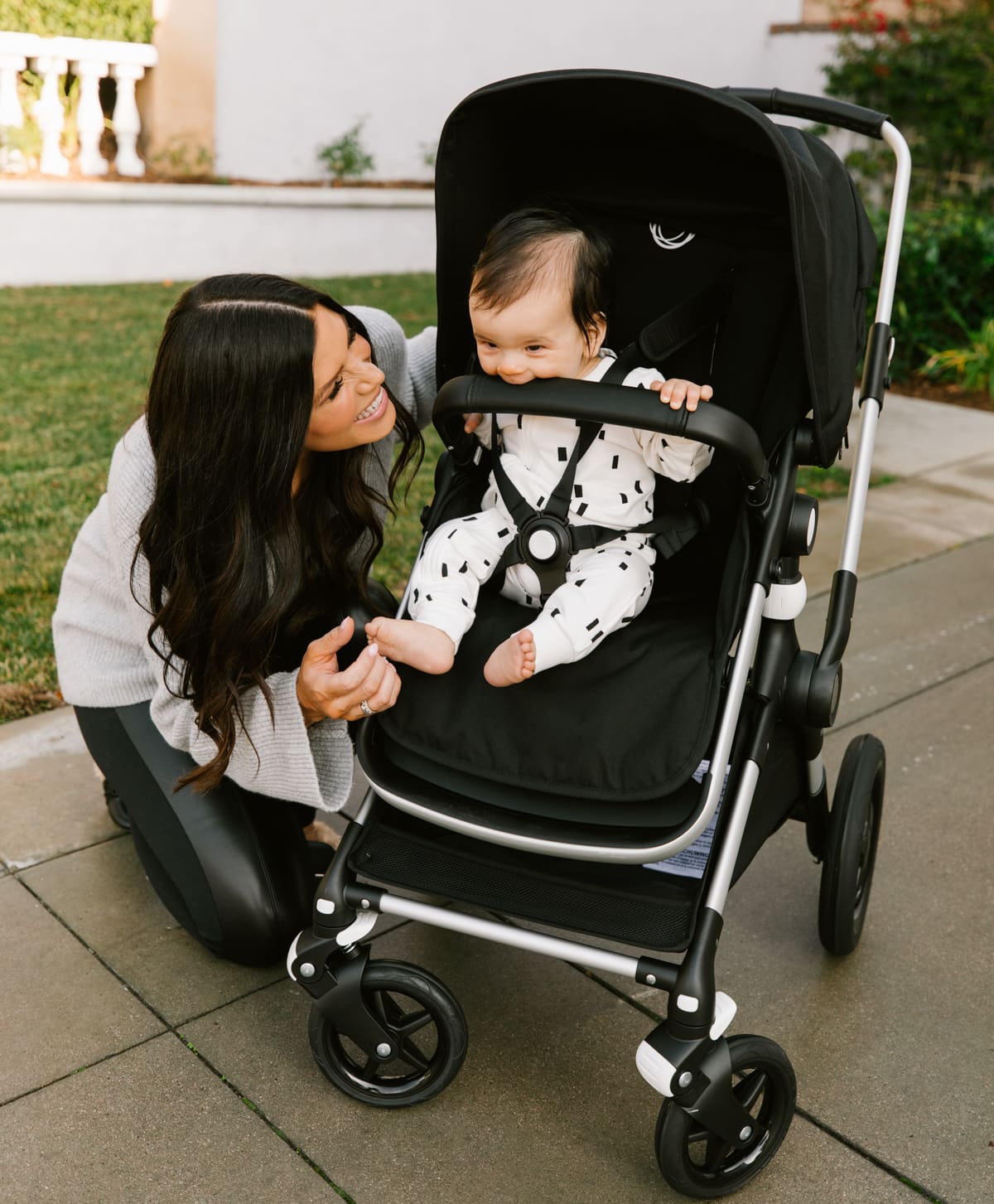 3. City Mini GT2
This Baby Jogger City Mini GT2 stroller is worth of everyyyyyy penny. It's a one-hand, quick fold and magically folds down into the flattest thing ever! This is my GO-TO stroller for travel, for Disney, for getting on and off of public transportation, and any time you need to fold or unfold a stroller with only one hand (so, always?!). I am THRILLED that it is part of this sale, it's super rare to find amazing deals on luxury strollers, and this one is also the very latest version of the City Mini! Right now this stroller is 20% off, which is a killer deal on a brand new model!
4. Ergobaby
We just got back from our Disney World trip and I'm confident in saying that the ONLY way to travel is with an Ergobaby carrier! We couldn't take our stroller in lines for rides at Disney, so the Ergo was the greatest thing ever for this trip! Walking around, standing in line, taking other kids to the bathroom (honestly ANYTHING) is made easier when you have a hands-free carrier for the baby. I also use my Ergo when walking around Costco, going to the beach, on hikes, making dinner and cleaning. Basically any time you'll need two hands (forever and ever amen)!
I love that this can go on your front or back and it holds babies from newborn up to 45 pounds! It is so functional and a total ESSENTIAL that I've used until the last possible minute for every baby. They've really come a long way too in the past few years that now you can face baby in OR out with the omni 360 model. I can't recommend this enough, especially with the killer deal going on right now: 30% off the Ergobaby 360 carrier!!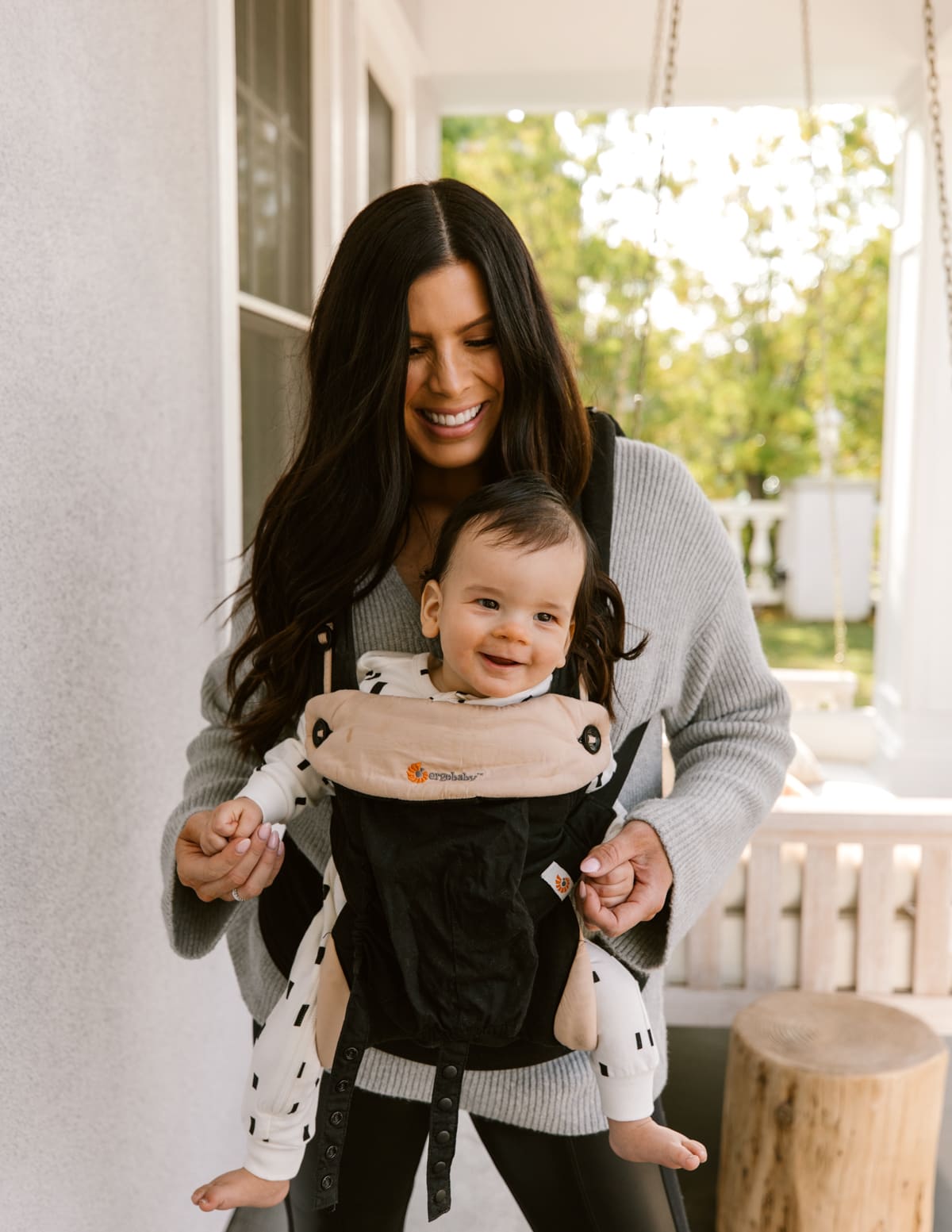 5. JJ Cole BundleMe
If you live in a cold climate, the JJ Cole BundleMe is a MUST!!!! You can't safely strap a baby into a car seat while they are wearing a coat, but who wants to continually take a baby in and out of warm layers?! This is the BEST alternative because you can buckle the baby directly into the car seat and then zip this warm, cozy sleeping bag-blanket all around them! My sister-in-law had her baby in Utah in October and I told her she HAD to get one of these for our sweet niece Bella. It gives total peace of mind if you're going to be out and about with the baby in a car seat or stroller because it's super safe and totally warm! The JJ Cole BundleMe retails around $40 and is a full 20% off during the Big Deal Baby Sale!
6. aden + anais
aden + anais makes some of my very favorite baby products, and I'm constantly gifting their stuff to everyone I know! These hooded towels are simply the best, great for a first-time mom or someone who's having their 6th child and everywhere in between.
I also love having the easy swaddles for when I'm not around to swaddle my baby professionally 😉 These are a super great option for a grandma or babysitter or older sibling to still keep your baby swaddled if they don't feel comfortable doing it themselves! The shape and velcro straps make it a breeze, and nothing calms a baby like a good swaddle! ALL aden + anais is 20% off during the buybuy BABY sale, so STOCK UP!
7. Baby bathtub
A baby bathtub is something a lot of people forget to buy when having a baby! This one folds totally flat and is a PERFECT gift option. Anything OXO is so well made AND you can get it for 20% off right now, making it only $48! It will last you for years and you'll love that it doesn't use up precious bathroom storage real estate.
8. Play Gym
We have used a baby gym for every one of our kids and it's always a HIT! Harry loves his the most of all our kids, and I love that he's learning and growing with it. This is the perfect way to get babies to develop motor skills, play, and self soothe, giving you time to get a few things done yourself! I specifically love that this one has soft "bumpers" around it so the baby isn't rolling all over the room ha! This ocean–themed play gym is 25% off, making it only $75!
Bugaboo Lynx Compact Stroller
Bugaboo Turtle by Nuna Infant Car Seat
Baby Jogger City Mini GT2 Stroller
Ergobaby Omni 360 Baby Carrier
JJ Cole Original BundleMe
aden + anais essentials Starry Star 2-Pack Hooded Towels in Grey
aden + anais essentials easy swaddle 3-Pack Wrap Swaddles
OXO Tot Splash & Store Bathtub in Grey
carter's My Ocean Friends Play Gym
hi hi, buybuy BABY!
You guys, during this massive event, entire BRANDS are on sale. We did a round up of some more of our favorite baby items, comprised of everything you'll need for yourself or anyone you're buying for. And if it's YOU having the baby, don't forget to utilize buybuy BABY's registry service as well! From expert assistance to easy returns and price matching, buybuy BABY's is the end-all, be-all of baby registries!