I am about to introduce you guys to a brand that if you aren't already familiar with you might just become completely ridiculously head over heels obsessed with. Because their clothes are the type that will turn heads and make other moms ooh and aah and classic enough that you'll never want to give them away, cute enough to make you want to have more kids just so you can hand them down!!
Ani is in a uniform at her school this year, but she loves to change into colorful and playful outfits as soon as she gets home! One of our favorite places to browse and shop for playful kid's clothing is the British line Boden. Their children's lines feature bright colors and patterns that my girls love, all made in classic shapes and cuts that stay in style year after year. Boden always has the cutest back-to-school options for girls and for boys.
It's been so fun to see the things Ani gravitates towards in stores and in her closets. I love the structure that her uniforms give us on school mornings, but it's also so exciting to see her personality and style shine through in the colorful things she wears at home and at play. While I'm usually drawn to more subtle hues and muted tones, Anabelle is DEFINITELY way more into bright pops of color which honestly really does fit her personality.
As soon as I showed Ani the animal appliqué skirt from the girls online catalog, I knew she would be obsessed. I adore the sweet little bunny peeking out, and it has that perfect twirly shape that my girls just die for!
Of course, you know what a sucker I am for a good pair of Wellies. They're just so practical and cute! The girls can stomp in mud puddles or sprint around the beach to their heart's content and I don't mind one bit.
For an afternoon of playing, Lyla wore this overall dress (with pockets for all the little treasures she finds on the playground!). The straps are adjustable, so I'm excited that there's a bit of wiggle room to help this dress grow with her, and the lining is a bright floral that makes getting dressed a little more fun. Such a thoughtful detail!
The pretty detailed woven top was an immediate favorite for me. The embroidered flower details were too pretty to pass up, and it's the perfect piece to layer under any jumper. It's fully lined and I just know it's one of those pieces that we'll reach for again and again.
The leather boots are also wonderful for the fall. They're classic enough that I know we'll want to hang onto them for Millie to wear someday, and Lyla loves the sparkly elastic and pink tab on the back.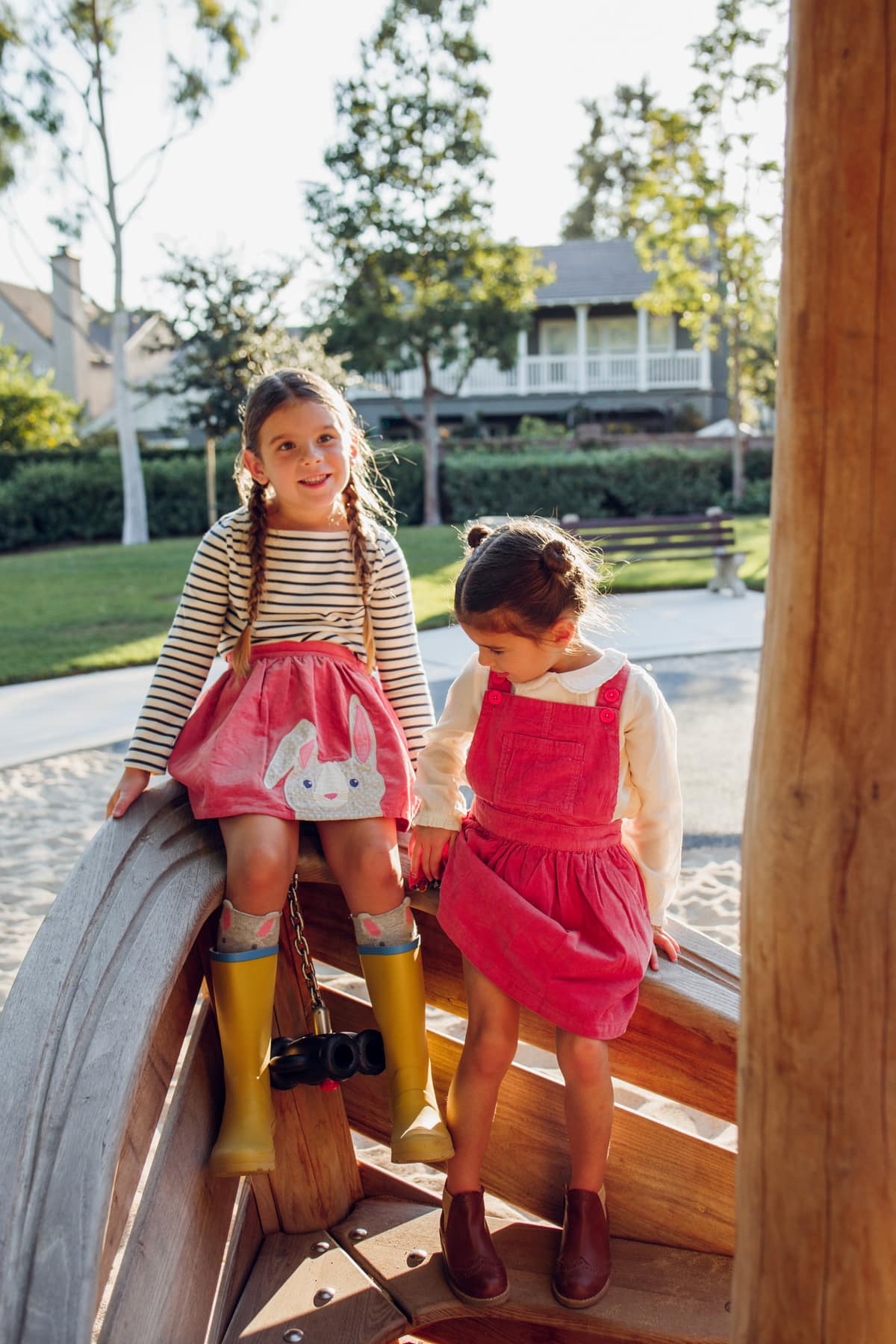 Breton T-shirt
Knee-high Socks
Animal Appliqué Skirt
Yellow Boots
Pretty Detailed Woven Top
Leather Boots
Overall Dress
Photos by Arielle Levy
If you've already got family pictures on the brain (I know I do!), Boden is a great place to start shopping around for the perfect pieces for your family. They really are beautiful enough to wear in something nice like family pictures or to a dressier event, but functional enough to play in after school or on weekend adventures. I'm always so impressed with both the selection and quality they have for kid's clothing! These are pieces that will be handed down to Ani's little sisters and loved for a long time to come.