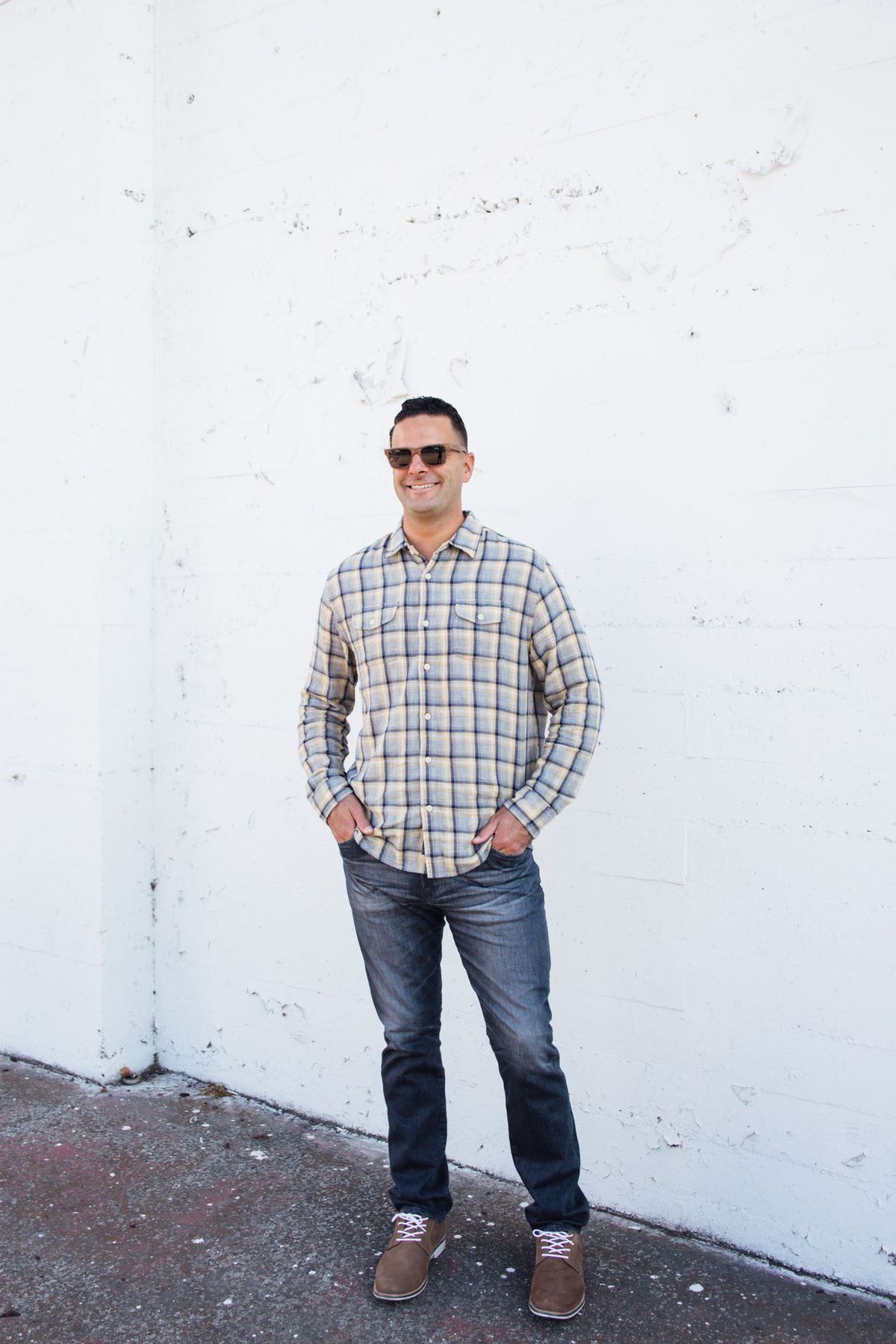 Fall fashion is so fun! Sweaters and booties and jeans and everything in between. But who says us women get to have all the fun with fashion in the Fall?  For the men in our lives, this season can be just as fun whether it's getting dressed for a date night out with you or just everyday wear.
One of the biggest trends I'm seeing for Fall is keeping it casual but put together. I think if it were up to most of the men in our lives they'd wear their favorite comfy shirt and old jeans all day, everyday.  So you can thank this season's trends for bringing your guys the perfect compromise. Casual and comfy for him, but no old tshirts for you – haha YESSS!!!
Am I the only one who thinks of the 90s when you see flannel print? Well now you can think 2017 too! They always say if you wait long enough you'll see old trends become new again (can I get a shout out for all my girls with bell bottom jeans in their drawers?!) and this is definitely what flannel print is for men right now.  What I think is the coolest thing about this shirt is you get the flannel like print but with cotton, rather than the actual heavy flannel material!  And it's such a great way to get that nice but relaxed Fall look.
And if you're looking for a great pair of sunnies for the man in your life, I included these in my Father's Day gift guide this year and as you can see, they were a definite win!  I love that they are a bit more of a statement piece than the normal black framed sunglasses, but still classic enough to transition well from summer to Fall!
Comfy jeans are a must for men, at least for mine! Wider leg jeans are one of the hottest trends right now in terms of men's pants and I love these jeans because they go along with that, without your man feel like he's jumping back to the 70's in the above mentioned bell-bottoms!
Okay, but seriously these shoes are definitely my favorite part of this look! How totally cool are they? Neil absolutely RAVED about how incredibly comfy these shoes are, but I loved how on trend they were too so, win-win!!
And if you're like me and sometimes have no idea what to get when you're out shopping for the men in your life, here are FIVE other huge trends for men this Fall:
Quilted jackets – so many great quilted jackets out right now for men at all price points, minus the "I juts got off the ski slope" puffiness like this one which has the design but with some added sleekness AND is on sale right now for 33% OFF!!
Ties – that's right, ties aren't just for your Sunday best anymore. Men can pair them with a collared shirt and jeans or keep it classic with a suit coat. I love these solid silk ties that are great quality for under $20!
Double button blazers – speaking of suit coats, the double button is a perfect polished look for a business causal meeting or night out!
Graphic knitwear and sweatshirts – think ugly Christmas sweaters minus the ugly haha! I really love something like this sweater that makes a statement without being too loud.
Pleated pants  – if your man is looking to keep it trendy on his way to the office this Fall pleated pants are back in action and these pants are great without looking too old school!
Flannel shirt
Jeans
Suede shoes
Sunnies
Photos by Arielle Levy