I think we can all agree that 2020 was a YEAR. Amiright? However it did come with more than a few silver linings, one of which is: comfy clothes forever! If there is a chance it wasn't socially acceptable to wear joggers 24/7 before, well my friend, it is now! Personally I am thrilled that we are carrying this vibe into 2021 because it has been very well established at this point that comfortable is one of my love languages.
If joggers are now a thing we have access to every single day (YAY!), then the time has come to start talking about how to style them. So today I am serving up two different joggers outfits and I am breaking down all the styling details. The base of the outfit is my very favorite Zella joggers and I'm going to show you how to style a dressed up fit and a dressed down fit. Let's get started!
The 5-Star Jogger
Having a good pair of joggers is absolutely key to this whole thing and these Zella joggers are the perfect base to build an outfit (or two) around! The material is super soft and relaxed, but the slim fit and rib-knit cuff ankles make your outfit feel polished and intentional, NOT sloppy. They have garnered hundreds and hundreds of perfect five-star reviews! Many of those reviews claimed that these are the "BEST joggers EVER." Another person said, "I wish I could wear these all the time." Another reviewer said she was so obsessed that she wore them for almost a week straight before washing. Ha. That is l-o-v-e and a darn amazing jogger!
The fit is super comfortable but flattering thanks to the higher waist (it hits just under my belly button). These Zella joggers also have pockets, which we all really love, but they zip closed to keep the look sleek and streamlined. At $75, they're well UNDER $100 and very affordable for a pant that goes with everything and one you're guaranteed to want to wear every single day.
Just like most things Zella, these joggers run perfectly true to size!
Dressed Up
The piece de resistance with the dressed up look is a jacket. IMHO it is the crucial element to making this dressed up look work.
Denim Jacket
My jacket of choice to style the dressed up look with these Zella joggers was this relaxed fit denim jacket. Styling joggers with a jacket automatically elevates your outfit and makes it instantly look (and feel) way more intentional and put together! The denim jacket is a classic wardrobe staple and says, "I put this outfit together on purpose." Other alternatives that convey the same message: a leather jacket, a bomber, a blazer or even a trench. Kim Kardashian has rocked the joggers with a trench coat look a few times and it's really cute.
I personally love a denim jacket and this exact one is one of Nordstrom's most highly-rated options! It is everything I hoped it would be (and possibly more). This jacket is perfectly stretchy but not too stretchy. There is no stiffness to it at all and it is super comfortable to wear. The sleeves can be worn long or rolled up. This is just a really really versatile jacket that you can wear with just about anything. It is the ideal between-seasons layering piece and well worth your pennies! Oh this one also runs TTS.
That said, I also REALLY love this one that I've blogged about many times and worn for years and still reach for regularly. It's currently 40% off at $47 and 75% of its 566 reviewers give it a perfect 5-star rating too.
Classic White Tee
FOUND: a good white tee that fits well and isn't see through at all! This can be so hard to do but this flattering and functional staple t-shirt checks all the boxes. It is soft and breathable but not see through and the v-neck isn't too low. Don't be turned off by the $45 price tag because this tee is really really well made and will last a long time. I love that this top is soft and stretchy enough to be worn for a workout, however it doesn't look like an athletic top so it could just as easily be paired with jeans or a skirt.
TTS on this one too.
Golden Goose Sneakers
Not everybody is on board with the worn-in, right out of the box trend of these sneakers but I'm a major fan. I mentioned last month that my Golden Goose sneakers were *kind of* a birthday present from Neil. Initially, I did not understand the hype of these sneakers either, but I am absolutely a converted skeptic and totally understand why they are Nordstrom's top-rated sneaker. They are really comfortable and since they already have that scuffed, distressed look they're easy to wear without fear of ruining them. I absolutely love them and wear them a TON!
Important sizing tip: I went with their suggestion and ordered 1/2 size up since they only come in whole sizes and I'm so glad I did!
Mini bags
MZ Wallace's Micro bag is giving me so much life in 2021. It was included in my roundup of Most Popular Nordstrom Gifts and I am still so obsessed. It is my #1 running out the door bag right now because it is the perfect size for my wallet, keys, phone, lipgloss, and mask and THAT'S IT. No more bulky diaper bag just to dash out the door.
If this MZ Wallace bag is out of your price range or you just aren't interested in spending quite that much, you could easily sub in the $32 bag from the dressed down look that is essentially the exact same idea.
Two more tips for dressing up joggers
ADD JEWELRY: Adding a little jewelry to this joggers outfit lets people know this outfit was planned and a deliberate (very chic) choice. Adding jewelry completely elevates your look.
WEAR BOOTIES: Swap out those sneakers for some booties. A little heel immediately pumps up your look and makes it a little bit fancier!
Dressed Down
All black everything WINS again. If you want a dressed down look that is intentionally loungey but still very polished, go monochromatic. Having a matching top and bottom is what is the most on trend right now!
Amazing Sweatshirt
We can't talk about Zella without singing the praises of this obsession-worthy sweatshirt! It is the BEST sweatshirt I have ever put on my body and it matches my Zella joggers perfectly. There's something crazy magical about the interior of this sweatshirt because it literally never loses that "brand new sweatshirt" inside feel!!!
The cropped length isn't at all what I normally think of with a cropped top (my belly button is not on display)! Thanks to the cropped fit, this pullover this very flattering and doesn't feel like you are wearing your husband or boyfriend's sweatshirt. It's really cute and feminine and basically just means it's not a LONG sweatshirt. Again this one runs TTS!
Adidas Superstars
A tried and true favorite sneaker. They're SO iconic but also unbelievably cute, comfortable, and super versatile. This is the perfect sneaker for these joggers but also looks amazing with a dress or a skirt. The sole is really thick so walking around in these sneaks is cushy and comfortable and a total treat. Size down a 1/2 size because they do run a bit large.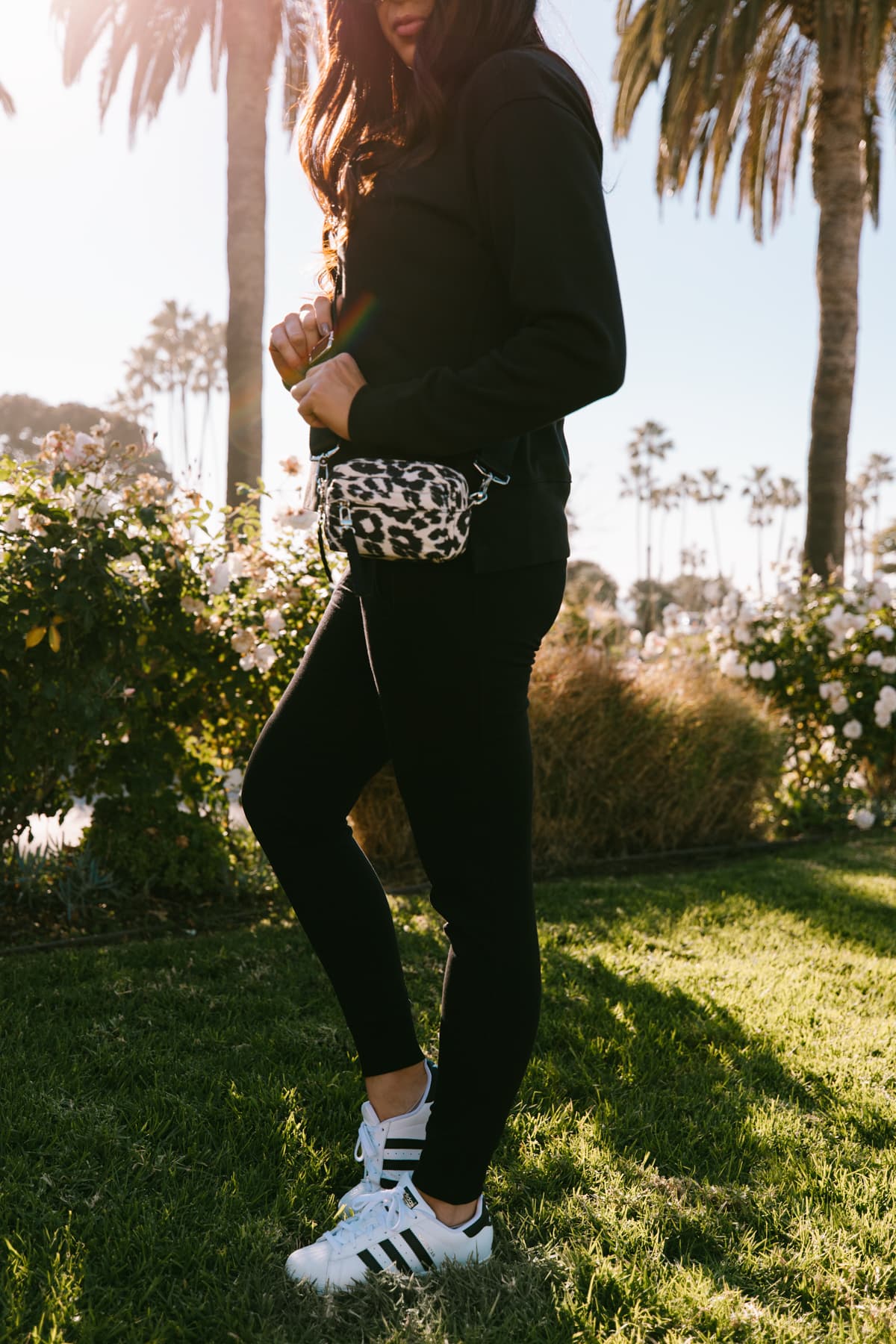 Micro Crossbody
This $32 micro bag is perfect for the essentials and only the essentials. No muss. No fuss. No extras. It holds exactly what you need to get things done and nothing that you don't. It comes in three cute colors, but I loved the pop of leopard to add some visual interest to my all-black outfit!
A note on the all black outfit…
All black is such a signature look! If you don't want to have to put ANY thought into your outfit, stick with all black (or any monochromatic color scheme). A lot of entrepreneurs that I love and respect and admire wear black every day because it takes one less decision out of their mind. It is a total no brainer!
Buy in-store, online, or schedule curbside pickup
ALSO, I wanted to let you know that you can buy these online with free shipping and returns, OR you can schedule a curbside pickup so you never even have to go into a store! Be sure to sign up for Nordy Rewards as well so you can earn money towards future purchases.
Zella Forever

Zella is truly a lifestyle brand that can be styled in so many ways and these joggers are no exception. They were so easy to style and look amazing dressed up and dressed down. There is no wrong way to wear Zella! I love that this five-star pair of leggings provides the perfect base for building a casual outfit around.
So now you tell me – what's YOUR favorite way to style joggers? Casual forever or dressed up chic?