With summer weather teasing its sunshine rays at least a few days a week now, it's got us thinking about an oft-neglected part of the home: the front porch! California pretty much kills it year-round in the weather department, so Corrine has dubbed her front porch her favorite hang out spot. But if you're not lucky enough to live in moderate weather 360 days a year, let's start dreaming about warm summer nights on the porch. Whether you have kids to watch ride bikes around the 'hood, love curling up with a good book listening to the cicadas, or simply love a welcoming exterior, we've got the best updates for your front porch right here!
Door Decor
We love that you can tell the time of the year by looking at people's wreaths! That is, if you haven't forgotten to take down your acorn and squash wreath from Thanksgiving last year 😉 There's no better time to deck the door than when you can adorn it with bright colors and pretty greens! We love full floral wreaths in vibrant hues or even leafy wreaths accented with small pops of color.
Welcome!
There's nothing friendlier than a friendly doormat. Except maybe a friendly face. But, we digress: a welcome mat might just be the first thing someone notices at your house! Have you started layering your doormats yet? This fun trend brings a little extra love to your front porch by combining texture and pattern for more visual interest.
Greenery
We just talked about our favorite way to incorporate color inside your home, and the same rules apply for the exterior! Putting some fun plants and planters on your porch is super inviting and can be a fun way to change up the look of your house. Also, just because plants are outside does NOT mean they need to be real! Faux plants are an inexpensive way to spruce up your outdoors, and then change them out whenever you want!
Sit & Stay
If you have the space, front porch seating is probably our favorite way to add some love to the area. Who doesn't want to sit and stay a while? Maybe drink some homemade lemonade and reminisce? As Corrine has mentioned many times, her front porch swing is her favorite part of her home. But there are tons of fun options for smaller spaces as well! From Adirondack to rocking chairs, even minimal seating can have a big impact on your space. Don't forget the seasonal throw pillows or other neutral accessories to make the seating your own.
Be Creative!
Does your front door not only lack appeal, but lighting as well? We love these lanterns that bring a little whimsy to any outdoor area! Try them in your backyard area as well to tie the whole outdoor space together. Not to mention, give a little glow for the late evenings spent outside!
Another thing we love doing to facelift the porch is personalizing it! Try a welcome sign, something with your last name, or even a cool sign with the address numbers of your home!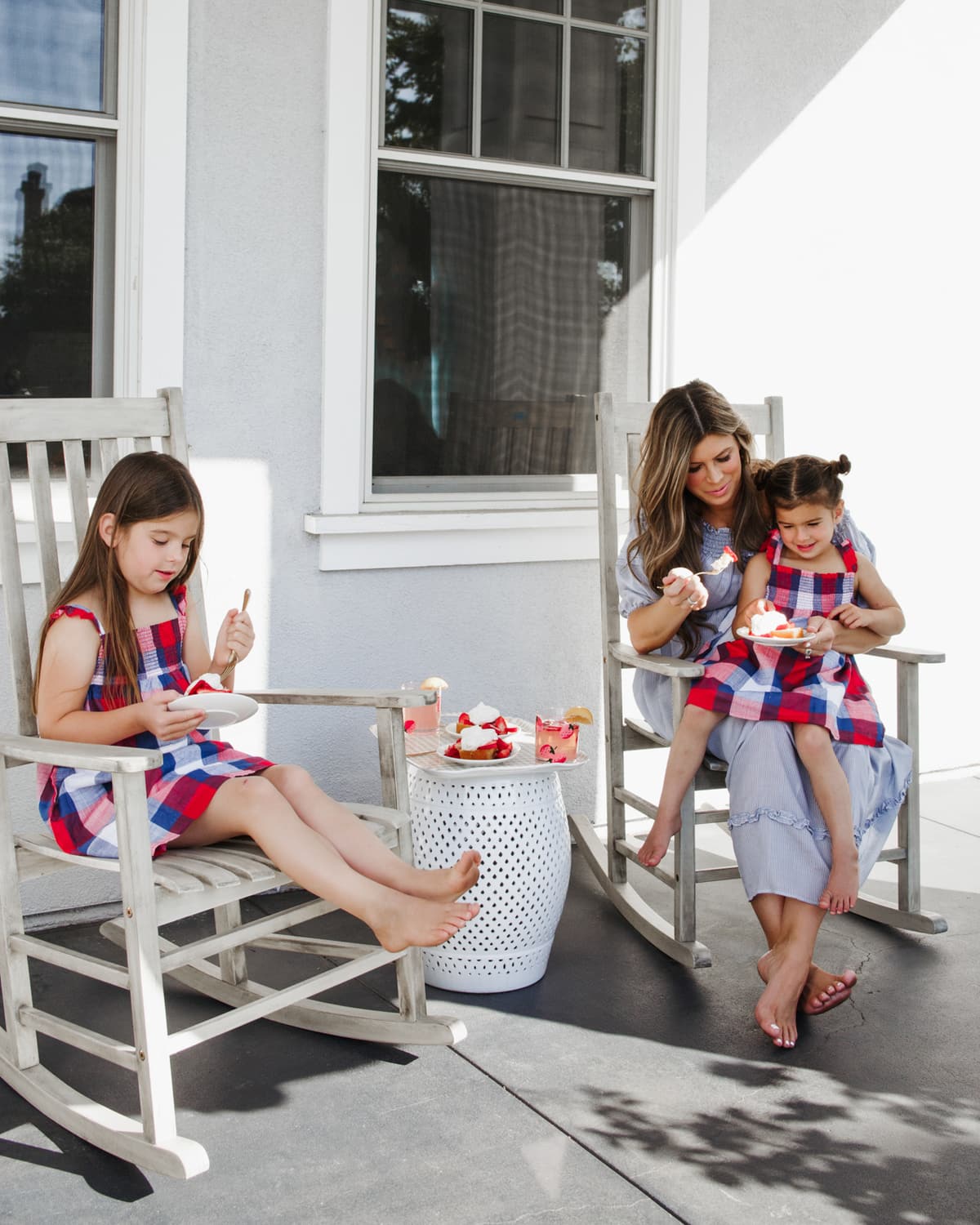 Catch Me Outside
We love the idea of giving the porch a little re-do in small but impactful ways! Spring and summer are synonymous with being outdoors, and you might as well enjoy the view!