I saw a meme the other day that joked that we will still be quarantined for Mother's Day, but get out just in time for Father's Day (HA! eye roll) But seriously, it is kind of a weird time for celebrations! Birthdays, anniversaries, and holidays are just different when you aren't able to leave the house or do what you normally would. Enter: Bouqs! Having fresh flowers around is one of my favorite simple pleasures in life. I love that using Bouqs is an affordable way to show any mother figure in your life how much you appreciate her. Or, simply send this post for a little hint, hint, wink, wink to your own loved ones to remind them how much YOU love flowers! Oh, and we totally have a discount code for you (keep reading!)
Bouqs' mission
I love Bouqs' mission of supplying responsibly sourced flowers. What does that mean, exactly? Utilizing recycled water and minimizing waste! Every little thing makes a difference. All their arrangements ship straight from Bouqs, and are farm fresh! The florals come from sustainable, eco-friendly farms in North and South America.
A lot of florists aren't in business right now because they aren't considered "essential." Luckily for us, Bouqs can still deliver amazing arrangements just in time for Mother's Day! We recently had some of these in our home and I was blown away by the expertly arranged florals and high-quality blooms. Seriously these arrangements lasted over a week in our home and just kept getting more beautiful.
Bouqs flowers come beautifully packaged with helpful care instructions on how to give your flowers a perfect cut, where to cut them, how often to swap out the water, all the things you need to make them last a week or more. Mine really did!!
Also a quarantined-mom bonus: the flowers came in these pretty cardboard boxes that kept my girls busy for a solid hour one Sunday coloring in all the flowers!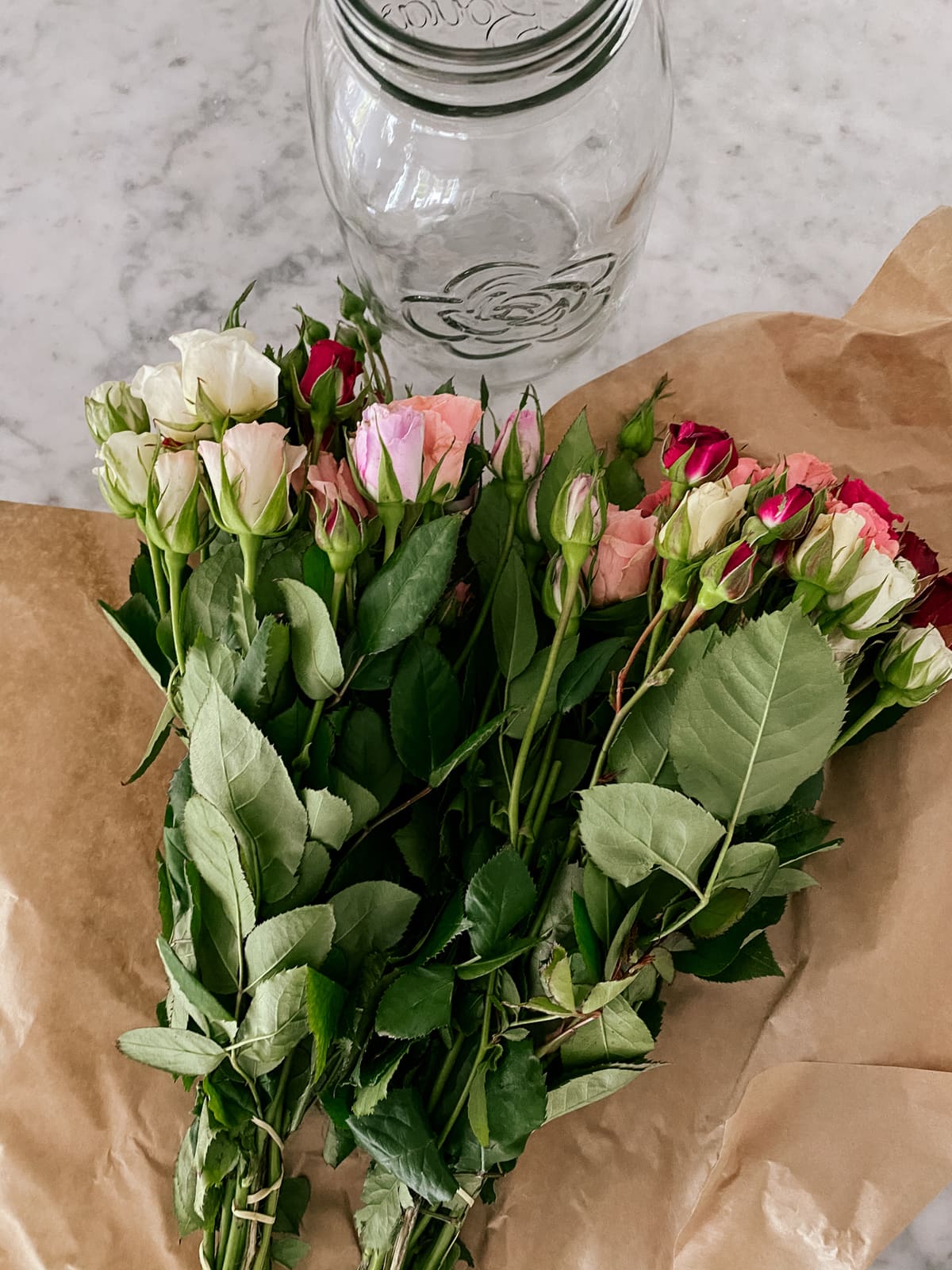 Old traditions
Even though celebrating things right now can feel different, I'm so glad that one constant is that Mother's Day is always on a Sunday! Because of this, we will keep our weekly tradition of a family day at home. Growing up we always had a beautiful Mother's Day together, with delicious meals and lots of family time. One of my favorite traditions growing up was making my mom breakfast in bed! We always made Belgian waffles with strawberries and whipped cream, and it warms my heart when my girls do that for me each Mother's Day. It's always one of the only things I ask for that day!
My kids ALWAYS beg for a squirt of whipping cream in their mouths! And having a fresh bouquet of flowers on the breakfast tray? Well I can't think of anything prettier to make that stay-inside day prettier.
And then all the kids get a bite of their own! It's like I have a little nest of baby birds just waiting for their turn to eat. I still remember what it felt like to anticipate my turn of having a nibble of my mom's strawberry waffles in her bed every Mother's Day. It was definitely a ONCE a year treat that we looked forward to as kids, and now I love doing as a mom!
New traditions
This year, we're planning on bringing home a brand new baby Mother's Day weekend! There's nothing more special than a day with my new baby, breakfast in bed, and fresh flowers by my bedside. I'm also hoping for a little downtime in my favorite spot in the house for some time outside with everyone. Two years ago for Mother's Day Neil got me these porch swings and they are maybe my favorite gift ever! Sitting on these swings and watching my girls ride bikes is my happy place. I feel like they are growing up faster than I can blink! I'm grateful that even in the midst of quarantine, I can get fresh air and be with my family in that special space.
Front porch details here
Girls dresses (different print), similar
Fresh flowers, always
These Bouqs flowers seriously followed me around the house after I got them. I used the tulips for our Easter centerpiece and I put the roses by my bedside. I love that you can move flowers around to spread cheer to any room!
Bouqs is also such a smart way to send a thoughtful gift during social distancing. Even if your loved ones live close but you're trying to stay health conscious, sending flowers is always a great idea! Any time your mom (or anyone!) sees them they will think of you and remember how much you love them. And that's the whole point of a holiday or celebration!
Savings on savings
Not only am I impressed with the quality of the flowers, but the price points are so affordable! And to sweeten the deal even more, Bouqs has offered my readers an exclusive discount of 20% off!!! Enter code MINTARROW20 at checkout to save even more! And happy early Mother's Day to all the mamas out there. Hope this discount helps some of you (or your moms!) have an even more fresh and beautiful Mother's Day this year.