Tomorrow's Christmas Eve, and if you're in a pickle because you still haven't made your list and checked it twice… Well, Santa, we're here to save your sleigh because today we've got the ultimate procrastinator's gift guide!! All these top-rated gifts are available to buy online pick up in store. So with one quick click, you'll be on your merry way like you've had it in the bag for weeks!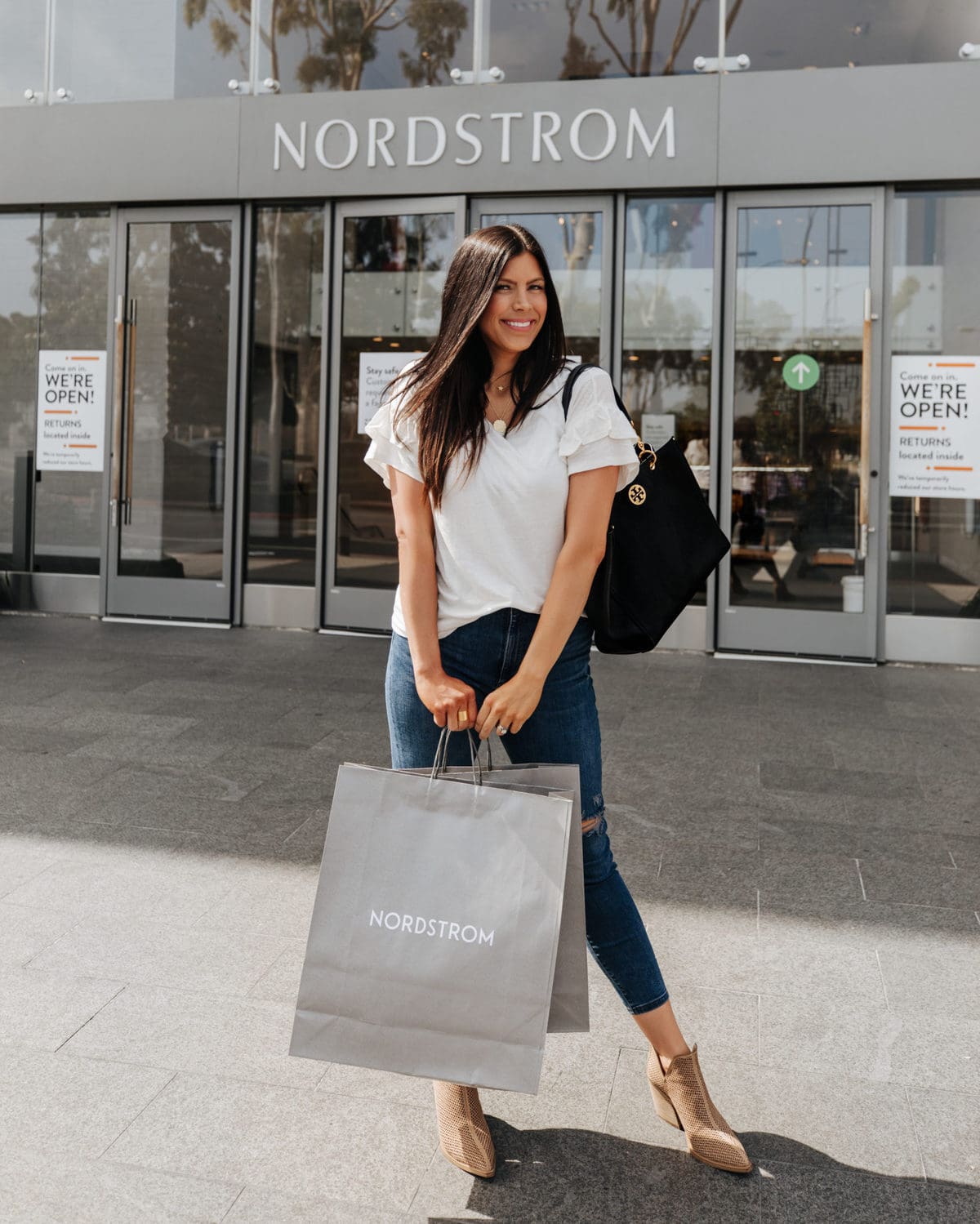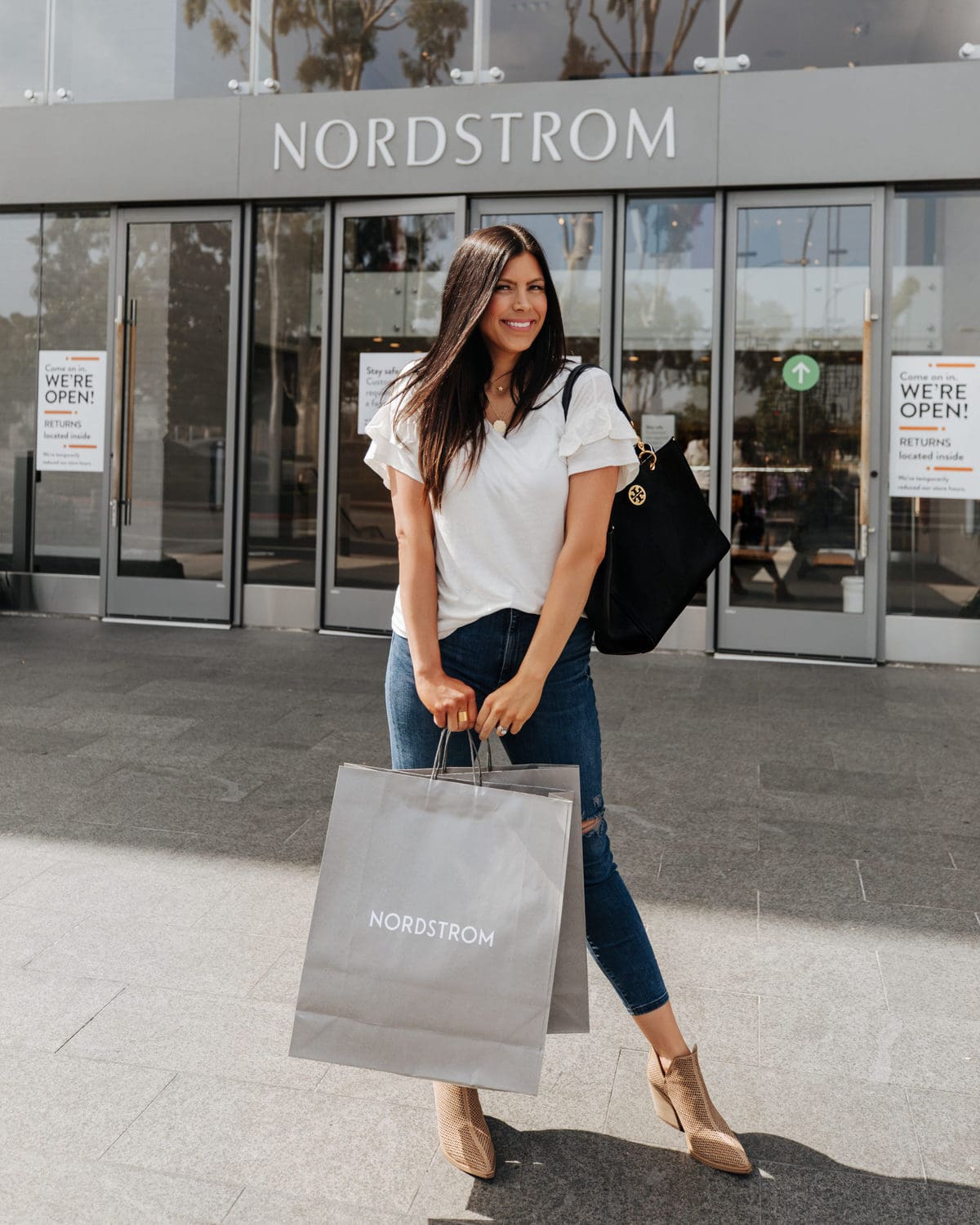 Buy online pick up in store
One quick disclaimer: you'll have to check YOUR local store to be totally sure that it's in stock in the color you want nearby… but we have so many options here for you from Nordstrom that you for sure should find a few things that would work!! Good luck and may the gifting forces be with you.
Women's gifts you can buy online pick up in store
Zella Joggers: Joggers that live up to their name – ones you could literally "LIVE IN!" So comfy and versatile with the perfect relaxed fit. The perfect gift for the girl who never has enough loungewear!
Veja Sneakers: We're LOVING these cute sneakers rn!! So simple yet SO stylish that you can dress up with a cute winter coat or down with a sweatshirt and leggings.
Flowerbomb Perfume: You'll NEVER go wrong with gifting perfume for any woman in your life!! This perfume is one of the most popular scents with 5 stars and raving reviews. It has a light, floral scent that will last all day long!
Initial Pendant: If you're wanting to give someone a nicer gift this year without breaking the bank, we have the perfect gift idea! These initial pendants are IN right now – and this 14k gold pendant will go with ALL styles in your girl's closet.
Pillow Talk Lipstick: You already know we LOVE Charlotte Tilbury's Pillow Talk lipstick. It's the most perfect neutral EVER and looks good on literally EVERYONE.
Faux leather leggings: These faux leather leggings look so comfy yet give that all "done up" look for a night out – AND are on sale right now for under $20! They'd make the perfect outfit for New Years Eve, too. But if you want to splurge, you can't go wrong with the Spanx version – they sell out every year during Nordstrom Anniversary because they're THAT good.. Plus, BONUS High Rise Leggings: There's nothing we love more than a pair of HIGH rise leggings! So flattering and can be worn with so many different outfits. And they're under $10!
Serving tray: For the hostess with the mostest!! Gift this and use as decor, a board for charcuterie, or serving tray for all the holiday treats. Comes in the most beautiful shades of light and warm wood AND is on sale for 20% off right now!
Oversized puffer jacket: Warm and cozy and so so cute! This stylish oversized puffer is a staple for the winter time. Reviewers say it's the "perfect puffer!"
Booties: Ditch the big snow boots for a classy heel bootie that's perfect for the cold AND is waterproof. Perfect gift for the fancy girl who loves to go out!
Madewell tote: We love a big tote! Especially a cute one!! This one from Madewell has so much space to fit all the essentials (& more) and comes in perfect neutrals to go with any outfit. Any woman in your life would be MORE than happy to unwrap this tote on Christmas morning!
Men's gifts you can pick up in store
A good gift for men AND women
UGGs: I'm convinced UGGs will NEVER go out of style!! Whether you go for the slippers or the boots (short or tall), UGGs are the perfect shoe for winter. So comfy and so timeless for him OR her.
Bonus options for the kids
North Face jacket: Bundle the kids up with this water repellent down jacket! Throw it on when your kids are flying out the door and they'll be warm all day. This is one of the best gifts selling at Nordstrom this season!
Christmas jammies: In need of last minute Christmas jammies for the kids?! Nordstrom is here to save the day!! Get these cute and cozy onesies that are 20% off!!
One more tip & two more sleeps!
If picking up these gifts in-store isn't an option or you're just too tight on time, here's an AWESOME option Nordstrom is giving us!
You can select curbside pickup for most Nordstrom locations! So even if your car is full of littles who are out of school, you don't even have to get out of the car to collect your gifts. And if you pick up in-store, Nordstrom will gift wrap for FREE.
Happy last-minute shopping and MERRY CHRISTMAS!!!