I feel like Memorial Day sets the tone for the entire summer, so I was really happy to plan a low-key long weekend. This is our first time spending this holiday as a family in a few years! Last year Neil and I were in Hawaii for his grandma's funeral, and the year before that we went on a trip with his family to Lake Powell, so I'm thrilled to just be with my little fam this year. Today we're sharing details on these affordable outdoor rocking chairs that are on sale, and a super simple hack to making a traditional summer treat even sweeter!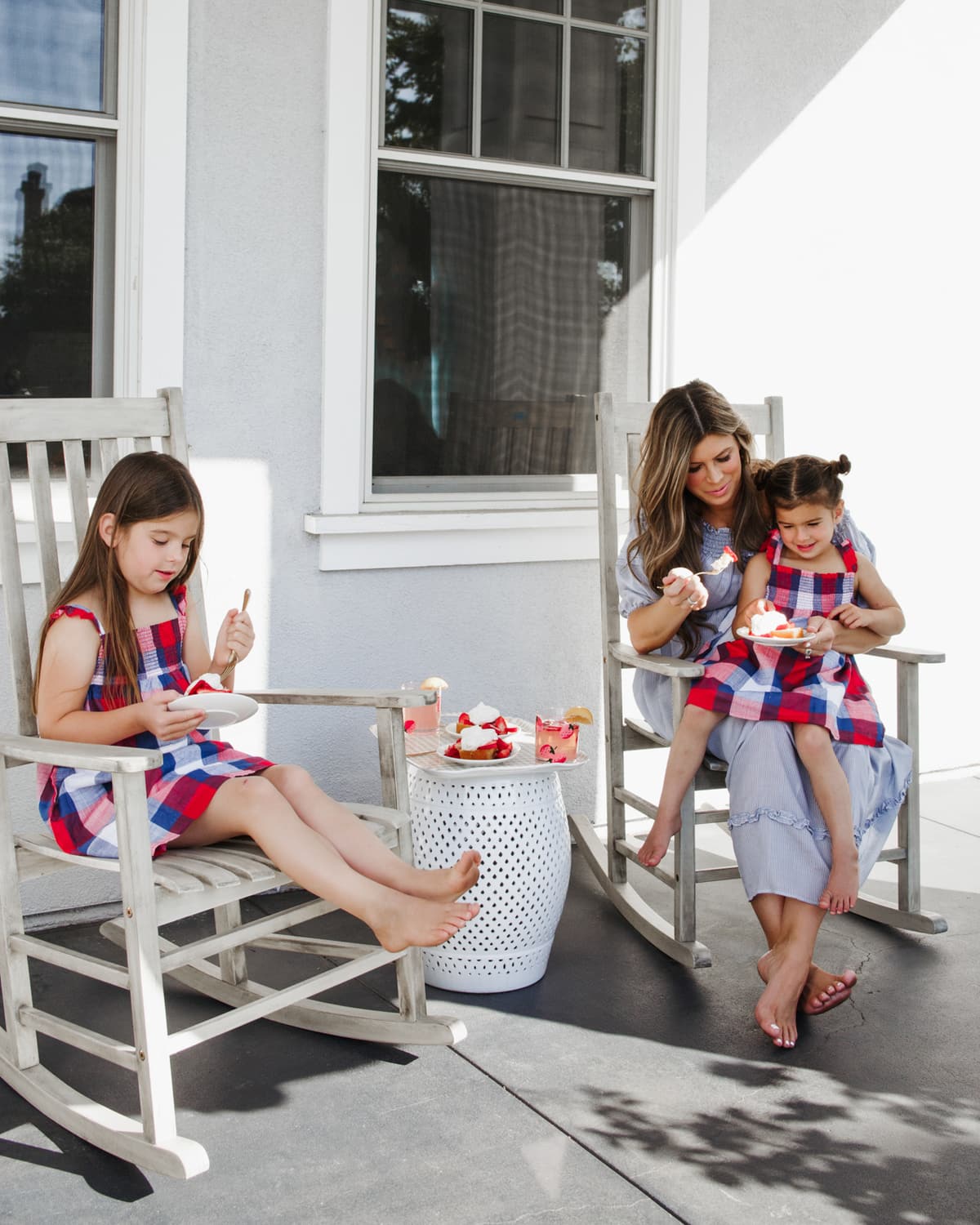 My girls are at an age where we're able to have some really cute (and sometimes deep!) conversations, and I love talking with them about why we celebrate Memorial Day, how lucky we are to live in a country with so many freedoms, and how important it is to remember and be grateful for the people who have served in the military. This is something MY mom did so well with me, and I'm trying my best to do the same for them. And what better place to do that than our front porch, alongside something yummy that will keep them in my lap or by my side for more than 10 seconds right? 🙂
One of the things I loved MOST about our new house when we found it was the gigantic porch. I ordered some porch swings (I've always DREAMED of having these!) but in the meantime, I found these affordable rocking chairs (currently on sale for under $200 each!) that we'll eventually move upstairs on the girls' balconies outside their bedrooms. For now they're the very perfect place to sit and sip lemonade and have a little afternoon treat!
Speaking of treats, this is one of our family's FAVORITE treats! It's so simple – you just make (or buy) some pound cake, topped with fresh strawberries and a special blend of whipped cream and lemon yogurt! I didn't have time to make homemade pound cake but I did make a little boxed mix of Trader Joe's lemon cake and it was the perfect cake for this combo! I also didn't have yoplait lemon yogurt but I had noosa lemon yogurt and that was even more delicious than I remember the yoplait being in this recipe!!
The girls were SO excited to try this out. I think it's the first time I've made it for them, but definitely not the last!!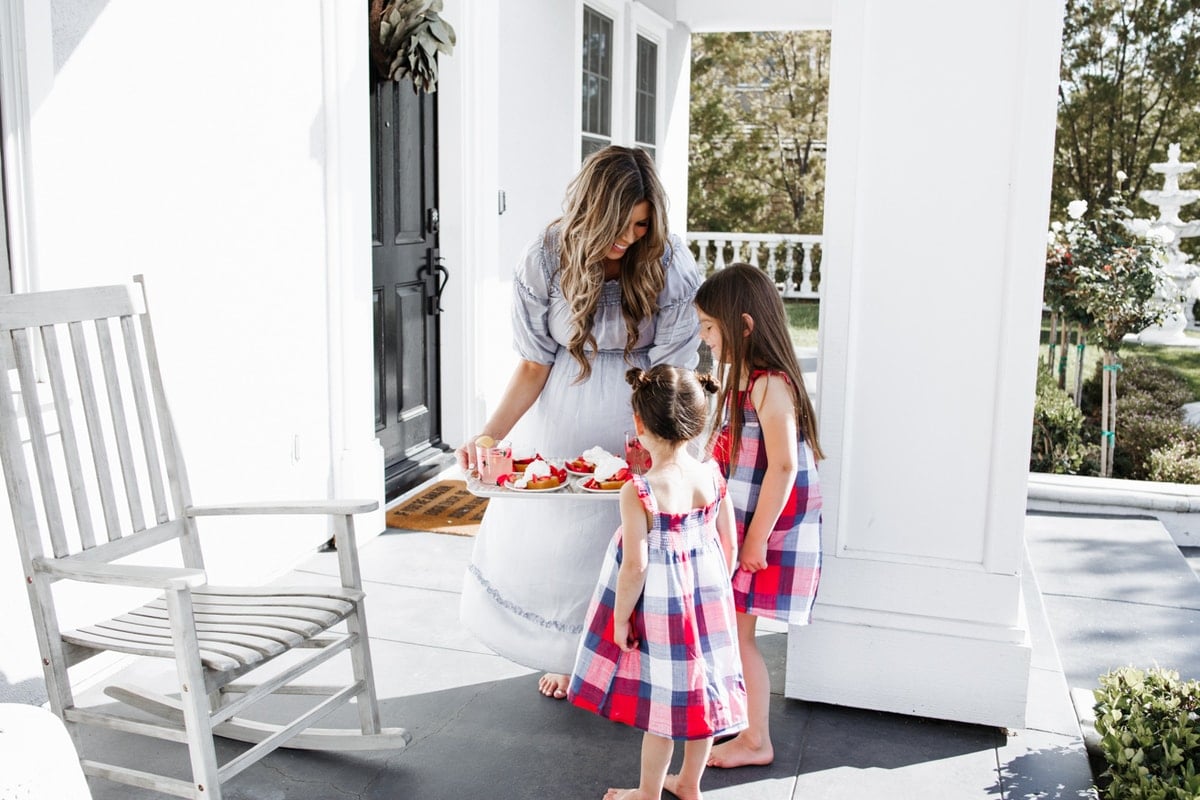 I found this blue and white tiny stripe dress recently that's not maternity but fits great with my 7 month bump! The smocked bodice makes it super comfortable for pregnancy, and the blue and white stripe is such a classic pattern that I know I'll be reaching for it all summer long. The website suggests sizing down for the perfect fit but I ordered it in my normal size (medium) and it worked perfectly with my belly!
This summer strawberry and gingham dining set was too cute to pass up. I loved that they're durable enough to use as an outdoor dining set, and they're cute enough to pull out when we have company over! I was absolutely delighted by how well the tan gingham and whimsical strawberries paired together. PLUS it's all plastic which – hello – is the only way to go when sharing with little ones! I love that the set has coordinating cups, plates, and tray.
I'm totally smitten with this Cotton Flutter-Sleeve Plaid Dress in a patriotic print that I got for the girls (and for less than $20!). It has a classic sundress look that reminds me of white picket fences, sparklers, and running through the sprinklers!
Oh and all I did for the fun summery drink was add a few floating strawberry slices and a lemon wedge to some Trader Joe's pink lemonade. YUM.
Outdoor Rocking chair (ON SALE!)
kate spade 4-pc tidbit plates
kate spade Strawberries drinkware, set of 2″
kate spade gingham serving tray
cotton flutter-sleeve plaid dress (extra 20% off w/ code MEMDAY)
blue/white maxi dress (extra 20% off w/ code MEMDAY)
Photos by Arielle Levy
This weekend is a great time to shop Macy's Memorial Day Event, which runs from May 23rd-28th. You can get 20% off with the code MEMDAY on a ton of items that you'll use all summer long.