Oh DISNEY CRUISE!!! One of my true loves in life. One of those things you might think people are weirdly obsessed with, until you experience it yourself, and then you find yourself on that same obsession train. We took our first Disney cruise in 2017 and JUST got back from our second, April of 2022, and it was every bit as magical and amazing as I remembered.
I did a TON of research before each cruise, so today I'm going to share some of our favorite tips and tricks to get the most out of a Disney Cruise, including how to get a DEAL on Concierge level cruising, how to have the most similar-to-concierge experience without paying for it, and some hidden tips and secret tricks to really making your cruise more magical than ever!
Plus right now there's a CRAZY GOOD DEAL on Disney Cruises – the best they've EVER done! Keep reading for all the details.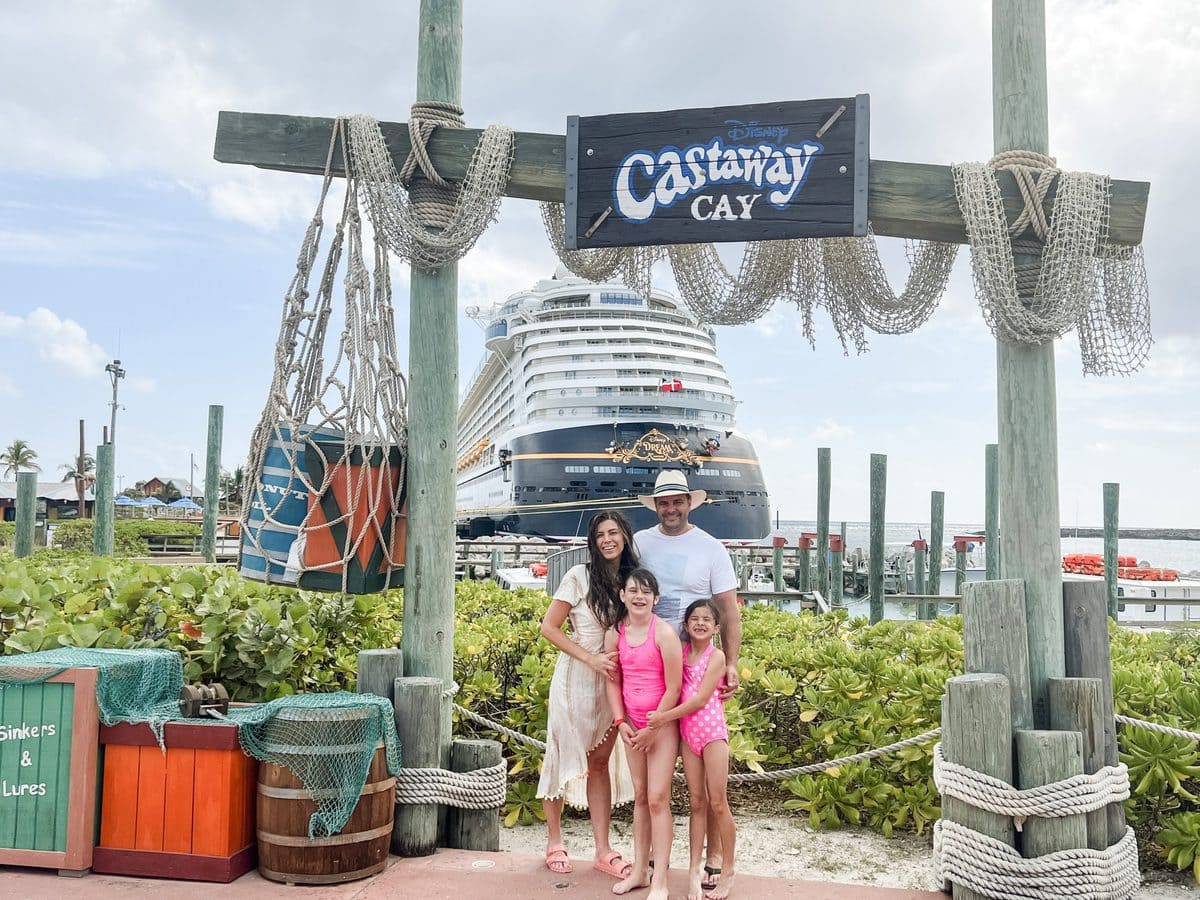 How to get a BOGO deal on a Disney Cruise:
Right now Disney Cruise Line is offering their BEST DEAL EVER!! Literally they've never done a deal this good before.
Beginning TODAY September 8th 2022, Disney+ subscribers can get the 3rd AND 4th passengers FREE on select Disney Cruises!
This is basically a buy 2, get 2 FREE deal!!!
Here's what you need to know:
As a special offer for Disney+ subscribers, third and fourth guests sail free with two full-fare guests in the same stateroom on select Disney Cruise Line voyages.
This offer available for select staterooms and sailings on the Disney Magic, Disney Dream and Disney Fantasy departing Jan. – April 2023
Offer does not include taxes, additional fees and port expenses for each guest, which are due at time of final payment.
The number of staterooms allocated for this offer is limited. You can book up to two staterooms using this offer.
The following select sailings are not eligible for this offer:
* Disney Magic: January 2 & March 13, 2023
* Disney Dream: January 2 & April 10, 2023
* Disney Fantasy: March 11 & 25, 2023
Other restrictions may apply.
To book, fill out this form so they can verify your Disney+ subscription! If you tell them that Mint Arrow referred you and they'll throw in an on-board credit for each room you book too!
Don't wait to take advantage of this offer because it WILL SELL OUT!!!
How old should your kids be on a Disney Cruise?
The first time we went (in 2017), we had 2 kids and they were almost 5, and 2. At the time, it was the BEST decision to take our two littles on that family vacation! They planned everything for us (I didn't even have to figure out what to eat, where to eat, or when to eat) and they even cut our kids' food! Lyla (2 at the time) could go to the Small World Nursery, and we all got to spend amazing FAMILY TIME together, while still getting some mom and dad alone time.
Now that we have FOUR kids and it's far more expensive to take everyone, and our youngest 2 wouldn't remember it (1 and 3 back in April 2022), we decided not to take them.
OVERALL, I would say that anyone over 5 is at the perfect age to go on a Disney cruise! They won't be too tired to do dinner and a show, they'll be able to enjoy almost all the amenities on the ship, they're old enough to be excited about the kids club, and most importantly they'll remember it!
Flight tips getting to your Disney cruise
The hardest part of getting to our first Disney cruise for us was the flight! LAX – Orlando was a very very LONG 5 hours for our little 2-year-old Lyla a while back. She did alright at the beginning of the flight but both on the way there and the way back, her ears started hurting and she screamed and cried for about an hour straight. Not fun! But I kept telling myself it would be worth it the minute we stepped onto the Disney Cruise. And it was. You can read all of my favorite tips for traveling with toddlers in this post.
NOW, Disney Cruise Line offers cruises out of San Diego! We still chose to fly to Florida for our most recent cruise, because we really wanted to go back to Castaway Cay (Disney's private island), but next time we're planning to go out of SD since it's a destination that's only an hour away for us.
VERY IMPORTANT! I strongly suggest flying in a day before your cruise. There are just too many variables when you're relying on flights to get to your cruise on time, and it would be THE WORST if you missed your cruise because your flight was delayed!
For our most recent cruise, I actually booked us to arrive late Saturday night, chill Sunday and get used to the time change, and then board the ship Monday. It was perfect for us.
Where to stay the night before your cruise
We've only gone on cruises out of Port Canaveral in Florida, so the options I'm familiar with I'm sharing below.
The night before we boarded the Disney Cruise ship in 2017, we flew into MCO (Orlando) and stayed at the Hyatt Regency Orlando Airport which was so nice because it was inside the airport and since we landed at like 11 p.m. it was really great to just go straight to our room from the flight. I also loved that the next morning, we were able to just go down to the Disney shuttle straight from the airport.
I've weighed all the options – Uber or Lyft (can be a spike surcharge if a lot of people are trying to get to/from the cruise this way!), rental car (you have to drop off the car, and then rent another going back OR pay for parking while you're on the ship), private transfers, but both cruises I decided to go with Disney's Transportation and I have ZERO regrets! They play either Disney cartoons or a Disney movie (on the ride back they played Encanto) and it keeps your kids entertained the whole time.
In 2022, we stayed at the Beach Club Resort! I chose it based upon all the things that were important to me: a good pool, good food onsite, and easy transportation from there to the cruise. We've stayed there once before and it has the very best pool of all the Disneyworld resorts. And we had dinner the night before the cruise at Ale & Compass next door, and dessert at Beaches & Cream after! YUM.
Getting to the port
I'd heard many times that the Disney transportation bus would pick us up late-morning to go down to the port, and that you kind of just have to go when the bus wants you to go. I was thrilled to find out that the bus would be at the Beach Club Resort at 8:15 a.m.!
The only problem was, our port arrival time (often referred to as PAT) wasn't until 1:30 p.m., because I signed up for the cruise well after the dates had been released to the public.
SECRET TIP: If you take the Disney Transportation bus from a WDW resort down to the port, they'll take you when you arrive since you came on their transportation. When you get to the port, go ask one of the cast members if they'll please help you get an earlier group number since you arrived on the Disney bus. Beach Club is one of the first pick ups of the day, so ours went from group 25 at 1:30 p.m. to group 3, which was called just a few minutes after they started boarding everyone around 10 a.m.
Getting on the ship
Depending on when you sign up for your cruise and when your registration window opens, you'll have a time when you can log in and pre-register to get your PAT. You'll find out what your day is when you book your cruise. People who have been on previous Disney Cruises and earned Silver (1 cruise), Gold (5 cruises) or Platinum (10 cruises) status in the Castaway Club or who have booked concierge level, have first dibs. You want to log in as soon as you're eligible and if you're like me, you want the earliest spot possible!
I always want to enjoy the ship for the maximum time, so I pick the earliest boarding time available. If you stay at the Hyatt Regency Airport hotel, you can leave on one of the Disney Cruise shuttle buses about an hour before your PAT, because it takes 45 min – an hour to get there. But you won't be able to board the Disney Cruise ship until your assigned time that you were given when you registered, so don't go early or you'll just sit around. UNLESS you're going from a WDW resort like I explained earlier, then you don't have control over what time they pick you up because it's ONE pick-up time.
Covid protocols
Right now, as of Sept 2022, here are the guidelines:
FULLY-VACCINATED GUESTS:
For sailings aboard the Disney Dream, Disney Fantasy, Disney Wish and Disney Wonder beginning October 14, 2022 (and aboard the Disney Magic beginning November 7, 2022), fully vaccinated Guests will no longer be required to submit COVID-19 test results in order to sail
NON-VACCINATED GUESTS:
For sailings aboard the Disney Dream, Disney Fantasy, Disney Wish and Disney Wonder beginning October 14th guests who are not fully vaccinated must provide proof of a negative COVID-19 test taken one to two days before the sail date

NOTE: In order to sail, all Guests (adults and children, regardless of age) must upload their proof of vaccination or negative COVID-19 test results on the Inspire Diagnostics Safe Passage website by midnight prior to embarkation day.
IF someone in your party gets a positive test, Disney will reject your entry and allow you to sail another time. You'll be asked to leave once you have your luggage, and then you're on your own to figure out whether you'll quarantine at a hotel, drive home if you're close enough, etc.
When you board the ship, they announce your family's name which is kind of fun! Since they collect your bags either when you board the shuttle or when you get dropped off at the cruise port, you'll need a day bag that has swimsuits, sunscreen, diapers/wipes, any emergency essentials your family needs, because it will probably be a few hours before your room and luggage are ready.
You can find more COVID protocol details here!
Disney cruise food
The food on the Disney Cruise in my opinion is GOOD – definitely better than I remember having on Royal Caribbean, Celebrity or Carnival, but not the best food you've ever eaten in your life if you're a serious foodie. Unless we're talking about Palo or Remy (YUM) the adult-only restaurants available at an up-charge from all the other food and meals that are included.
In 2017, our cruise landed on our anniversary so we dined at Remy and it was a really fun, special way to celebrate. If you want to eat at either Remy or Palo, you'll want to book those the same day you pre-register. Spots fill up fast! I've heard amazing things about Palo brunch but we only tried Remy in 2017. The REALLY nice thing about a Disney Cruise is you already have built-in babysitting with the kids club and the nursery (when they're open) if you want a little adult time for a nice meal like this.
Early dining vs late dining on a Disney Cruise
The other big thing you'll want to reserve when you register is your dining time. You'll get ALL kinds of opinions on this so I can only speak from my own experience.
On our first cruise, we got second (late) dining because we pre-registered so late for our cruise. At first I thought it would be no big deal since we are West-Coasters and 8 p.m. should feel like 5 p.m. but my kids were so tired by 8 p.m. each night and so grumpy by about 6 needing dinner, so we skipped our "restaurant" dining two nights in a row to take them to the buffet (which you can do anytime) and the restaurant staff got so worried they had someone call our room to see if they had done something to give us bad service, which I felt so bad about! I asked nicely and they were able to switch us to earlier dining since we had young kids. But some people like late dining because it gives more time to get back from shore excursions, enjoy the ship, take your time getting ready, etc. It's really personal preference but I think if you have pretty young kids like we did last summer at 2 and 4, early dining is the way to go if you can swing it!
Our second and most recent cruise, we were auto-scheduled for late dining again, which worked out great for us since our kids were 5 years older! We went to the 6 p.m. shows and then dinner at 8:30, which did feel like 5:30 our time back home. The thing about switching to early dining is you'll be going to the later show, if you want to go to the shows.
The restaurants rotate each night but you have the same waiting staff and ours was awesome. They really rely on tips so you tip them at the end of the cruise. Disney makes this super easy and you can just do the suggested amount if you want, or give more if you feel like they were amazing, which we did! I've cruised on Royal Caribbean, Celebrity and Carnival and hands-down my favorite food is on Disney Cruise line. The room service menu may have been one of my very favorite things about being on the ship both times! And this time, we cruised concierge (more on that in a min), and the food in the concierge lounge was SO yummy. A definite little step up from everything else on the ship (except Palo or Remy).
Anabelle having an "afternoon snack" of pizza and watermelon. There's always food on the ship, all day long. NOBODY will go hungry haha.
Mickey bars!!! We all LOVED these.
Remy has French-inspired food and it was absolutely delicious. Our second cruise was only 4 nights so we just didn't have time to squeeze it in with all the other things my girls were dying to do. Next time hopefully!!
This was from the barbecue day at Castaway Cay (pronounced Castaway Key). The barbeque on Castaway Cay is my least favorite meal of the trip. It's basically hot dogs, hamburgers, a couple other random options like bbq salmon, a few sides, chips, fruit, and soft-serve ice cream cones at the end.
I'm always amazed by the speed and service and efficiency of Disney. Everyone had plenty to eat and the lines were never long even with the ship at full capacity. Also they are FREAKS about making sure everyone washes hands or sanitizes their hands before each meal WHICH I LOVED. Ha. Germophobe. I'll own it!
ROOM SERVICE FAVORITES:
Room service is not an additional charge but we did tip every time, and you need cash to tip so bring lots of $1 bills! I usually tipped $1 per plate or item that we ordered.
My favorite room service items are:
All hands on deck (pictured!) – an assortment of cheese, crackers, and grapes.
Buffalo chicken wings with blue cheese and honey mustard dip
WARM chocolate chip cookies (if you ask them, they'll bring them to you warm!) with cold milk
Mickey bars – my kids' fave, and the perfect pairing for all hands on deck cheese plates!
I've heard that the BLT is also delicious, but haven't tried it myself!
Key Lime Pie is also supposed to be v good!

Pirate night
Pirate night was one of my kids' fave things about our first cruise, and they loved even the modified version that they had last month! Word on the street is, Pirate Night is back full force on DCL (disney cruise line) which includes the cast dressing up in the dining halls, a huge dance party and cast performance after dinner, and special pirate night fireworks after dinner!
SECRET TIP: the very BEST place to watch the fireworks (at least on the Dream) is all the way toward the FRONT of the ship, on deck 13 heading to the right if you're walking toward the forward side of the ship. If you choose a seat up there on one of the loungers, the fireworks will go off right in front of your eyes because they shoot off that side of the ship!
Concierge cruising
SECRET TIP: You can get a major discount on concierge cruising. What is concierge on Disney Cruise Line? It's the VIP level of the cruise with a private lounge, extra snacks, free drinks and popcorn, and a staff to help with all your requests. We upgraded at the port for our most recent Disney Cruise to concierge level. I was curious to see if it was worth they hype (it was!) and the price to upgrade at the port is SIGNIFICANTLY cheaper than paying upfront to cruise concierge. You do lose the perk of booking extras (like a private cabana at Castaway Cay, or dinner reservations at one of their adult-only restaurants, or spa treatments, etc) ahead of everyone else on the cruise.
But guess what? They have almost all of these things available to concierge guests right when you board, so if you DO upgrade at the port, make your requests RIGHT away once you're on board! The staff can accommodate almost anything, from a specific time for the bibbidi bobbidi boutique (TOTALLY sold out before we boarded, but they gave me the exact time I wanted for Lyla), or a cabana at Castaway, or a dinner or brunch at Palo or Remy.
Do you need to cruise concierge level to have an amazing time? No way! We didn't in 2017 and had an INCREDIBLE, unforgettable experience.
Did I love cruising concierge? YES.
Want to know some ways to have a very similar experience without paying for concierge? Keep reading…
SECRET TIPS on cruising concierge style, w/o the cost:
Use the cushioned chairs on the upper decks near the concierge lounge. These were available at least on the Dream (and I'm guessing other ships!) and were the exact same chairs as the private sun deck for Concierge.
Watch the fireworks from the upper deck closest to the front right side of the ship (if you're walking forward). You'll have the best view in the house and this is where they tell concierge guests to go watch the fireworks!
Remember to order room service in the afternoon before dinner! It's not the exact same as having the snacks in the concierge lounge, but a lot of guests forget to utilize room service to snack from the convenience of their room or in between meals. One of my fave things on a Disney Cruise.
Use the messaging service in the app to ask any questions INSTEAD of waiting in line down at guest services. This is the very easiest and most convenient way to get answers to your questions and help with booking things, similar to concierge service.
Other Disney cruise FAQs:
What's the best time of year to go on a Disney cruise?
This totally depends on what's important to you, and where you're going! West Coast weather is best late summer – early fall. So you'll get incredible weather on a cruise from CA in September, October and even early November. Alaskan cruises are best at the end of summer when it's warmest. Some people want to avoid hurricane season for the Atlantic Ocean, which is June 1 – Nov 30. Caribbean is for sure warmest in the summer, but is warm water more important to you, or having the temps not too hot outside? On our most recent cruise in April, the water was a bit cooler (it still felt WARM to us West-Coasters!) but the temps the entire cruise were PERFECT. Our last cruise was in August and we were sweating at all the ports!

When is it most affordable? Anytime kids are IN school. You'll literally pay double during winter break, spring break, over Thanksgiving, and summer. And you'll get the best deals while most kids are in school. This is when flights will be cheapest too. So it just depends on your priorities as far as timing goes!
How far in advance should you plan a Disney cruise?
As FAR in advance as possible!! Some people say they've seen great last-minute deals, but I've also heard that even those are never as steep as the discount offered if you book RIGHT when the cruises are released. This typically happens about 18 months in advance, but right now DCL die-hards are waiting for Summer 2023 to come out, with no specified release date so far!
Where can you go on a Disney cruise?
In order of most to least cruises offered:
Caribbean, Baja Mexico, Europe, Alaska, Canada, Panama, and Hawaii. See all itineraries here!
Where do Disney cruises leave from?
Barcelona, Rome, Copenhagen, Dover, Galveston, Honolulu, Liverpool, Miami, Newcastle, New Orleans, New York, Port Canaveral, San Diego, San Juan, Southampton, London, and Vancouver. See all ports of departure here.
Best place to book a Disney cruise?
I booked our most recent Disney Cruise here, for TWO reasons. 1 – they gave me a $150 onboard credit that I used toward a massage (yes, please!), and 2 – when I had questions, I was able to just email them and they resolved/helped me with everything without me having to contact Disney Cruise Line which right now has wait times that are HOURS long, some people reporting waiting 8+ hours before talking to a real person. Eek!!
What's the kids club like on a Disney cruise?
My kids ABSOLUTELY LOVE the kids club on the Disney cruise! They have everything from drawing, to interactive games, to movie time, video games, crafts, and of course making "trip friends" in the kids club is so fun too! It's so fun that our kids are begging to go as much as possible.
How do you make time for the "adult beach" when you have kids with you?
On Castaway Cay, they have the kids club set up on the island too! So your kids can check in and hang there for an hour or 2 while you go enjoy a little adult time.

How does the price of a Disney cruise compare to other cruise lines?
Disney cruises are way more expensive. They just are. For some people, the cost isn't worth it! For me, I love that it's SO family friendly. I love the cleanliness. I love the feel of a Disney cruise. I love everything about it. I've been on other cruise lines, and Disney just does it so well that I feel like the value of what you're getting is worth it to me.
ALSO, I love that with Disney cruises, pretty much everything is included. Drinks, desserts, shows, etc. On many other cruise lines, people report back feeling nickled-and-dimed for SO many things like a soda package, paying for entrance to entertainment, etc. So I've heard some people say it almost evens out when you consider all that Disney Cruise Line includes for everyone aboard.
How would you compare a Disney cruise vs. going to the parks?
The cruise is about 1,000 times more relaxing and just as fun! I love the parks, but you're exhausted after! The cruise is absolute ultimate relaxation. Zero planning on your part. Did you read the part where they cut your kids' food up for you?! I don't have to plan meals, clean up after anyone, entertain anyone, or worry about keeping everyone happy. They do all the work. It's a TRUE vacation to me.
What's the most affordable way to book a Disney cruise?
Book RIGHT when they release the dates. Go in an "off season" (when kids are in school). Book an inside room (I've heard these are AMAZING for sleeping since there are no windows!).
ALSO right now is the time to book with the 3rd and 4th guest FREE! This is literally the best deal they've EVER offered.
To book this amazing BOGO offer, fill out this form and tell that Mint Arrow referred you and they'll include an on-board credit for each room you book too!
What does a typical packing list look like for a Disney cruise?
I packed for our cruise:
– a swimsuit & coverup for each day (fave amazon swimsuits here!)
– a casual dress for each day (formal night is optional, but check the dress code if you're going to either of the adult-only restaurants!)
– a couple biker shorts and tees
– 3-4 pairs of sandals
– one sweater (wish I would've brought 2 – nights were chilly!)
– a couple sets of workout clothes that I didn't use (ha)
– pajamas
– sunscreen (my new 2022 fave)
– packable laundry hampers (one of my FAVE hacks for keeping your cabin clean!)
– beach bag (THIS is my fave)
– kindle paperwhite to read like crazy w/o taking up space!
– travel bottles to just fill up w/ my own shampoo & conditioner. They do provide shampoo, conditioner, shower gel and lotion but I like my own shampoo and conditioner!
– $30 princess dress from amazon for my daughter who wanted to wear one
– BONINE!! the very best anti-motion-sickness drug ever.
– this non-power-strip, multi-device charger. Many are not permitted onboard because of fire hazards. This one was fine!
– these cheap and COMFY disney ears!
– a large insulated tumbler, because the soda cups are practically dixie cups they're so tiny!

Can you compare the two Disney cruise ships you've been on? Which one would you recommend?
We went on the Fantasy our first cruise, and the Dream on our second. LOVED both of them! They're super similar. I've heard from a lot of people that the Wonder is their favorite. The brand new Magic ship gets mixed reviews, but from what I've seen it looks AMAZING and I'm dying to try it!

How many days do you recommend going for?
Our first cruise was 7 days and it was AMAZING to have a full week. Our more recent cruise was a 4 night, 5 day cruise and at the end I was wishing we had at least one more day, but was grateful we got to go! The timing of Spring Break and Easter with our 2 littlest kids at home made a longer cruise not as possible.
How many people can fit in one room on a Disney cruise?
4 people in most rooms, but there are some deluxe rooms that fit 5!
What staterooms would you recommend on a Disney cruise?
We stayed in a deluxe verandah room on our first cruise, and ended up upgrading to a 1-bedroom concierge room on our last cruise. Although I LOVED concierge, I wouldn't hesitate for one second to do a verandah room again! I personally super duper LOVE being able to sit out on the verandah and enjoy a cheese plate and mickey bar from room service while the ship pulls away from each port, and sit out there in the morning for my daily "sunrise scripture study" that I especially enjoy on every trip away from home.
But some people say they only sleep in their rooms so they really don't care if it's just a window or even an inside room. And I've also heard the inside rooms are AMAZING for getting your kids to sleep in!! Even though the verandah rooms have blackout curtains, a tiny bit of light seeps in around the edges and does wake at least my kids up!

What is included on a Disney cruise?
ALMOST everything!
What's NOT included: alcohol, spa treatments, the adult restaurants, popcorn and soda at the theater (although this is free if you're concierge), the princess tea party (like a character dining in the park), excursions, and one sweets shop called Venellope's that has specialty ice cream and desserts. But soft-serve ice cream and mickey bars are free!

How old is "too old" for a Disney cruise? Enjoyable for guests without kids?
NO SUCH THING! I see so many retirement-age couples on these cruises. And every time I do, I'm like, "GOALS!!!" Lots of people without kids go and love it!
Are Disney cruise pools heated?
YES they are! Although my kids do say that the aquaduck (water slide) is a little chilly!

More SECRET TIPS!
Spa pass
The rainforest spa has a spa pass that a lot of people don't know exists. For $169 per couple + gratuity, which was about $20 a day per person for our 5 day cruise, you'll get access the entire time to all of the luxurious little steam rooms, aromatherapy showers, sauna, heated stone lounge chairs (sounds weird but they're AMAZING) and hot tubs overlooking the ocean. It's one of my most favorite things to do on a disney cruise! And you do not have to purchase any kind of spa services like massages or facials to utilize this secret pass! It's not really a secret it's just a lesser known optional perk. But when Neil and I went into the hot tub room on the last cruise a couple times, we had it all to ourselves, while our girls were playing at the kids club. PARADISE!!!
Secret room service items
Most people don't know this, but there's a "cake of the day" you can order to your room! Kind of fun to try each day's flavor. They also have a pie of the day. Sadly I always forget to order them. Next time!
I'm not a coffee/tea drinker, but a LOT of people love to order a hot carafe of coffee right before bed and apparently it stays hot all night?! So they can have it right when they wake up. I've also heard (but not tried) you can order a hot carafe of milk and ask for hot cocoa packets.
UNCRUSTABLES! You can order them to your room anytime, to hold a hungry kid over between getting ready time, show time, and late dinner time, OR after the show if you have early dining. Some people say they order a few at a time and put them in their bag for port days, but I haven't tried this myself.
Strawberries and whipped cream
Chicken fajitas
Steak sandwich
Chicken noodle soup
Warm chocolate chip cookies (yes, ask for them warm!!)
Warm oatmeal raisin cookies
Tomato soup & grilled cheese
Be sure to bring lots of $1 bills to tip! We usually tip $1 per item.
Placeholders
This isn't a huge secret, but something I feel like some people bypass or just don't understand. But you can put $250 down toward a future Disney cruise, and you'll get 10% off a future cruise and the $250 goes toward the cost of the next cruise so you don't lose any money. Anyone over 18 can book TWO rooms per place holder, so you really can double up on this if you're on the cruise with a partner and you both want to book placeholders for future cruises.
However, you cannot use a placeholder for a concierge level room, so if you're going to sail concierge it won't give you an advantage. There are also some blackout dates that don't work with placeholders, but you can ask about that on board to see the blackout dates before you invest in the placeholder.
Cruisin' with the happiest place on earth!
If you're trying to book a super memorable family vacation that everyone will enjoy, a Disney cruise is IT! Don't forget about the BOGO promo going on right now, too – again, the offer WILL sell out so hurry and book!! You won't regret it, I pinky promise. It's one of our very very favorite vacations and I already can't wait to go again sometime in the future!