The weather's getting colder and the holidays are right around the corner! If you still haven't found the perfect gift for the women in your life, or if you've been asked what you want and you have actually no idea, I get it. Sometimes you just don't feel that "WOW" factor from anything you're browsing.
That's why today I'm specifically breaking down the best gifts for her – all TOP-rated, all from Nordstrom. These are the highest rated items, trending literally everywhere, and have been super popular all year long! Items that really do have that "WOW" factor, and then some.
Shop stress-free
Before diving in, there are two things I seriously LOVE about Nordstrom that will make these "best gifts for her" even better:
1) They have an amazing return policy. If you're worried the item might not fit, or someone else might've already gotten it for them, Nordstrom has free returns and awesome customer service.
2) A super convenient shopping hack is to purchase online and pick up in store because sooo many of these items are selling out so fast. You're going to want to grab them online when you see it and pick them up from the store: no hassle AND no waiting for shipping. Win, win!
Buy in-store, online, or schedule curbside pickup
ALSO, I wanted to let you know that you can buy these online with free shipping and returns, OR you can schedule a curbside pickup so you never even have to go into a store! Be sure to sign up for Nordy Rewards as well so you can earn money towards future purchases.
Now let's get into the gifts!
For the homebody
First off, velour sweatsuits are BACK. (Hallelujah!)
I read tons of reviews of people raving about how soft this to-die-for hoodie set is, but I needed to feel for myself… and, WOW, they were right!
This set is seriously next level soft, it was almost unreal. It comes in SIX super cute colors, it's extra cozy, and I love the "holiday chic" look you can get in this super sweet pink color. I might have to grab more!
For the beauty guru
This Charlotte Tilbury Pillow Talk Set was one of THE HOTTEST and best gifts for her at Nordstrom this year… SO hot that it already sold out – such a bummer. I promise to keep a close eye on this one and let you know if it comes back in stock.
BUT I'm so glad that this Charlotte Tilbury Face & Eye Palette Set is still available!
It's been one of the TOP GIFTS I've suggested the past couple of years, and something I use ALL the time on trips because you really have everything you need in one little compact.
You get $90 worth of product in this on-the-go set for only $75. It's such a great deal, and it's also getting rave reviews! Even though it's not the full set, it gives you EVERYTHING you need to do a quick, stunning five-minute makeup look.
Eye shadows, two different blush tones, a highlighter, and contour – all in one place. I'm obsessed with this pallete, especially while traveling.
For the girl starting a makeup journey
These 12 professional-quality brushes for the face and eyes are the BEST starter for an aspiring makeup pro. I love this kit and always grab for these brushes. It's super highly rated and the quality is going to last you – I've had my Sigma brushes for over five years!!
For the trendsetter stepping out
First, let's talk about the fashion icon of combat boots and always one of the best gifts for her! I looove these Doc Martens, specifically because they're a little bit higher than the original style, and they have softer leather. The exact pair I'm wearing here is sold out, but you can still get the TOP rated OG's here.
Second, when it comes to tennies, my Golden Goose sneaks are truly a staple in my closet and worth. every. penny. I wear them all the time because they go with literally all outfits and are super comfy. Aaaand I secretly love that they're a little beat up because you don't have to spend a second worrying if they're going to get scuffed up.

I normally go UP a half size in these, so make sure you check the size chart to get your perfect fit. Right now I'm LOVING the rose gold color-way which goes with everything, but Golden Goose has sooo many options to pick from.
Third, these Nike Air Force 1s are a sneaker option that's a little less pricey and SO TRENDY! My brother talked me into buying my first pair this year. I got the classic white and I loveee them. I've been watching the pinkish beige color-way, too, and imagining them with joggers, skirts, jeans (EVERYTHING) is making me wanna buy another pair. You seriously can't go wrong with these sneakers as a staple in your wardrobe!
For the outdoorsy girl
If you love hiking or running, these running shoes are totally the sneaker for you! Neil does trail running and LOVES this pair by Salomon, and I grab my pair for the times I get out and hike. These are crazy highly rated because they're the BEST of the best.
For the athleisure obsessed
These are the BEST joggers I've ever worn, hands down, and definitely one of the "best gifts for her" this season!! I'm obsessed with these super comfortable, on-trend joggers that you can wear working at home, then straight to run errands in seamlessly. You can put them on with a t-shirt and sneakers like me when I travel, or just look cute & comfortable in your day to day. Plus these have POCKETS. Need I say more?!
For the workout junkie (or Disneyland lover… aka ME!)
Some colors of these amazing running shoes are actually on sale right now!! These are what I wear to Disneyland the absolute most because they're so comfortable and you can guarantee your feet will be comfy for a longgg day of walking. I love how lightweight these shoes are, too.
If you're giving these to someone who already has a lot of running shoes, you can get them a new color combo they don't already have and I know they'll be super excited!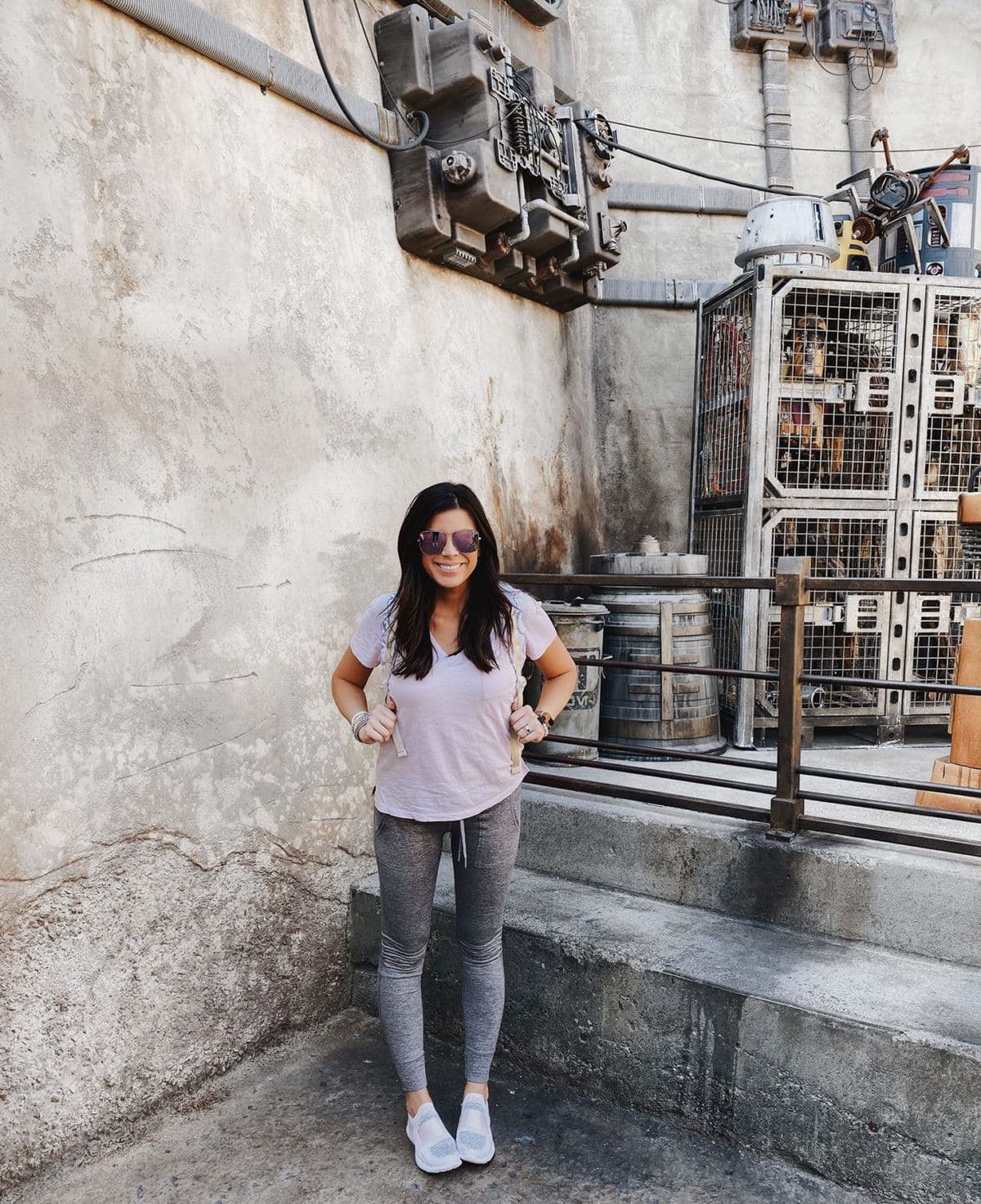 For the girl cheffin' it up
You're going to want to grab one of these non-stick, ceramic, multi-purpose Always Pans while they're still in stock!
This is a must-have product in my opinion – it's the very BEST non-stick pan I've ever used. Since we've been hand-washing ours, it's lasted over a year, even after DAILY use. Ours looks and works just like it did when we took it out of the box a year ago.
The cooking enthusiast in your life is going to LOVE this extremely high quality, nontoxic, non-stick pan that can replace seven of your existing pans. Not to mention it's SO CUTE, and looks perfect sitting out on the stove for display!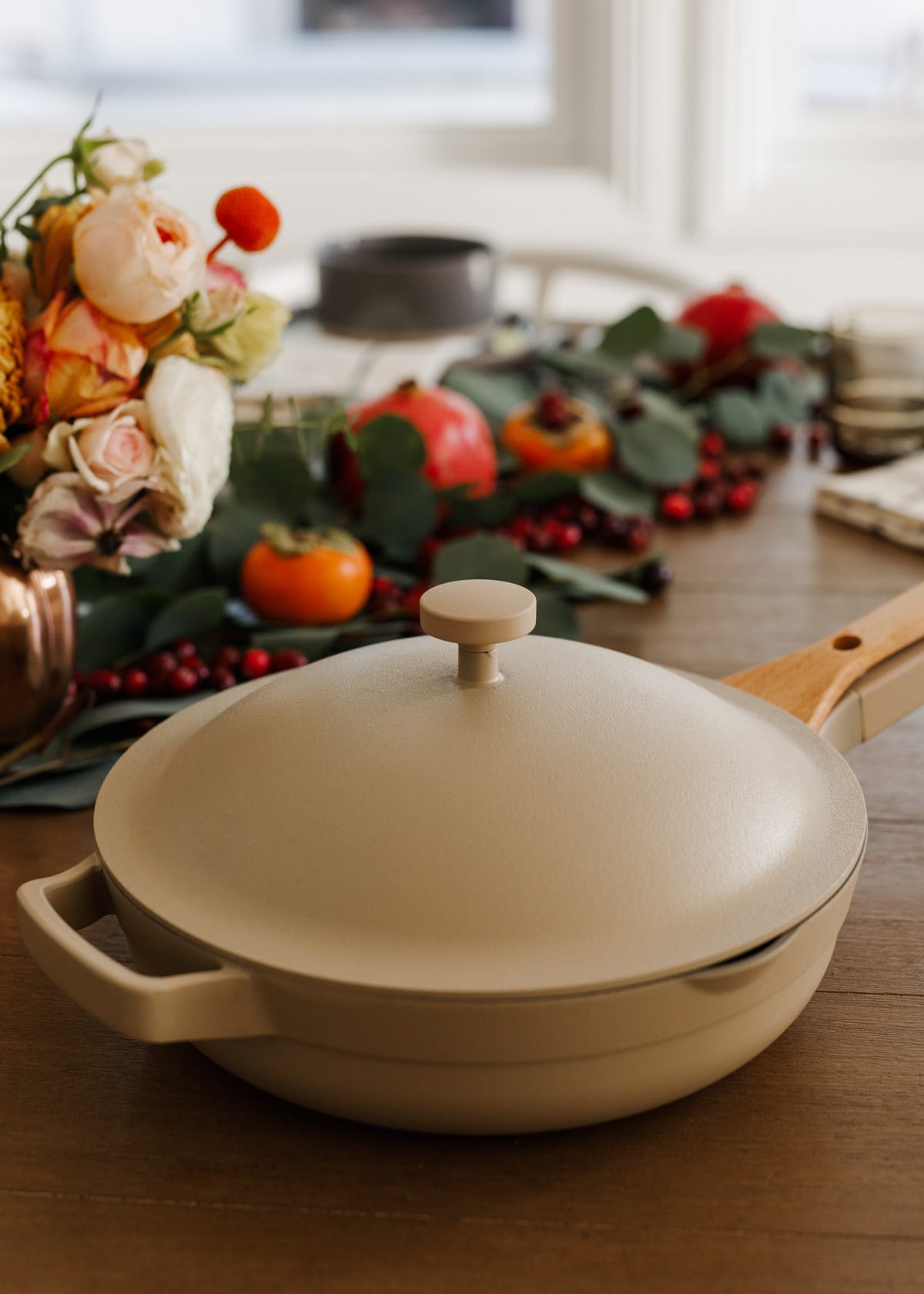 For the college student
I think this mini rice cooker is SUCH a fun gift for a college student (or newlywed). I would've LOVED having this in college with all the rice I made. Plus, it's priced perfectly and comes in a few fun different colors!
I'm also obsessed with this mini waffle bowl maker! It's a fun, affordable gift, and a top seller, too. This would've been amazing for me in college as well for all the times my friends and I made ice cream sundaes!!
For the insomniac
One of my FAVORITE things I've discovered this year is the Hatch sound machine!! The Hatch restorer sound machine has a reading light you can set up with a nightly routine that'll play white noise if you want all night, or it will wake you up with light sounds in the morning (which is sooo much better than the obnoxious iPhone settings we all use!).
This product is extremely versatile. You can adjust what days you want an alarm for, use it for meditating, use it as a display clock… Such a great nightstand addition!
For the girl who wants amazing hair
Every time I use the Dyson straightener I get DMs asking what my routine is! It's literally the BEST flatiron I've ever used in my LIFE and is definitely one of the best gifts for her this holiday season.
The Dyson is the most awarded hair straightener of 2020 based on industry-recognized awards. You're going to love the results from this and feel so good about not damaging your hair in the process! This is definitely a splurge but suuuch a good investment and would be an amazing gift.
For a less expensive alternative, this Round Blow-Dryer Brush from Drybar is CRAZY highly rated and people love its dual functionality of drying and styling all in one. I bought this and tried it out on Ani right away and LOVED IT. It dried her hair so quickly and perfectly. It doesn't get super hot like the cheaper drugstore version of this tool that many people use. So if avoiding heat damage is important to you, this version is WELL worth the investment.
Definitely an amazing Christmas gift for the lady who likes to take really good care of her hair!
For the girl always on vacay
This is my very most favorite maxi dress and cover up of all time!! I've been wearing it for YEARS (the pic below is like 5 years old?!) and I own it in at least 4 colors. It comes in so many color options and gives great coverage without ever getting hot and uncomfortable. I love that I can walk away from the pool in this cover up and head straight into a restaurant for lunch without feeling super exposed.
This has seriously been my go-to for wanting to feel good about going down to the beach, even during the thick of postpartum. It's been so fun styling it in the summer with a t-shirt on top tied up or a jacket to wear out. I'm obsessed with this dress, its quality and versatility are amazing!!
The best gifts for her
Nordstrom's gift selection never ever lets me down. They're like that trusty best friend you can always count on to give you the best! Every single one of these items brings the "WOW" factor that you're looking for when it comes to that Christmas morning surprise. Let me know if you decide to get any of these items – I'd love to know what you were most excited to give!