One of our MOST highly anticipated roundups of the day – the best BABY deals of Cyber Monday 2019 – is finally here!!! We searched and searched all morning long to come up with the very best of the best around the internet so you guys could save the most money on the nicest gear for your littles!
Baby Gear
Maxi Cosi Pria 85 Convertible Car Seat
Okay let's get started. For a LIMITED TIME, you can get our beloved Maxi Cosi Pria 85 for 28% off! You're saving $74.93 which is seriously so good, I would jump on it immediately. This is the coziest car seat for our kids to sit in, and we LOVE that the entire cover is machine washable AND dryable.
We're obsessed with the Maxi Cosi Pria 85 because of these reasons:
– super plush and easy for kiddos to fall asleep in
– cover is completely removable and machine washable AND dryable, such a lifesaver for accidents and spills!
– super high weight limit (85 lbs) forward facing
– best car seat on the market for the person sitting IN FRONT of a rear-facing car seat, it offers the front seat passenger the most leg room of any convertible car seat on the market
– cup holder
Maxi Cosi 5-in-1
If you're looking to only buy ONE car seat for the rest of your life, look no further than the MAXI-COSI Magellan 5-in-1 Convertible Car Seat! It's 25% off for Cyber Monday and transforms from a rear-facing seat for a baby, to a toddler forward-facing seat, AND to a booster for your big kid!
Graco Car Seat
TODAY ONLY: Get Graco SnugRide SnugLock 35 LX Infant Car Seat for 20% off! This is such a classic and affordable infant seat PLUS it has TrueShield side impact technology to keep your baby safe!
Baby Jogger City View Car Seat
This Baby Jogger City View 2018 All in One Convertible Car Seat is 20% off and can be used with kids from 5-100 pounds! We have these seats and LOVE THEM because they go from infant baby to our super tall 7 year old who rides in a booster now! They're also known for being one of the very slimmest car seats on the market. More about why we're obsessed in this post!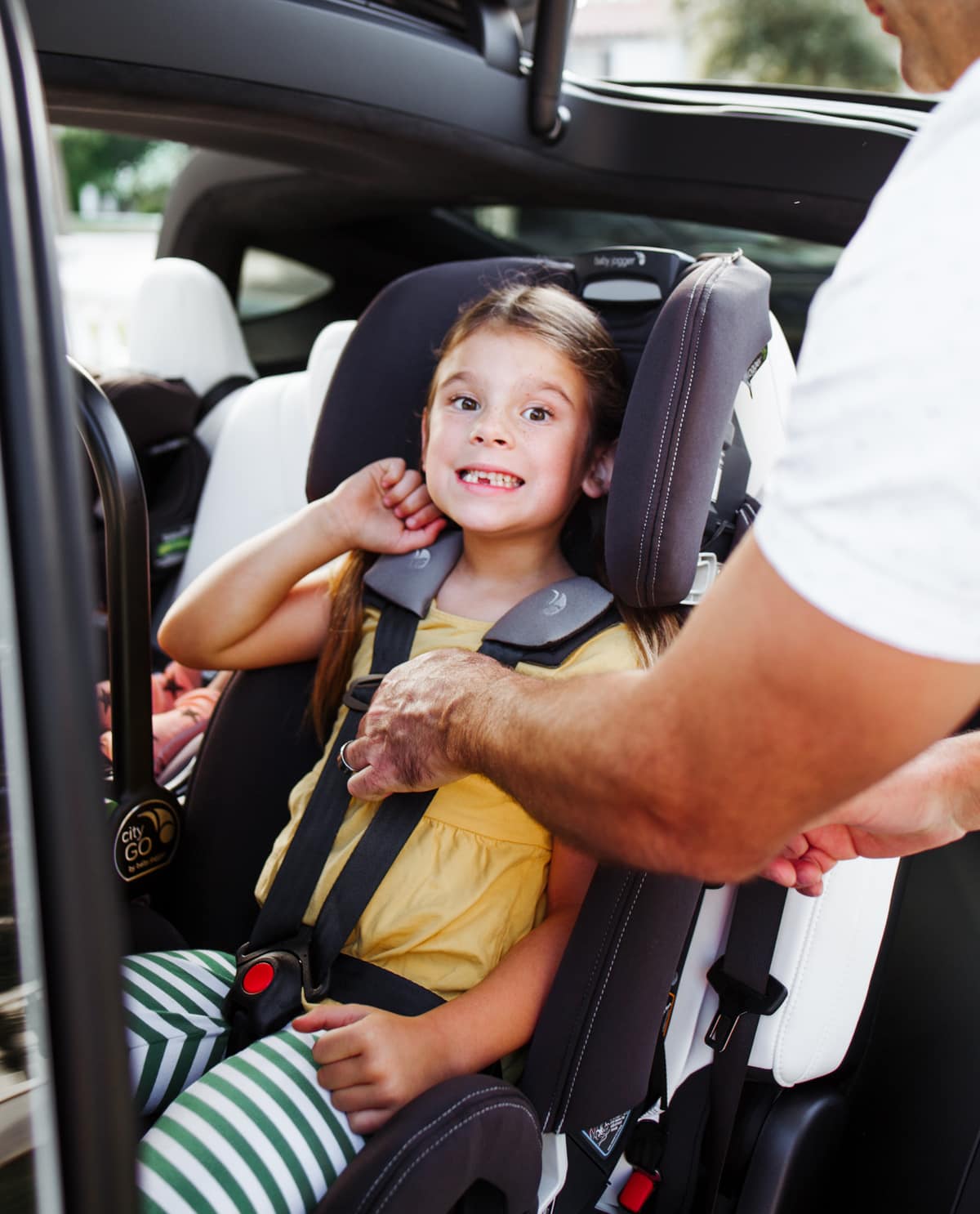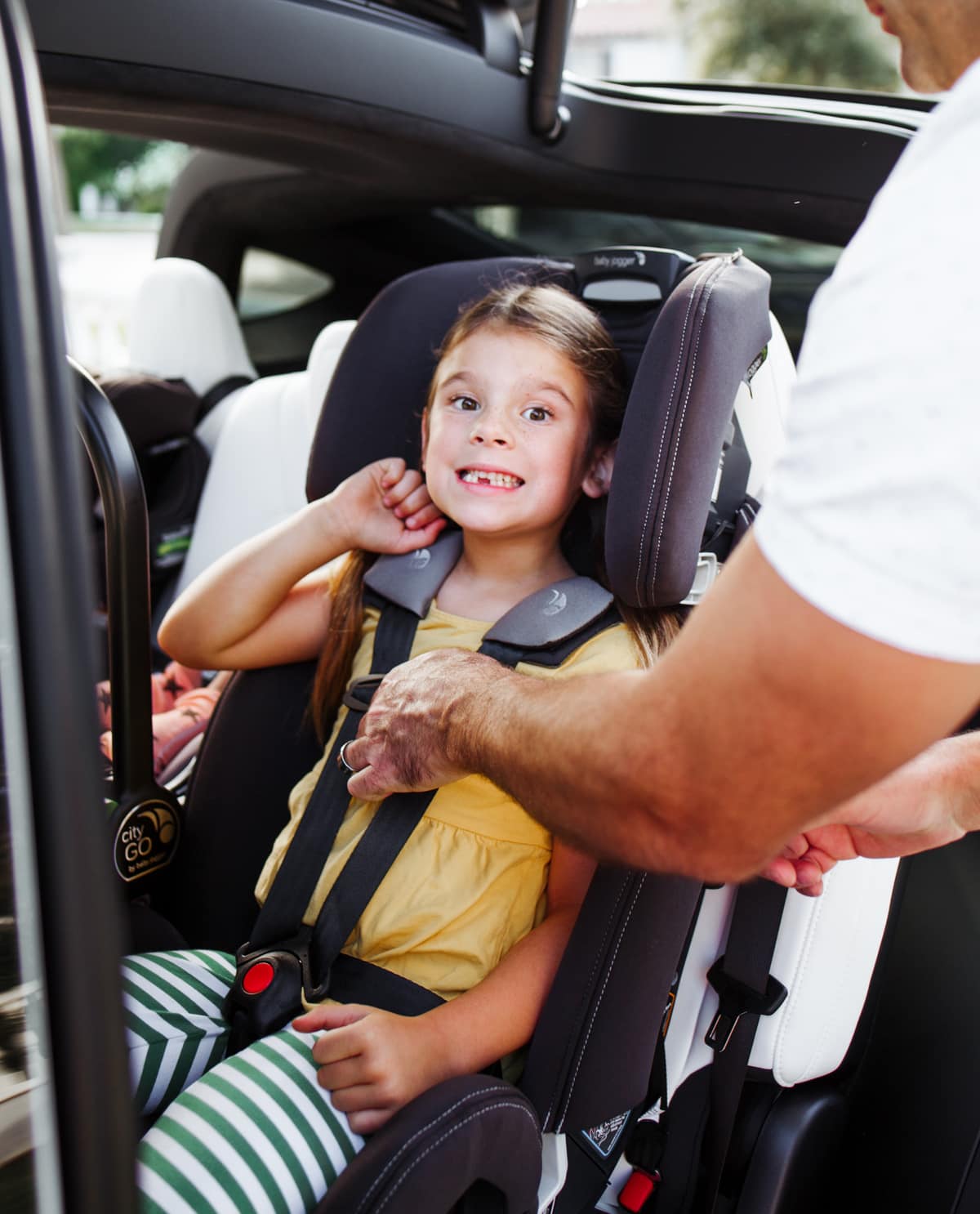 City Tour LUX Stroller
City Tour™ LUX 2018 Folding Stroller is 20% off, and the BEST traveling stroller. Lightweight and super easy to fold, this is perfect for a family on the go!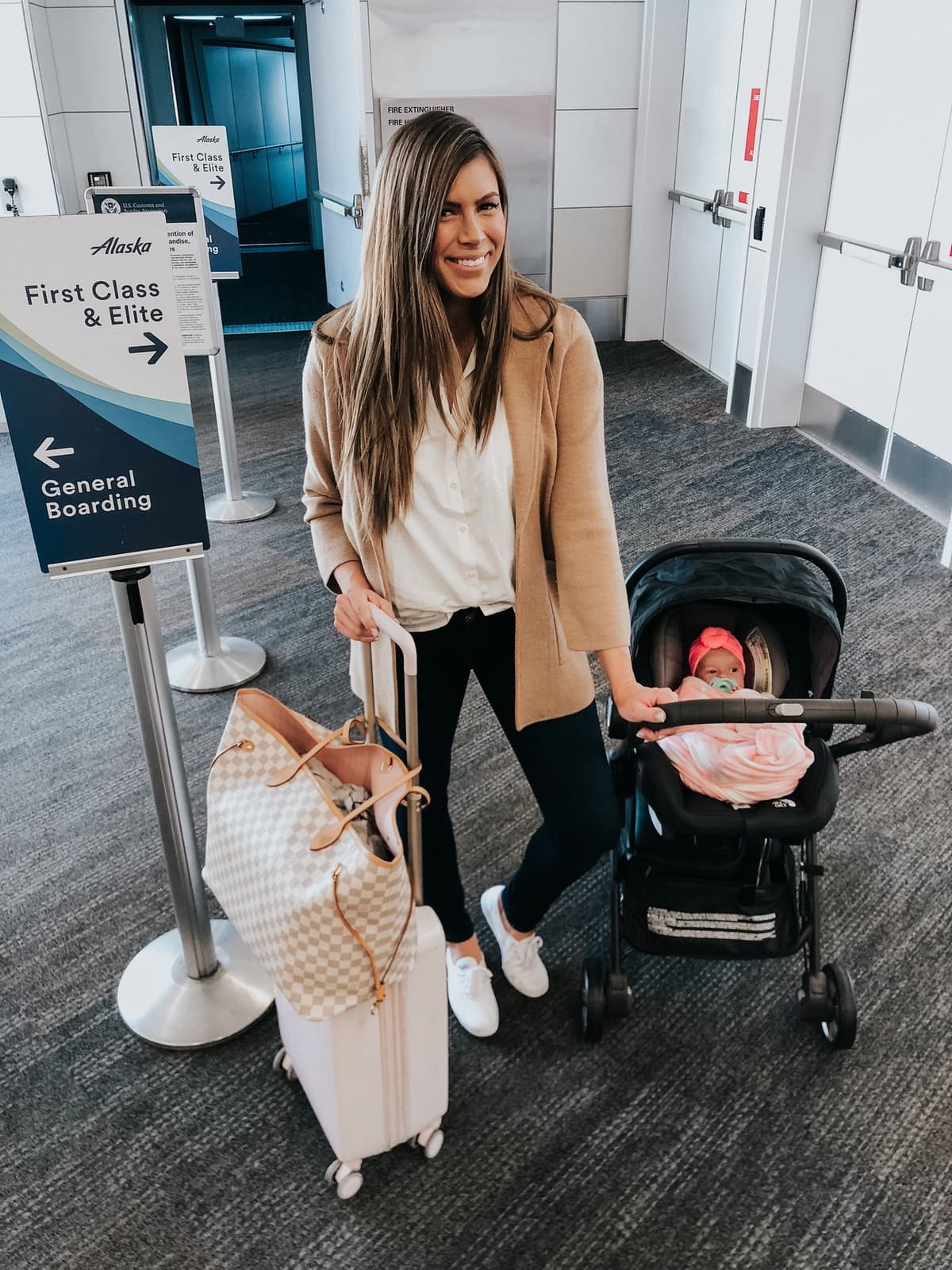 Baby Jogger 2016 City Select Single Stroller
The City Select stroller is ON SALE right now for 20% off the single version!
This is the 2016 version of the City Select stroller that has an upgraded buckle and the handle bar can extend more than the 2015 version (great for tall parents!) For the BEST price, you can get it here for 20% off.
The City Select stroller has the capability of turning into a double or back into a single, so if you find yourself out with one baby instead of two, you can change it to just a single stroller, or if you only have one baby now but are planning to have another soon, you can easily convert it to a double by just clicking in the seat!
We LOVE the City Select Stroller for its incredibly smooth push, huge undercarriage basket, durability, and most of all its ability to configure the stroller 16 different ways! See a more thorough demo here.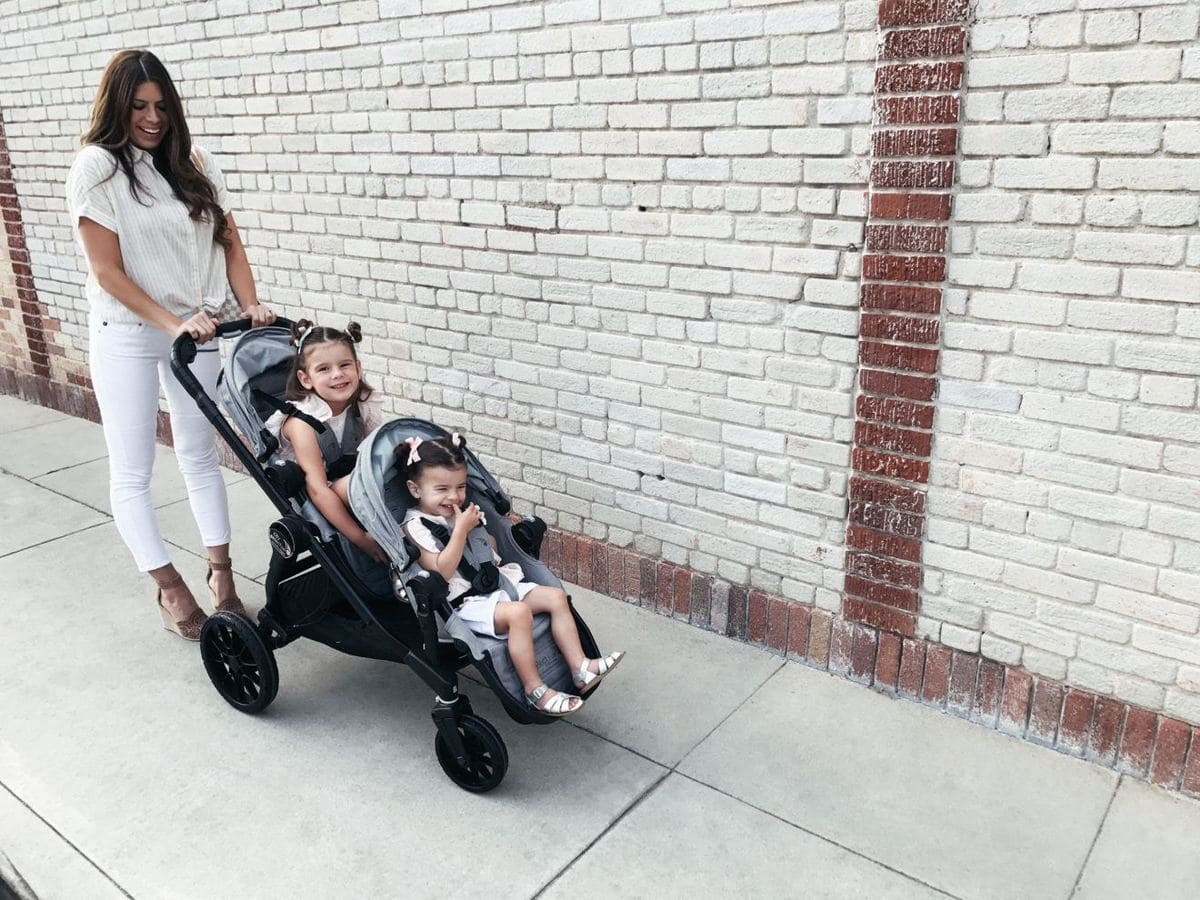 Baby Jogger City Mini Strollers
Right now you can also get the City Mini GT 2016 single stroller for 40% off!!! We absolutely LOVE the City Mini strollers for its one-hand quick fold, its super light weight, and amazing quality push and glide. It's basically like the Cadillac of all travel strollers! If I had to choose just ONE stroller to recommend to a parent who travels a lot or is on-the-go, this would be it.
Baby Jogger City Mini Stroller – 2016 for $12 off! If you're wanting a lightweight stroller for under $200, this is one is great!
City Tour 2 Stroller
This City Tour 2 Stroller (single) is 20% off! This has so many features of a larger stroller while still being super compact. BONUS: it's now compatible with infant car seats!
city mini GT2 Stroller
The city mini GT2 Stroller is 20% off! This all-terrain stroller maneuvers with ease while still being compact enough to throw in your car!
Baby Jogger City Tour Double
Have multiple kids or a set of twins? This City Tour 2 Double Stroller is perfect for a growing family AND you can get it for 20% off today!
MIMA Xari Aluminum Chassis Stroller
Get this Xari Aluminum Chassis Stroller with Reversible Reclining Seat & Carrycot for up to almost $300 off! This stunning, fashion-forward stroller will turn heads down every street!
BOB Strollers
If a BOB stroller is on your wishlist or if you're a runner/jogger wondering which stroller to get for you and baby to cruise around, you'll want to take a look at these BOB stroller deals!
The BOB Revolution Flex Jogging Stroller is the stroller we swear by for running and for any rough terrain. This is the only stroller we will take on their beloved beach trail too, because any other strollers get stuck in the sand! It's super durable and has great suspension and a really nice big sun shade for the baby. We found it today for up to 20% off, saving you $72, PLUS clip the coupon for another $43.20 OFF!!!!! That makes the stroller 33% off! PLUS, you get can the BOB Revolution Flex 3.0 Duallie Jogging Stroller for 15% off!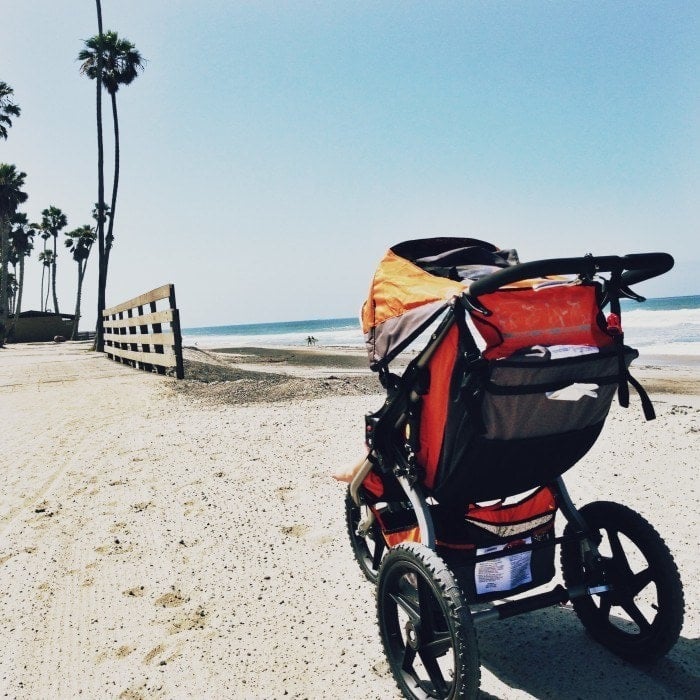 Britax
Get this Britax Marathon ClickTight Convertible Car Seat for 30% off saving you $90! These are CRAZY highly rated and so easy to install. All you do is pop up the top, buckle the car seat, and pop the top back down.
Seriously, most fool-proof car seat installation of all time, and known to be extra safe because in the case of a car accident, the car's seat belt clamps down and the car seat basically BECOMES part of the car. It's pretty incredible and we LOVE our clicktight seats!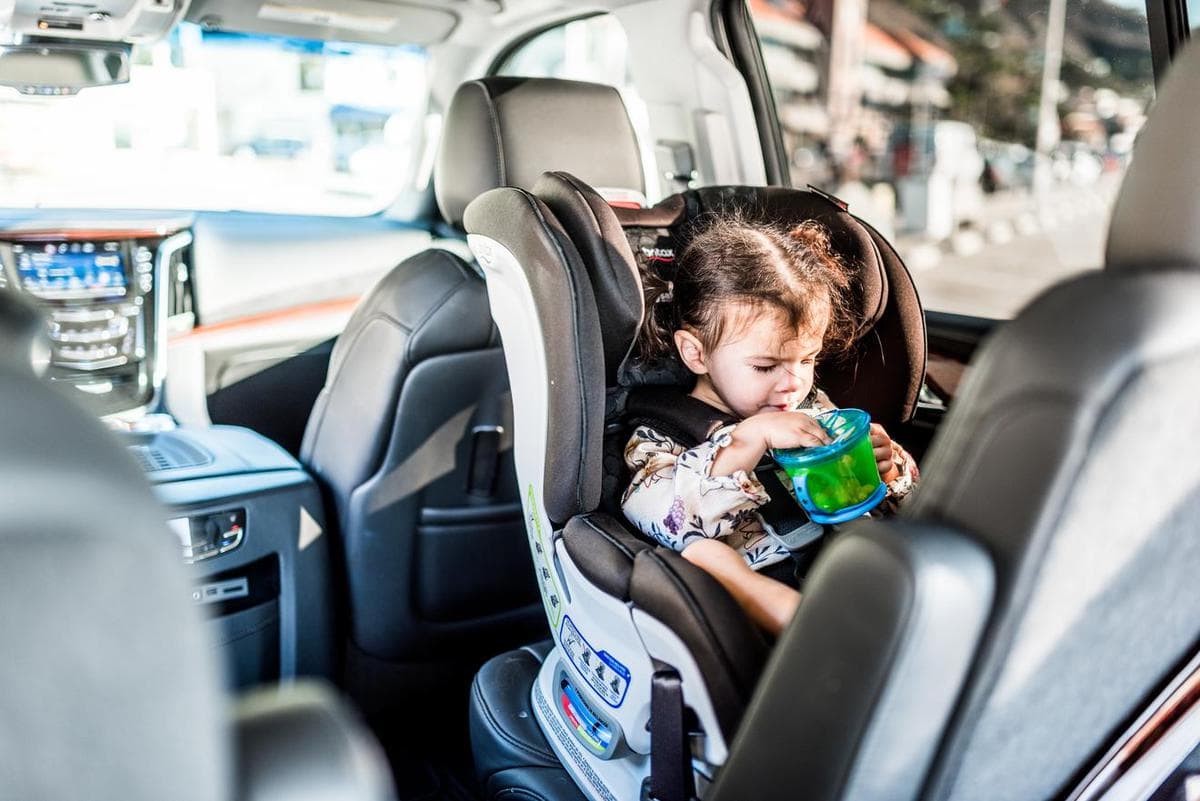 There's also a couple of Britax booster seats on mega sale here too for Cyber Monday!!
Baby Items
Ergobaby 360
We absolutely LOVE our Ergobaby carriers (yes we own multiple!) and use them for trips to Disneyland and the grocery store and hiking and everywhere in between. BEST price this Cyber Monday are these ergobaby carriers for 38% off!! That's $60 off, making the price only $99.99!!!
4moms Portable Playard
This 4moms Breeze Plus Portable playard is 20% off saving you $50 on this incredibly easy must-have!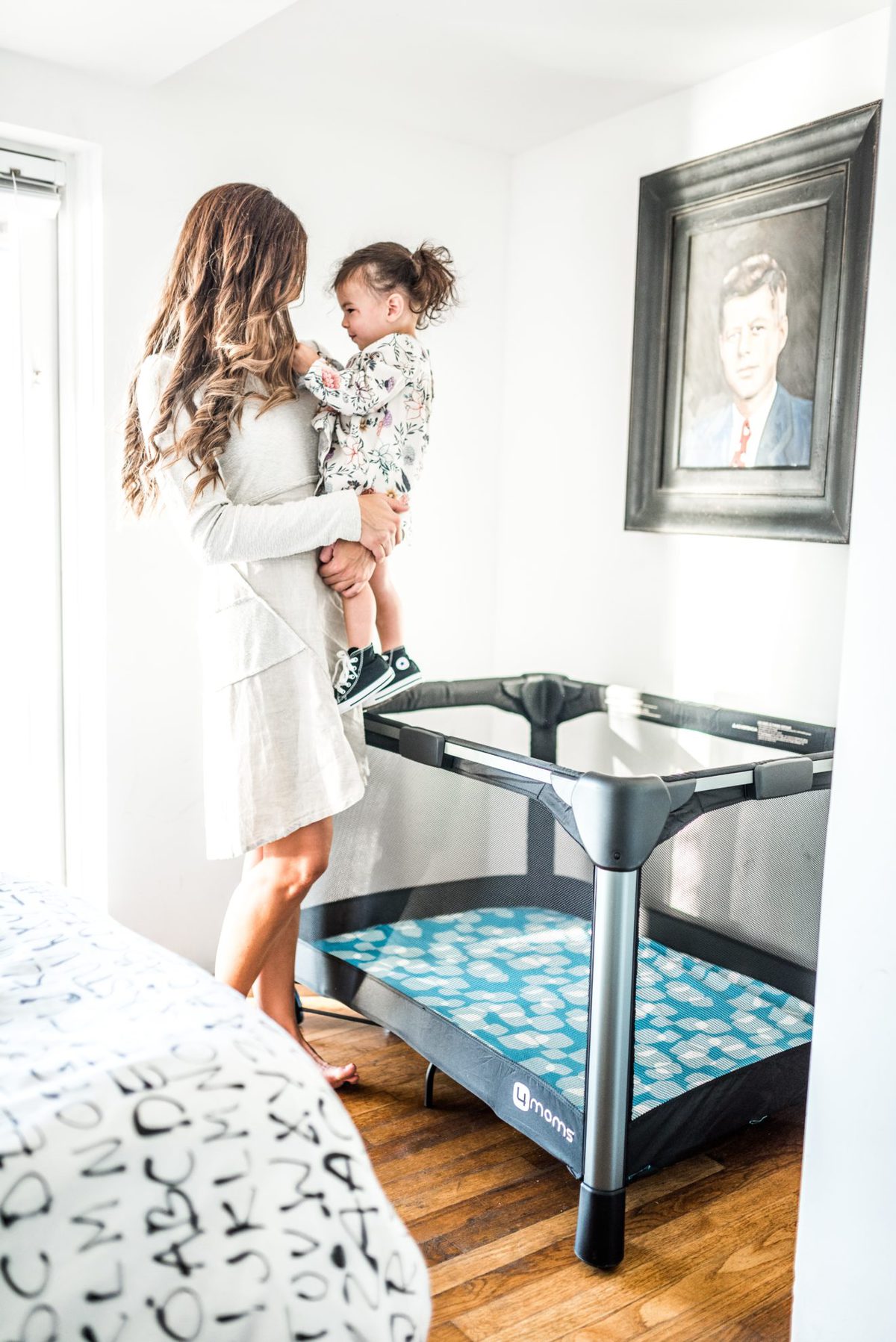 4moms rockaRoo
This swing saves lives, I'm certain of it! Get the 4moms rockaRoo Compact Baby Swing for 20% off ($32 OFF!)
Comotomo Bottles
These bottles are cult favorites! They feel the most like a boob and real nipple so they're supposed to cut down on nipple confusion if you're worried about that! They also are designed so you don't need a bottle brush to clean them out which is SO NICE. They have vents as well to help with proper digestion and to avoid colic or gassiness by reducing the amount of air they're gulping. These were my babies' favorite bottles HANDS DOWN, and we still use them daily with Millie. Get these for 40% off today, plus an extra $1.07 coupon at checkout!
Diaper Cream Brush
Okay kind of funny looking, but this BabyBum Diaper Cream Brush is ACTUALLY PRETTY COOL. It allows you to spread the cream or ointment on the baby's bum way more evenly and then you just wipe it off with your wipe after and your fingers aren't covered in baby butt cream while you try to not get it on your baby as you set him/her down before you go wash your hands. You're laughing if you've done this before because you know it's true! Snag it right now for 20% off and be grateful later…(ha!)
PPOGOO Nursing Cover
Snag this multi-functional HIGHLY-RATED nursing cover that also doubles as a car seat cover for 57% off making it only $9.99!
Baby Gadgets
Baby Monitor
You can snag this baby video monitor for 25% OFF today!! It has night vision, a talk back feature, temperature gage, and a great range to keep your baby always in sight! We have this monitor and love it!! Amazing ratings and a really affordable (only $59.99) price tag too.
Braun Thermometer
It's so worth it to spend a little extra money on a thermometer you know won't bother your sick baby and will give you an accurate read and the Braun Digital Ear Thermometer fits that description perfectly. It's so easy to use, gentle, accurate, and it's only $42.99 (reg $49.99) making it super affordable!
Sound Machine
If you're wanting a white noise sound machine, this one is really great and 44% off right now, making it only $13.99! I have several of these, and they are SO easy to travel with as well!
Crib
This Kendall Convertible Crib is such a good, classic crib. Available in 4 colors and $250 OFF right now. Perfect for passing down to each kid. Since you can get it for $349 right now (reg $600!) I wouldn't wait or pass up this deal if you've had your eye on this crib!
If you don't love the look of this crib though, Pottery Barn is doing up to 25% off all furniture right now with the code UNWRAP at checkout!
Clothes and Swaddles
Freshly Picked Black Friday discount
It's no secret that we LOVE Freshly Picked shoes at our house! All 3 of my babies have learned to walk in their Freshly Picked moccs because they're SO CUTE, actually stay ON your child's feet, and are backed by the American Association of Pediatrics as a shoe that improves balance and coordination.
For Cyber Monday, Freshly Picked is offering 30% off their WHOLE SITE! You read that correctly! And wait…there's more! If you are a Fringe member you can stack your 20% ON TOP of the 30%, making these savings unheard of!!
You can sign up HERE to be part of the Fringe for free with code FPxmintarrow and get your first month FREE. You'll also see $10 deposited into your account immediately that you can put toward this Black Friday sale!!!
It costs $10 a month to be part of The Fringe, but you also get that $10 per month deposited into your account so you really aren't out ANY money. Plus, as part of The Fringe, you ALWAYS get 20% off, even during sales!
SO right now that makes this Classic Diaper Bag that I love so much that's originally $175, and on sale for $123, drop down to $98 TOTAL. That's 44% TOTAL off the original price!!!
GAP
Millie's one-piece is no longer available, but Baby Gap has so many other cute clothes on sale! EVERYTHING IS 50% OFF AT Gap site-wide with the code GAPCYBER, plus an extra 10% off with code GOBIG at checkout!!!
Aden + Anais Swaddles
It's no secret that I LOVE to use Aden + Anais swaddles for my babies. They are perfect for swaddling (duh) but also so great as a car seat canopy, burp cloth, nursing cover in a pinch, clean surface to change baby on or have them roll around on, and to sleep with. They really are the perfect swaddle blanket and the perfect shower gift! You can honestly never have too many.
Right now there's the cutest selection of Aden + Anais swaddles for up to 56% off!!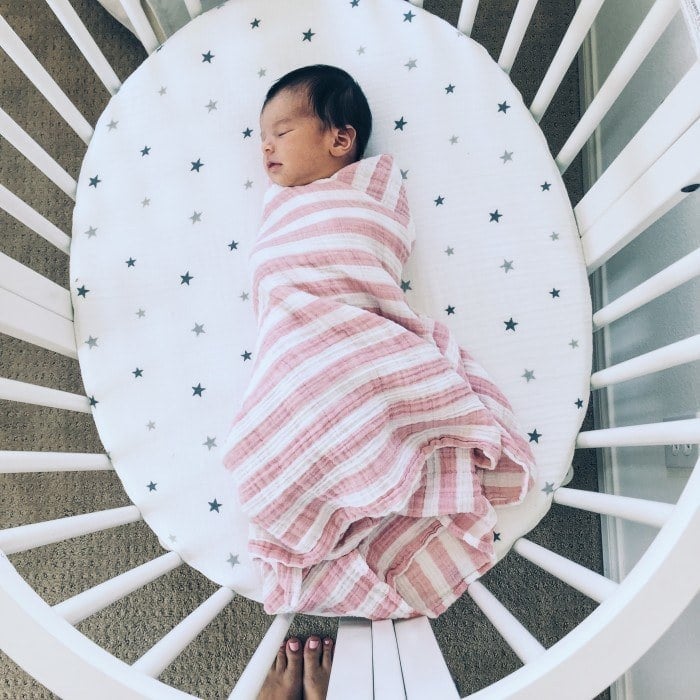 Happy shopping!
I hope these deals will help you and your little one! And if you need to fill that baby registry, check out my best baby registry list ever.