A few weeks ago we went on a little day trip with the girls and my mom and had the best time on Balboa Island! We strolled this cute little beach town in our Baby Jogger's new City Select LUX stroller. It's one of our favorite places to run away for a change of scenery. We had the best time roaming the streets looking at the cutest houses, saying hi to all the locals and their little pups, feeding the birds, and obviously, eating frozen bananas!
I'm so excited to share with you guys a little Balboa Island guide and what to do in the area! Balboa is the cutest little spot in Newport, California. Every house has so much charm and the main street is so unique and fun. It's a great place to explore for all ages.
Balboa Island has the cutest candy shop called, Balboa Candy, and it will fulfill all of your salt water taffy dreams! They have every flavor by the barrel.
And for you chocolate lover's out there (who's with me?!) they have the BEST frozen bananas! Dad's Original Frozen Bananas are the real deal, so yummy and the perfect treat to eat while window shopping.
Another one of Anabelle's favorite places on Balboa Island is the Island Tales Bookshop. It is the cutest book store, and she always asks if we can go get a book when we're there.
I love wandering the Island picking out houses I'd love to live in! There is the cutest little beach front right in Balboa that you can play in, and right across the harbor is the Balboa Fun Center. You can drive, but the quick little ferry is a fun adventure! It's a short boat ride that takes you right across to carnival games, some good food, and a cute ferris wheel.
And right down the street is one of my favorite local Italian restaurants: Mama D's. They have the best best service and are so family friendly. Their pink sauce is to die for!!! And their pizza, and pasta, and basically everything. Definitely a must while visiting the Newport Beach area.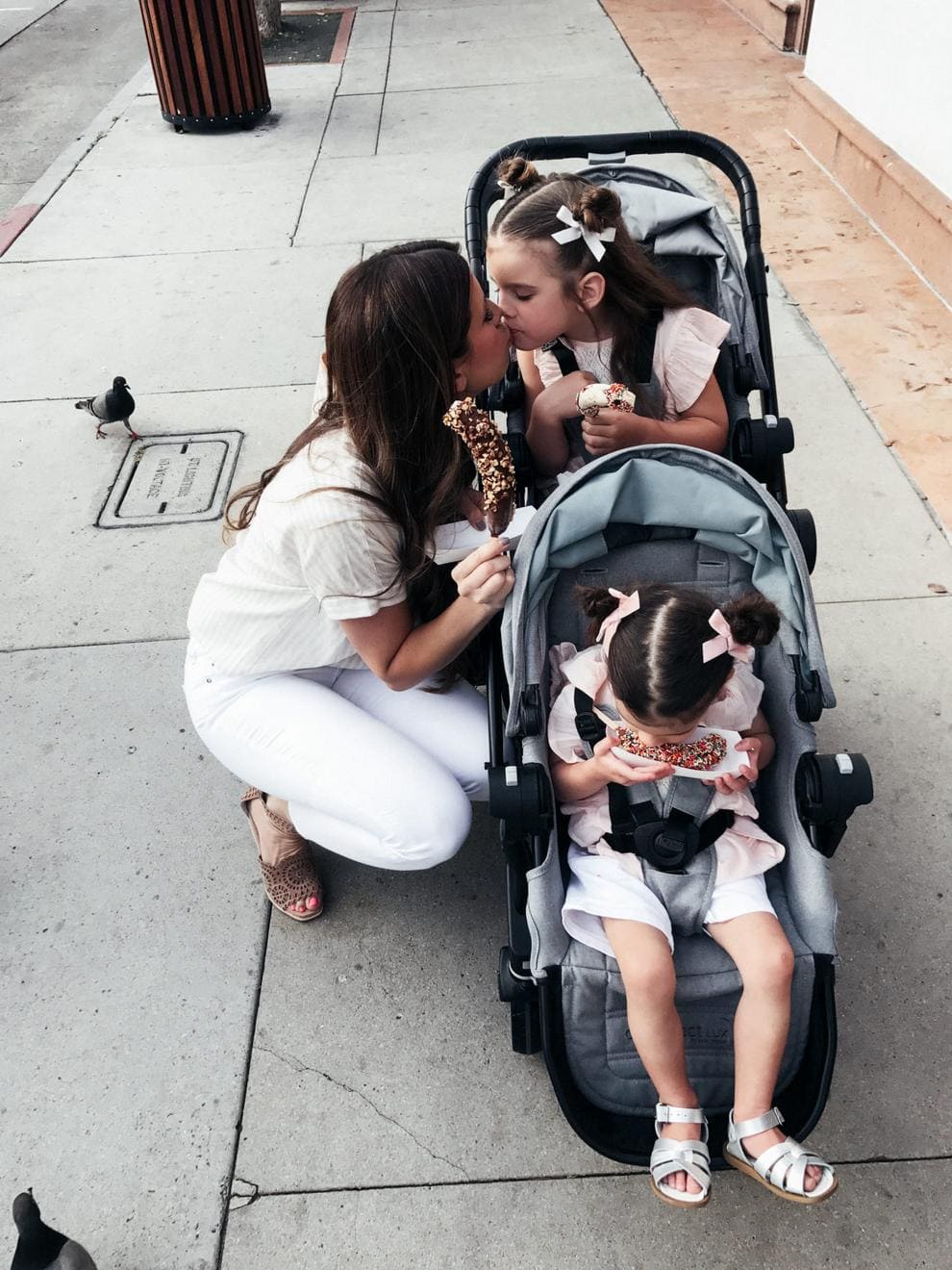 How cute is this City Select LUX we strolled around Balboa Island in? I'm in love with this new slate color and fabric! And once we had the whole stroller assembled, Neil kept testing it out and (no surprise to me) was obsessed with the brake feature. There's a new improvised control for an accelerating brake and parking brake that is right near the top handlebar, and I have to agree, it's pretty genius!!
Not only do I love the look of this stroller, but I really really love the multiple seat option that can adjust from one to two so both my girls can ride. And this stroller grows with your family as you do. They even have a new bench seat or glider board attachment that can accommodate another kid! There are over 20 options of ways to seat them which is one of the reasons I've loved and supported this stroller for so many years.
The City Select LUX is so easy to transport, it has an auto lock and carry handle which makes collapsing super simple. Seriously some strollers you feel like you need have been lifting hardcore weights for a few months before attempting to fold them ha, but this stroller is super easy and quick!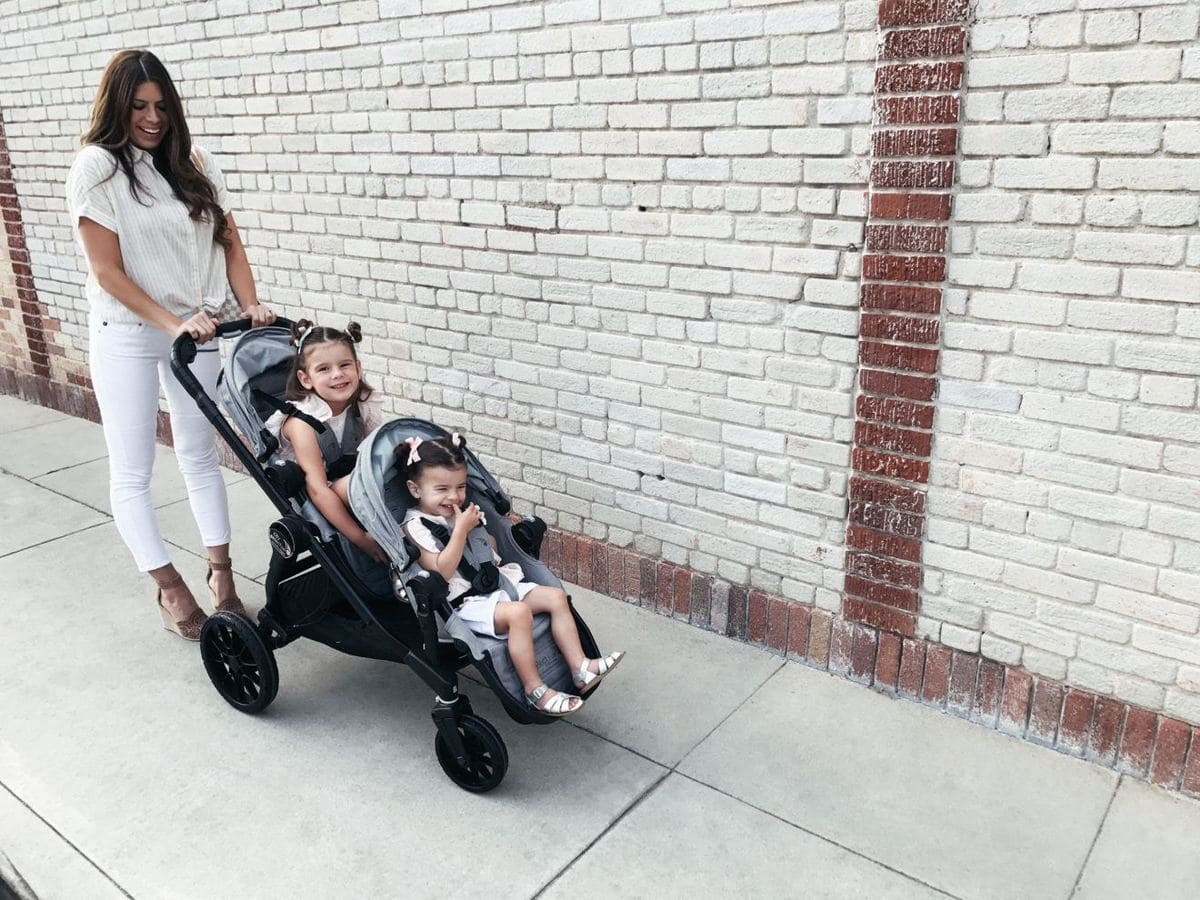 Striped cream blouse
White Jeans
Blush wedges
Girls' pink tops
Girls' white shorts
Girls silver sandals
We had such a fun time down at Balboa Island. This is day is the perfect example of #HowIStroll with my favorites. What are your favorite day trips to take with your family? Head to BabyJogger.com/pages/strollerguide for fun city guides and find your next destination!