I love a good reason to coordinate, whether that be church, family pictures, or a HOLIDAY! And I kinda feel like there's no better feel-good coordination than matching with the American flag – am I right? That said, I don't looooove buying pieces that can only be used a couple days a year. That's just not economical, and we at Mint Arrow are all about killing two birds with one stone! So today we are going to talk about how to style the cutest 4th of July outfits using pieces you already have OR classic clothes that you can give a patriotic twist to!
How to create 4th of July outfits in 2021
You don't have to wear the basic t-shirt with a flag on it to be patriotic. Take what you have in your closet and tune it to AMERICA with a few simple steps. Here's what I like to do to assemble a killer 4th of July outfit… (I'm also looking at you, Memorial Day!)
Start with a simple top in either blue or red. Add light colored or white jeans or a skirt with white sandals or sneakers and BOOM. 'Merica.
Remember this is one of the few days of the year where it's encouraged to mix primary colors so have fun with it! Incorporate patterns for even more visual interest.
Play up the accessories! A classic blue and white ensemble immediately goes patriotic when paired with a killer red lip or earrings. I really feel like the red lip is my trick to making the patriotic look POP!
I love a denim jacket over a red t-shirt dress. It immediately gives off the vibe you're looking for without feeling like you're in a parade!
Buy a new shirt that you're excited about that doesn't scream "4th of July" but is within the color scheme. You can tweak a few things to make it fit with the holiday but also know you can wear it lots of times after that, too!
For kids, buy versatile play clothes or stuff they can wear to church. I want to spend my money on versatile pieces that fit into their wardrobe all year long!
Where to buy the cutest patriotic clothes?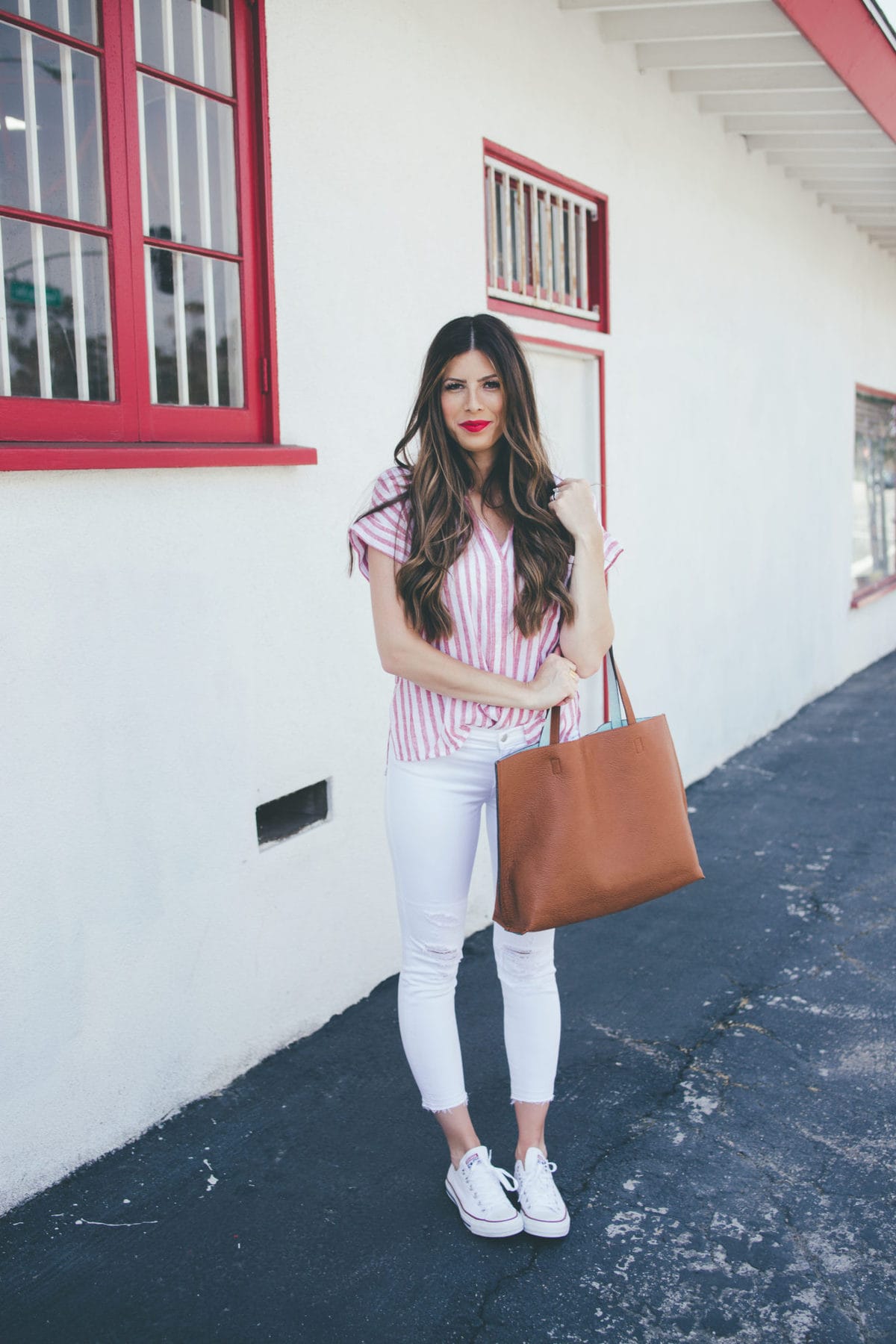 Party in the USA
We found some fun things to incorporate into my family's closets that are PERFECT for all summer long, but also can be worn for the patriotic holidays we have coming up.
Girls
I'm obsessed with Millie's darling dress! It's the epitome of summer, plus I love the idea of throwing on a red bow to make her sweet blue and white dress immediately patriotic.
Boys
Can we say SEERSUCKER?! Give me any reason to do a little blue and white pinstripe and I'm there. I love the subtle 4th of July vibe but that it also works as long as the weather is warm!
Women
White shoes
These are my go-to, designer inspired white slides! I've been wearing this style for years and this year's version is the best yet. They are super comfortable and go with literally everything. They do run a little small so size up half size!
Jeans
These jeans are the ones I've been reaching for over and over (if they're clean!). They have amazing reviews, are the perfect amount of distressed and the high waist makes them super flattering.
Striped top
This top is so different than anything else I had in my closet! I love the button detail, and I can see myself wearing it all year long. I dressed it up with a red lip, the end-all be-all of patriotic outfit details.
Men
Where to buy the cutest patriotic clothes?
True to the RED WHITE & BLUE
Is there anything more on-brand than for me to utilize the same pieces in my wardrobe for different occasions?! I love a reason to get more bang for my buck, and I also love a good red, white, and blue moment. You can totally turn closet staples into amazing patriotic outfits with a little preplanning and some good old-fashioned patriotism!