One of our very favorite things to do as a family is to spend time together outside. We (obviously) really love the beach, but we also really love hiking in the mountains and exploring the woods. You might remember that we went to Muir Woods National Monument a couple of years ago. The girls had such a blast hiking around those gorgeous old redwoods! So today I'm sharing 10 national parks that I've got my eye on that you might want to add to your bucket list too!
One year we went to Moab with my family and got to hike and jeep and white water raft around Arches National Park – SO beautiful and completely different than the Muir Woods. There are just so many awesome and beautiful places to explore in the world! One of our family goals is to visit more national parks. I'm sharing our Top Ten picks below.
Rose Gold Sorel boots
To the untrained eye these super cute rose gold taupe boots may appear impractical, but I PROMISE they are amazing. They are shockingly and insanely comfortable. Because they're Sorel's, you know they've got the warm and dry thing on lock so they're perfect for chilly, winter hikes. The wedge is super easy to hike around in, with the added bonus of making your bum and legs look awesome! HA! Win-win!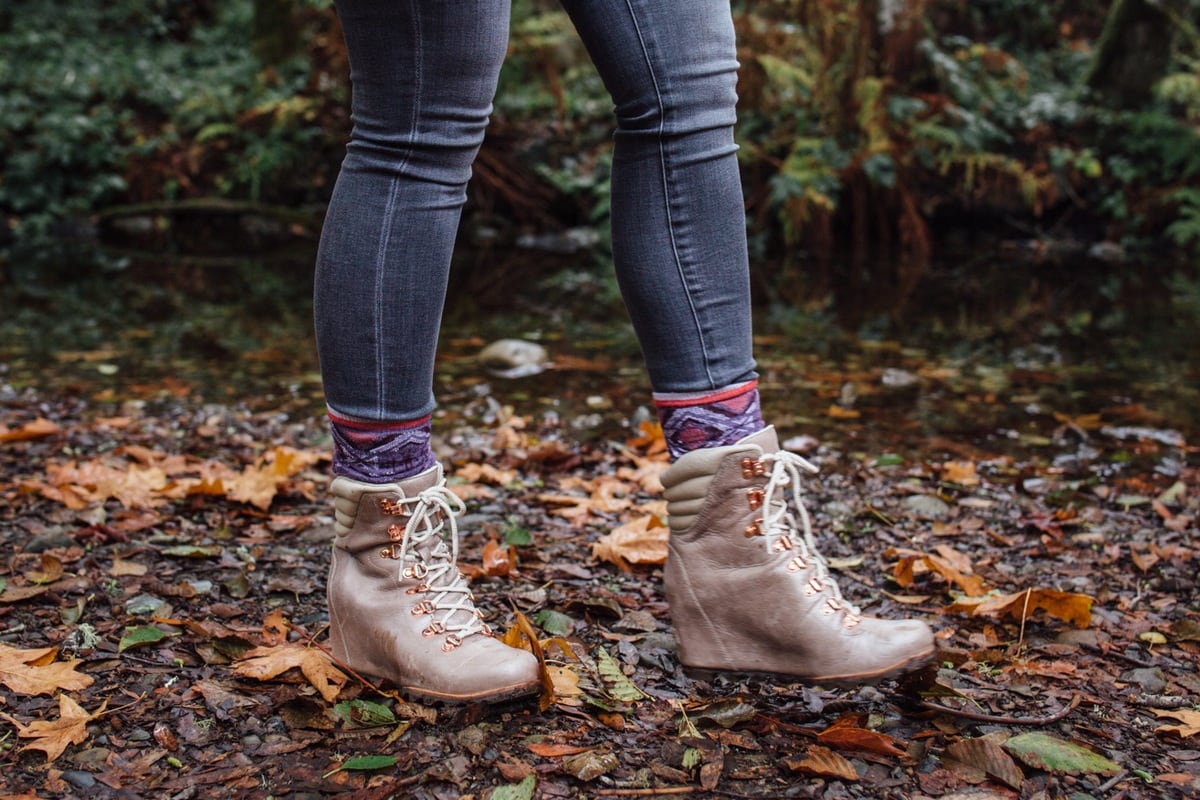 Grey Skinny Jeans
I'm a massive fan of J.Brand jeans and these grey skinnies are one of my faves. A good grey wash is so underrated. These jeans fit like a glove and have the ideal amount of stretch so that they're flattering and comfortable. I've had this pair for several years now and I'm not planning to get rid of them anytime soon!!
If you're looking for a less expensive alternative, I love this pair that's only $29 and has over 500 near perfect reviews!
Plaid Shirt
This feminine spin on the classic plaid shirt was so good that I bought this shirt in two colors! The material is SO soft. It totally lends itself to plenty of snuggles! I just love the drapey cut and romantic, ruffled cuffs.
Keep your head warm
If you're going to hike in the Fall or Winter you must have a beanie. That's just like, the rules of feminism or fashion of something! HA! Obviously, I'm all about this one, because it's perfectly thick, warm and perfectly slouchy and under $30. It comes in pink or gray here, or you can get it in red or turquoise!!
Blush plaid top
Grey jeans
Blush beanie
Taupe and rose gold waterproof boots
Photos by Arielle Levy
National Parks Bucket List
Okay you guys, here it is! Our bucket list for National Parks:
1. Yosemite
This national park is a California classic. It has it all: peaks, meadows, glaciers and MASSIVE waterfalls. There are lakes and rivers and canyons and huge sequoia trees. These are some truly great outdoors. It's the most visited national park in California for a reason!
2. The Grand Canyon
Does this one even need an explanation? I'm embarrassed to admit that I grew up in Utah and have NEVER seen the Grand Canyon. Hopefully we'll change that this year!
3. Yellowstone
This was the world's very first national park. Doesn't that automatically make it the best? Come for the buffalo, but stay for the hot springs and geysers. Old Faithful is a must see! This is also the first national park I remember going to, and I hope to share its beauty with my girls sometime in 2018.
4. Rocky Mountain National Park
This is one of those parks like kind of flies under the radar! The magic of this park is in the altitude. This park rises over 12,000 feet into the Colorado sky making for some super fresh mountain air! Plus I hear there's some really great places to get homemade ice cream nearby.
5. Zion
If you're an adrenaline junkie, Zion is a great choice. There are SO many hiking options. Including hikes upstream through the Virgin River or ascending Angel's Landing-a 1,500 foot natural staircase. It's all views on views on views.
6. Channel Islands
This one is the closest to home for us-just 11 miles off the coast of Southern California. All I needed to know was that the largest aggregation of blue whales in the world meets up here every summer. SOLD.
7. Great Smoky Mountains
This is the #1 most visited national park in the United States. Aren't you dying to know if it lives up to the hype? There's 800+ miles of hiking trails, but there's also an insane mountain skimming scenic highway if you're more the indoorsy type.
8. Grand Teton
Have you seen pictures of this place in the fall? Total explosion of color! Plus the lakes are insane and there's TONS of wildlife.
9. Arches & Canyonlands
If you've never been…GO! Seriously, just do it. You'll thank me. It's incredible. The arches are truly stunning and all the colors will blow your mind. My girls still talk about this place ALL the time and I know they're dying to go back!
10. Joshua Tree
These trees look like something out of a Dr. Seuss book and I'm pretty sure my girls would love that! Plus this place is rumored to have amazing sunsets and we're all about that!
What National Parks are on your bucket list?