If we're already friends, you KNOW Zella has been one of my little fashion secrets for years now. I've been wearing their Live In Leggings on the reg for for.ev.er!
But what I didn't know until recently is that the bigger kept secret is the Zella menswear! First of all, they make the most versatile men's pants on the planet. They're only $79 and they're a dream come true for any man who has to dress up but wants to live for comfort. You can wear them golfing, to work, to church, on a date night, everything! Just like my Live In Leggings, there are so many possibilities with these perfect men's pants; the outfit options are endless. Luckily we have Neil as our resident professional male model to show us a couple of his fave ways to wear these!
Hybrid Tech Pants
These Zella pants fit like an athletic pant, BUT LOOK LIKE DRESS PANTS. It's almost hard to conceive that that could even be a real thing, but it is and we are here.for.it. My dad and brother in law swear by this style as well, and I can't believe how useful these pants are! Now that Neil dresses up several times a week as a youth church teacher, these are his go-to, hands down.
These "commuter" pants are SO lightweight, crazy soft, and very stretchy. They have a button and zipper closure, but there's also a drawstring inside to tighten the waistband if need be! Throw them in the washing machine after wearing, no need to dry clean or iron!!
Now watch how easily these pants transform from professional to casual. It's like MAGIC!!!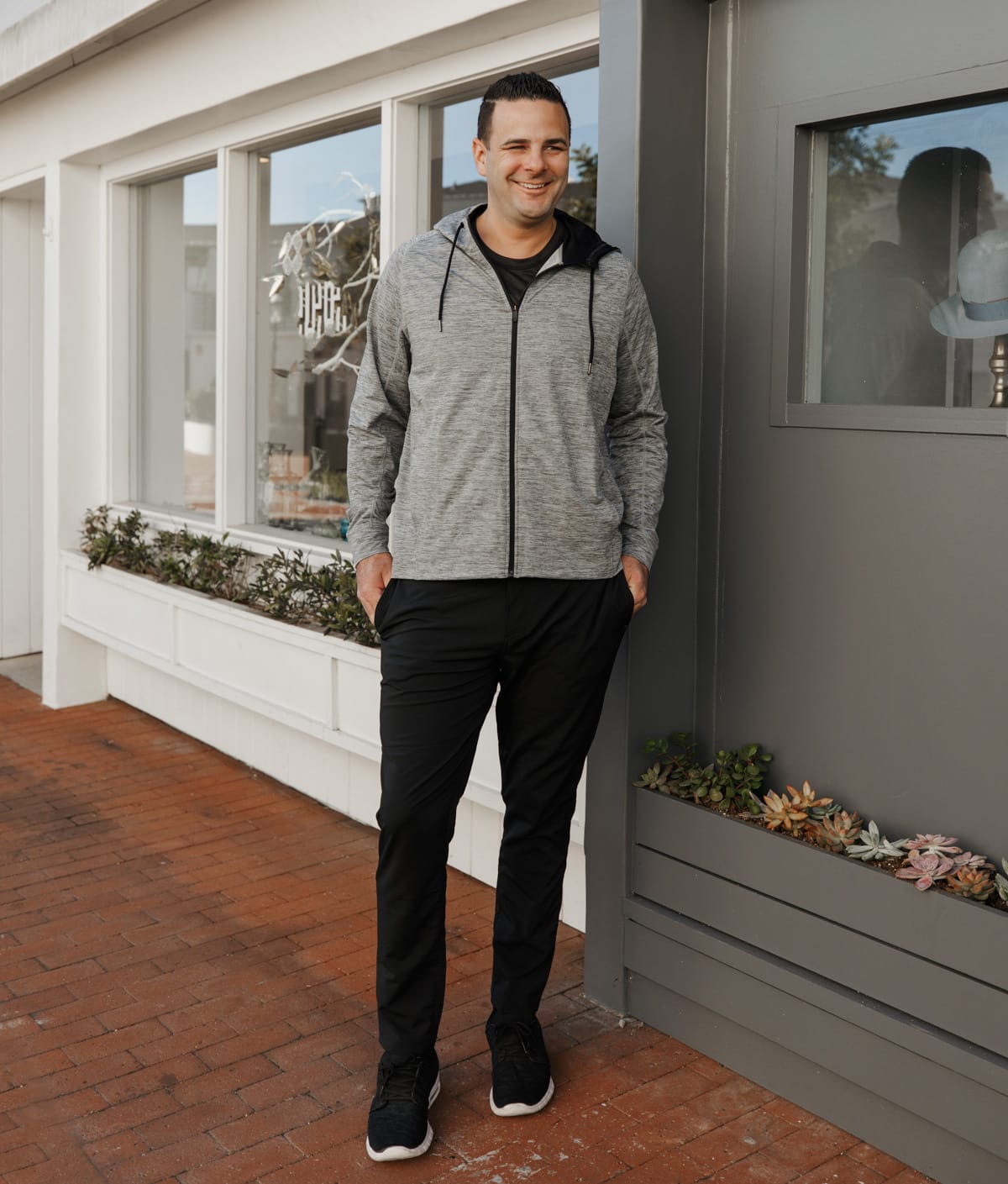 Double Duty Backpack
I also got this backpack for Neil that we are both loving. It's totally unisex, but I love it for him for all the hats he wears! He can fit his laptop in there for work (it flips to the side to be carried like a briefcase as well!), pack it with water and snacks when he goes mountain biking, or use it for a trip. It's super sleek and multi-functional.
Performance Tee
This Zella top is a dead ringer for another cult athletic fave, but it's only $20!!! It comes in 8 colors, and is perfect for layering or exercising in! It looks seamless with the Commuter pants, and would also work perfectly with basketball shorts or sweats.
I like to tease Neil that his other girlfriend is his mountain bike because he's been going 5 days a week without fail (until he started his early morning seminary teacher gig)! These are his favorite tops to go riding in. They are moisture-wicking, totally lightweight and so soft! These don't fade, shrink or wrinkle AND they are anti-chafing.
Zip Hoodie
Neil can never have enough hoodies, but it has to be a zip-up! He especially loves this one because it has these amazing side-slip pockets, plus it's stretchy and the perfect weight for layering. It comes in three neutral colors and pairs with the pants so amazingly!
Stress-free shopping
Nordstrom is one of my favorite high-end, one-stop shopping destinations year-round, but I especially love it during the hectic holiday season! They have everything you need for the holiday season from the perfect gifts for everyone on your list (like your man!!), to the perfect pieces to put together holiday looks for Thanksgiving, Christmas, or New Year's! Plus if you're a cardholder or a Nordy Club member, you can earn points for any purchases made at Nordstrom.
Nordstrom truly has the very best customer service on earth, plus FREE shipping and FREE returns and exchanges!
And do you know about BOPUS? BOPUS is Buy Online, Pick Up in Store. If you're ready to just pull the trigger and you want it now, you will love this option. Especially since Nordstrom has a curbside pickup. You can click, drive up, pick up and get on with your day. Literally a holiday season dream!
Zella: not just for women!
I'm SO glad we discovered these pants, because Neil never wants to take them off! Luckily, they can be worn literally anywhere and are comfortable enough to lounge or be on-the-go in and still look totally stylish. Check out the widget below for MORE of our Zella menswear favorites, and this post for all my current Zella women recommendations!