Quick version: these are the 14 very best men's Valentine's Day gift ideas of 2023!
If you haven't noticed, Valentine's hearts immediately replaced Christmas trees in the grocery store aisles and it already feels like 2023 is moving too fast! Valentine's Day is on the horizon, which means more gift-giving… which can totally feel overwhelming. We're here to help!
If you're looking for the perfect men's Valentine's Day gift, but you're not sure where to find it, we've got allll the ideas that'll hopefully help you out. YES, dudes are hard to shop for, but we promise the gifts we found this year are guaranteed wins for the guy in your life… in other words, the best Valentine's Day gifts other than just chocolate that he'll actually want!
In a hurry? Shop our men's Valentine's Day picks below:
What if ONLY the deals YOU wanted to see were in your inbox before anyone else?! If you want to be in the know and find out the hottest deals tailored just for you, you can join our subscription email here! It's simple, you tell us the deals you want to see and we'll make sure you see them first! 
Do this first and shop stress-free later
Shop the best men's Valentine's Day gift ideas all from Nordstrom, and make your shopping experience even better by becoming one of their Loyalty Members – here are the benefits!
Their Loyalty Programs and Services offer you BOPUS (buy online, pick up in store) and ROTUS (reserve online, try on in store). This is especially speedy if you BOPUS and use Nordstrom's curbside pickup option!
Loyalty members get FREE shipping, FREE returns, FREE alterations, and FREE exchanges! WIN.
Accumulate points to use toward future purchases, and early access to the annual sale.
Take advantage of amazing beauty and style workshops, plus in-store consultations.
Nordstrom's customer service + courtesy are second to none – they're going to make your shopping experience smooth like butter!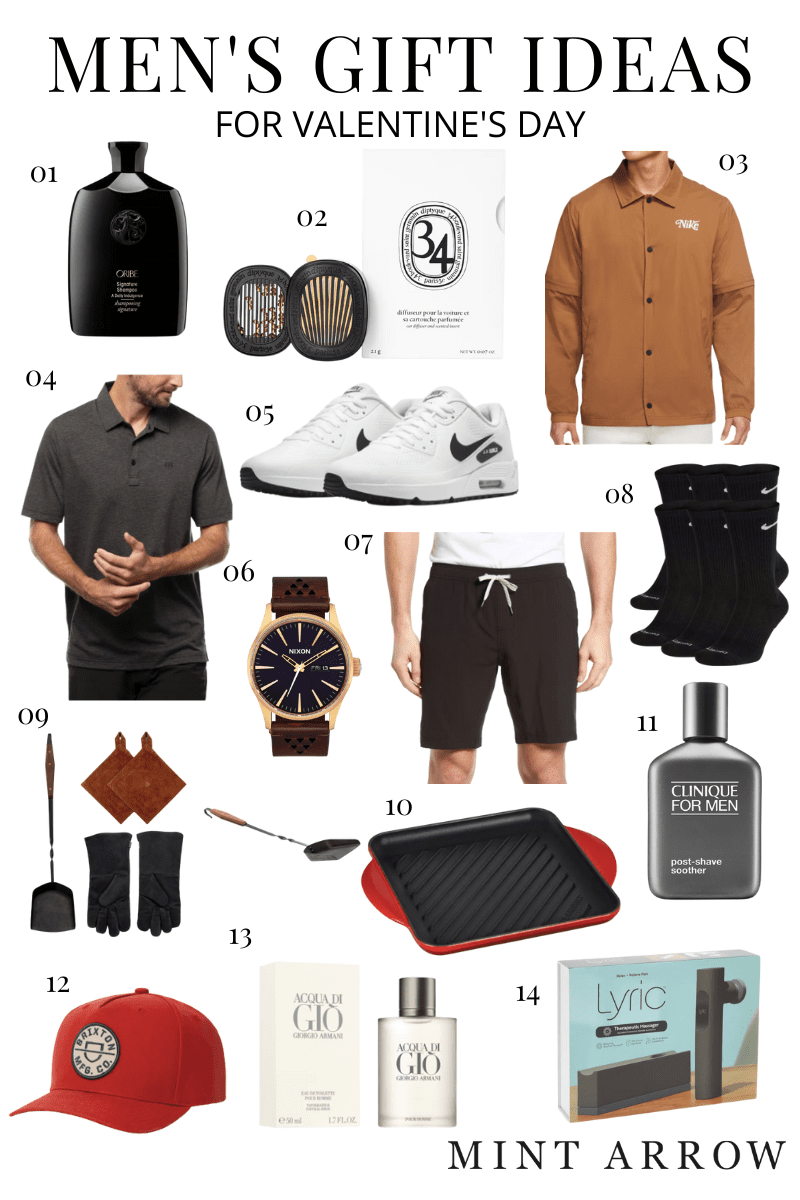 Men's Valentine's Day gift ideas
1. Oribe Signature Shampoo
You might just want to call this shampoo LIQUID GOLD! It's a rich, gentle formula that's sure to leave your man's hair thoroughly cleansed and silky soft. Plus, it smells incredible and a little bit goes a long way. This is the perfect gift for any price range – this luxe shampoo starts at just $15, but if you want to splurge and make sure it'll last him months, you can buy one of their bigger size options!
2. Car Diffuser
If your boyfriend/fiance/husband takes a lot of pride in his clean car, he'll love this diptyque car diffuser. It's the most elegant car diffuser on the market with very upscale, beautiful scent inserts. Just attach to your car's ventilation grill and a woody, aromatic scent blend will fill the air! This one in particular has a perfect, manly scent, and it's a unique gift idea he's totally going to be surprised by and super excited about.
3. Golf Jacket
This golf jacket is unlike any other! The fabric is super comfortable for his swing on chillier mornings, and when the weather warms up in the afternoon, he can just zip those long sleeves right off. But the coolest part? It can fold up inside itself into its own little pouch – great for storage and for when he's on the go at the course. This really is the perfect gift for a golf lover. It's never been easier to take a jacket on the green, plus this one looks great on!
4. Golf Polo
Another men's Valentine's Day gift for the golf lover! Your man can never have too many golf polos. Especially when they're from the Travis Mathew brand. These polos are top notch and the best material, full of stretch, and they're wrinkle-resistant. This is a very nice shirt to wear not only on the course, but also perfect to wear to a casual event or dinner date night. Choose from five really great neutral colors.
5. Golf Shoes
Show your golf guy a whole lotta love by gifting him a new fresh, really good looking pair of golf shoes. His shoes likely get so trashed after rounds and rounds of golf, so these would make a great gift for any golfer! They're extra cushion-y with exceptional comfort and support, so they're sure to keep his feet comfortable while he's out on the course for 4+ hours.
6. Watch
This one's bound to make your man happy (and never late!). This watch is so sleek and modern, one of those perfect, everyday men accessories. The leather strap is dressy enough that he can wear it to formal special occasions, but it also looks nice for work, a casual dinner/movie date night, or even just on a t-shirt and shorts kind of day. Nixon watches live up to their hype and quality, and always make for a nice gift.
7. Shorts
Okay we're LOVING Vuori right now!! So soft, stretchy, and such high quality, these shorts are seriously perfect. Corrine got them for her dad, brother, and brother-in-law for Christmas one year and they LOVED them! These shorts come in many colors that can be styled in so many different ways. Whether he likes to lounge, workout, or adventure on the hiking trail, these are a guaranteed men's Valentine's Day gift win.
8. Nike Socks
Any guy could always use a new, crisp set of socks. These sweat-wicking breathable mesh socks are any guy's favorite. So cushioned and comfortable. And a six-pack is only $22!
9. Grill Tool Kit
If your man's an avid grill-master or aspiring to be, this grill tool gift box is the perfect Valentine's Day present. It includes leather gloves, a duo of suede hot pads, and a grill coal shovel. Very high-quality materials that look very nice, too.
10. Cast Iron Griddle
Your guy can cook the yummiest steaks and side dishes using this super high quality cast-iron griddle! Plop it in the oven or even in the smoker. What's even more incredible is Le Creuset's durable enamel finish, which means he doesn't have to worry about seasoning it. How amazing is that?! This is such a great men's Valentine's Day gift idea – especially if grilling is his hobby.
11. Post-Shave Soother
If you're looking for a gift more budget-friendly, this Clinique post-shave soother has incredible reviews. It's an aloe-rich formula that leaves a pleasant cooling sensation while soothing razor burn and dryness! It's a #1 favorite post-shave product for a lot of men.
12. Brixton Hat
If your man loves to wear hats, this Brixton hat is super good looking and one he can wear in addition to any basic outfit – out running errands or on a casual date. This Phoenix Orange is such a fun color, but there are also some really nice neutrals to choose from, too. Let's be real, there's no such thing as too many hats for a guy!
13. Cologne
One of the best gifts that lasts forever! This cologne has a very popular, masculine, clean, aquatic fragrance – just check out the 3k+ reviews. Plus it's long-lasting, so your man (and you) can enjoy it all day long. A Valentine's gift that's worth every penny.
14. Handheld Massager
Okay, just LOOKING at this massager makes our muscles start to relax. This deep-kneading massager is a thoughtful gift if your man tends to come home from work, school, or his workouts super tense. It has a touch screen that'll let him easily choose what kind of experience he'd like: pain relief, calm, or energy with four different attachment options. And BONUS: if that isn't enough, it's WiFi-enabled and has an optional companion app for his devices to carry his customized wellness routines.
Love is in the air
Hopefully, you're feeling ready to spoil your guy this year on February 14th! It's so much fun to spend time finding a gift that shows your special someone how grateful you are to have him in your life. Whether you're splurging on a big item or getting him something simple and sweet to pair with his box of chocolates, he'll love knowing how special he is to you! Shop all of our best men's Valentine's Day gift picks below.
And in case you missed it, we shared a gift guide full of women's Valentine's Day gift ideas for YOU to send to your significant other, too!