What's better than a sale on shampoo? A sale on LITERS of PROFESSIONAL shampoo!! I did a roundup of some of the BEST shampoo and conditioners last year and I'm THRILLED that some of my must-haves are included in this HUGE ULTA LITER SALE!!!! Is your hair feeling a little dry? Sun or color damaged? READ ON to turn that around for the best hair in town!
Jumbo Sale details
Right now, you can get up to 20% off some of THE BEST shampoos and conditioners on the market!!
SO many of the faves I listed (and that YOU GUYS recommended) in my top 20 best shampoo and conditioner blog post are included, and I'm breaking it down by what's best for your hair type, which ones are the BEST value, and where you'll find the most rare deal.
Redken all soft shampoo and conditioner
Redken All Soft Mega Shampoo and Conditioner: there's no better name for this product. It's ALL SOFT, ALL THE TIME! I've used this off and on throughout the years and I'm always AMAZED how it makes my hair feel.
These liters usually cost $33-$36 but during the liter sale, you can get the shampoo for $30.80, and the conditioner is $26.80. I paid almost $20 for like 1/4 the size bottle when I first wanted to try these out, so now that I'm hooked I got myself the giant bottles to keep in my hair regimen rotation.
Brass off
Matrix Total Results Brass Off Shampoo: Purple shampoo can be tricky, but this stuff takes the guess work out! Unlike other purple shampoos, it's safe for daily use and just strong enough to take the brass out without adding too much ashiness. It's all about balance, and this shampoo gives just that! This stuff is usually $26 but during the liter sale, you can get it for $20.80!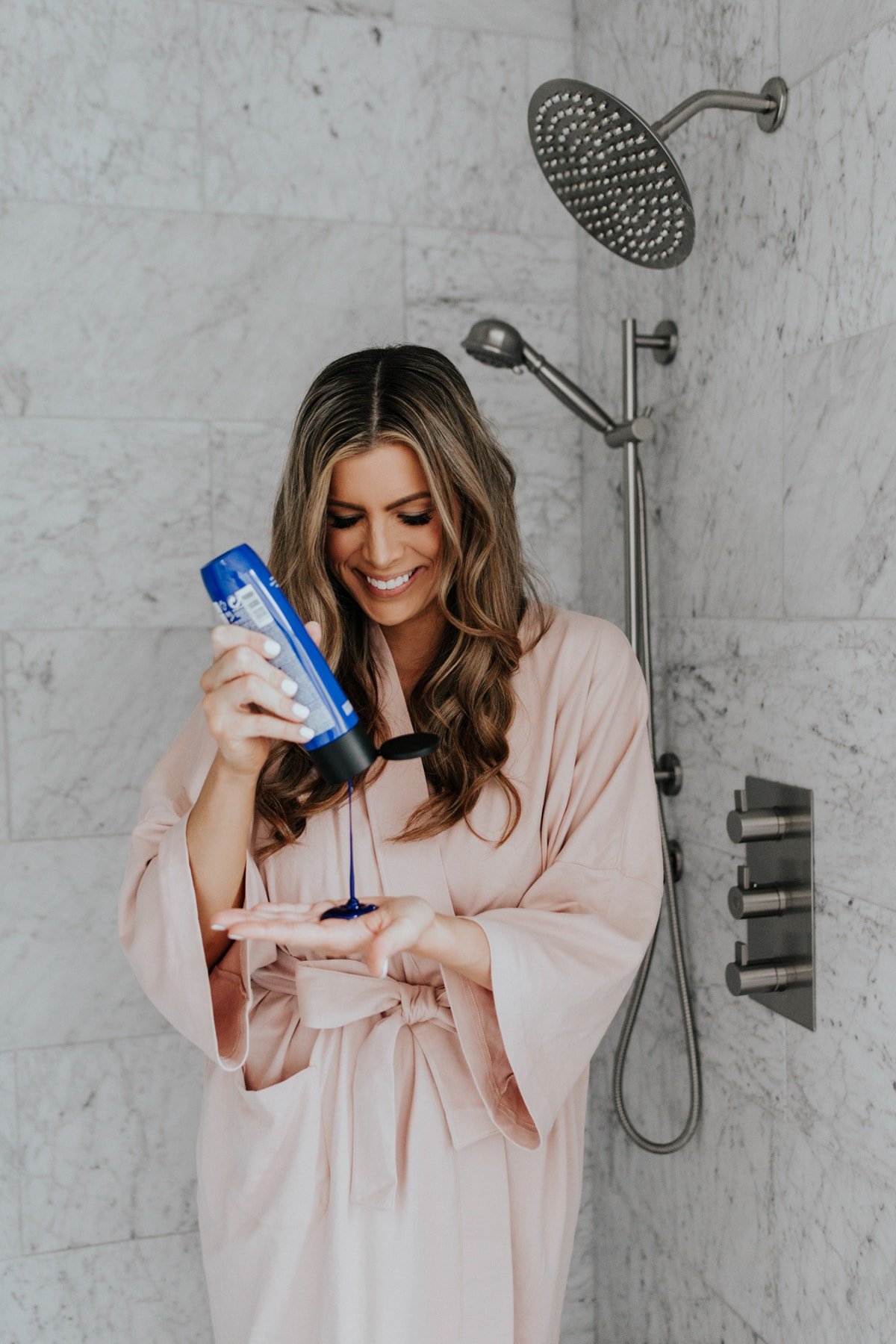 I also really love the Brass Off conditioner that's on sale for $20.80 too (normally $26). The 10 oz is priced at $14 so for $7 more you get 33 oz – thats an insane value!!
Mega sleek conditioner
Matrix total Results Mega Sleek Conditioner: This stuff has CHANGED our lives. Dramatic? Maybe. But trying to brush out Anabelle's tangles CAN be dramatic and this conditioner silkens even the craziest bed head. I do love the shampoo as well, but the conditioner is something we can't live without in our house! You can read MORE of my recommendations for favorite products to tame tangly and fine hair here! Get it right now for $18.80 (reg $23.50)!
Pureology hydrate
If you LOVE Pureology (who doesn't?) but less-than-love the price, NOW is the time to buy! I RARELY see deals on Pureology and it's something I get asked about all the time. If you've been sitting on your hands waiting, now's the time to ADD TO CART! You most likely won't see a better deal on this shampoo & conditioner in the near future. Get it now for $60.35 (reg $70).
Redken Treatment Spray
Redken One United Multi-Benefit Treatment Spray: ain't nobody got time to use 14 different products to give us everything we need our hair to be: smooth, protected, primed, sealed, and shiny. This one spray does it ALL without skipping a beat! This obviously isn't a jumbo, but you can by 2 get 1 free right now!
Joico texturizing spray
Joico Hair Shake: I have spent five years trying to find a product to replace my beloved (and discontinued) Redken Wool Shake. I was ECSTATIC when I tried the Joico liquid to powder texturizer! It gives my hair the perfect moldable and volumized texture without weighing it down! This is also buy 2 get 1 free.
While you're getting all the shampoo your heart desires, don't forget to finish off your hairstyle with buy two get ONE FREE hair products!
Jumbo faves
Here's a few more FAVES that are included in the jumbo sale. I don't know how long this deal will last so STOCK UP NOW!!