SURPRISE! tarte cosmetics is having an insane BOGO deal right now, and if you didn't already know, tarte is one of my all-time favorite cosmetic brands. Keep reading for today's roundup of all the tarte I LOVE that you can score some serious savings on today! All of these products are items I HIGHLY recommend. Items I think are absolutely worth your hard-earned pennies!
BOGO Deal Details
Today only, Wednesday, March 3, you can buy one tarte product and get another for 50% OFF with code BOGO at checkout! Amazing right?! Keep reading for my top picks!!
Shape Tape Concealer
I'm so excited that tarte Shape Tape Concealer is part of the BOGO 50% off today!! But first thing's first, WHAT IS SHAPE TAPE? It's only the best, most popular full coverage (that can still be thinned out) concealer of all time. It's my ride or die, always have on hand, makeup artist favorite that gives me the look of getting 12 hours sleep when I only got 4!
tarte shape tape consistently gets the BEST reviews because the formula really is unlike any other. It boasts amazing 18-hour coverage but doesn't crease or smudge throughout the day. It also smooths the appearance of fine lines AND includes both shea and mango butter to help with hydration and elasticity. Plus you know tarte is always formulated without parabens or mineral oil or any of the yucky stuff we don't want on our skin! ADD TO CART.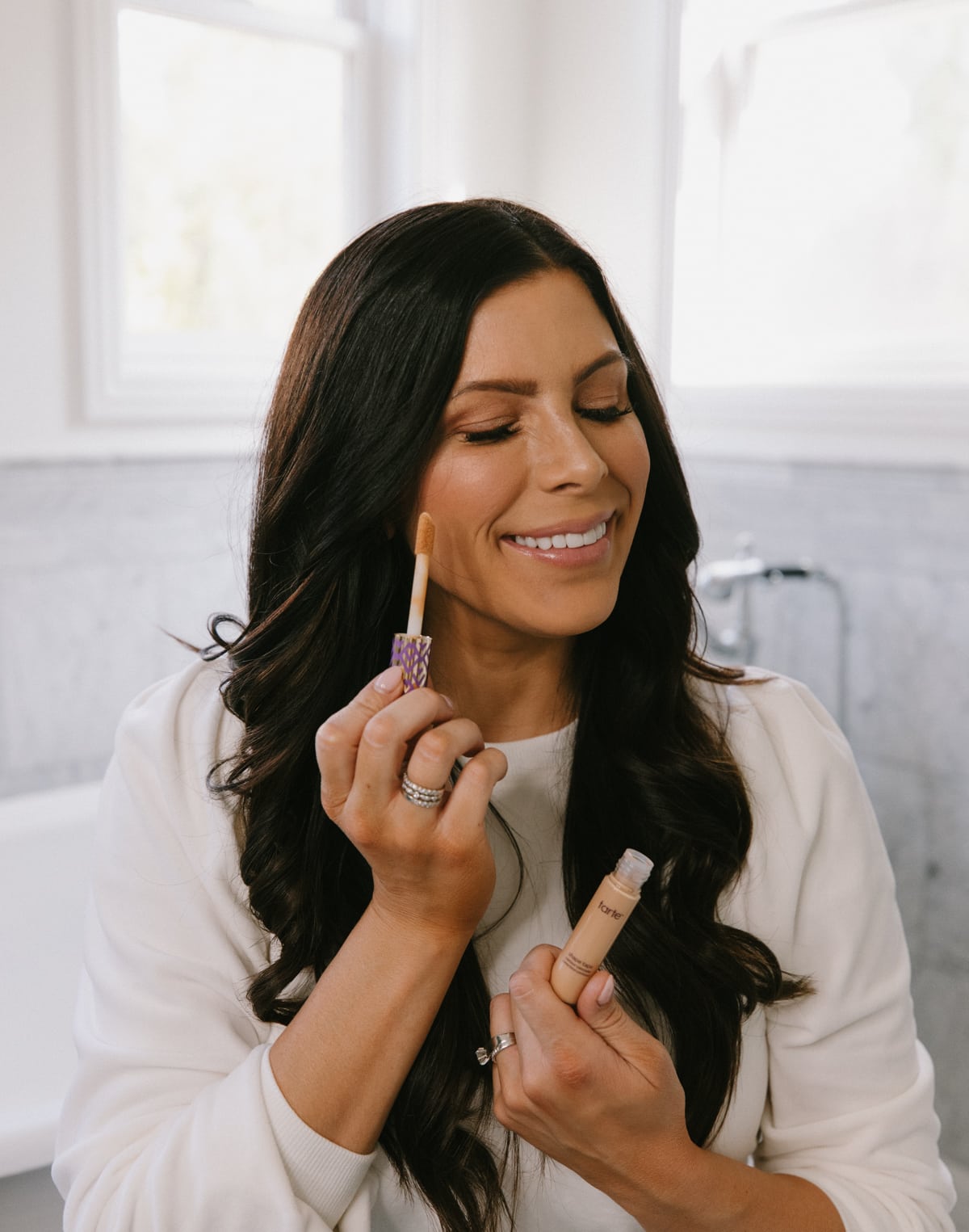 How to choose?
A bonus from tarte cosmetics is that there are 35 (!!) shades to choose from in the shape tape line! Be sure to use the "find your perfect shade" helper because it really works! I was using a different color of shape tape foundation before I used this match-finder on their site and, lo and behold, their recommendation was WAY better than the one I chose for myself! What's so great is that the shades go across the board, so you can order the same colors in the shape tape concealer and foundation. Fool. Proof.
Tip: Order a shade or so LIGHTER in the glow wand. You can use this as a highlighter and brightener while using the other products for a perfect concealing job!
Creaseless Concealer
If creases are a major concern for you or bother you, THIS is your concealer. It is a little bit thicker and a little more tacky than the shape tape. The creaseless 100% lives up to the hype of being totally creaseless and virtually eliminates those pesky under-eye circles and redness. Super hydrating and leaves the area feeling very moisturized and looking dewy.
I'm wearing the creaseless concealer in these pics and I LOVE how it brightens up my under eye area, lasts ALL DAY, and truly doesn't crease.
Glow Wand
The next product I love that is part of the BOGO 50% off sale is the glow wand! This is like a highlighter meets concealer, but with the shape tape stamp of approval! It has diamond powder and porcelain flower in it to create a flawless, soft-focus finish with a hint of illumination. Use this as a concealer or on the high points of your face (bridge of the nose, forehead, inner eyes, cheekbones) to highlight! My favorites are the colors "dream" (champagne glow) and "aglow" (rose glow). Both are suuuuper pretty and very brightening without being a disco ball!
Face Tape Foundation
When I first tried this Face Tape Foundation out I had high hopes that it would be as amazing as my beloved shape tape. I'm so happy to report it is absolutely everything you want it to be and MORE. The coverage is gorgeous and it 100% stays all day. It is a waterproof, sweat-proof, and transfer-proof full coverage foundation that doesn't feel like a full coverage foundation. Pair it with shape tape concealer and your skin will appear literally flawless!
Shaper Sponge
I am a total convert to tarte cosmetics sponges. I have tried allllll the makeup sponges, and let me tell you: tarte's are hands-down the best!!! There is a flat side and a curved side (which is genius) and they are amazing quality so they LAST!! Best.blender.ever. And YES. You can BOGO 50% off!!
Brow Pomade
I was a little hesitant to try this brow product because most brow pomades I've tried, I haven't loved. But I tried this in Taupe and was so pleasantly surprised that I really REALLY loved it! Usually, I choose something a little lighter when it comes to a thick brow product like this because I don't like my brows to be super dark, so Taupe was the perfect shade for me. The pomade is really creamy, super easy to apply (I used an angled brush), and has incredible reviews!!
Eye & Cheek Palette
This palette was so easy to use! There was a simple tutorial on the box that I followed and was thrilled with how the look turned out. It comes with 6 super pigmented eyeshadow colors, blush, and highlighter that goes together perfectly!!
Tartelette in Bloom Palette
A utterly gorgeous neutral eyeshadow palette with the perfect combination of mattes and micro-shimmer shades. The colors are nicely pigmented and long lasting. I also really love that this palette is arranged in coordinating rows for three easy looks and included a tutorial card for executing those looks. Such a nice tarte Cosmetics touch!
H20 Gloss
Obsessed is an understatement when it comes to my love for these insanely hydrating glosses. They make lips appear smooth, plump, and full. Ten gorgeous shades to choose from. I love that these glosses aren't subtle but actually deliver a pop of color!!
Amazonian Clay 12-Hour Blush
This blush in the color peaceful is so stunning. It has thousands and thousands of perfect reviews. Reviewers obsess over the buildable pigment and long-lasting color and I completely agree! My favorite of the shades is peaceful – a soft nude peach that looks really natural and gives your cheeks a nice little pop without being overpowering!
Lash Paint Mascara
I was so excited to try this mascara because it has 1400+ RAVE reviews. I love an ultra black, clump-free mascara and this one delivers! Because I wear lash extensions, I usually only wear mascara on my bottom lashes so I want a lot of impact and something to coat every.lash!!
People are saying this is the "mascara must-have" and "the best mascara ever," and who am I to disagree?! If you need a new mascara, try this one, you won't be disappointed. And you might as well BOGO 50% off while you're at it!
Lipstick and Lip Liner in ONE!
The lippie lingerie is my new favorite tarte product! It's a SUPER creamy pencil for your lips that's a cross between a lipstick and a lip liner. The shape of it makes application and definition SO easy, and IT LASTS!! No really, I had it on during a 5-hour photoshoot with no issues.
Stock up on tarte!
It's such a treat that tarte cosmetics is having this amazing sale just in time for spring cleaning! Time to clean out your makeup drawer and make way for some new, fresh products. This BOGO deal is seriously a great time to stock up on all your favorites, or to try out some new items that you think you'll love! But hurry because this BOGO 50% off deal is TODAY ONLY!