It's the most wonderful time of the year for twinkle lights, twirling tulle skirts, fun heels and sneaking an extra gingerbread cookie (or two) at that company Christmas party! If you've been searching through the Black Friday and Cyber Monday sales for that perfect outfit but haven't found one quite yet, me and Kohl's are here to save you! Because that's what girlfriends do for each other. I have the prettiest party outfit that is equal parts comfy/classic but also a SALE CODE so you can get more for less! That's a Christmas win-win all around!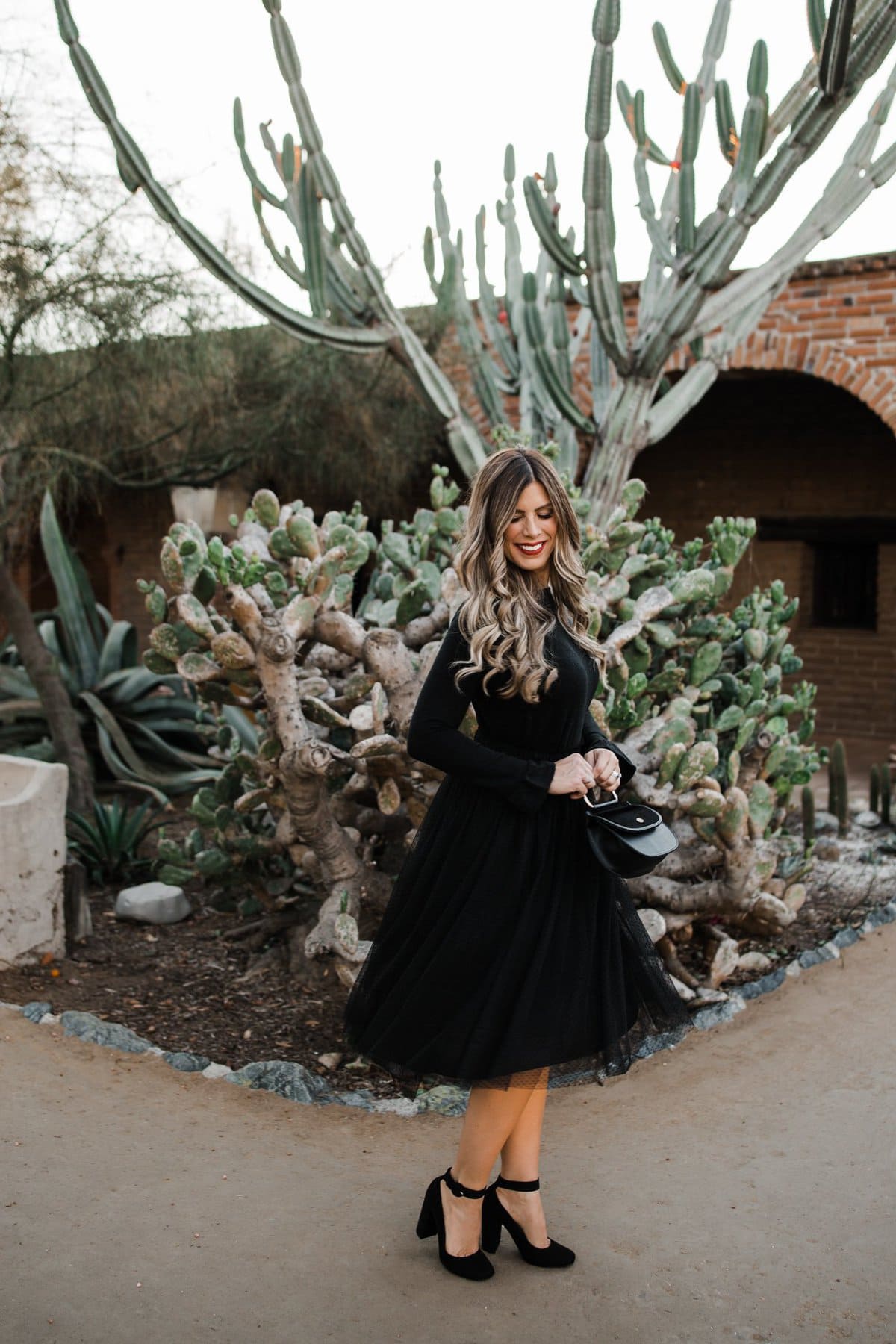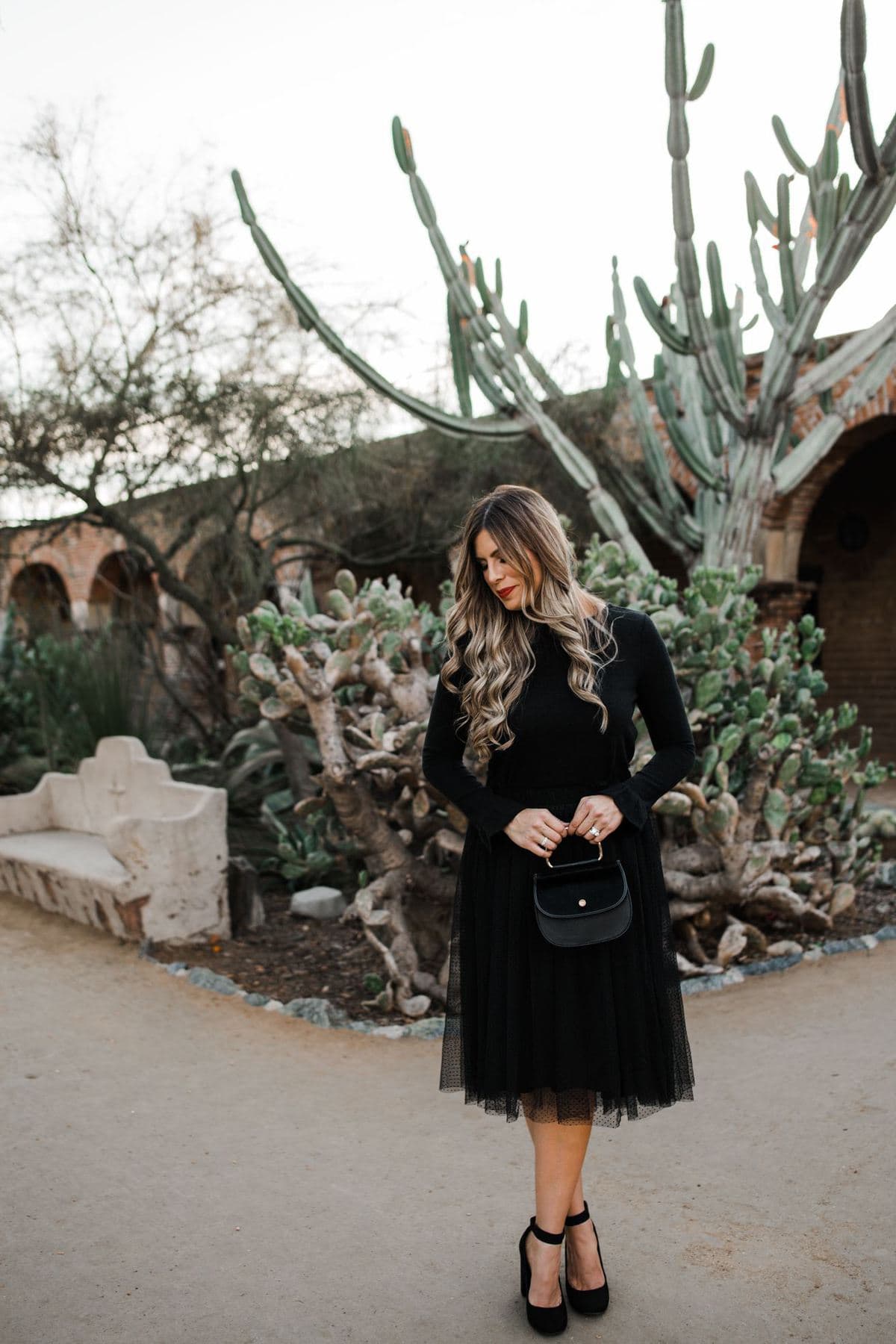 When it comes to dressing for holiday parties I always say the simpler the better. There's something elegant about all black during this time of year that I really really love. What I also love is that this cozy sweater gives you comfy AND classy in one look. You can dress this sweater up with a skirt, or wear it with your favorite pair of jeans on a cool day.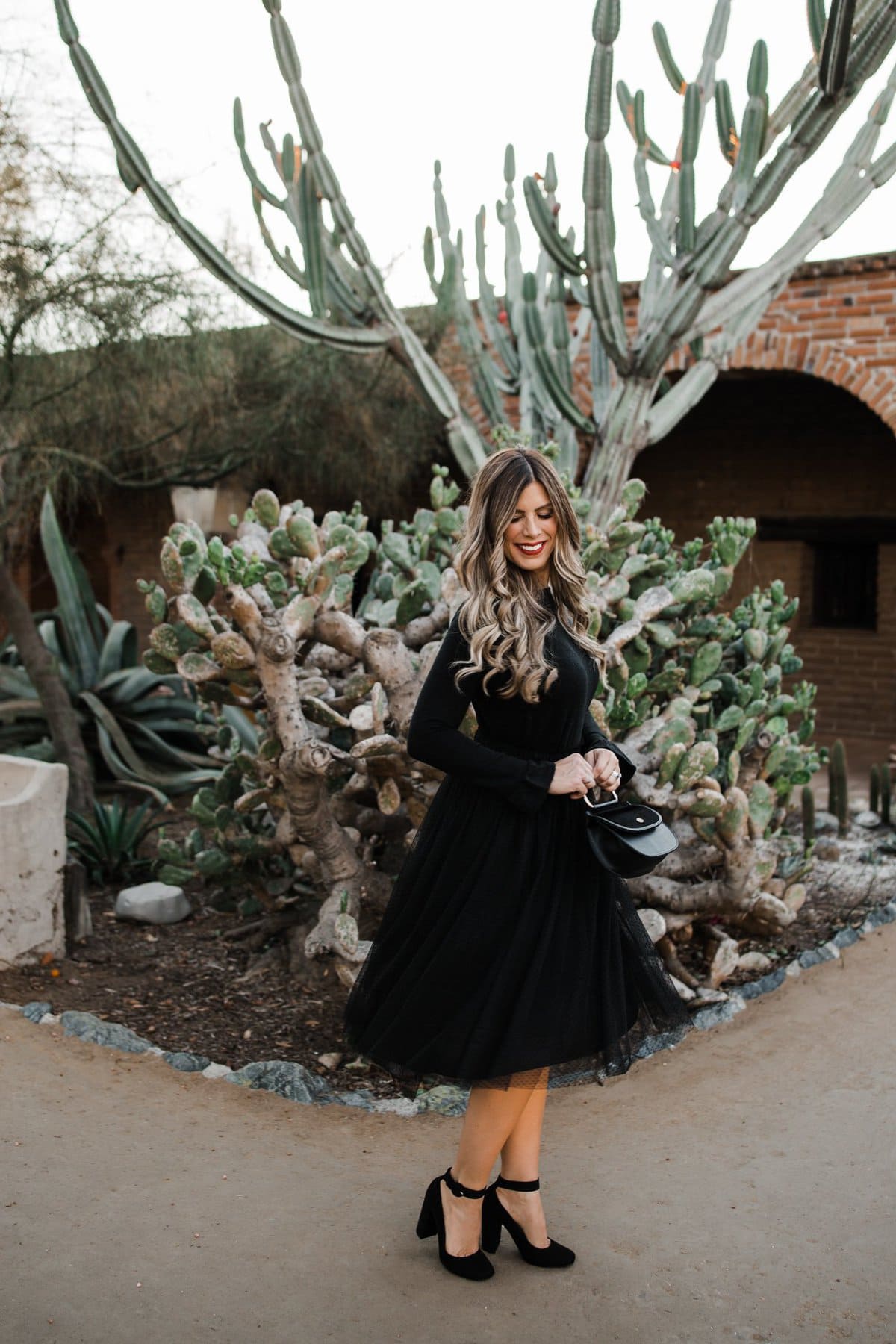 Question: do you think I can ask my Fitness pal how many calories I burn from twirling? Because I think it's my new favorite form of exercise in this skirt haha!
I love this skirt for so many reasons (like it's just really pretty and fun) but also because it's super lightweight and gives you plenty of room to move, which sometimes isn't always the case with skirts, amiright? But you want to know the best thing of all?! An elastic waistband! So that after you burn your calories from twirling, you can put your Fitness Pal aside and eat as many Christmas treats as you want! YES!!!

The one thing I don't love about holiday parties is feet that are screaming in pain by the end of the night. But thankfully these shoes are not only pretty, they are actually comfortable! And they go with everything! Which is great because they're something you can keep wearing well after the holidays (imagine how great these would be for your Valentine's Day outfit!).
I love the idea of a small bag to keep an outfit elegant, but I don't love having to pick and choose what I'm going to take with me somewhere because the bag is too small? I mean, who wants to discriminate against taking 3 lipsticks along with you? What if you're feeling pink at the beginning of the night but red by the end of it you know?
This bag is so great because it is small enough to carry and not be a hassle, but it actually fits all your party essentials in it. It also comes with a cross body strap!

Right now Kohl's is still all about the sales which is why through TONIGHT (11/29) when you use code TURKEY20 at checkout you get an additional 20% OFF!
Black sweater
Black tulle skirt
Black ankle strap heels
Black bag
Photos by Arielle Levy
Below I picked out some of my favorite pieces that I think would work so well in helping create your perfect Christmas party look!