Family trips: SO fun to plan, but sometimes not so fun to pack for, right?! This time of year is so fun to travel and visit with family, but getting ready for the trip can definitely be a doozy. Like staring at the suitcase wishing it would pack itself doozy. Ha.
Last month I talked about how easy shopping at Boomdash made our family pictures this year and I'm here to tell you again they've definitely saved the day lately when it comes to getting ready for our family trips!!!
Last month we took a trip up to San Fransisco to show the girls around the city and have some fun adventures in the Muir Woods. Living in Southern California means we don't have a super ton of use for cold weather gear, so my girls definitely weren't up to date on their mitten game haha! But Boomdash saved the day again with their one-stop shop magic. They've made it so easy to shop across different kids brands so you're not spending your time jumping around from site to site.
Plug in your kids' ages, sizes, style preferences and BOOM. They do all the work for you. Like a personal shopper, except free!
If you haven't tried Boomdash before I'm telling you it's about to change your life as a mama and leave you more time, less stress when it comes to transitioning your kids who grow like weeds from season to season.
Not only has Boomdash made it super easy to find everything you want in one place, but when you sign up for a Boomdash account they'll ask you a few questions about your kids sizes and clothing style and then spit out what they have that matches what you said you wanted. It's like a personal shopper AND style guide wrapped up all in one!
I think one of the biggest tricks I've learned when it comes to packing for colder climates is that layering is definitely your best friend. I love these looks on the girls because they're so easy to layer up with. A warm top and some leggings or jeans so that they're not super hot when we go inside but easy to put on coats and hats and scarves and mittens for when it's time to go back outside again. Which is especially great on those days out where you're constantly going from indoors to outdoors and back again!
My girls were constantly swapping layers this entire day because it was cold at the beginning of the hike, sweaty at the middle after we'd worked hard hiking, and cold again later that day once we stopped for lunch.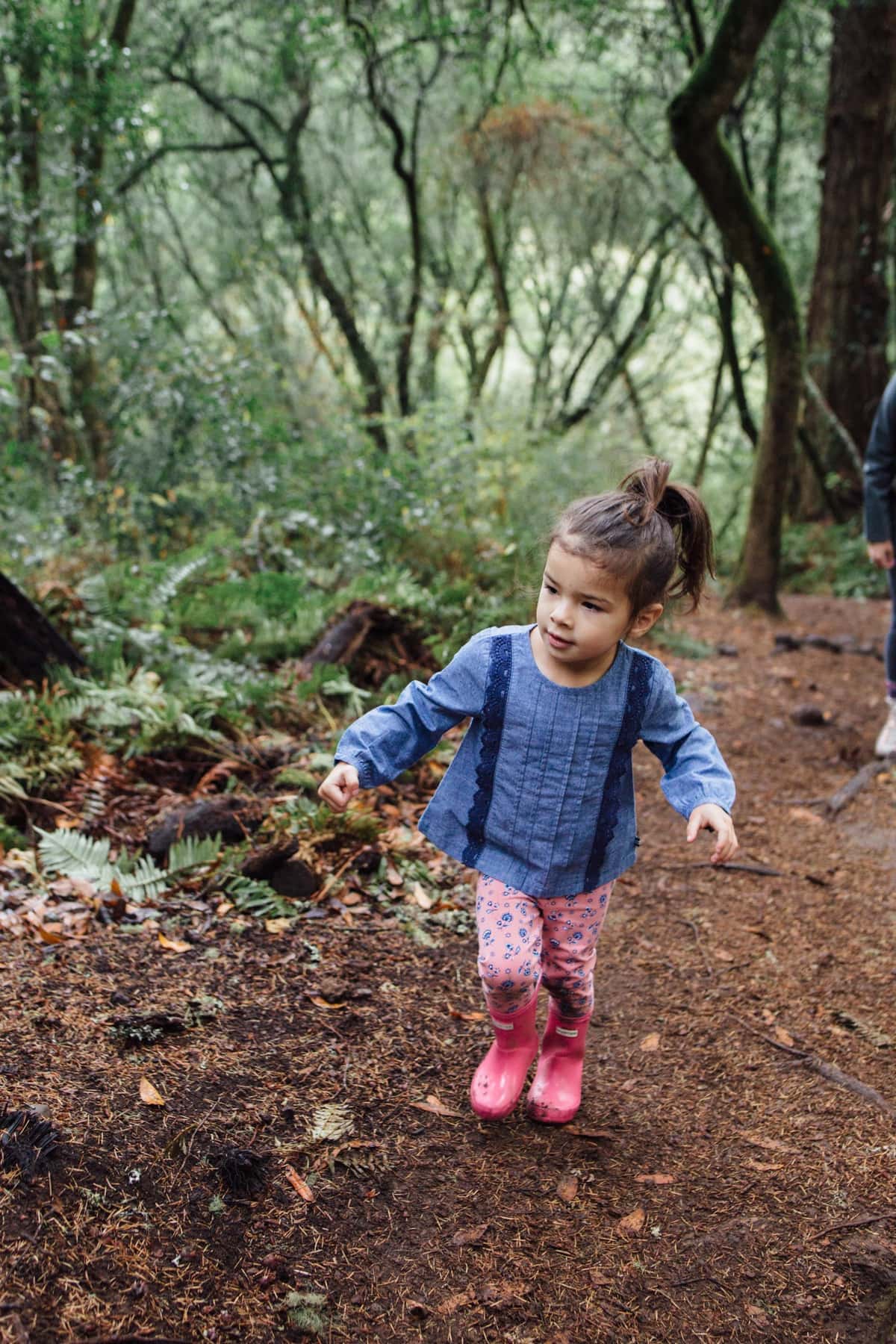 Leggings are totally my jam and I'm pretty sure I've passed on the hereditary gene. But I also love them for my girls for so many reasons, mainly that they make playing and jumping around super easy for them.
I love this little set with the embellished top and leggings because, again, it's easy! No worrying about mixing and matching when you're packing. They also have the cutest little jeans like Anabelle's if your kiddos are more into the denim.
I think my favorite part of these looks are the cute little animal detailing on the girls' cold weather gear! I could watch Lyla wear this little mouse hat every single day. I mean how perfect is it?! And I love that it covers her ears so well which is a huge deal when you're out in the cold! And Anabelle's mittens have the cutest little bear face sown into them. Again, just little subtle details that say, "hey I'm living my best kid life!" haha.
Another thing we always pack when we're going away on a holiday trip are nice dresses for each of the girls to wear for a dinner with the family or pictures or a morning at church if we're going to be away on Sunday. If you watched my Facebook live this past week you've already seen the girls dancing around in these pretty dresses. The fabric is super thick for winter but incredibly soft which makes it even better during this time of year where it's a little bit chilly. And these little dresses make it easy to add a pair of tights under if your kiddos are wearing them out and about!
This year's family Thanksgiving picture!! Girl's dresses, gold glitter flats, my dress, Neil's shirt
My girls loved these dresses so much that we decided they were perfect for our family Thanksgiving photo we take every year! We even sat down with them and talked to them a little bit about setting goals for next year and what a "resolution" is and we got some pretty good answers from the two of them. I just love how kids totally keep like real for us all! Lyla said her new year's resolution was "more Disneyland" in 2018 haha and Anabelle said "I want to try climbing." From the kid who's always been just like a monkey on every piece of furniture and in every environment indoor and outdoor, this was no surprise to me!!
Lyla enjoying her Thanksgiving feast!
My mom set up a little craft table to keep the girls busy while we prepared Thanskgiving dinner. Genius!!
The girls' great grandpa Foster reading to them. I love this picture because my grandpa was the one who really taught me to love reading!
I'm excited to still be teaming up with Boomdash through the end of the year and keep offering all of you mamas a special discount! Take 20% off EVERYTHING on their site from now until Dec. 31st and pick up outfits for your kids winter wardrobes. There's also FREE shipping and returns too!
Use the promo code: MINTARROW20 during the checkout on Boomdash.
Corrine blush top
Corrine grey jeans
Corrine jacket
Corrine blush beanie
Corrine boots
Corrine backpack
Neil collared shirt
Neil sweater
Neil jacket
Neil jeans
Neil shoes
Anabelle green top
Anabelle fur vest
Anabelle jeans
Anabelle blue puffer coat
Anabelle pom scarf
Anabelle bear mittens
Anabelle and Lyla pink boots
Lyla embellished top and leggings set
Lyla blush puffer coat
Lyla mouse beanie
Lyla mittens
Anabelle and Lyla Thanksgiving dresses
Photos taken by Arielle Levy