Can we just talk for a sec about how Old Navy NEVER. GETS. OLD?! Especially when it comes to outfits for my kiddos! Old Navy's items are always reasonably priced, and of good quality, too. I was super excited to find yet another outfit for Millie the other day, and I absolutely had to share because I just couldn't handle the cuteness!!! If you are currently a toddler girl mama, I couldn't go on without making sure you knew that this outfit existed (and for a RIDICULOUSly low price, too!). Keep reading for all the itty bitty details on Millie's new favorite outfit, and how you can take advantage of all the Old Navy deals going on right now!
The Old Navy DEAL
Right now, if you are an Old Navy cardmember, you can take 40% OFF your purchase by using the code ENJOY at checkout. If you are not currently a cardmember, don't worry! You can still save 50% OFF+ on hundreds of select styles, including Millie's dress that we are going to talk about today!
The dress is in the details
This darling, casual, leopard print toddler dress is super comfy cozy, and perfect for non-stop play! It's not restraining at all, but it still looks like a done up outfit. I love the a-line cut in the neckline, and the buttons that make it super secure but add a cute little design touch, too!
This dress comes in three different patterns, but Millie absolutely loves the leopard look. It's a fave print at this house for sure, what can I say! She gets it from her mama. Oh, and best of all, this dress is on MEGA sale right now for only $7.97!!! (Originally $24.99). *Adds to cart IMMEDIATELY.*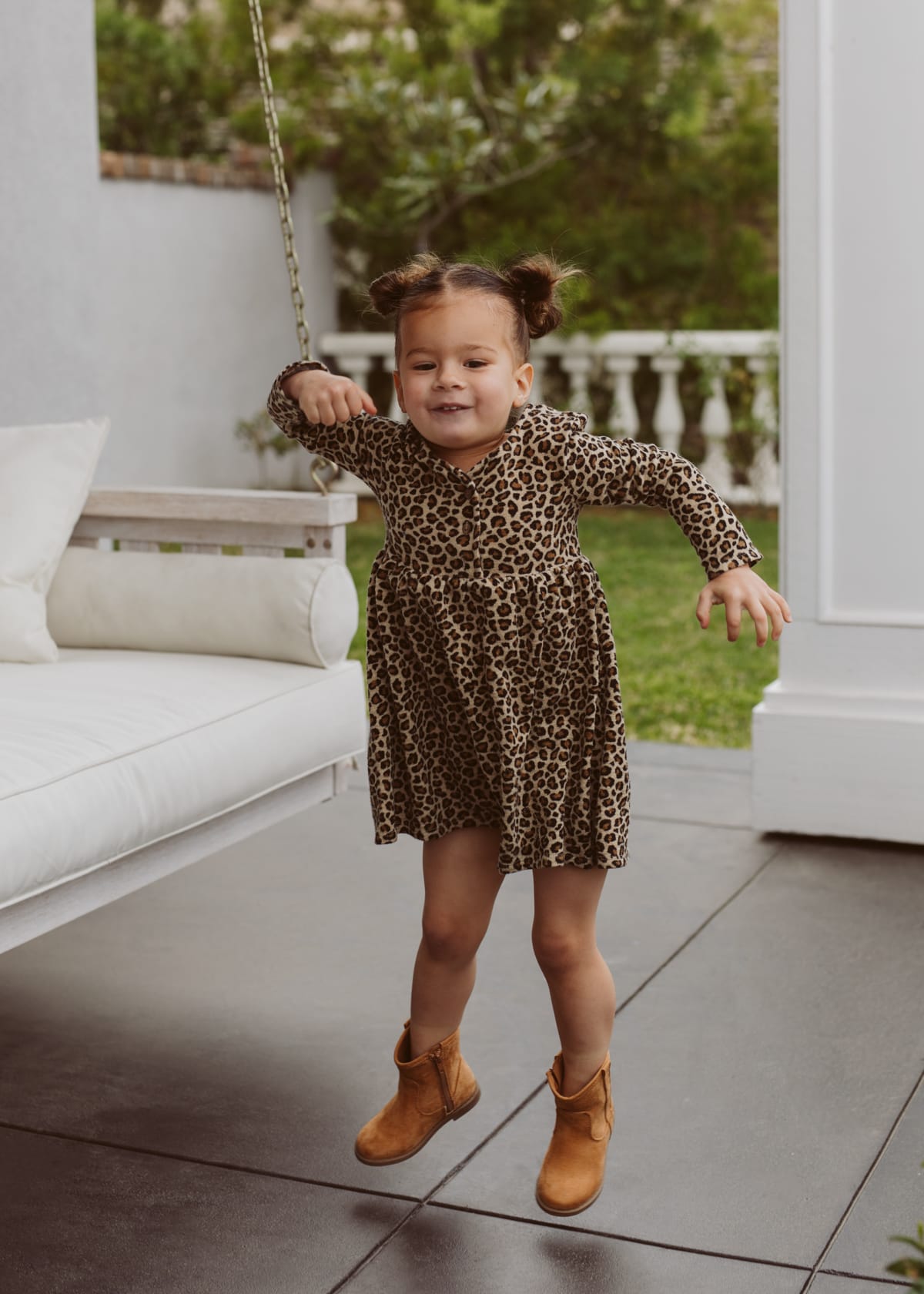 Old Navy = old reliable
For YEARS, Old Navy has been one of our go-to spots to get cute kid clothes (especially dresses, leggings, casual tees, and jammies) – but they also surprisingly have SUPER cute kid shoes, too! Seriously – probably some of the very cutest kid shoes I've ever seen, for extremely affordable prices. I laugh because I don't know why I am still shocked every time I go to Old Navy and find an adorable pair of shoes there. I should know by now that they know what's up when it comes to tiny feet!
It truly is always a happy day to find more kid shoes we love that don't break the bank. Millie's exact pair is currently sold out (bummer!). But there are some extremely similar boots at Target right now on CLEARANCE for only $15.99! HUGE price win for toddler booties!
Outfit sizing
The dress and shoes (and every kid item I've ever bought from Old Navy so far!) run true to size. I have never ever had to worry about sizing up or down when it comes to Old Navy kid products, so I love that you can really rely on that magic number to get the right fit for your little one!
A word of warning – run don't walk!
The only "downside" to shopping Old Navy is that all of their cute toddler clothing gets snagged QUICK. You and I aren't the only parents who know where to shop – and how to shop fast! If you know you want it, buy it now, because it may not be available when you return to it later. Just my piece of advice from past experience – trust me!
Old Navy, new favorites
You REALLY can't go wrong when shopping Old Navy.
We've rounded up all of our favorites from the sale, and we hope you are able to find some cute new things for your little one's spring and summer wardrobe, too!
Girls
Boys