I know a lot of you are getting super excited for Summer vacations that are creeping up on us, I am for sure! So today I've got a fun little roundup of some favorite summer vacation outfits from Nordstrom to take on whatever trips you have coming up. With school getting out soon and the sun teasing us with its warm rays, I'm ready for a little warm weather getaway, and I'm making sure you are too!
Before we dive into my favorite summer vacation outfits though, I've gotta make sure you know the Nordstrom Half-Yearly sale is going on right now!!! Now through June 4, you can get up to 40% OFF select styles from top brands at the Nordstrom Half-Yearly Sale.
I love buying everything and anything I possibly can from Nordstrom because they truly have the best customer service in the entire world, plus the FREE Shipping and FREE Returns!
Onto my little vaca outfit … first up are these fringe sandals! I love nothing more than a flirty fun sandal to kick start my summer wardrobe and these are ridiculously cute and comfy, which is of utmost importance to me. I also really love those ankle ties, such a huge trend for Summer 2017!
This backpack is absolutely the it bag for this season and I think it's the very cutest combo of a small bag in a neutral color. I see myself taking this on trips all summer long, running to Costco or on a dressed up date or a walk over to the park with my girls. It makes this outfit just a little less formal without looking awkward.
And how about these flirty ruffles on this skirt? I can't say no to a girly girl touch like this and I feel like we just keep seeing ruffles everywhere. I paired it with this very understated boatneck white tee, but I also think it would be so pretty with this bell sleeve blouse if you wanted the whole look to be polished head to toe.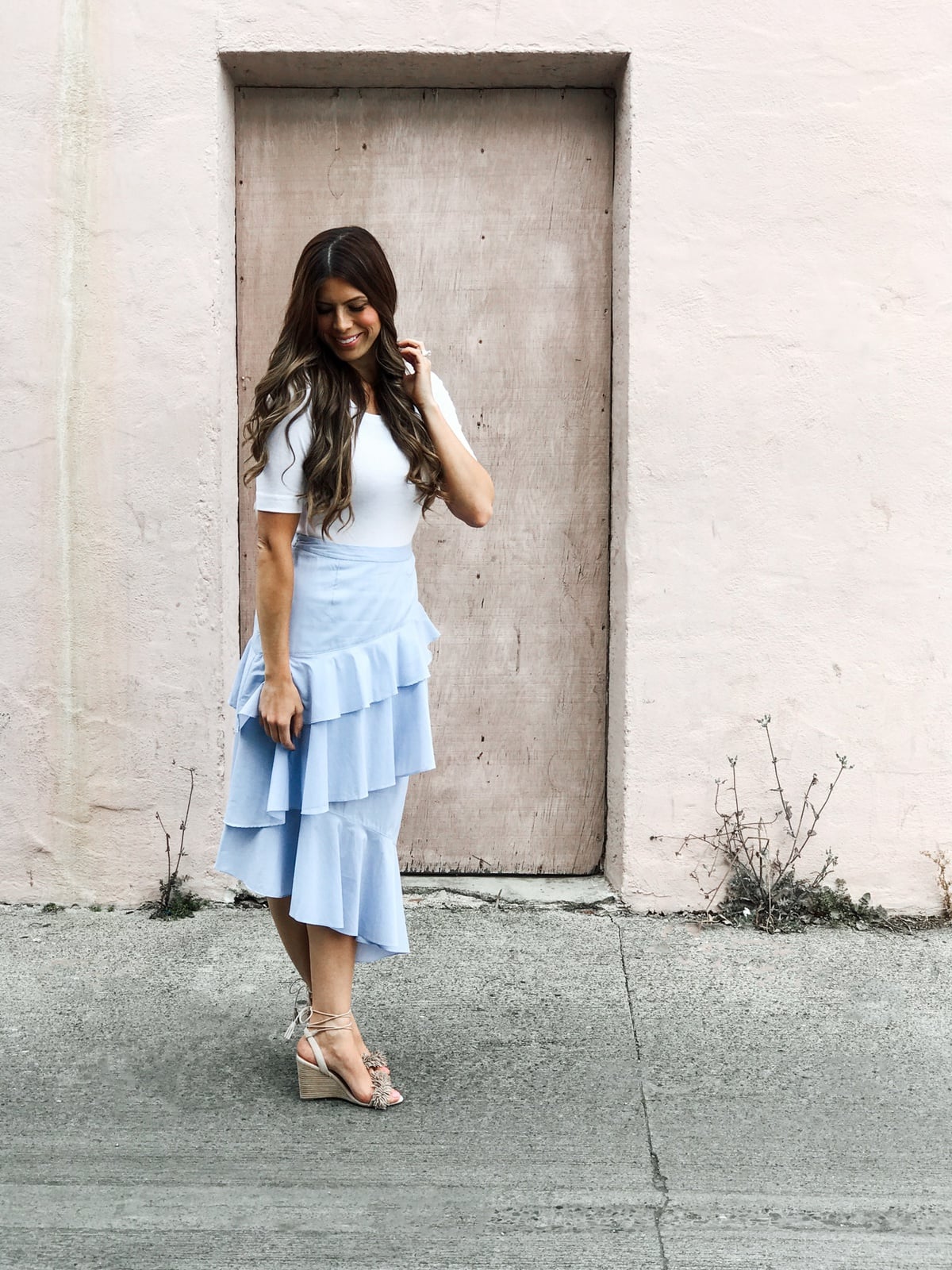 Blue ruffle skirt
Tie up sandals
White tee
Taupe backpack
Nordstrom has sorted all of their vacation items into these really nice and neat little landing pages where you can find the best stuff for your upcoming vacations:
ALL Nordstrom Vacation Clothing
ALL Nordstrom Vacation Swimsuits & Cover-Ups
ALL Nordstrom Vacation Shoes & Accessories
ALL Nordstrom Vacation Beauty & Fragrance
Here are some of my favorite items for summer vacation outfits for you below so you can gear up for your next adventure:
And here are my TOP picks from the Nordstrom Half-Yearly Sale that you can get up to 40% off! (see ALL my picks in this post).