Who of my readers has thought about what to wear to a holiday party already this year? Or a cruise or a company party or a fancy dinner in the next few months. Well today i've partnered with Saks to show you one ladylike lace dress that I'm madly in love with!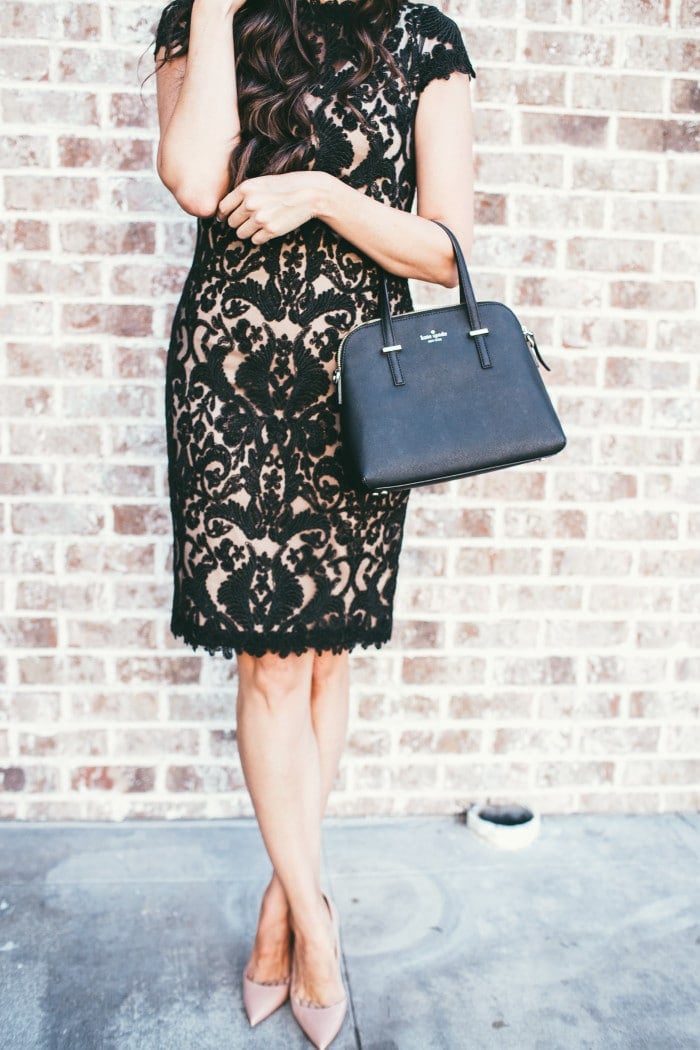 I can't even describe adequately just how beautiful this lace dress really is in person. Like show-stopping, jaw-dropping, amazingly gorgeous lace with a little bit of a stretch for the most perfect fit! Totally true to size and it really does fit me like a glove.
I paired this dress with my simple, feminine little kate spade black bag but it would also look SO good with this little nude clutch, if it ever found its way into my closet! #dearsanta . . .
I also need to just address these heels because the last time I posted about them I got a LOT of questions. So the christian louboutin so kate pumps are beautiful, they slim your legs, tone your butt, make your toes look cute, and are truthfully the most uncomfortable shoes i own haha! THAT SAID, i still love them and (obviously) wear them on special occasions. they may be the most uncomfortable, but they're also literally THE most flattering too. there's a reason so many fashion bloggers wear them!
One last little detail – these earrings were a little more of a splurge than I normally would spend on accessories like this, but they really did compliment the dress perfectly without competing. Dainty, delicate and sparkly sophistication.
lace dress // black bag // nude pumps // nude slip // earrings
photos by emmy lowe