I'm SUPER excited because we found a few really great deals on Dyson vacuums of all sizes for up to 62% off! If you've been searching for the best deal on a super nice vacuum, this is it.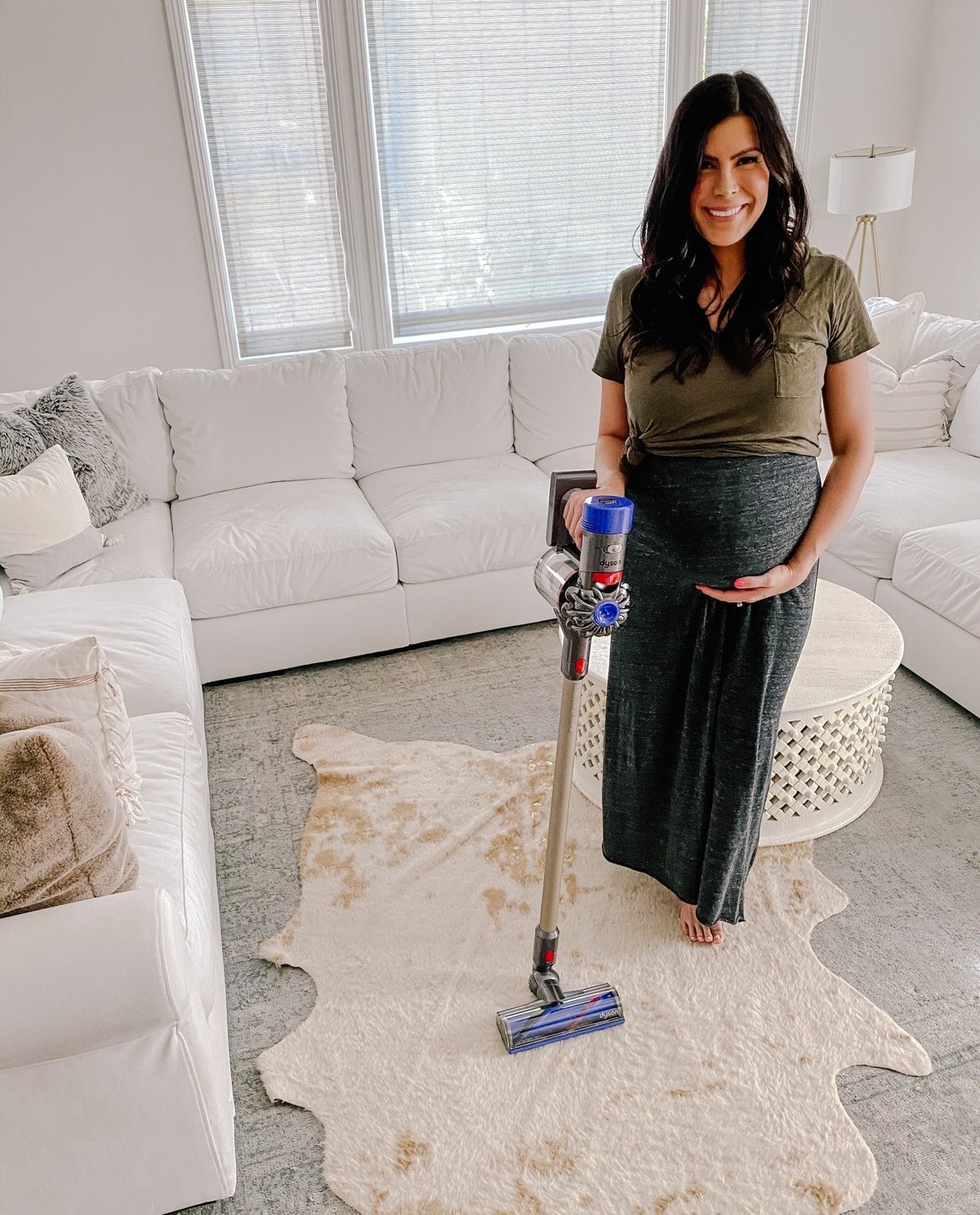 Deal Details
Right now these Dyson vacuums are on MAJOR SALE for up to 62% off!
All vacuums above are REFURBISHED: this means that it's been opened, but has gone through a rigorous process to deem it ready for resale! My experience with buying refurbished items has been flawless. This deal is an incredible way to save on an item that is a little bit of a splurge!!
Dyson Ball Multi-Floor vacuums
If you have been following me for quite some time (or even just recently), then it is no surprise that I love Dyson anything!
We've had the Dyson Ball Upright vacuum and LOVE IT! I actually enjoy vacuuming whenever I use a Dyson. My mom has had two (one for her house, one for our cabin) and she's a die-hard fan as well. I think whether you get the Small Ball Dyson vacuum, the Light Ball vacuum, or the Dyson Multi-Floor 2 vacuum, you will not be disappointed! And for up to 62% off? It's basically a no-brainer.
One reviewer said, "First let me say, I have no problem with refurbished, especially when it is warranted. This means it already has all the problems gone and works great. The one I received looked brand new. I've had this exact Dyson over 4 years. I still had my old vacuum when we received this Dyson. I was curious about the difference. I vacuumed with my old one first, then vacuumed again with the Dyson. UNBELIEVABLE how much dirt and lint the Dyson picked up. The big ball is also great and makes vacuuming much easier than most vacuums. I am a Dyson buyer for life!!!" If that doesn't make you want to click ADD TO CART right now, I don't know what will.
Dyson V8 Animal Cordless vacuum
I recently did a roundup of house items at QVC and this Dyson vacuum made the list! It is the EASIEST and most convenient thing in my house. You can carry it everywhere, and it makes vacuuming a cinch. I know the reservation with cord-free vacuums is the power; will it work as well as my traditional vacuum? The answer is a resounding YES!! I am so impressed with how powerful this lightweight vacuum is.
The cleaning head is designed for all surfaces, it converts to handheld AND boasts a HEPA filtration system. And perhaps the best thing about it? The current price! This refurbished vacuum normally retails for $399, but is on sale today for $199! That's a 50% savings, and something you'll definitely want to jump on, especially because there's a limited quantity! If you are wanting a brand new Dyson Animal V8 vacuum, then you can get one here for $100 off the retail price.
Ecovacs DEEBOT Robotic vacuum
YES, we know this isn't a Dyson, but we just could't help but share this deal with you! This Ecovacs robotic vacuum has mega crazy high ratings and I totally bought it for that reason. This vacuum is cordless, has WiFi connectivity, and works with the app AND Alexa, and will run up to 120 minutes!!
This Ecovacs robo vacuum is also one of the TOP RATED and top recommended from Consumer Reports, which is why I decided to go for it a few months ago! If you're in the market to buy a brand new robotic vacuum right now, this is the one I would recommend. I also love that it's all white so that it's not an eye-sore when it's doing its thang!!
You can get this vacuum renewed for $124.95, which is a 55% off savings from the $279 retail price. And if you want a good deal on a new one, then you can get it here for 43% off, making it $159.99!
Don't miss out on these deals!
If you've been dying to get a Small Ball Upright vacuum ($149.99, reg $399), a Light Ball Upright vacuum ($159.99, reg $389), a Multi-Floor 2 upright vacuum ($219.99, reg $399), an Animal V8 vacuum ($199.99, reg $399), or an Ecovacs robotic vacuum, DON'T wait! Most of these say "limited quality available" and I have no idea how long it will be before we see these deals again!