One of the most exciting parts of the holidays (besides baking, buying gifts, cooler weather, etc…) is decorating! I always include my front porch in my seasonal decor because it puts me (and hopefully my visitors!) in a festive mood! Ever wonder what to include in your front porch decor? It's just a few simple things that can be traded out and reused during the same seasons each year! I love that I can store most of this stuff and easily pull it out the next year so I'm not constantly accruing decorating expenses. Come join me on a tour of this year's fall inspired front porch!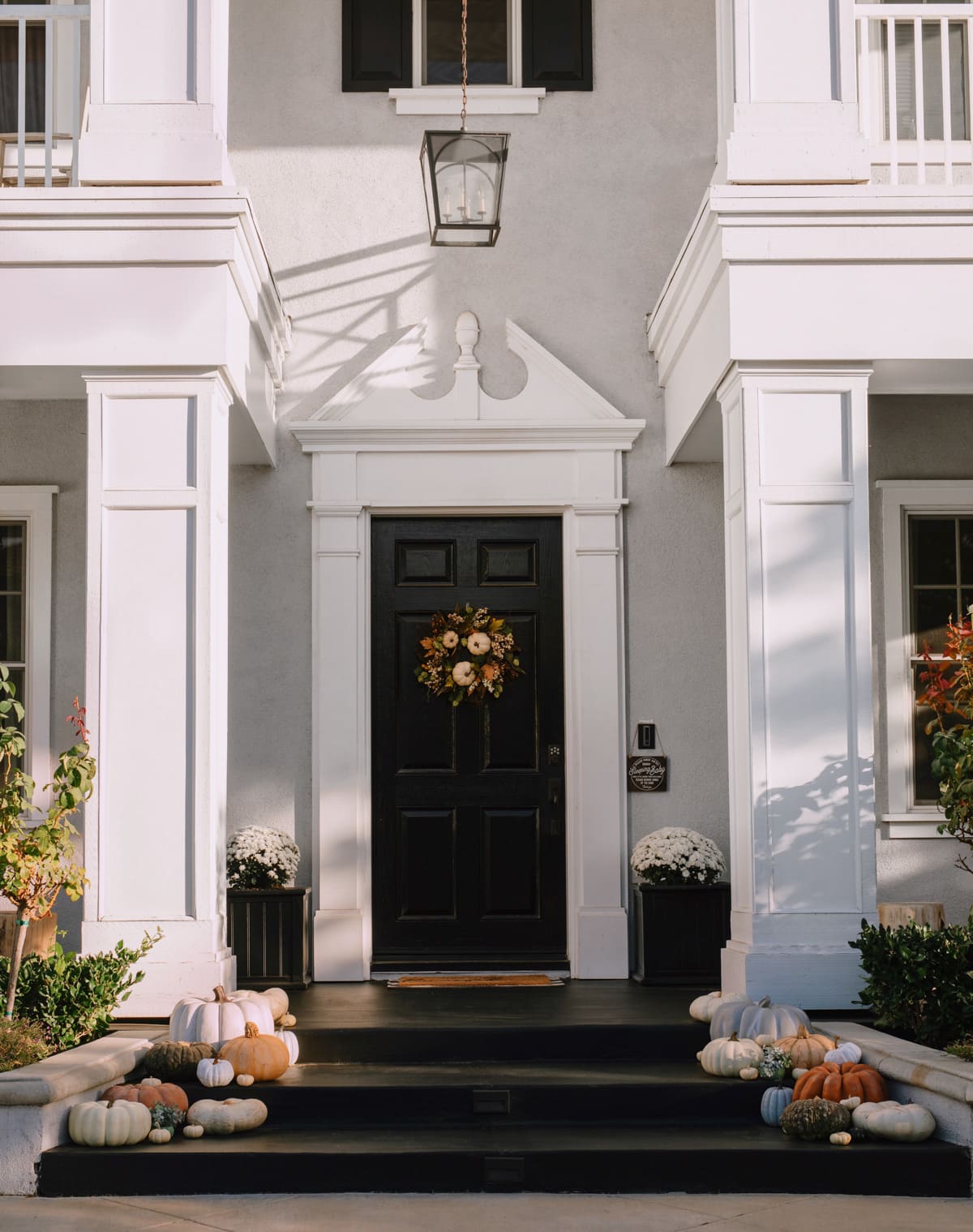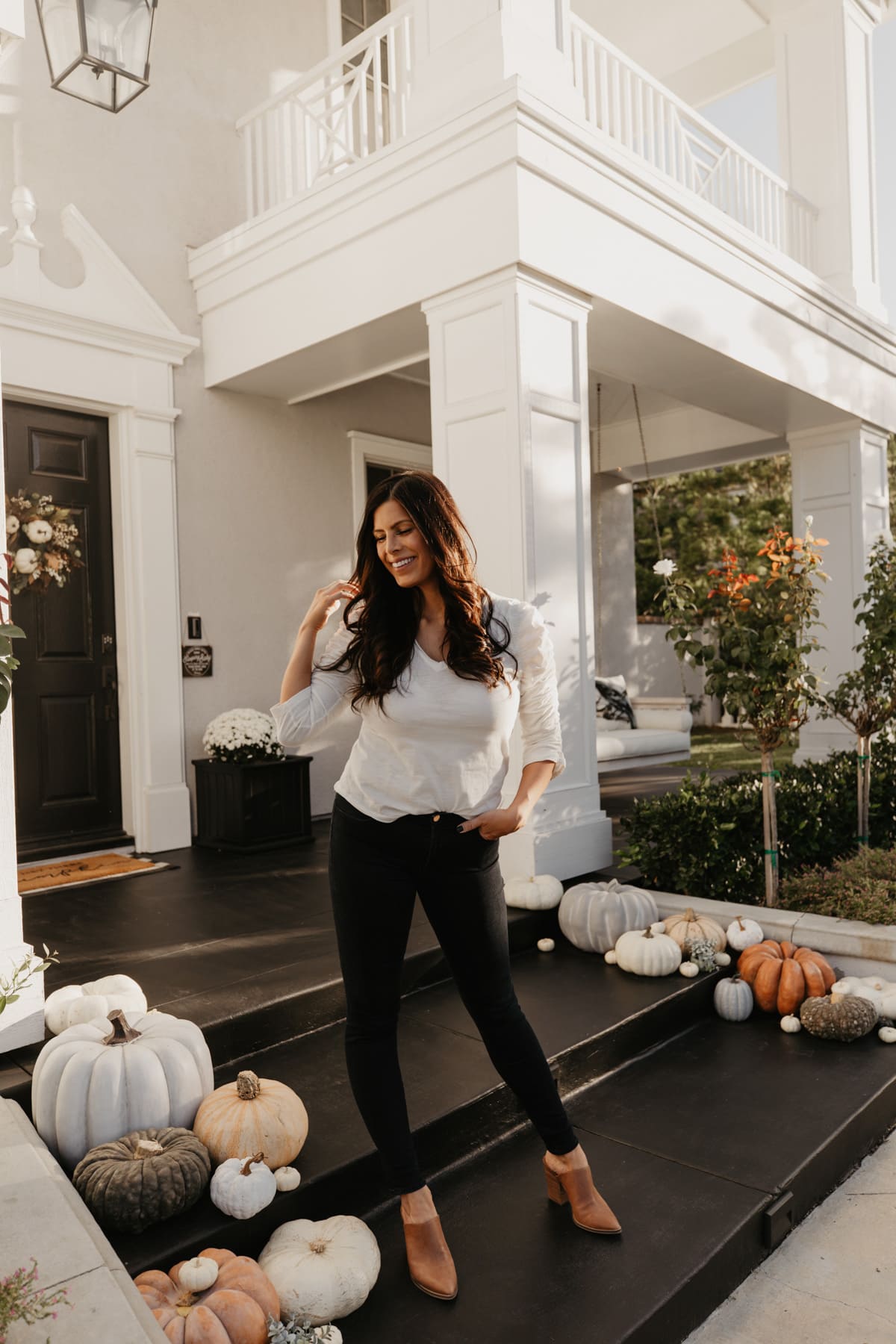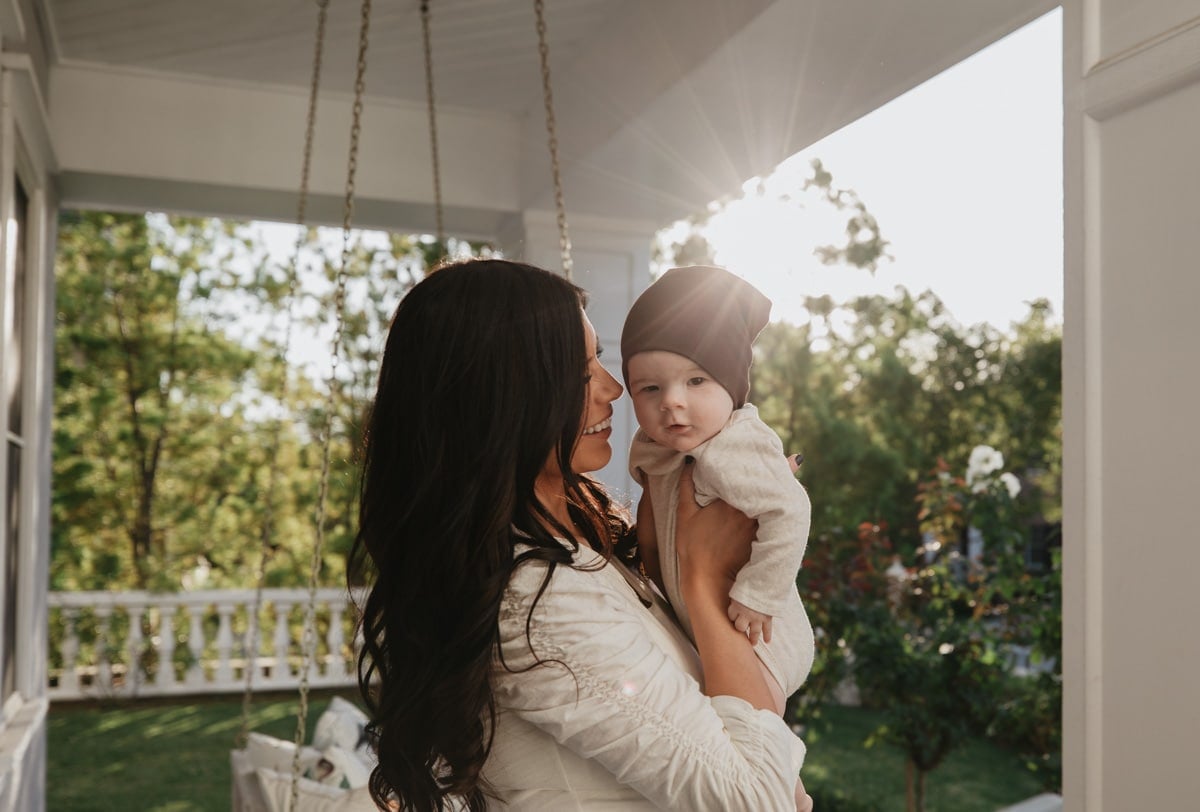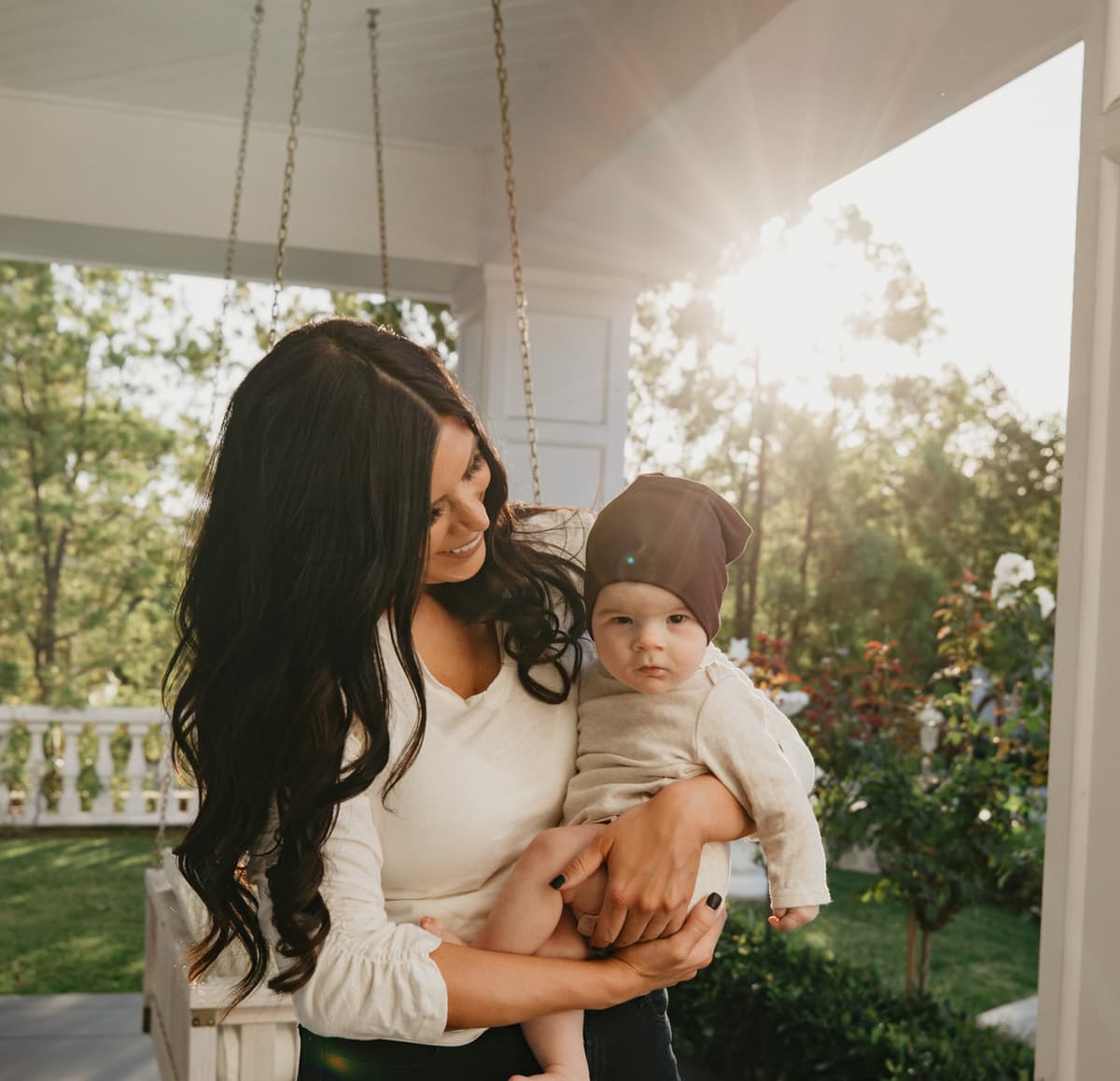 Mums & Planters
I chose these planters because I really love the aesthetic and how they look on each side of my front door. But THEN I realized they are self watering and I.WAS.SOLD. I have killed so many plants in my day, and this takes all the work out of fresh greenery! With these planters, you just put water in them once a week, and then it slowly waters the plant each day. GENIUS right?!?!
Mums can be tricky to plant and keep alive, so I was grateful that my friend Aubry sent me over this article on how to keep mums alive! Between that and the self-watering planter, I feel like quoting Dumb & Dumber, "so you're saying there's a chance?!"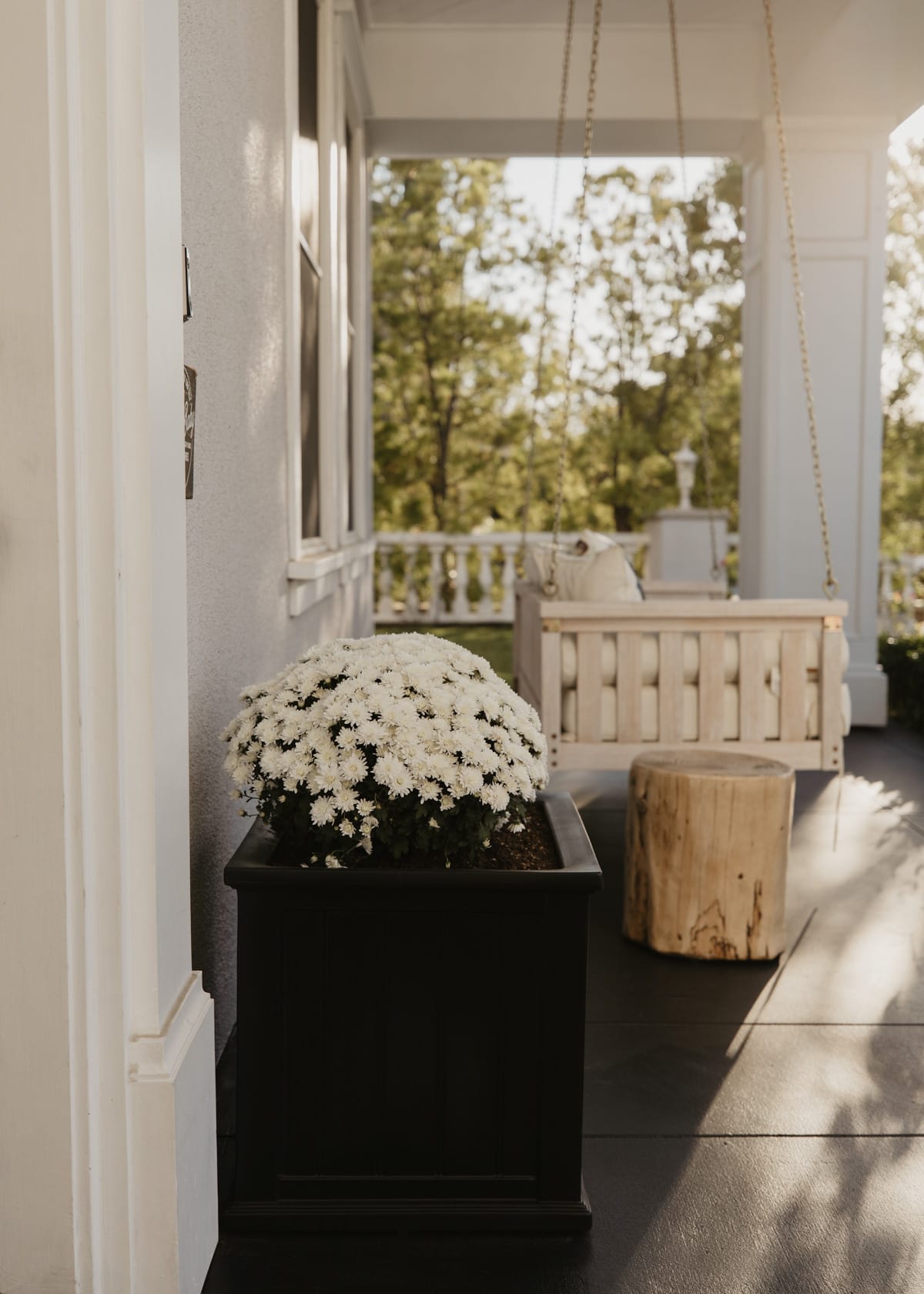 Cascading pumpkins
For the last few years we've utilized the space to the sides of the front door to stack pumpkins. Since we have our beautiful mums flowering in their pots this year, we decided to put the pumpkins cascading down our steps instead! We just recently painted our front porch black and I am LOVING it!! The old paint was chipping, so it was time for a front porch paint refresh, which coincidentally acts as the perfect backdrop to my fall porch theme!
The big white and big gray pumpkins are from HomeGoods years ago. But I always like to mix faux pumpkins with real ones too! I also added a few new fake pumpkins this year from Target and Pottery Barn for different textures and colors to make the whole arrangement really pop! It definitely cuts down on the expense if you invest in a couple fake pumpkins each fall that you can reuse for years to come. That way you only have to buy a couple real ones to add into the mix if you want, since they can get expensive to continually repurchase.
Hey there, pumpkin
I'm loving this door mat I got from Etsy as well! This one is a little more specific to Halloween time, but this one I just got from Target would work really well for later in the season (until my Christmas decor comes out to play!) I love to layer my doormats for a little pattern play and visual interest. The black and white buffalo check seriously seems to work all year with seasonal doormats on top!
Swing accessories
We reused our fall pillows on the front porch swing, and I'm loving the pops of pattern against the white cushions. My front porch swing is my favorite place in my house, so I always have to include it in my holiday decor. And I love that I can use the same stuff year after year and just add a few new things to make it feel totally fresh!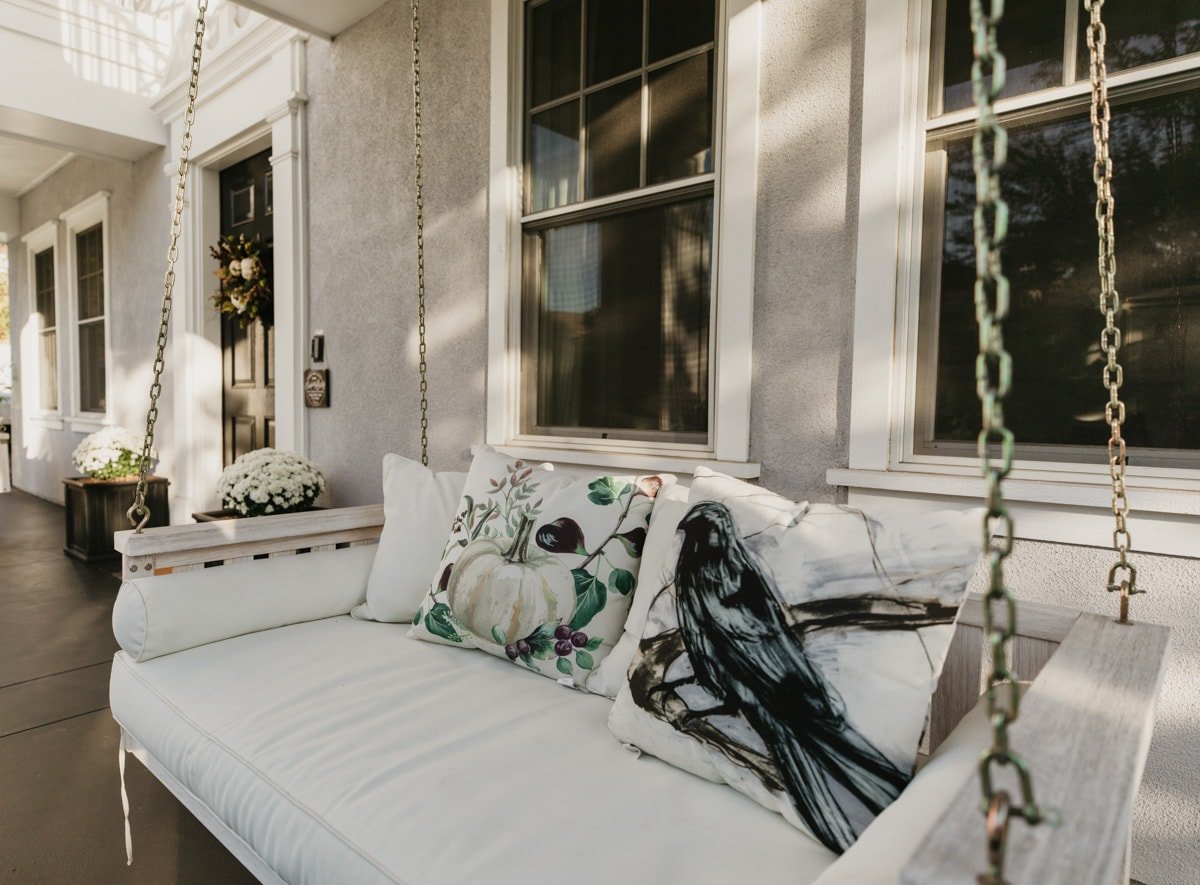 I'm obsessed with these tree stump side tables for the swing! Studio McGee just introduced a newer version at Target and I love them so much! These are great to bring the outdoors indoors or just add a rustic touch to your outdoor space.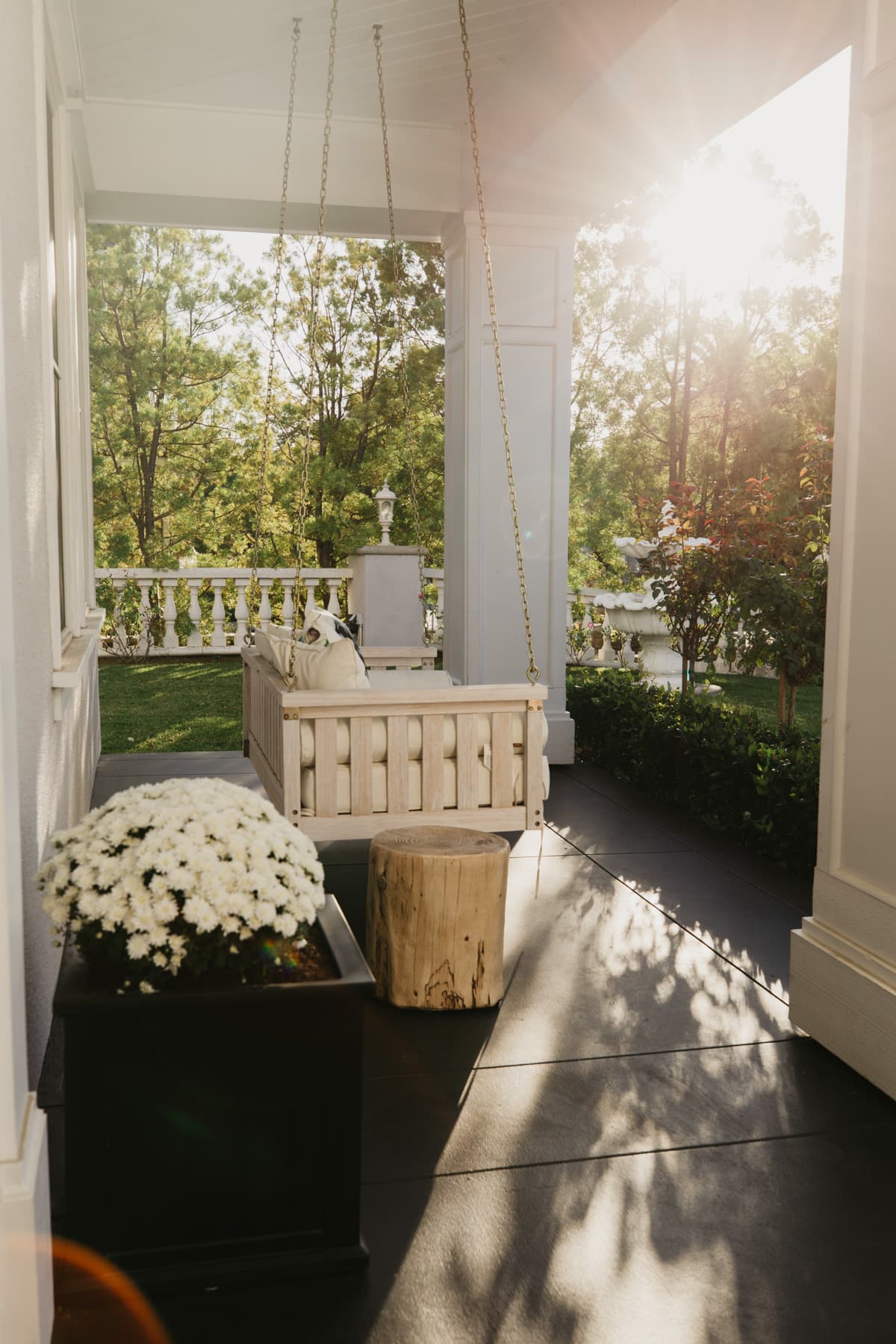 Wreath
This beautiful wreath was a local find at a boutique in Newport Beach, but this one is super similar. I love the white pumpkins as a twist on the traditional look and how it pops against our black door!
Custom sign
I bought this sign to hang on our front porch to kill two birds with one stone: not waking my napping baby and not wearing shoes in the house!! I love that I got to customize it with exactly what I wanted to say. We were seriously having issues with people ringing the doorbell or sounding a gong (aka knocking on the door) when they came to the house. This politely solves that issue!
I am also about to have another crawling baby at my house, so I really appreciate when people take their shoes off to come into our home! Shoes all over the floor does not mix with a crawling baby who has his hands in his mouth all day. I love that this sign diffuses the issue before anyone even steps foot into my house.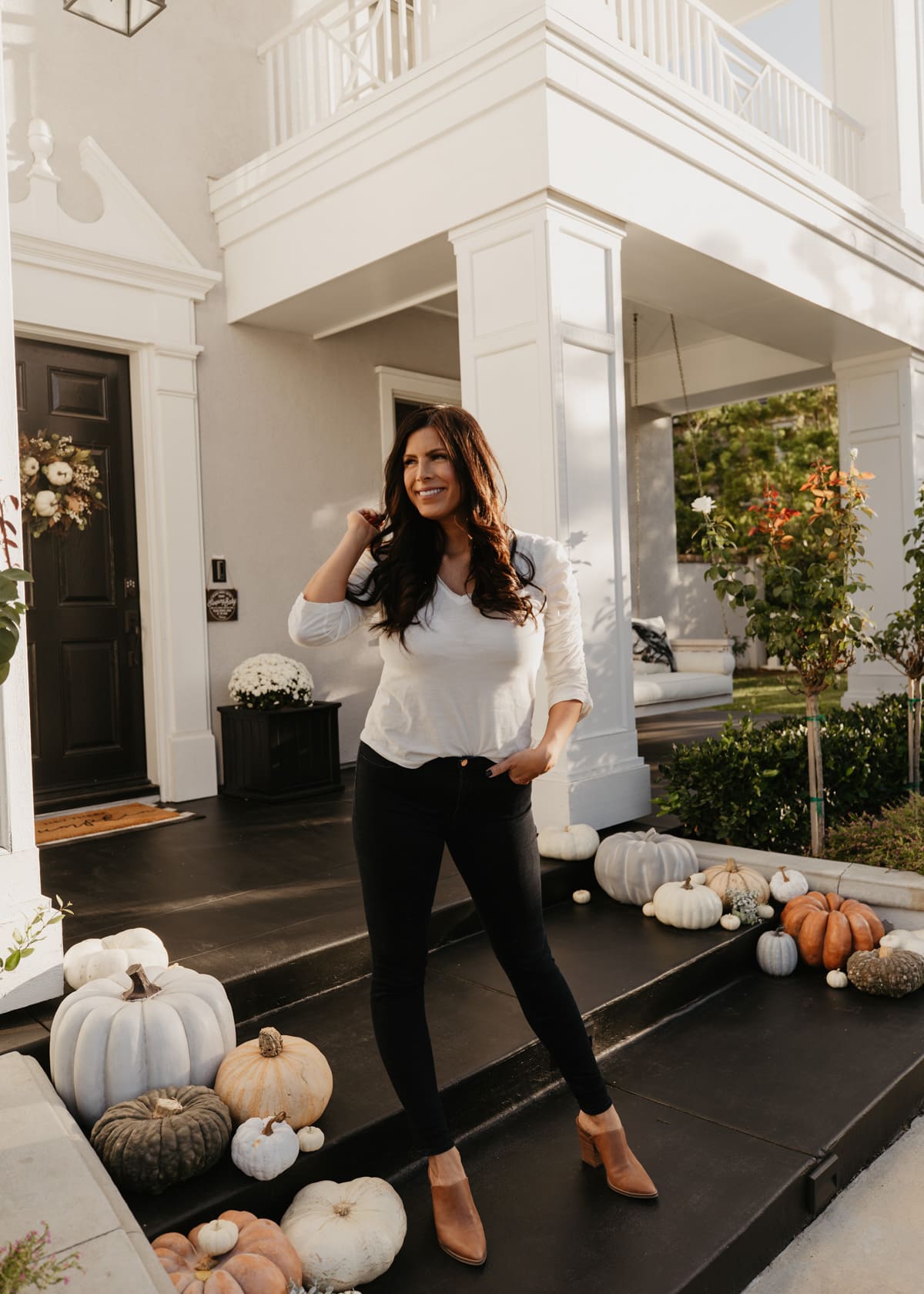 Easy as Pumpkin Pie
Gradually acquiring front porch decor for each season lets me really go all out on my porch without having to buy everything each year! It makes me so happy to see seasonal themes and colors right as you come to my house. It especially sets the mood for the holidays coming up! Whether you choose flowers or pumpkins or just a festive wreath, little touches add a huge impact for an inviting home!