Hey friends! We've had many, many requests recently for one last doTERRA essential oil deal before the year ends, so here it is!!!
But first I HAVE to make sure you're aware of the most AMAZING DEAL doTERRA is offering – a free bottle of Frankincense (valued at $93!) to anyone who places a 200 PV (product value) order during the month of December.
Yes, that's the same Frankincense that the wise men brought the baby Jesus, because it's one of the most powerful and precious oils in the world. We've seen literally incredible changes in our daughter feeling balanced and listening to directions when we've placed Frankincense on her feet before school. Her first preschool teachers even noticed and said the first time we tried it, "you sent a different child to us! I don't know what you did, but she was amazing today!"
In addition to helping mood and balance, it's also known for dramatically reducing blemishes and skin imperfections. You can apply a drop to your moisturizer and then apply to your face, or just a dab on a problem spot works wonders too.
DoTERRA's free Frankincense deal only happens once a year and everyone should take advantage. And in addition to doTERRA's FREE Frankincense promo . . .
For anyone who signs up with a doterra essential oil wholesale account here with an order of 200 PV or more, you'll receive a FREE diffuser and Essential Oils expanded book – our bible for using the oils! PLUS you'll get that free large bottle of frankincense from doTERRA.
To create a 200PV+ order, you can either enroll with the family essentials kit for $125 (pictured below, the one we started with) + make sure you add at least 85 PV additional product to your order (totaling at least 200 PV at checkout). This is the kit we started out with and we loved it!!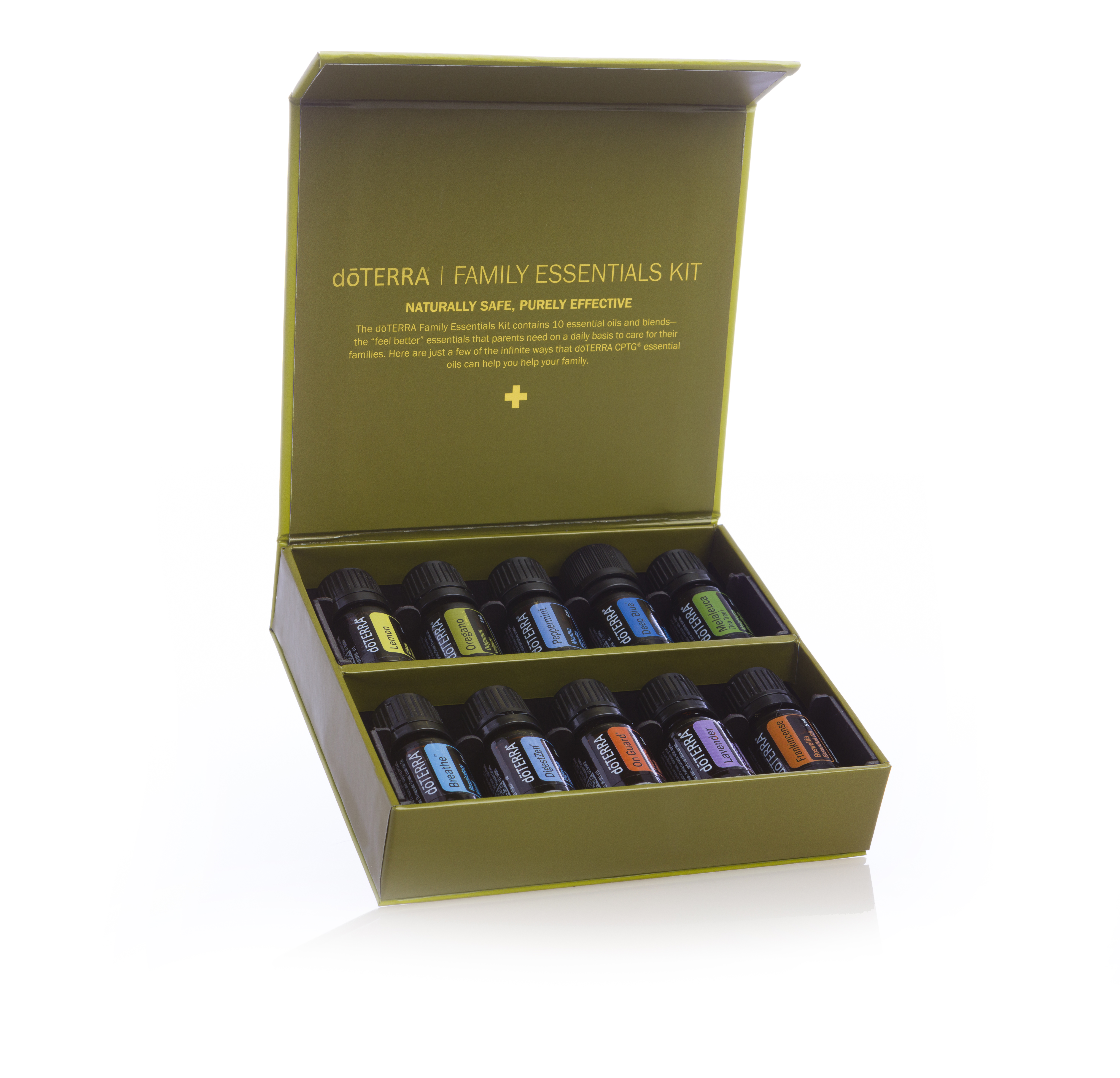 Or you can enroll with the larger home essentials kit for $275 (pictured below, totaling 225 PV) that comes with 15ml bottles and a diffuser! You'll get an additional diffuser from us so this is a great way to start out if you want full bottles and two diffusers in your house.
Or enroll with one of doTERRA's larger kits like the Natural Solutions Kit or Every Oil Kit if you want to save a ton of money upfront on buying all the oils! This is also a super nice gift for a family that's into wellness if you need a large gift for someone this season. You can see a breakdown HERE of all the enrollment kits, the price and their PV (point value).
If this is overwhelming to you or you feel a little skeptical that these oils could help your family too, I totally understand! I felt that way too. And my husband Neil was beyond skeptical (kinda mad actually!) when I first brought these oils home. But what he found was after using one oil (breathe) at night, he didn't snore which meant peaceful sleep for him AND me!! After that we were hooked.
I've converted so many of my majorly skeptical friends and family members to the oils! I promise you that if you give them a try and actually use them, you'll see gigantic benefits in your health.
FAQs:
Q: What is PV? PV is product value – all of the oils are full PV, but some of the other products like diffusers are not full PV. The brand new doTERRA cloud diffuser for example, costs $89.95 wholesale but is only worth 40 PV.
Q: When will I get my oils?
A: Your starter kit and free Frankincense will ship immediately, directly from doTERRA. Your diffuser and book will ship from us and arrive within 5-7 business days in the lower 48 states.
Q: Am I under any obligation to re-order or sign anyone up?
A: Nope! No obligation whatsoever to re-order or sign anyone up. There is a business opportunity to doTERRA if you ever become interested, we can help you start and grow your business. But again, there's NO obligation. We used our oils for 3 years before ever signing anyone up or engaging in the business side.
Q: What does it cost to keep my wholesale account open?
A: You'll be charged $25 annually to keep your doTERRA wholesale account open, but you get a free peppermint essential oil (retail $27.33) with your renewal.
If you have any questions at all – about the deal or the oils or anything – please don't hesitate to email neil@mintarrow.com and he'll get right back to you! We also offer ongoing email support to everyone on our team who has questions about how to use the oils, how to share them with friends, etc.
This deal for anyone who signs up with a doterra essential oil wholesale account here with an order of 200 PV or more, you'll receive a FREE diffuser and Essential Oils expanded book, PLUS the free large bottle of frankincense from doTERRA is good through the end of December 2017!
It's been so fulfilling to hear stories from people who are using these natural solutions in their lives and with their families and experiencing incredible results. Super excited for you to have them too!!