We've been back from our family trip to Walt Disney World for just a few days and my DMs are FULL of questions about our trip from people who are curious, people planning for the future, people wanting to know what it's like there right now. So instead of responding over and over in my DMs, I figured a full comprehensive blog post would be more helpful! I hope this helps answer some of your questions if you're thinking of going to Disney World sometime in the near (or even distant!) future, and what to expect RIGHT NOW in 2021 at WDW.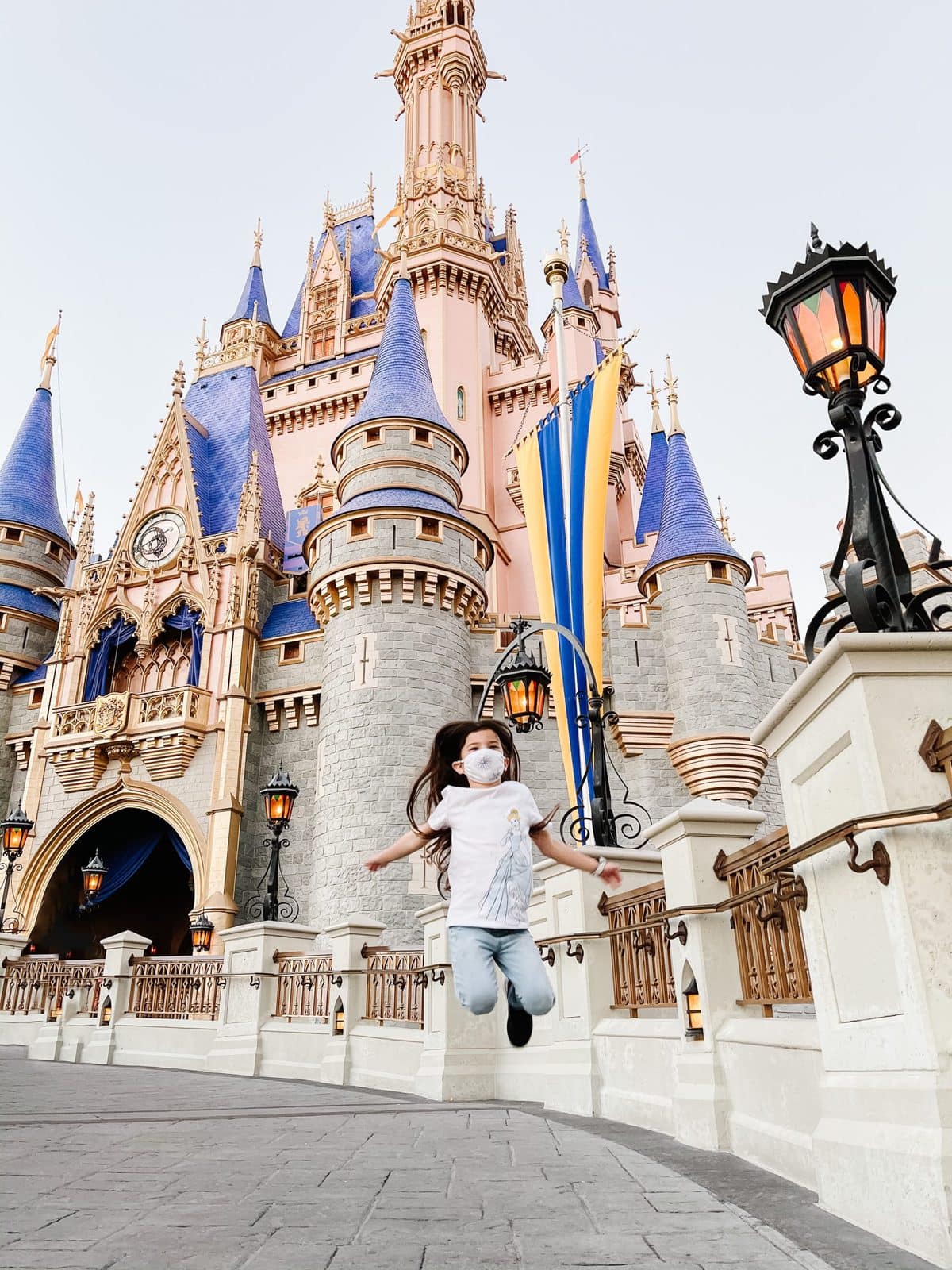 Is it worth it?
We decided in the fall to book our trip to Walt Disney World because it's what felt right to us as a family. I know there are opinions ALL OVER the place about this, whether anyone should be traveling, whether it's safe, whether it's selfish, etc. You'll find people on either side of the argument to support your stance. For us, it felt like we could safely go to Disney World, support the economy, and make memories with our kids after a long, hard year.
Our kids had a 3 week Christmas break and the companies we chose to support – Delta with our flights, and Disney World with our stay and tickets – have done an outstanding job keeping people healthy and going to extreme measures to ensure everyone stays healthy and safe while traveling or visiting the parks. We were spaced out, wore masks, taught our kids to socially distance in lines, and everyone was healthy before traveling and stayed healthy after too.
Is it worth it to go with all the restrictions? For me, YES! I went in with the expectation that Disney World would be different than it was in the past, but also didn't really know WHAT to expect since this was our very first full week staying at and experiencing WDW. It was honestly even MORE magical than I hoped for, I think because I went in with lower expectations and was just delighted by how hard Disney has worked to make everything as magical AND safe as possible, and how great it was for our family to get away and do something all together.
My top 10 tips for Walt Disney World in 2021
These are random tips that I feel like I wish I would've known or learned along that way that made our trip SO much more enjoyable!
Have groceries delivered!!

Tons of restaurants and quick-service dining options sold Uncrustables for $6-8 a piece (YEP, you read that right!).

You will save SO MUCH MONEY if you order some of these groceries to your room, and pack them in a food bag for the day (one of my fave tips for Disneyland when it reopens someday).

I ordered through Walmart Delivery because I love that they don't jack up the prices for delivery, but you pay actual true low Walmart prices and they're delivered right to your door, which I needed since we didn't rent a car for this trip.

I ordered a box of those and stuck them in my freezer and carried a few around for when my kids were ready for lunch! Here's what else we ordered that saved us money and waiting for food to be ready when my kids needed to eat, in our room or at the parks:
Snacks/easy lunches to bring:
– Uncrustables
– Carrots (put into ziplocks) and ranch to-go cups
– Applesauce
– Honest Kids juice boxes
– Oreo/Chips Ahoy/Nutter Butter mini cookie variety pack
– Goldfish single-serve snack packs
-Kids Zbars in Iced Oatmeal
– Boxes of raisins and craisins
– String cheese
– Clementines
– Grapes
For the room:
– Cereal
– Milk
– Instant oatmeal
– Mini bagels
– Cream cheese
– Mac & cheese cups
Get there ONE HOUR EARLY! This applies whether you're going right now, or when Disney World goes "back to normal" and they do a rope drop. They're not doing rope drop right now because they don't want people congregating close together, so they're actually letting people go in early and start getting on the rides about 30-45 minutes before the actual posted "opening" time. If you get there 1 hour early, you'll walk through security and most likely walk right into the park or only wait a few minutes. We WALKED ONTO some of the most popular rides this way.

Go on the ride you want MOST very first.

We did this at Epcot and had a very short, reasonable wait for Test Track. The next day at Magic Kingdom, we showed up right when the park "opened" and the lines were already getting long for the popular rides, so we skipped Mine Train and went to Peter Pan because the line was shorter. The line for Mine Train was longer the rest of the day (including evening) than the 35 minute wait first thing in the morning, and I regretted not just doing it first!

Come up with a plan for which rides to go on, in which order, before you go.

This was our list, in order of what we planned on doing first to last, and what we actually rode (in bold):
Epcot: Test Track, Frozen Ever After, Gran Fiesta Tour, The Seas with Nemo & Friends, Soarin' Around the World
Magic Kingdom: 7 Dwarfs Mine Train (regret not doing this first!), Peter Pan, Thunder Mountain, Splash Mountain, Pirates, Haunted Mansion, Small World, Country Bear Jam, Tiki Room, Mickey's PhilharMagic
Hollywood Studios: Slinky Dog Dash, Toy Story Midway Mania, Rise of the Resistance, Mickey & Minnie's Runaway Railway, Frozen Sing-Along, Millennium Falcon
Animal Kingdom: Flight of Passage, Na'vi River boats, Expedition Everest, DINOSAUR, Kilimanjaro Safaris

Lower your expectations of what you'll get done.

I'm such a planner that I wanted to MAXIMIZE our time at Disney World. But I remembered my dad's wise advice to just go with the flow when it comes to plans with kids, and we had such a great time just doing what we could and not worrying about what we couldn't get to.
Want a picture without masks? Take one right before or after you eat, or when you're at the pool! You're allowed to have a snack or drink if you stand in one spot, socially distanced from others, so snap a pic here!

Melatonin for kids:

You might disagree with this tip, but this was a LIFE SAVER for us. Our kids were trying to adjust to a 3-hour time difference, and even after wearing them out like crazy, they still had a hard time going to sleep at 6 p.m. our time when it was 9 p.m. East Coast time. Tired Teddies have the teeniest tiniest amount of melatonin but work like a charm for our kids!

Break up your day.

Get to the parks an hour early, knock out a few of the rides you want to do most, then TAKE A BREAK either going back to your hotel for a swim or a nap or even sitting down for one of the shows like the Frozen Sing-Along or the Tiki Room and Country Bear Jam. Then return later in the evening before the parks close and jump on a couple of the rides you didn't get to. You'll have a way more enjoyable time at WDW if you do this!

Wear comfortable shoes:

DO NOT (I repeat, do NOT ) try to break new shoes in at Disney World. Just don't. Take some worn-in sneakers from home instead. I promise it will ruin your whole trip to get blisters the first day.

Make dining reservations for LUNCH!

I got this tip from one of my best friends who went to WDW just before we did, and she told me it was so nice to have a scheduled break each day to sit down and take off your mask and eat. If it's in your budget to eat one sit-down meal a day, do it at lunch instead of dinner! (More on making dining reservations later in the post). You'll love the air conditioned break in your day. I read and re-read my friend Kristyn's dining recommendations since she's been so many times!
Disney World Deals
Staying at a Disney vacation club resort without being a DVC member
If you've been around for even a minute on this blog, you know I'm a DEAL FINDER at heart! Neil and I have considered DVC (Disney Vacation Club) several times in the past, but have ultimately decided to just look for deals on renting points when we want to take a trip to a DVC resort.
I got an incredible deal on a dedicated reservation through David's Vacation Club Rentals where we basically paid to rent the points that someone had already reserved for a 6 night stay at the Beach Club Villas that worked out perfectly with the timing we wanted to go to WDW. We saved thousands going through them and got to stay in a vacation club 2-bedroom villa with a full kitchen that slept 8 people.
Discount Disney World tickets
I booked our park tickets through Getaway Today and saved money using their discount tickets! It was super easy and everything appeared right in my app on my smart phone, and then I was able to make dining reservations and park reservations and switch around the times when needed.
I've found that traveling with littles makes flexibility IMPERATIVE. You just never know who's going to react well to a 3 hour time change, who's going to have a melt-down, who's going to need a nap or be hungry or be ready for time back in the room etc. Being married to plans is really hard with kids ages 8, 5, 2 and 7 months, so I really preferred having my own ability to make changes on the fly and reserve dining.
If you go with a Disney travel planner, you have to ask them to make every change and reservation for you. I can totally see why some people would love that! For me, I wanted the deep discount on renting points for our stay and having the control of making/changing all our dining reservations myself.
Flying
How was flying with Covid restrictions?
We flew with Delta and it was an amazing experience. The airplane was super clean, customer service was top-notch as always, and they were very understanding when Millie (2.5 years old) wasn't up for wearing a mask the entire 4.5 hour flight.
Tips and tricks for traveling with Millie and Harry?
For traveling with toddlers, take a bag of tricks like things from the dollar spot at Target, magic coloring markers and books (the clear kind that doesn't actually mark up anything else except the page!), water WOW pads, an iPad with shows and movies they like (we used Disney+ to download Mickey Mouse Clubhouse and Frozen, Frozen 2), tons of snacks, and a change of clothes. I also really like these disposable changing pads for diaper changes in the airplane bathroom! MORE TIPS on traveling with toddlers in this post!
For traveling with Harry, I brought a comfy Saranoni blanket to wrap him up in (SO SAD that I actually left it on the bus one day!) but it helped with wrapping him tight for a nap once he got tired. (use code MINTARROW to get 15% off – these are the softest blankets in the world!). I brought a couple soft toys for him to chew on and play with, and a soft book for him to read, lots of baby snacks, baby food, and since he's currently on formula, bottles with pre-measured formula in them. I just asked the flight attendant for some hot water when I needed a bottle, and mixed half cold, half hot water to make a warm bottle for him. ALWAYS pack a change of clothes for the baby and for yourself too if you can fit it into your carry-on! More tips on flying with babies in this post.
As for waiting in lines for rides and even the bus ride from the airport to the resort, it was VITAL to have our ergobaby carrier with us! It's on sale right now too!!
Walt Disney World masks
TONS of DMs on Instagram about whether masks were required, what masks we wore, etc. YES masks are required and highly regulated at Walt Disney World, which I thought was awesome!
The BEST part of someone walking around making sure people had masks on was that they also made sure people were properly wearing their masks, which I really appreciated. Half the time when I go into a place where supposedly masks are required, people have them below their nose which is totally pointless. (Either do it right or not at all is kind of my mentality!). So everywhere I looked, people were properly wearing masks on Disney property.
These were our favorite Disney themed masks that were pretty affordable too!
Do two year olds have to wear masks at Disney World?
They did not push the issue at all with Millie wearing a mask when she was just sitting in her stroller, or even walking holding one of our hands. When she wanted to go on a ride, however, they said, "she needs to be wearing a mask." Millie complied and for me I felt like not pushing it every second of the day with a two year old made it very doable to get her to put on a mask before we went on a ride.
We also had a backup plan though, that one of the adults in our group would just go back to the room if she was really struggling with a mask and Disney was strict about it. So I wasn't stressed knowing that was our plan. It really worked out well though and they weren't strict unless she wanted to go on a ride. And half the rides we used rider swap anyway because she wasn't tall enough or old enough to go on the rides my big girls wanted to go on! More on that later in the post.
What about the pool?
Masks were NOT required at the pool if you were laying out or swimming. Groups were all socially distanced and not allowed to move chairs.
Hotel/Resorts
What Walt Disney World resorts & parks are open?
All 4 of the theme parks are open: Epcot, Magic Kingdom, Hollywood Studios, and Animal Kingdom. The two waterparks are not open. I believe almost all of the resorts are open, but some, like Polynesian, are only partially open. Disney is taking this time when capacity is limited, to do some refreshing and updating on some of their resorts.
Do you have a favorite resort?
This was our first time staying at a Walt Disney World resort but we LOVED Beach Club and would go back in a heartbeat!
What was the hotel experience like? Do they clean your rooms each day?
Beach Club was BEAUTIFUL, so nice, SUPER clean, they were taking extra measures to clean everything extremely well between guests, and if you stay at a DVC property you get new towels and cleaning service every 4th day of your stay. I really didn't mind though; we didn't spend a ton of time in the room! Plus we saved SO MUCH MONEY renting DVC points but still staying at one of the deluxe resorts!
Restaurant reservations
What Disney World restaurants are open?
Almost ALL of the restaurants seemed open to me? If there were a lot closed, I didn't notice! You can see which restaurants are open for reservations really easily through the app!
Do you have a favorite restaurant?
We LOVED Be Our Guest so much! We ended up going with all the girls on the trip, but next time for sure I want Neil to go and maybe I'll just go on a date night with him haha. It really was magical. I also LOVED Ale & Compass, and everyone loved Beaches & Cream for their ice cream. My girls flipped out over the kitchen sink! I wish I had gotten more than one reservation there for the week.
Did you make reservations beforehand?
YES and this is the one thing I wish I would have understood earlier, and started to understand as the trip went on. People drop reservations all day long, so if you're dying to get into something (like Be Our Guest in the Magic Kingdom!), make reservations ahead of time, but if it says nothing's available, keep checking back a ton! I was able to get so many reservations this way. Also if it says on your app that no reservations are available for breakfast, sometimes all you need to do is try certain times instead (i.e. 11:00 a.m. or 2:30 p.m. instead of just "breakfast" or "lunch.")
Getting to the parks
How do you get early access to the parks?
Disney World isn't really doing a "rope drop" like they normally do because they don't want people congregating, so my best advice is to GET THERE AN HOUR EARLY! I know that sounds crazy. But by the time you go through security and walk into the resort, you'll be there earlier than everyone else and be walking into the park and onto rides before the lines get insane. We reserved Animal Kingdom for our last day at WDW and got there 1 hour early by taking an Uber, so we were there before the busses all showed up too. We WALKED ONTO Flight of Passage, and when we finished the ride 15 minutes later, the wait was 125 minutes. We then walked right onto Navi River and only waited for 5 minutes for Expedition Everest, and our longest wait that day was about 20 minutes for the Kilimanjaro Safari which was my favorite part of the Animal Kingdom.
Bus, Uber, or walk?
Where we stayed at Beach Club, we could walk to Epcot, but I noticed that Uber dropped right off at the entrance of Epcot. I heard from a cast member that the drop off for Magic Kingdom is way far away from the actual entrance, so that day we took the bus instead of an Uber and that worked out great. Keep in mind that the first bus from your resort will likely be full (but they can't actually FILL the busses right now so you may have to wait!) and they aren't running as many busses as usual right now. We waited 45 minutes for a bus to pick us up and take us home from the Magic Kingdom. Not complaining, just letting you know to plan on extra time. The friendship boats from Hollywood Studios to our resort were so cute and lovely and we liked those even more than I expected.
How crowded is Walt Disney World?
This was by far my MOST asked question. How crowded is it, what are the lines like, is it worth it to go right now? Here's my two cents. It looks more crowded than it is, because lines are so spaced out. I LOVED that everyone was 6 feet apart in the lines (like can we do this forever?! Ha.) but it does make the lines appear to be crazy long. Also they aren't doing fast passes right now. BUT, if you've ever been to a Disney park during the holidays, 35% capacity is a DREAM. We were able to go on so many rides, feel like we had space to breathe, and I wasn't literally bumping into people shoulder-to-shoulder like times in the past when we've gone to Disneyland over the holidays or at peak times. In the 8 years we've been Disneyland Annual Pass Holders, we've never enjoyed the parks at lower capacity during a peak time.
What about parades and character meet & greets?
Disney World is being SOOOO smart about anything that would encourage groups congregating in one place without social distancing, so parades are unscheduled and on the fly. I LOVE THIS! No more wasting precious time having to camp out for a good parade spot, and no more waiting in a 45-min line to take a pic with a character (or quickly avert toddler eyes from a character across the street to candy in a store instead haha). As you can see in the video below, my kids still got TONS of joy seeing characters from afar.
What were the lines like?
Lines were not empty by any means, but they appear longer because of the spacing. Still, for a great experience you'll want to get there an hour early, go on the rides you want most, take a mid-day break when lines are longer, and go back in the evening!
Virtual queue tips?
I followed everything this post said to do, and we scored a spot in the virtual queue in group 31 for Rise of the Resistance. We got on the ride around 10:30 a.m. but those spots go SO FAST, like in milliseconds. Again, follow this post and do exactly what they say to do!
Can you still use fast passes and rider swap?
No fast passes right now, but YES to rider swap!
Rider swap is where everyone who's tall enough in your group gets to go on a ride with a height restriction, and one adult stays back with kids in the stroller. Then when your group is done, the adult who waited and two people in your party go BACK and do the ride again! That meant that my big girls got to go on a lot of the rides twice, INCLUDING Rise of the Resistance because Neil waited with the babies and then went with them a second time.
Where did you get your cute Disney tees/masks/sweatshirts?
Here's a roundup of the cutest Disney stuff I could find for our trip!
Is Epcot worth it for younger kids?
My kids LOVED Epcot! Anabelle was especially enthralled with Test Track, and all of us loved Frozen Ever After so much! In fact, if we'd had access to Park Hoppers (those didn't come back until the DAY after we left), I would've taken Millie back to Epcot for a second time on Frozen Ever After. It was magical watching her on that ride!
Final thoughts
I am so grateful our family had the opportunity to go to Disney World and make memories last week! I was talking to my sister about it right before we left on this trip, and we agreed that we didn't remember what we "got" for many Christmases, but we do remember every family trip. It was a vacation I know we'll remember for years to come.