Quick version: These are the best sets to shop during the Charlotte Tilbury summer sale happening rn!
Today is a great day because there's a MASSIVE sale going on right now at one of our favorite (and let's be honest, just a touch "boujier" than others) makeup brands, Charlotte Tilbury! We're talking 40% off some of the most viral Charlotte Tilbury products that have become staples in our own makeup bag. When it comes to luxury beauty brands, it's super rare to find them on sale, especially for up to 40% off. Keep reading for all of our favorite sets included in this sale before things start selling out!
Summer Sale Details
Right now, during the Charlotte Tilbury summer sale, you can save up to 40% off on some of our favorite, most reached for products in our makeup kit from Charlotte Tilbury. That's a huge savings! We're predicting a lot of these sets will sell out FAST so be sure to stock up while they're still available and on sale.
1. Steps to Beautiful Lips Kit
This set comes with 3 super versatile products that can be layered or worn separately. Right now during the Charlotte Tilbury summer sale, you can get this trio for 40% OFF making it just $55.80 (regularly $88)!
Lip Cheat Lip Liner – This is the perfect your lips but better liner! If you want to make your lipstick last super long, try lining your lips and filling them in completely with this liner first THEN put on the lipstick! Voila, the perfect long lasting lip.
Lip Lustre – IN LOVE. The quintessential CT "pillow talk" shade but in a lip gloss, YES PLEASE. It's the perfect neutral, nude/pink color that instantly makes lips look fuller.
K.I.S.S.I.N.G Lipstick – Two super pretty shades to finish off your look!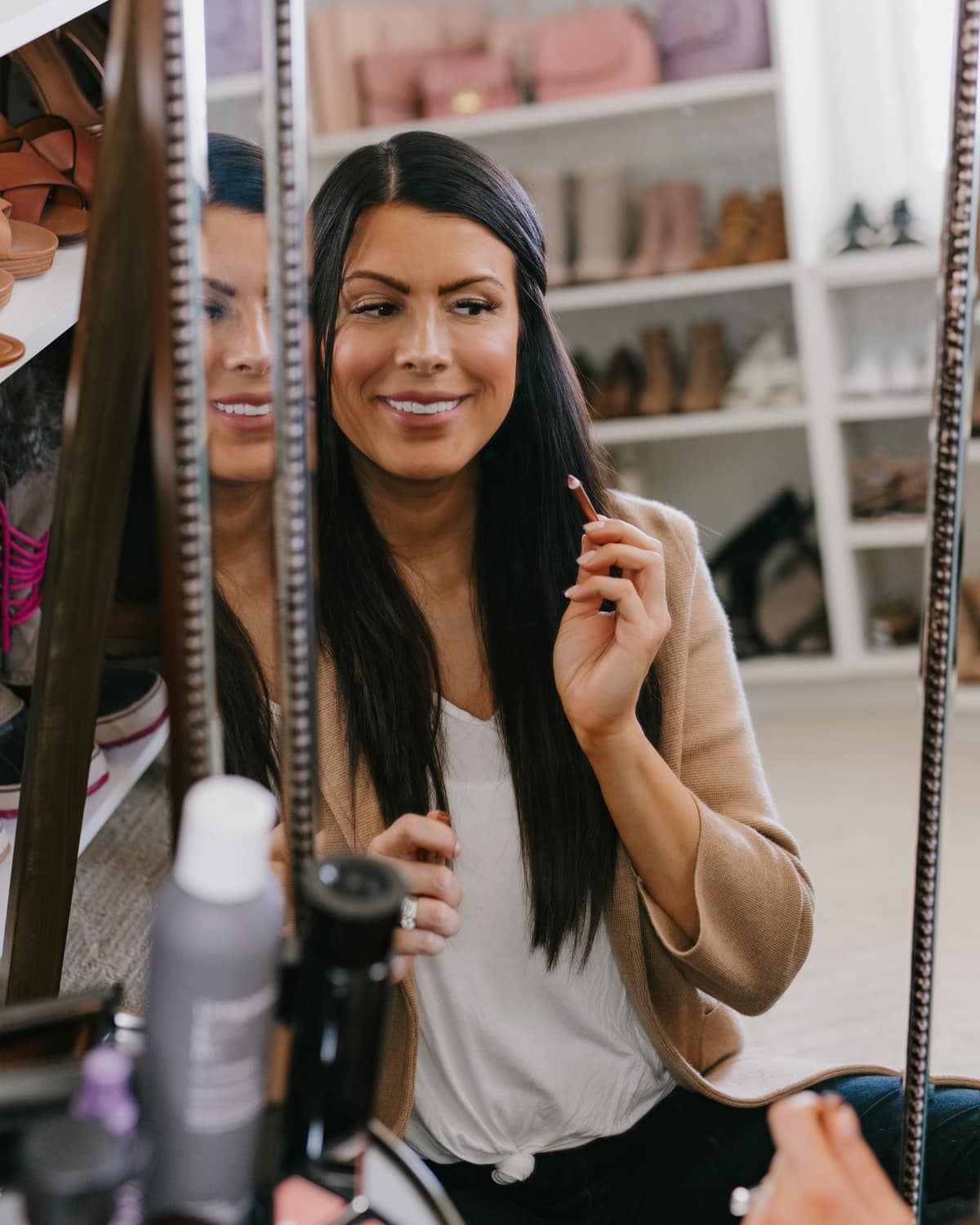 2. Iconic Lipstick Trio Kit
These lipsticks are absolute must have Charlotte Tilbury products, and this is a killer price on this set. Normally $110, you can get it for 40% off right now making it just $66 during the Charlotte Tilbury summer sale! That's an average of $22/lipstick which is a REALLY crazy good deal.
Our matte lipstick fave: Very Victoria
This matte lipstick in shade "Very Victoria" (included in the trio) is a definite fave/home-run when it comes to nude lipsticks. Tons of high ratings on this Charlotte Tilbury long-lasting, buildable, and hydrating lipstick with such a pretty tint that can help make your lips look wider and fuller.
3. Beautiful Skin Glow Kit
This kit includes the viral Beauty Light Wand PLUS the Beautiful Skin Foundation.
This liquid highlighter gets a lot of love and gives a super pretty luminosity to the skin! We haven't tried this exact foundation yet but it gets tons of good reviews for being a hydrating medium-coverage foundation.
Get this duo for 20% off right now during the Charlotte Tilbury summer sale, making it just $72.80 (regularly $91).
4. Luxury Palette Duo + Mini Eye Brush Kit
Another 40% off deal! This kit comes with TWO eyeshadow quads (for a total of EIGHT shades) plus a mini blending brush for when you're in a pinch and need something for a quick application – all for just $67.80 (regularly $113) during the Charlotte Tilbury summer sale.
These neutral palettes have the prettiest matte and shimmer shades and are known for their lasting power. These palettes are already selling out so be sure to add to cart fast if you're looking to stock up on some eyeshadows that you can create tons of different looks with!
Bonus Bundle: All In One Radiance Kit
These three products get SO much love! The Flawless Filter alone pretty much broke the internet when it was first released. If you've been tempted to try out any of these products, now is the time to do it! Regularly $146 you can get all three full sized products to create the perfect base for 15% off right now during the Charlotte Tilbury summer sale, making them $124.10. That's Sephora's Beauty Insider savings right there!
Luxury Beauty Staples On Sale!
This Charlotte Tilbury summer sale is seriously SO good! It's not often that we see luxury beauty items go on sale, and when we do – rarely ever for up to 40% off! Shades are selling out FAST so be sure to head to checkout quick. Happy shopping!