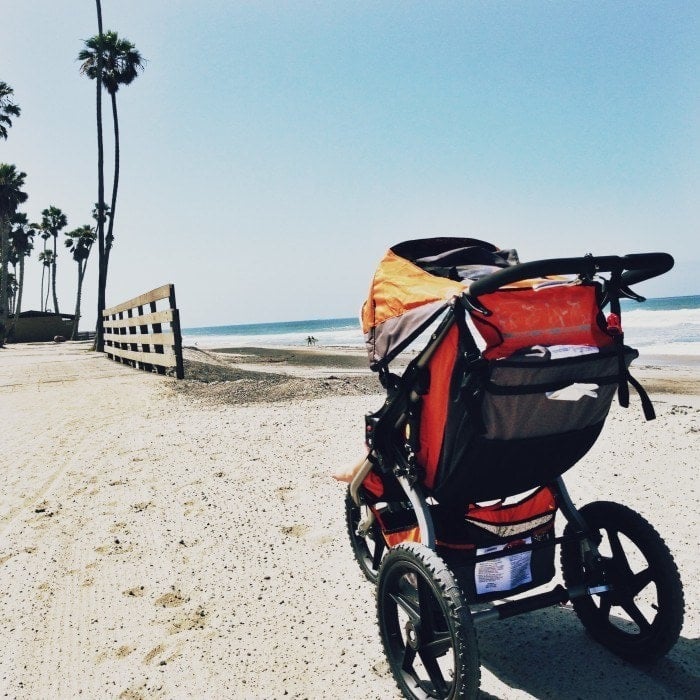 If you've been thinking about getting a BOB stroller trust me when I say today is a really good day, because I just found you guys a sale for the BOB revolution (single) stroller for the best price it's been since Black Friday.
Right now you can get the BOB Revolution Single Jogging Stroller for $294.18 – that's 36% off retail and the best price I've seen on a single BOB stroller since November 2015.
You know when I got pregnant with Anabelle, our first daughter, I was searching for deals like mad on baby gear, and I found a killer deal first on the City Select which bought first and asked forgiveness about after (ha). I repeated the same process with an umbrella stroller that actually was relatively inexpensive, but when I found our BOB stroller for a great deal and jumped on it, my husband was kinda mad. And he hardly ever gets mad! But you guys – three strollers and no actual baby yet did kind of seem absurd.
He was all grumpy when it came and we unboxed and he assembled. But then he was like "oh this is cool, this thing has, like, suspension!" and by the time she came, and a few months after her birth it warmed up, he was out running with her in the BOB a few times a week.
We now own NINE strollers and he continually admits, "yeah the BOB is pretty sweet. It's maybe my favorite one." Until you get him talking about the City Mini GT Double but that's another story for another day 😉
This sale is totally unpredictable as to how long it will stay at that price so if you've been wanting a BOB Revolution Single jogging stroller, get it now while it's at Black Friday pricing!!
To see all our baby favorites and must-haves, go to my best baby registry list ever.