Quick Version: during this Cyber Monday collagen sale you can get Modere, the collagen I SWEAR by, at a huge discount! Plus, get $10 off your first purchase through this link.
A few years ago, I went to my hair stylist and said, "my hair's breaking off and brittle. What can I do to fix it?!" Her top response was this: COLLAGEN. You need to start taking collagen, daily.
I tried a few different powdered collagens and I do think they helped!
But a few months ago I FINALLY tried liquid collagen, after a friend told me that her elderly friend's joint pain completely went away once she started consistently taking liquid collagen. The very same week, my mom told me, "Corrine, you know what's finally getting my eyelashes to grow?" I guessed that she was going to tell me lash serum. Nope. Collagen!!
So today I'm sharing the one that I feel like works 10x better than any other I've tried. PLUS they're currently having their Black Friday/Cyber Monday sale that you DO NOT want to miss!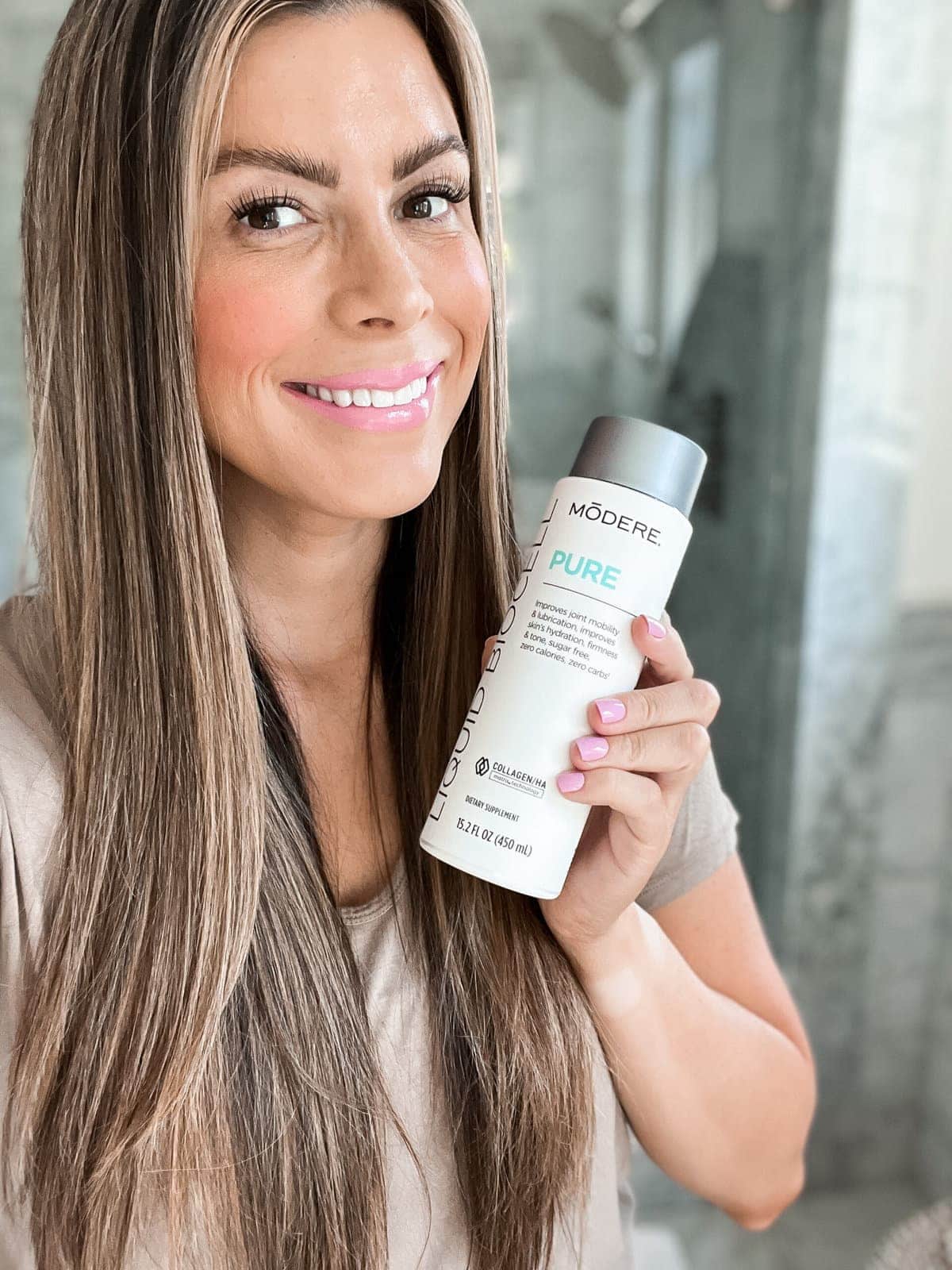 Cyber Monday collagen deal details
During Modere's Cyber Monday sale you can take 10% off site wide! This is such a RARE deal that we hardly ever see.
Plus, if it's your first purchase get $10 off your order through this link!
If you've never heard of Modere before or the benefits of collagen, keep reading to see why these deals really are SO good.
The best Cyber Monday collagen
Like I said, I've been trying different powdered collagens on and off for the past few years. I think ANY collagen you take will make a difference in your skin, nails, and hair.
What really motivated me to finally try this liquid collagen was the story my friend told me about the older woman she knew who got off all her pain medication from serious joint pain because she simply had a tablespoon of liquid collagen a couple times a day.
I like Modere's liquid PURE collagen the best because it's safe to take during pregnancy, has ZERO sugar, carbs and calories, and it improves joint mobility and lubrication, improves skin's hydration, firmness and tone. I've also seen my hair grow like a WEED and my skin is so much clearer and more supple when I'm consistently taking my collagen.
Modere also makes a liquid collagen SPORT that I haven't tried myself, because it's not recommended for pregnancy so I haven't ordered it! But it's designed for really active people who want a formula that's a bit stronger for joint support.
You can also get the liquid PURE collagen in singles, which I absolutely love for when I am travelling!
Why collagen is important
To make it super simple, collagen is a major component of healthy joints, youthful skin, and connective tissue. Between your 20's and 30's your collagen production starts to decline, so taking collagen helps you get the benefits you once had when you were younger and your joints felt better, your hair grew thicker more easily, and your skin was more youthful. That's why these Cyber Monday collagen deals are so amazing!
Is it medically recommended?
I've been told by doctors and nurses collagen is safe and good for our bodies! Here are some other doctors who have said specifically they recommend Modere liquid collagen.
Okay but how does it taste?
Personally this was one of the reasons I waited so long to try liquid collagen. I didn't want to take something that tasted bad. Here's my honest opinion: it doesn't taste terrible, but it doesn't taste amazing either. It's a kind of sour-ish taste but it's NOT awful, I promise! I really don't mind it. It's about 1,000x better than a LOT of the powder collagens that I tried that were chunky and I had to gag down a whole cup dissolved in water. This liquid collagen is a quick tablespoon twice a day.
Liquid BioCell Immune
This seasonal liquid collagen is my new favorite for TWO reasons! 1 – it has elderberry in it, so it will help keep your immune system up during this crazy cold/flu season! I actually think it's helping me because we've already had a couple sicknesses go through our house this fall and I haven't caught anything! 2 – it tastes SO good. I don't mind the taste of the original liquid collagen, but this actually tastes really yummy to me. I don't think it's available much longer since it's a fall offering, and I've never seen it on sale! I love that I'm getting both elderberry AND liquid collagen when I take this daily. Get some while it's not only on sale but still even available!!
Normally $74.99, during their Cyber Monday sale you can get this for only $67.49! You can also get this Liquid BioCell Immune with the beaker for only $71.99! (Reg. $79.98)
My favorite deodorant
This is definitely super random, but I once heard someone say they LOVED Modere's deodorant. So I threw it into my monthly order once and WOW. I love it so much, it has 100% replaced all other deodorants in my bathroom!! It goes on completely clear – NOT like a gel, almost like a liquid?! It's ALL NATURAL, but it actually works! I'm absolutely obsessed. And I'm pretty sure this is the first time I've ever seen it on sale so I'll be stocking up! Take 10% off during their Cyber Monday sale and get this deodorant for only $6.74!
What is modere TRIM?
Modere TRIM is a weight loss supplement. The manufacturers claim that this supplement helps with weight loss while also helping your muscle tone. So, in essence, it's a double-edged sword that reduces body fat and gives you muscles.
I've stopped taking the Trim since I got pregnant, but I actually LOVED the taste of the Modere trim in mango and in chocolate. That stuff tastes like a mango treat, or chocolate pudding! YUM. I miss it. It's not recommended for pregnancy and especially not for breastfeeding, when you need fat cells, because it essentially helps your body eliminate fat cells. But I'll for sure jump back in on that one eventually when I'm not pregnant or nursing.
Get the PURE Collagen + chocolate TRIM here for 10% off, or the PURE Collagen + mango TRIM here for 10% off during the Cyber Monday sale!
You can also get the chocolate TRIM singles, perfect for travel here!
Where to store your liquid collagen
It's recommended to keep your liquid collagen in the fridge. I have some in our fridge downstairs so I can take it right after breakfast or dinner (or sometimes when I'm getting my dessert after the kids are in bed!). I also keep some in my mini-fridge in my bathroom so I can easily take it in the morning when I'm getting ready or at night right before I start my skin and teeth routine.
Does collagen make a difference?
I've noticed a huge difference in everything from my skin to hair to nails, but MOST notably my hair!
Most people don't think of eyelashes first when they think of hair, but … they are!
I've noticed a HUGE difference growing my lashes out after damaging them for 10 YEARS doing traditional eyelash extensions, using both liquid collagen daily and this lash serum. Remember this was one of the reasons I was finally convinced to get serious about collagen – my mom said HER eyelashes finally started growing long again when she consistently used collagen!
Here's a before and after of right when I took my lash extensions off, and what they look like now! So YES, these Black Friday collagen deals are SO worth it.
Read more about growing your lashes out in this post I wrote on 3 easy steps to growing your lashes out!
Will these Cyber Monday collagen deals help your hair grow out?
The answer to this is YES. Longer, thicker, fuller. All yes.
Ask your hair stylist if they notice a difference between clients who DO use collagen, and clients who don't!
Here's a picture of my hair at its worst after postpartum hair loss, color damage, and not taking any collagen. You can see how stringy the ends were and how much breakage I was experiencing!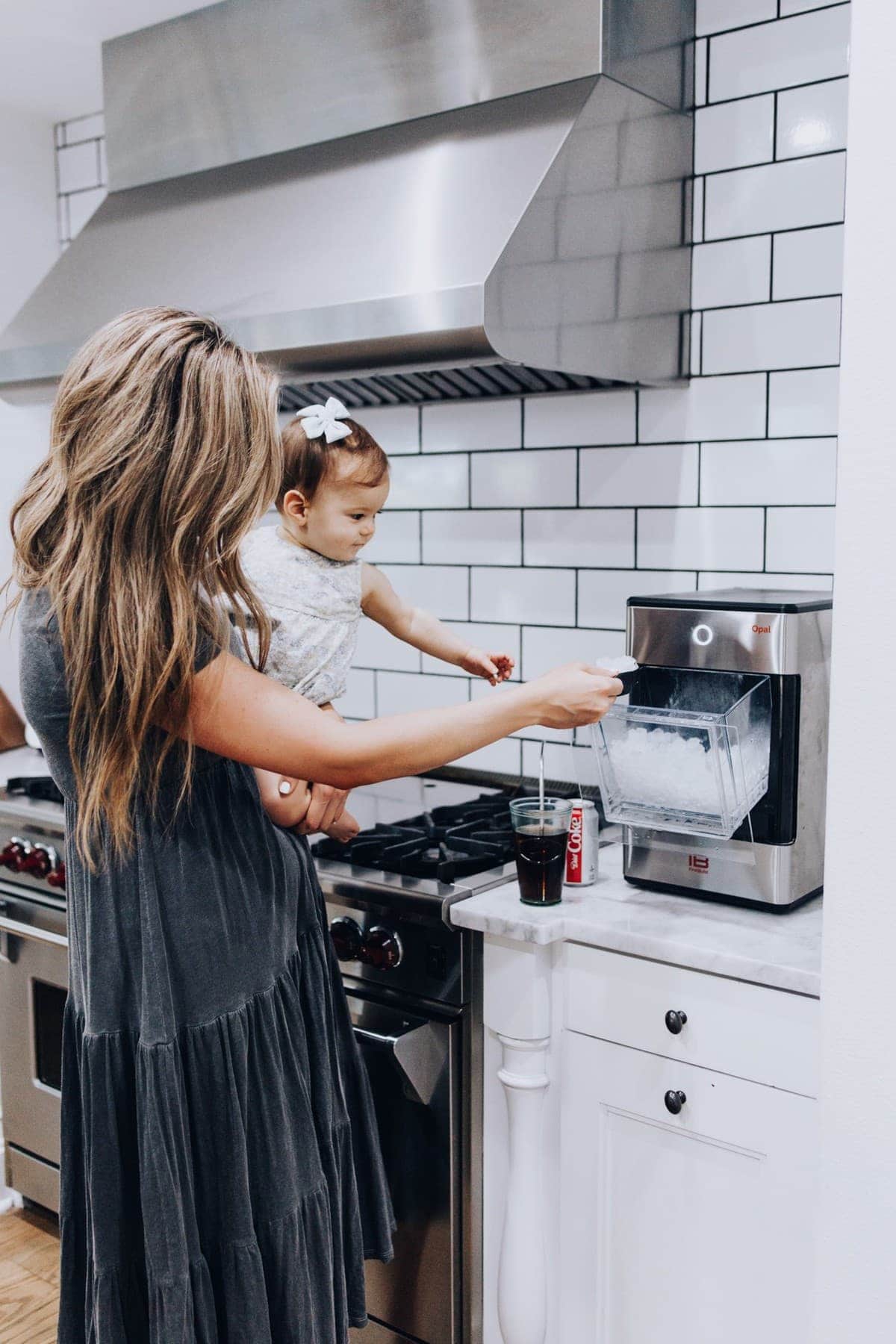 And here's what my hair looks like NOW, after months of consistently taking collagen! Thick and full and healthy EVEN at the ends.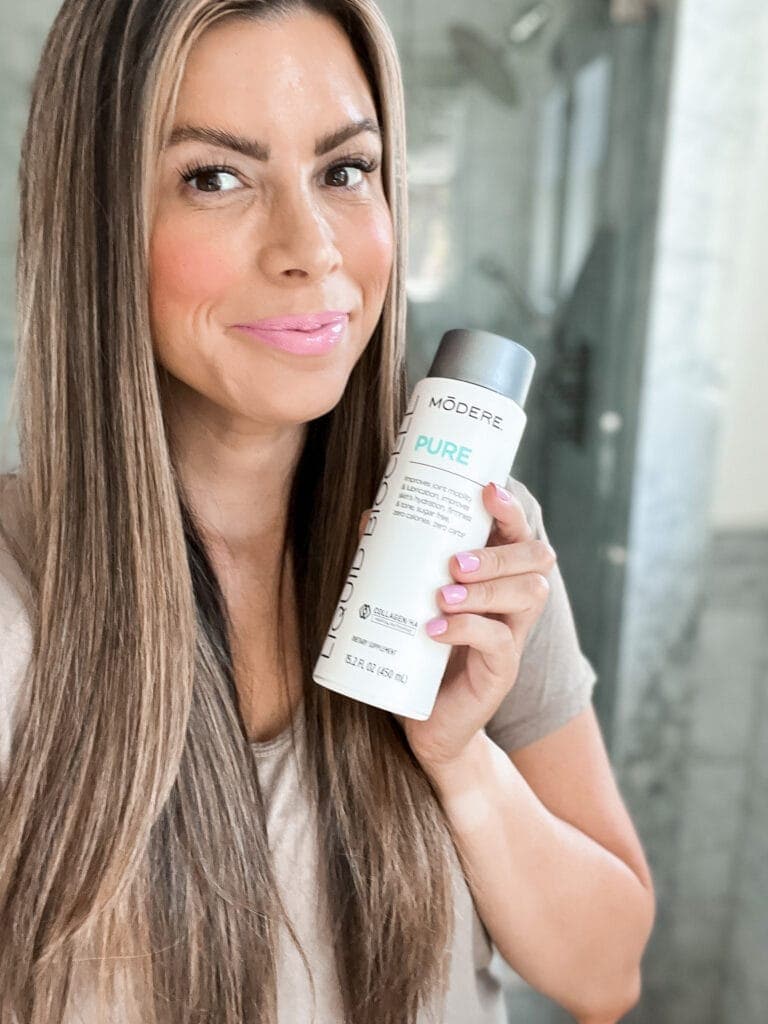 Cyber Monday collagen deals – don't wait!
The deals I mentioned above are SO good! Remember right now for Cyber Monday you can take 10% off site wide (no code needed)! Deals this good on Modere collagen are super rare, so if you're thinking about it, or you know someone who'd love it as a gift, today's the day to buy!