Quick Version: All our fave products and tips to grow strong healthy lashes + get up to 30% off Babe Lash products, free shipping (on orders $65+), a free mini lash serum on orders $75+ AND take an additional 15% off when you use code MINTARROW at checkout!
Hi, my name is Corrine and I'm a recovering lash extension addict.
It's true. I got bi-monthly lash extensions for YEARS. 10 years to be exact. And the few times I had to take a break (moving states, my lash artist quitting, etc.) and had to see just how damaged my lashes were? It was scary. Tiny little nubby barely qualifying as real eyelashes left!
So during the great shutdown of 2020, I was forced to stop getting lash extensions like pretty much the rest of the lash extension world. And since then I've not only found at-HOME lash extensions that I can do in 5 minutes that don't ruin my lashes, but I've also found a way to grow them out beautifully, allowing myself to either do the quick at-home extensions OR wear mascara loud and proud anytime I want.
Today I'm sharing the 3 MAJOR things that have helped me grow my lashes back out, and a CYBER MONDAY DISCOUNT on one of them – Babe Lash!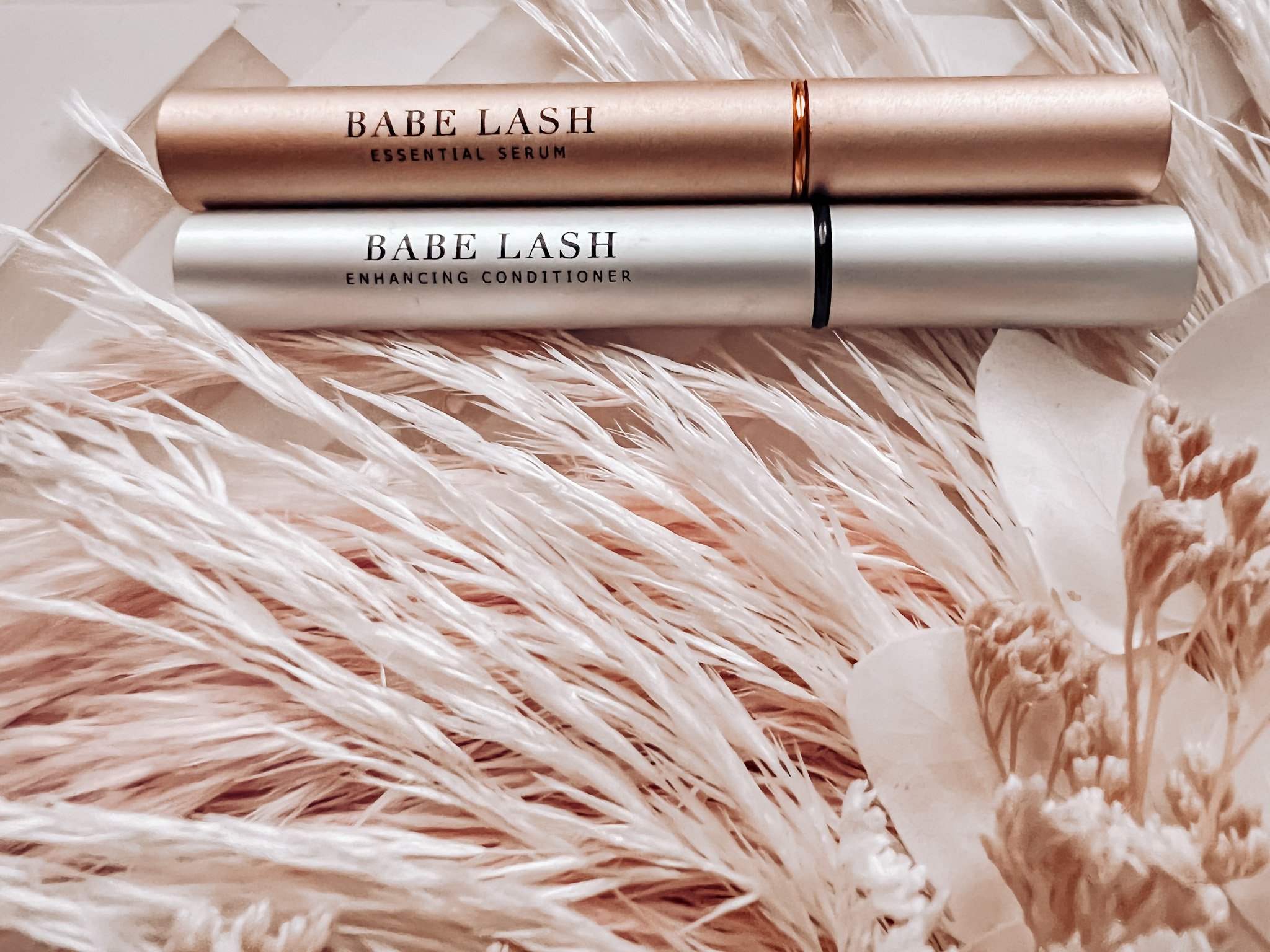 Babe Lash Cyber Monday deal details
This Essential Serum is totally worth every penny IMO, but who doesn't love to save some money?! Today, you can get 30% off the essential serum (and so many other amazing products here), free shipping, and a free mini essential serum if you spend over $75!
BUT THAT'S NOT ALL! You can use my code MINTARROW at checkout to take an ADDITIONAL 15% OFF your entire purchase at Babe Original.
BEFORE:
Here's a really sad but truthful view of just how short and sparse my eyelashes were once I finally removed the surgically glued, in-studio professional permanent lash extensions from my very tattered lash line. I cried a little once I saw myself!
Step 1: inside out
If you talk to ANY nutritionist, doctor, or anyone in the health, wellness or medical field they will ALL tell you that improving skin, hair, nails, ANYTHING beauty starts from the inside out. Not drinking enough water? Not taking your vitamins? Not getting enough rest? Those things going on INSIDE your body will seriously affect the outside of your body.
So what can you do to get your LASHES to grow, from the inside out?
This tip actually came from MY MOM. She called me up a few months ago and said, "Corrine, you know what has made a huge difference in my lashes growing better than they ever have?"
I fully expected her to say a serum.
She said, "No I think that's helping, but what I've seen a major difference with is TAKING COLLAGEN!" I was like "no way, really? I thought that was kind of a gimmick."
"Nope!" she said. She proceeded to explain to me how her lashes have grown better than they EVER have since taking collagen daily, and she's almost 60.
The very same week, a couple days later, the girl who does my brows was telling me all about how her neighbor has had miraculous joint and hip pain completely go away, all because of drinking collagen.
Two people I trust and listen to for ALL things life, and beauty, in one week? I took it as a sign.
I started drinking liquid collagen that week and was hooked. I feel like it's making a HUGE difference in my skin AND my hair growing quickly, which yep! Includes my lashes.
Thanks Mom for the tip! This is the collagen set I bought because I've heard sooooo many people rave about it and all the benefits they've seen specifically from this liquid collagen. But my mom buys hers from Costco, so I really think just getting ANY collagen into your system is a great idea.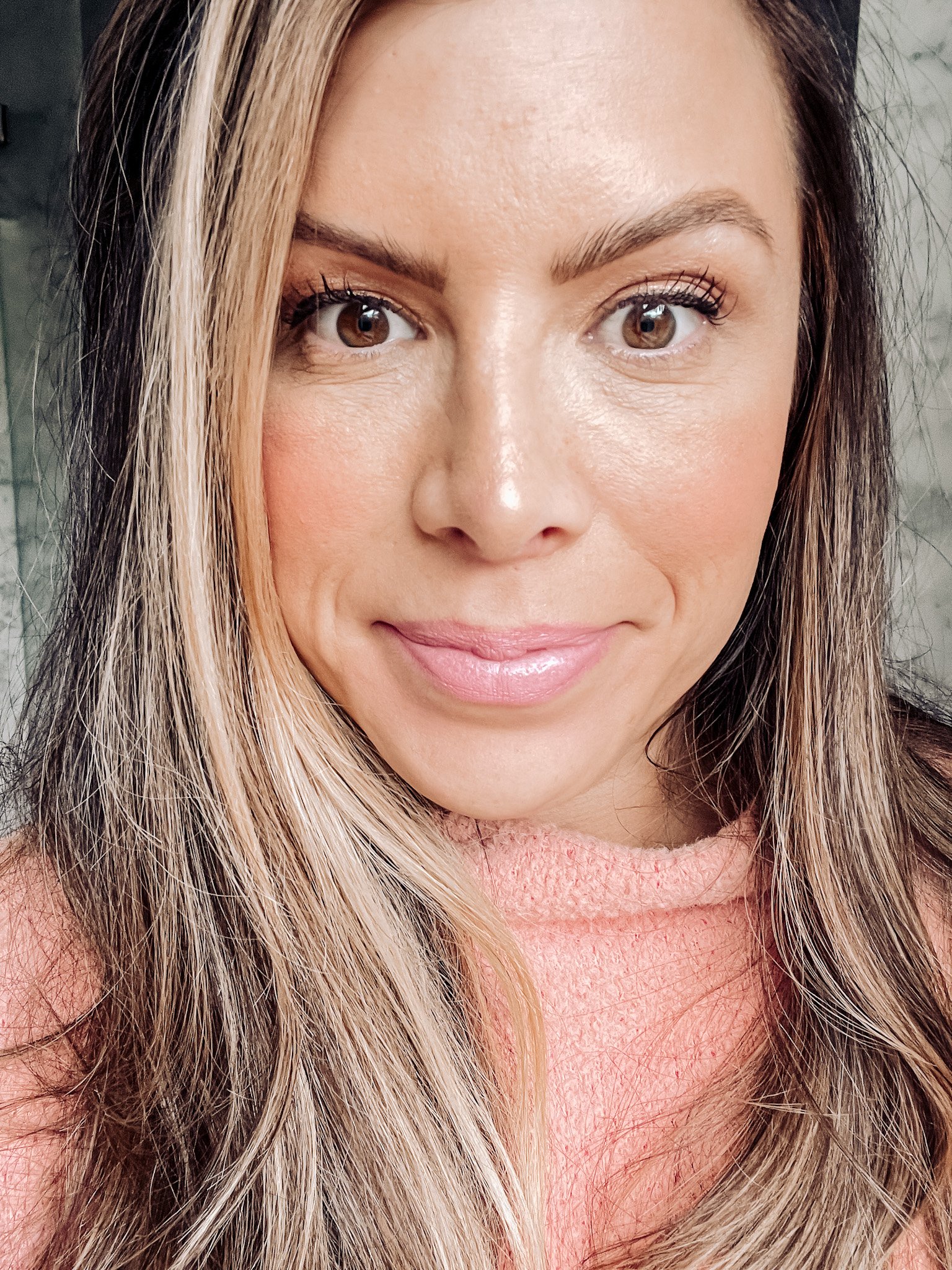 Step 2: make 'em grow
You know what's next right? LASH SERUM.
Yes, it really does work! But no, not all lash serums are created equal. I've had some luck with some, terrible luck with others, but every single time they've come with some kind of awful side effect. One was itchy eyes. Another created HORRIFIC dark maroon colored circles under my eyes that I felt like I had to cake a ton of concealer over to cover up. Oh I tried castor oil too – that totally didn't work. I was about to give up on the possibility of ever having nice long, full lashes.
Until I found Babe Lash.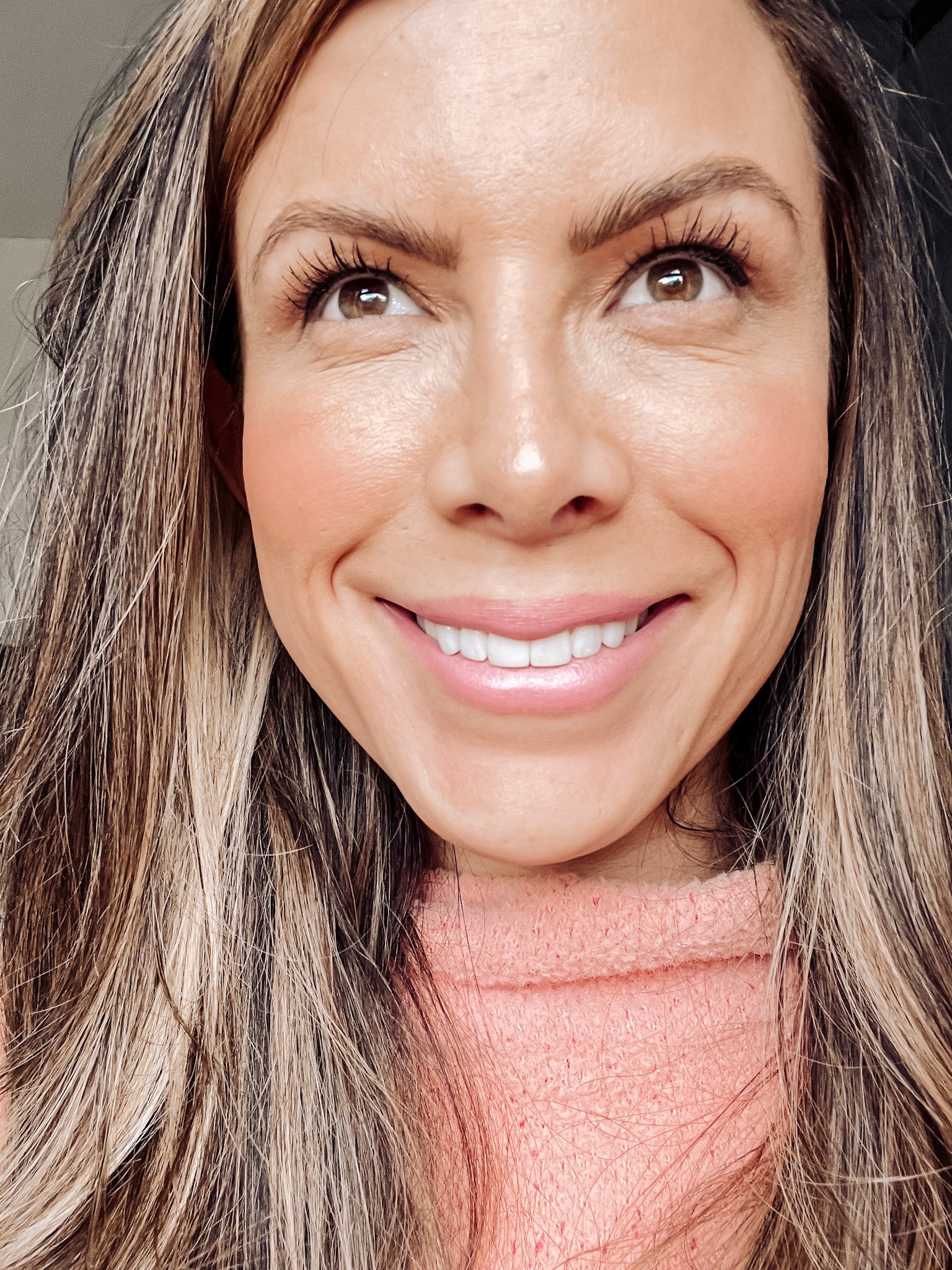 The actual BEST lash serum. Period.
I've tried so many different lash serums over the years including the big players like Grande Lash and RevitaLash, and I really haven't liked ANY of them until I tried Babe Lash.
Babe Lash is THE ONLY lash serum that has 1) really worked with making my lashes get longer and 2) had absolutely ZERO nasty side effects!!!
You can use my code MINTARROW at checkout to take up to 45% OFF your entire purchase at Babe Original.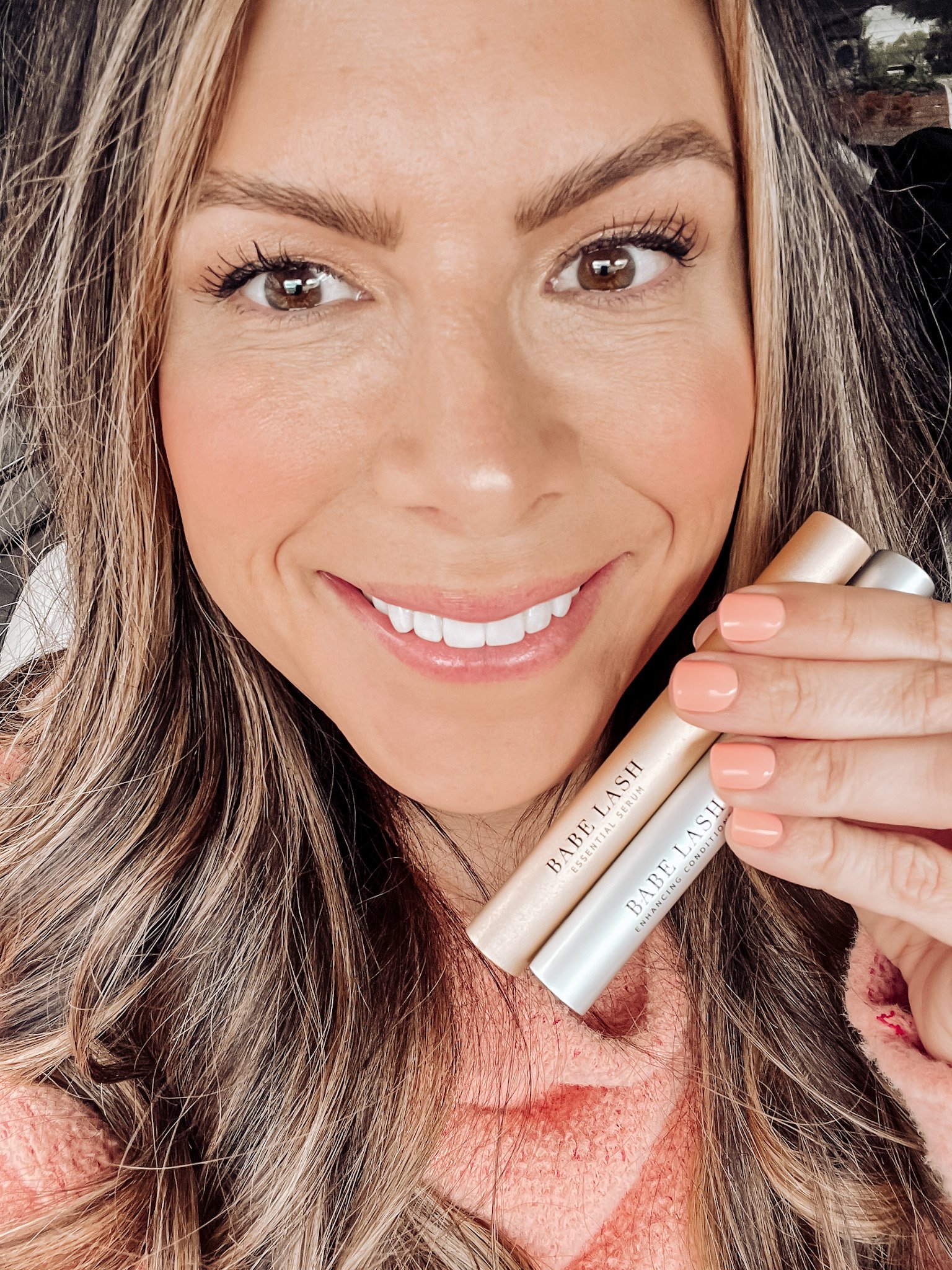 Step 3: fill them out
I feel like SO many people know about lash growth serum, but not enough people know about lash conditioner!! The conditioner is the secret sauce for making your lashes grow THICKER too, not just long and thin. (See my close up below for the thickness!!!)
How does Babe Lash work?
If you haven't heard of Babe Lash, it's truly the best way to strengthen & lengthen your natural lashes. You just HAVE to put it on every day for several weeks until your lashes grow to the length you want them – consistency is key. And it's SO worth it!
How long will Babe Lash take?
I promise if you really keep at it you'll be amazed with the results. I started seeing a major difference at week 4, but saw even MORE noticeable growth around week 7 or 8.
When you reach the point where you love the length of your lashes, you can just use it as maintenance and apply it a couple times a week to keep that beautiful length.
How to apply
To apply, it seriously takes two seconds. All you have to do is run it over your lash line, that's it! Babe Lash has never irritated my eyes, so it was a super simple & easy thing for me to add to my beauty routine. And within just a few weeks I really saw a significant change! I know you will, too!
INSANE deal
I'm so excited for you to try this incredible lash serum for yourself, or for you to stock up if you already love it as much as I do! Remember, right now you can get 30% off site wide and you can use my code MINTARROW for an additional 15% off!