What goes around comes back around – especially with fashion trends. First the mom jeans, then the chunky sneakers, and now the Birkenstock Boston clogs… And we're SO HERE FOR IT. You've seen them on the Internet, on multiple celebrities – they're everywhere! So, if you've been thinking about grabbing a pair for yourself, here's all the info on THE cutest clogs you'll find this fall (including where to find them!) and why we absolutely LOVE Birkenstock Bostons.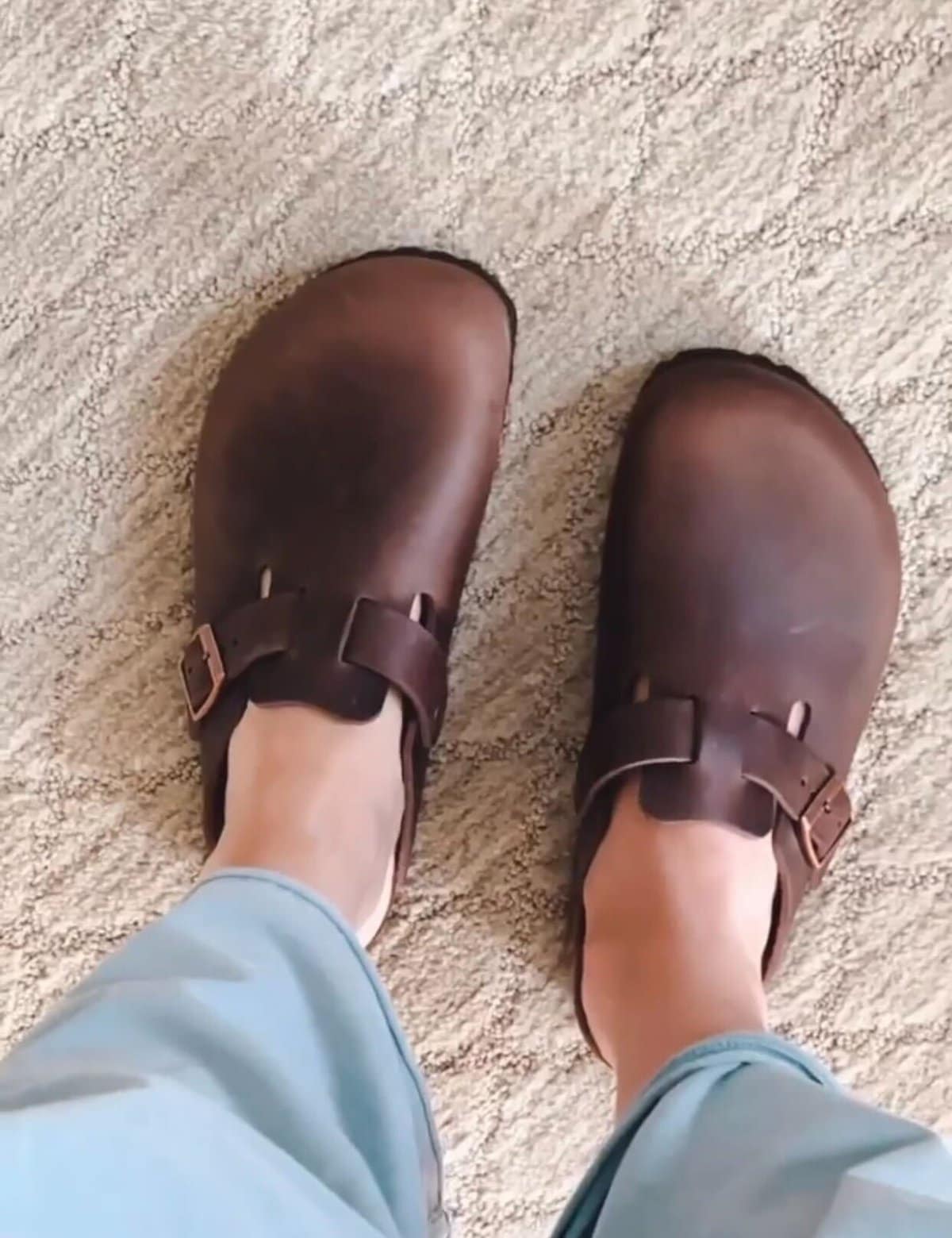 In a hurry? Shop our picks below:
How do I style Birkenstock Boston clogs?
Pair them with a classy button down and jeans, a midi sweater dress, your casual "running errands" outfit, or simply sweats and a hoodie (our fave)! Seriously these shoes are SO universal and would look good with ANY outfit. PLUS add some chunky socks and you have the most functional yet FASHIONABLE shoes to wear on those cooler fall days!
How do Birkenstock Bostons fit?
True to size! If you've owned Birkenstocks before you know they don't have half sizes – so with the Birkenstock Bostons size up if you're in between. AND you can choose to get them in regular or narrow width which is sooo nice. Since it's a closed toe shoe, get narrow if you have a more petite foot for a better fit. And feet with normal width to wide, get the regular (medium).
How do I clean Birkenstock Boston clogs?
Let's talk cleaning Birks! To clean any dust or dirt, wipe your Birks with a slightly damp cloth (for the leather clogs) or a soft brush (for the suede clogs). When cleaning the insides and the leather sole, leather shampoo and an old toothbrush work MAGIC! Just massage the sole with the shampoo – or baking soda and water works great – then wipe it off with a wet cloth and dry!
Can Birkenstock Bostons get wet?
Though they aren't meant to get wet, a little water WON'T ruin your Birkenstock clogs! Try not to immerse them in water, but if they get wet from an unexpected downpour or your kids push you into the pool, don't worry. Just let them dry and your Birkenstock Boston clogs will still last for years and years with the proper care!
Are they comfortable?
YES! 1,000 times YES! Birkenstocks are known for their innovative cork footbed that's meant to help your feet feel as comfortable as possible with good arch support.
At first, Birkenstock Bostons can take a few times to wear in, but very quickly the sole will mold to your feet and be one of the COMFIEST pairs of shoes you'll ever wear! PLUS, you literally just slip your feet right into the sole. Seriously, you'll want to be wearing these "comfort shoes" all. day. long.
Where can I buy Birkenstock Boston clogs?
This iconic pair of clogs are sold out left and right this year because they're SO popular. Luckily, we've done all the digging and found where you can get your hands on some. Currently you can find them IN STOCK here or here in shearling.
Are they worth it?
Okay, these Birkenstock Boston clogs = universal footwear. Wear with any outfit, walk around the city for hours on end without your feet getting sore, or slip them on for a late-night ice cream – you WON'T regret grabbing yourself a pair of these cute, comfy, classy, clogs while they're still in stock!
Boston Birkenstock DUPES
If you love the look but want a smaller price tag, check out these dupes below!
Need outfit inspo that fits your vibe? Keep scrolling!
Embed from Getty Images
Embed from Getty Images
Embed from Getty Images
Embed from Getty Images
Embed from Getty Images
Embed from Getty Images
Embed from Getty Images
Embed from Getty Images
Embed from Getty Images
Grab 'em while you can!
Like we said, these Birkenstock Boston clogs are selling like HOTCAKES so if you see what you like in stock, add to cart NOW. For sure they're going to sell out again soon!