Have you heard? (Of course, you have!) We're getting a new baby brother at our house in a few months! The addition of our littlest new roommate means it was time to remix our current bedroom situation and move our bigger girls into a room together. They are so stoked to be literal bunkmates because, of course, there are BUNK BEDS!
Today we're revealing Anabelle and Lyla's new shared bedroom and a HUGE exclusive discount on the bedding we absolutely love for our kiddos in this house – Beddy's!
Bunk beds, but make it fashion
Ani and Lyla were dying to have bunk beds. They were bananas excited about this super cute cottage bunk bed. My friend Audrey Crip from Audrey Crisp Interiors (who helped us with Lynden's dream room makeover) assisted me with picking out a few items for this room-including this darling bed!
This bunk bed was not the most expensive option, but it also wasn't the cheapest option. It was a nice mid-range price point option that we're very happy with and it's a neutral enough piece to hopefully last us for a long time.
Some assembly is required but according to Neil, it's way easier assembly than IKEA furniture!
Beddy's bedding discount code
Use code MINTARROW for 20% off your purchase on your Beddy's.
This is SUCH a good deal and a great way to save on our very very favorite kids bedding.
(I answered more FAQs about Beddy's HERE).
Bedding, but make it easy
If you have bunk beds, Beddy's is the only way to go. I think Beddy's is the only way to go in general if you have kids, but especially if you have kids and bunk beds! Making a bed if you're the top bunk kid is next to impossible. Anybody having childhood bed making flashbacks right now?! With Beddy's it's as simple as zip and go! It is a total game changer!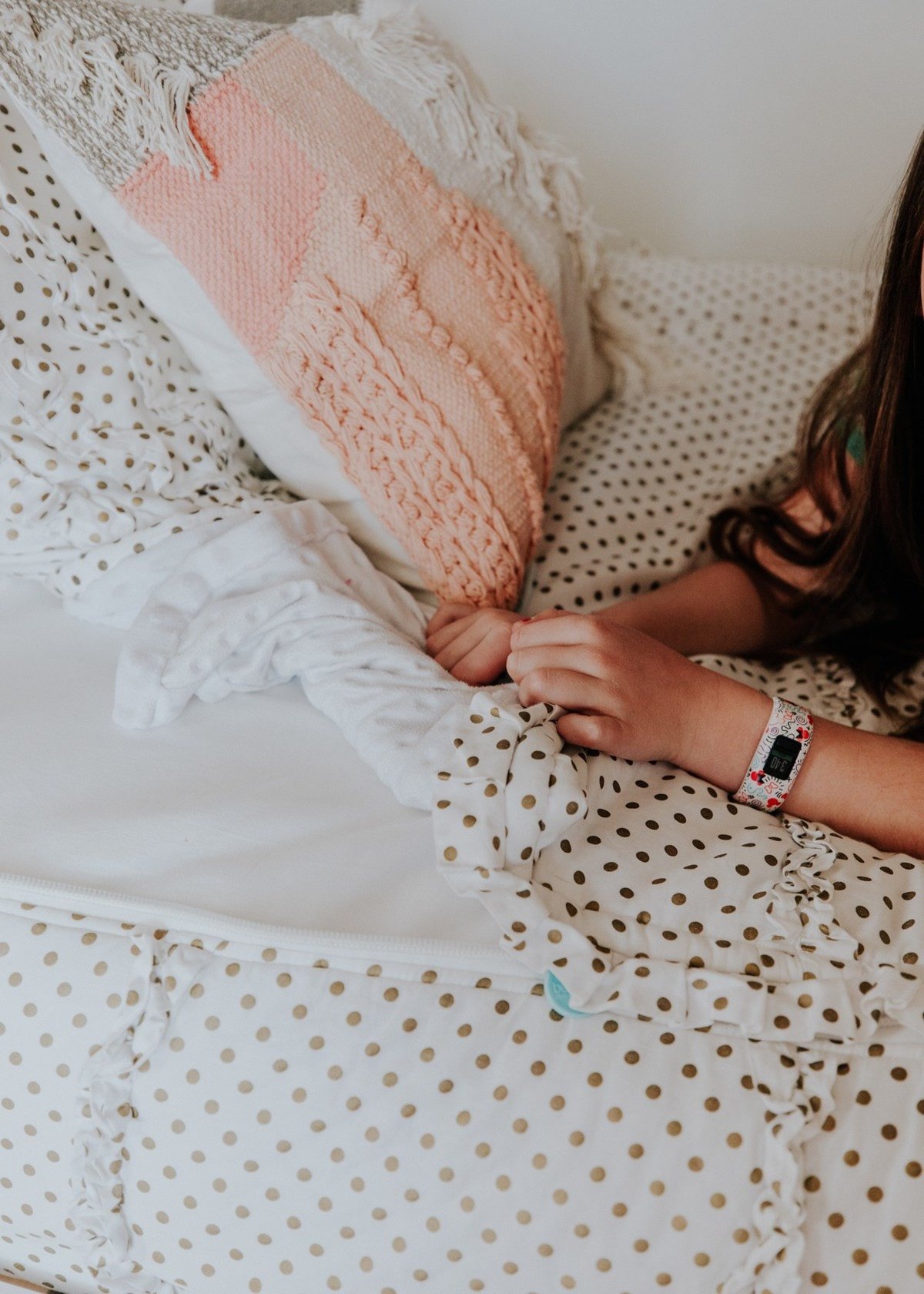 Beddy's beds are the most genius bedding sets of all time EVER because they combine your sheets and your comforter into ONE with a zipper! They're machine washable, which this mom absolutely LOVES! I think ours still look perfectly new and beautiful even after tons and TONS of washes.
In addition to being totally genius Beddy's beds are also CRAZY COMFY! They come in minky (where the top is like a soft blanky) or non-minky (just a sheet feeling) but my girls are OBSESSED with the minky!! They both love crawling into their cozy beds at the end of the day!
All of Beddy's bedding is totally cute and all the pillows and throws are from Beddy's too! We have a crazy good exclusive discount code so you can save 20% off all of it!
Let's hang out
This hanging chair is the perfect spot for reading books and spilling sister secrets. The reviews were perfection and the quality is amazing. It's cozy and beautiful and don't tell my girls, but it has cup holders!
Perfectly pink area rug
I am obsessed with this rug. It totally ties the space together perfectly and was very affordable for the size. It's 100% wool and super high quality.
Light it up
My girls have to sleep with a nightlight. This one is so darling and totally the Goldilocks of nightlights because it's not too bright and not too dim. When it's turned on, the light almost looks like little hearts on the wall!
The little pink and gold geometric lamp just came to be cute. It's was a really affordable Target find that just goes with the theme of this room perfectly.
High-quality pieces on repeat
We've had the white nightstand, pink lounge chair, and pink dresser since Anabelle's very first big girl room! The nightstand is a super affordable basic that we've been able to take from room to room in our house.
This artwork has also made the rounds in our house over the years. I've had it for a long time and moved it around lots of places. I love that it currently has a home in here!
A cute clock
This $20 Amazon find was our best friend on Christmas Eve. We told our girls they had to stay in bed until 7AM and thanks to this cute and easy to read clock, they did!
BabyLit books
BabyLit books are awesome and we have had some of them for YEARS! They're such a fun, fashionable way to introduce your littles to classic literature like Little Women or Sense and Sensibility.
Artwork Mom Hack
I love being able to display my girls artwork, but the struggle is so real when it doesn't go with the colors or theme of the room. Ready for my genius hack? I purchased some canvases and paints but strategically only bought colors that would mesh with their room. So they had fun crafting and I have their beautiful pieces of art that actually match the decor of the room.
They also painted the dinosaurs that are on display thanks to that same hack!
Don't forget about Beddy's!
If you need a discount code for our favorite kids bedding (hello who wouldn't want that!) you can use code MINTARROW to get 20% off your entire Beddy's order!!
Bunk Bed sold out, similar
Beddy's sheets
Pinch of Peach Pillow Cover
Peaches and Cream Pillow Cover
Love Triangle Pillow Cover
Feather Pillow Insert 17″ x 17″
Rattan Swing
Chair Swing Teal Cushion
Area Rug
Night Stand
Pink Dresser not available, Drawer Knobs
Gold Shelf
Christ Painting
Framed Artwork
Portrait of Jesus Christ Art
Art Supplies
Rectangular Canvas White
Neon Acrylic Paint
Shimmer Acrylic Paint
Paintbrushes
Triceratops Figurine
Brontosaurus
Skye the Mermaid Knit Doll
Unicorn Stuffed Animal
Cute Owl Decorative Clock
Starburst Light Fixture
Pink chair sold out, similar
Table Lamp
Night Light
Lyla's Leggings
Lyla's Top
Ani's Leggings
Ani's top
Photos by Arielle Levy
Sugar, spice + everything nice
Thanks for joining us on this little tour of Ani + Lyla's new BIG GIRLS ROOM and bunkhouse! Stay tuned because little man's nursery reveal is coming soon and we're so excited!