Okay, so here's the deal…my mom has been singing the praises of Athleta for a LONG time, she would literally rave about the unmatched quality and comfort of practically every.single.item. she has ever purchased from them. She would even go as far to say how they stood up against other athletic brands that I've loved (and gifted others with) for years!!! Talk about mind blowing.
Well, I decided it was time to take the plunge last spring and finally test out Athleta, and I haven't looked back since! What's that saying? Mother knows best!
She seriously nailed it with this one; Athleta is the perfect place to get my girls ready for their (very different) back to school activities. I even grabbed the perfect set I can throw on and look totally put together in and still be super comfortable whether I'm getting in a quick yoga sesh, going out for a walk, or just lounging around! Keep reading for all my very favorite picks!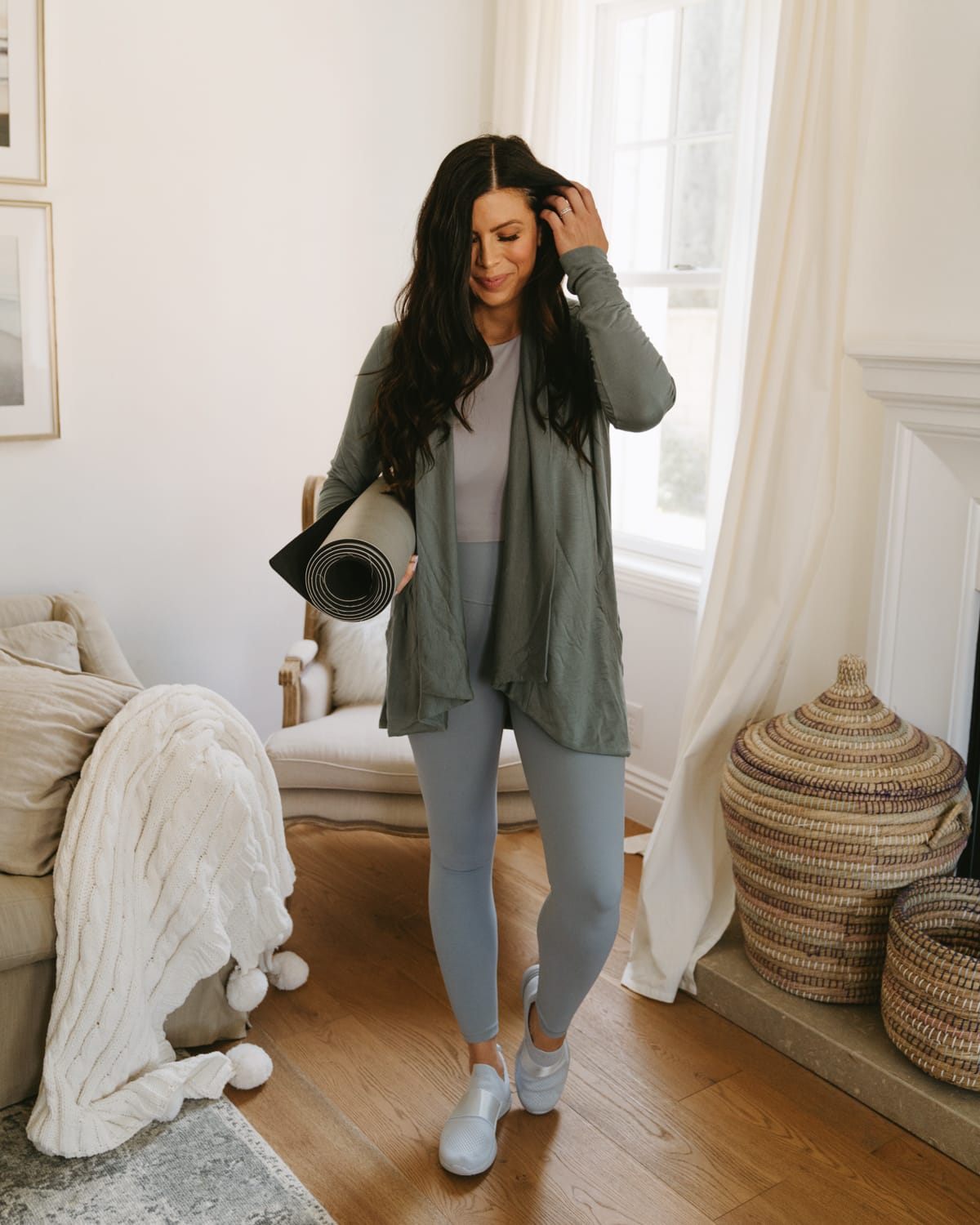 Cute + comfy + quality + kid friendly
Quality, look, AND feel. Are there more important things when shopping for athletic wear?!
I want to have the highest quality fabrics, that look good and feel even better when I'm wearing them! Athleta has the highest quality workout gear I've ever purchased. Their fabrics DON'T pill which is super rare – especially when it comes to leggings.
I also love that they offer a large range of lengths and sizes so you can find the very best fit for your body type. Gone are the days of awkward length leggings and uncomfortable workout tops that pill after just a few washes!
When it comes to shopping for my kids after school activities, it can be so hard to find things like swimsuits and dance wear that actually fit my girls well and are also super high quality. Enter: Athleta!
I found the perfect gear for my girls after school activities this year that they actually love wearing! Both of my big girls are doing different activities this year, so we needed some fresh outfits that made sense for their different sports. It was super easy to find everything we needed in one place, which is every busy mama's dream when shopping for their littles!
BONUS! If your kids have to wear a school uniform, Athleta has the VERY best uniform skirts. Last year my girl's favorite skirts were from Athleta, they would be super bummed whenever they were dirty and they had to wear a different skirt. Ani and Lyla loved the skirts so much because they feel like athleisure and are so so comfortable to wear for a long day at school while still following dress code. Happy mama + happy kiddos!
Conscious Crop
Can we talk about the PERFECT crop top? The conscious crop is seriously the best, most dreamy fit for a crop top, mainly because it's not in fact fully cropped!
Athleta thoughtfully designs each separate to work seamlessly with their bottoms. I'm telling you, the length on this top hits at the ideal spot and lines up with my leggings perfectly (that I'm also obsessing over!). I don't have to worry about feeling like a teeny bopper, but also get that super cute, on trend cropped look I'm loving!
Not only are the length and fit of this top an absolute dream, but I'm in love with this super pretty muted lilac color that's almost a cross between a gray and blue! Athleta's color ways are SERIOUSLY stunning and unlike anything else on the market. I love that their designs are innovative and not something basic that you could easily find at a different retailer.
Let's talk sizing about this top because I was seriously so excited to see the range that they offer! It's the worst feeling EVER when you find a super cute top and the sizing just isn't cutting it…literally! This top ranges from sizes XXS – 3X and even comes in a fuller cup option of D-DD+! A-MAZING! I love the inclusivity Athleta offers and that you don't have to sacrifice style for sizing!
Pranayama Wrap
This wrap is the perfect throw-on-and-go piece to finish off so many different looks! I love it paired with this crop top and these leggings but I know I'll be reaching for this all fall long.
This wrap is SO luxe and lightweight! It's the perfect layering piece that drapes to create the most flattering silhouette that doesn't add a bunch of bulk (Not a flattering look on anyone)! Throw this cozy wrap on for the school pick-up line, relaxing around the house, or out for lunch with a girlfriend and you'll look perfectly polished while feeling like you're practically in pajamas. Sign me up!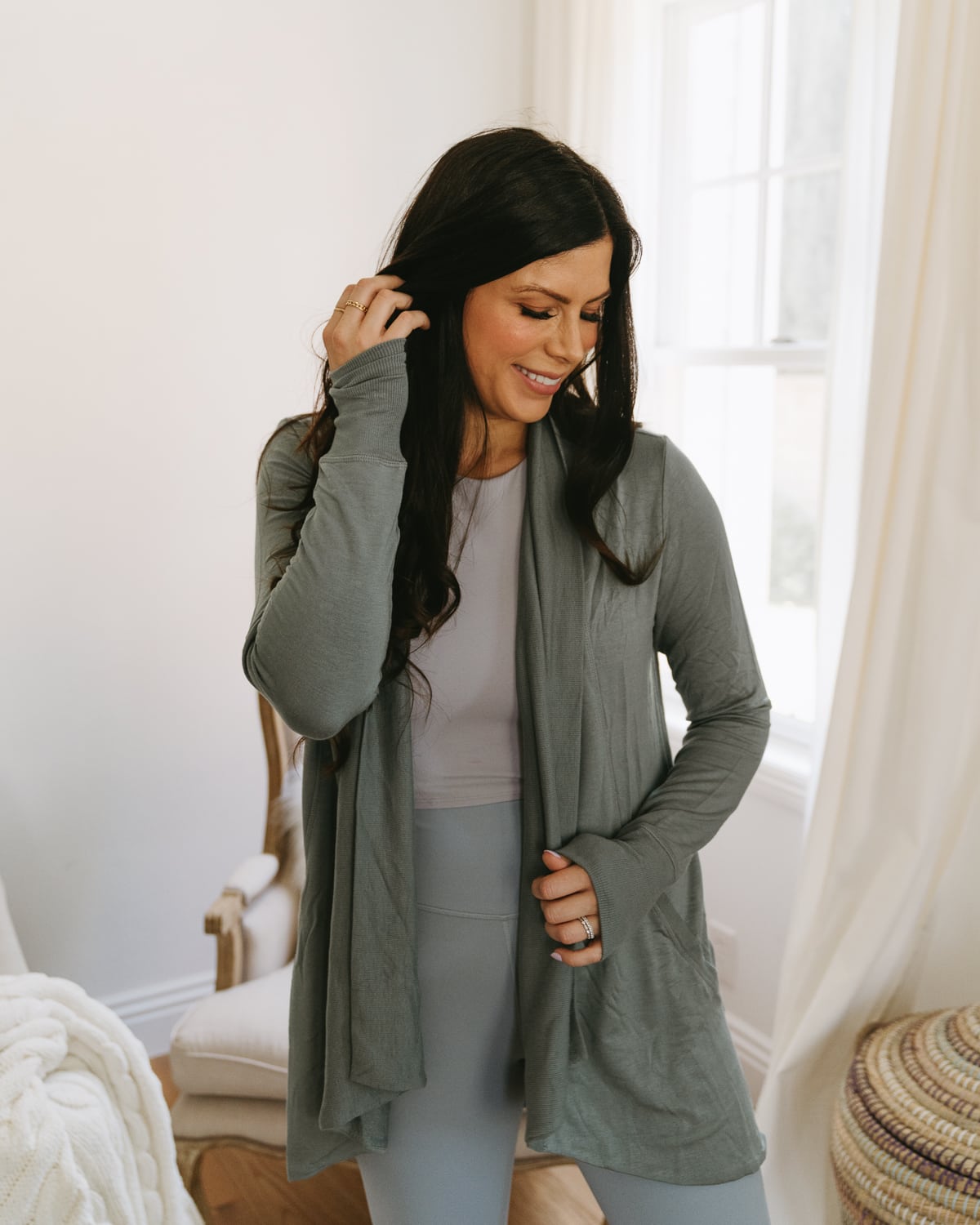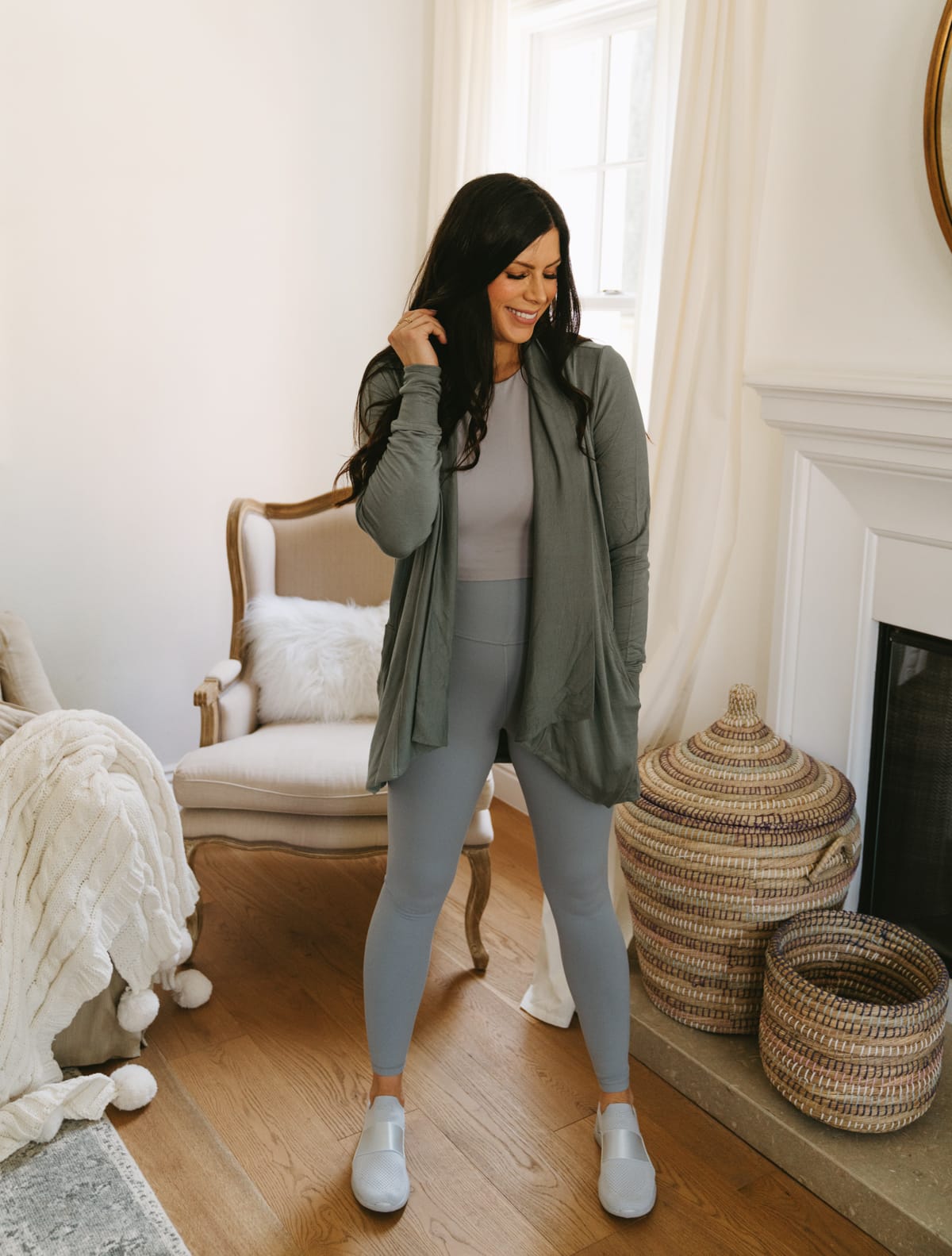 Ultra High Rise Elation 7/8 Tight
Where are my tall girls at?! These leggings will be your new BFF! The long length hits at the perfect spot on me to still give me that ankle length look.
Not tall? No problem! They also come in petite and regular lengths! This blue star color was such a great complement to the soft lilac crop I picked. I love that they're in the same family but not an exact match but still somehow work so perfectly together!
I talked about it before but the quality of these leggings are UNREAL with over 450 nearly perfect reviews! They're buttery soft, seriously flattering, and durable! The fit is so slimming, and they hold their shape when you're wearing them. One of the most important things I look for in a pair of leggings is that they feel supportive but aren't so compressive that they're uncomfortable. These are IT!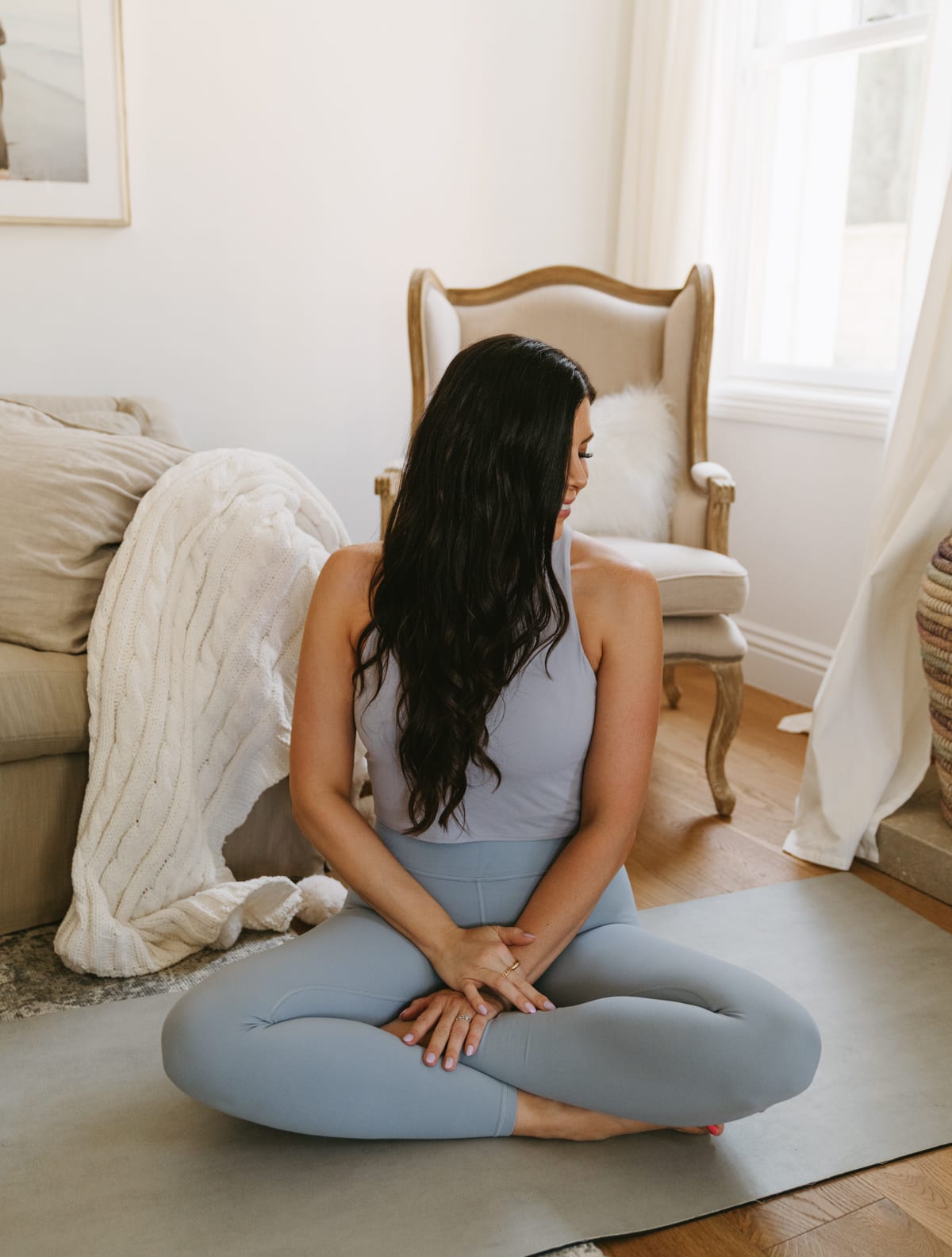 Best clothes for after school activities
English style horseback riding with Ani
Ani was super excited to try English style horseback riding this year! Since the dress code was super specific for this activity I've been on the hunt for a great polo or collared shirt for her to wear with pants she can tuck into her riding boots. This power up short sleeve polo worked perfectly! It has a great stretchy material to keep her comfortable while riding.
These tights were the perfect fit for Ani! They have INSANE rave reviews and for good reason! They're perfect for wearing with her riding boots. I wanted to be sure to find some pieces that were no fuss so she could stay comfortable and focused on riding and not adjusting her leggings during her entire lesson! These leggings even have pockets and the stitching is a super cute detail!
The evenings can cool off pretty quickly during the fall – even here in Orange County! So, I grabbed this adorable sweatshirt for Ani to throw on after her lesson or on our way there if she needed the extra layer! This sweatshirt is more like a hybrid between a cardigan and a sweatshirt and is seriously cute…I mean can I get one in my size?! This is a great fall staple that she can easily wear to her riding lessons and also with tons of other outfits!
Tumbling with Lyla
Lyla is signed up for tumbling this season and finding age-appropriate tanks and tights can be tricky. This tank was such a great find! The neckline is perfectly modest and also gives her a feminine look! It's actually UPF 50+ too which is amazing if your little is wearing this out and about as play clothes! If you're looking for a leotard alternative (which Athleta also has!) this is a great option.
These high rise tights have a great wide waistband, perfect for staying up during tumbling! Buttery soft, incredibly comfortable, AND moisture wicking! Remember when I was talking about Athleta's quality earlier? These leggings are proof!
I also grabbed Lyla this super cute, cozy sweatshirt! Available in 7 adorable color ways and prints, this cross-back sweatshirt is such a unique spin on a sweatshirt! It even has thumb holes for those super chilly days! Another great throw-on-and-go piece on our way to tumbling, or back home while we grab dinner to bring back for everyone.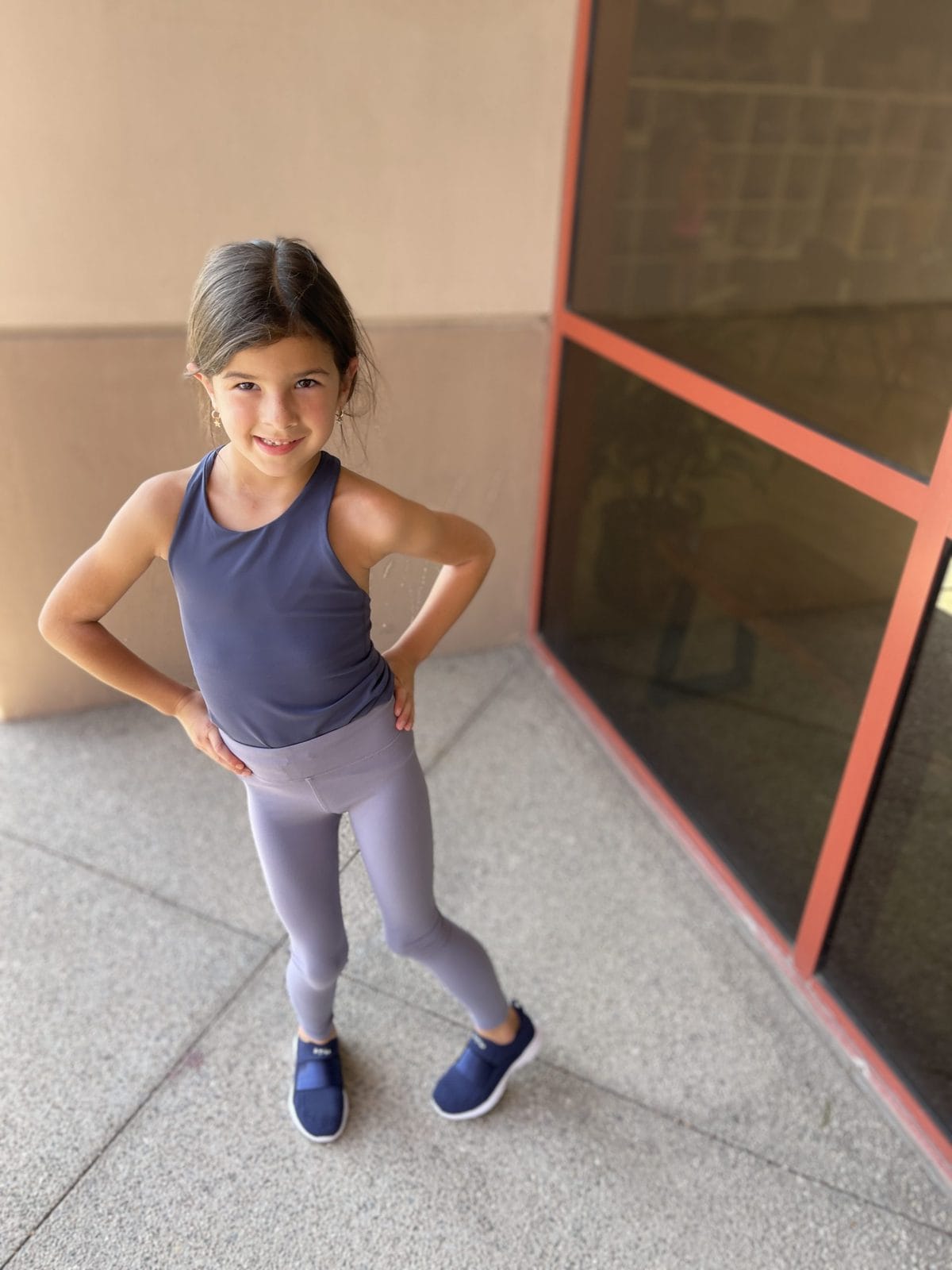 All of the cutest, comfy gear
If I somehow haven't convinced you yet, trust me when I say Athleta is THE place for all your athletic wear needs, and even clothes for your kiddos' after school activities! Buttery soft fabrics that don't pill, flatter the body, and are still super comfortable. The trifecta of all your workout needs!