Anthropologie just launched a GIGANTIC sale on sale that's even BETTER than Black Friday and I'm kind of freaking out over here about the deals available!!! Today I'm going to show you WHY this is even better than Black Friday, and the very BEST deals that ring up under $50 that you'll want to grab right this minute before they get picked over.
Why it's better than Black Friday
Right now you can get an extra 50% off all SALE items at Anthropologie, no code needed. You'll see the discount at checkout! Anthropologie's Black Friday sale was an extra 40% off so this truly is BETTER than Black Friday, plus since it's their Winter Tag Sale they have WAY more sale inventory now than they did a couple months ago!!
Honey Cardigan
This cardigan is SUPER duper cozy. I love that it feels like something you'd want to lounge around in on a cold wintery day in a cabin, but it's cute enough to wear out to a nice lunch with friends! It almost gives you the feeling of wearing a robe (hello MY FAVE!) but looks like an intentional wintery outfit.
It's a total STEAL when you stack the sale-on-sale discount, dropping it from the original $140 down to $44.97!!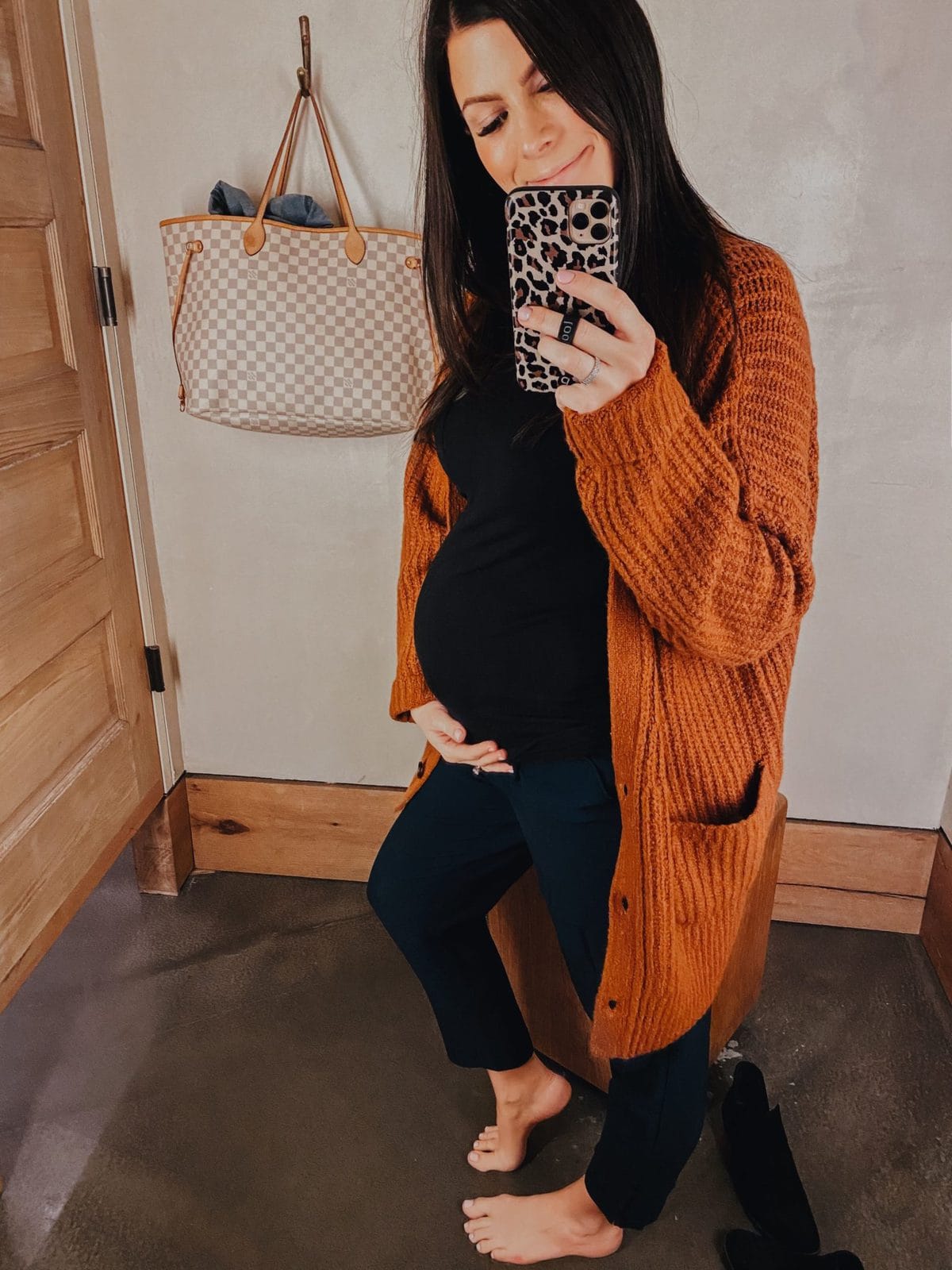 Tapered Pants
These pants are SUPER comfy but look nice enough to wear into an office! I love that they have an elastic waistband so I can wear them with a bump, or comfortably after while I'm recovering. I couldn't find the EXACT pair online, but this one is super similar for a steal.
Pink Button down shirt
You can snag this amazing pink button-down shirt that I'm wearing above for $25 (originally $100)!
This pink button-down shirt is currently low stock but check back again tomorrow morning because they seem to restock whatever quantities they have first thing in the morning!
Anthropologie clothes meet Target prices
This kind of SALE on SALE discount at Anthropologie allows you to get Anthro clothes at the same prices you'd get at Target, but with the quality and cuteness of Anthropologie! It's one of my very favorite secrets after scouring deals for years now as a high-end deal blogger 😉
Cutest items under $50
We picked through ALL of Anthropologie's sale stuff to find you guys the cutest, most affordable stuff that rings up UNDER $50 at checkout so you can cash in on all the best deals from this sale!!! See the best deals below: