It's that dreary time of year when the sky is gray and the weather is frigid but there aren't any fancy holiday parties or mistletoe adorned hallways to walk through on your way to a festive night out. BUT that doesn't mean you don't have anything left to dress up for in the next few months! Whether it's a fundraiser or church or a fancy brunch or a funeral (hey, they happen) you might just want a new dress or two hanging in your closet. And today we've found you some of the cutest AND most affordable dresses that will ship quick to your door for an easy at-home try on session. No babysitter or parking in the cold required.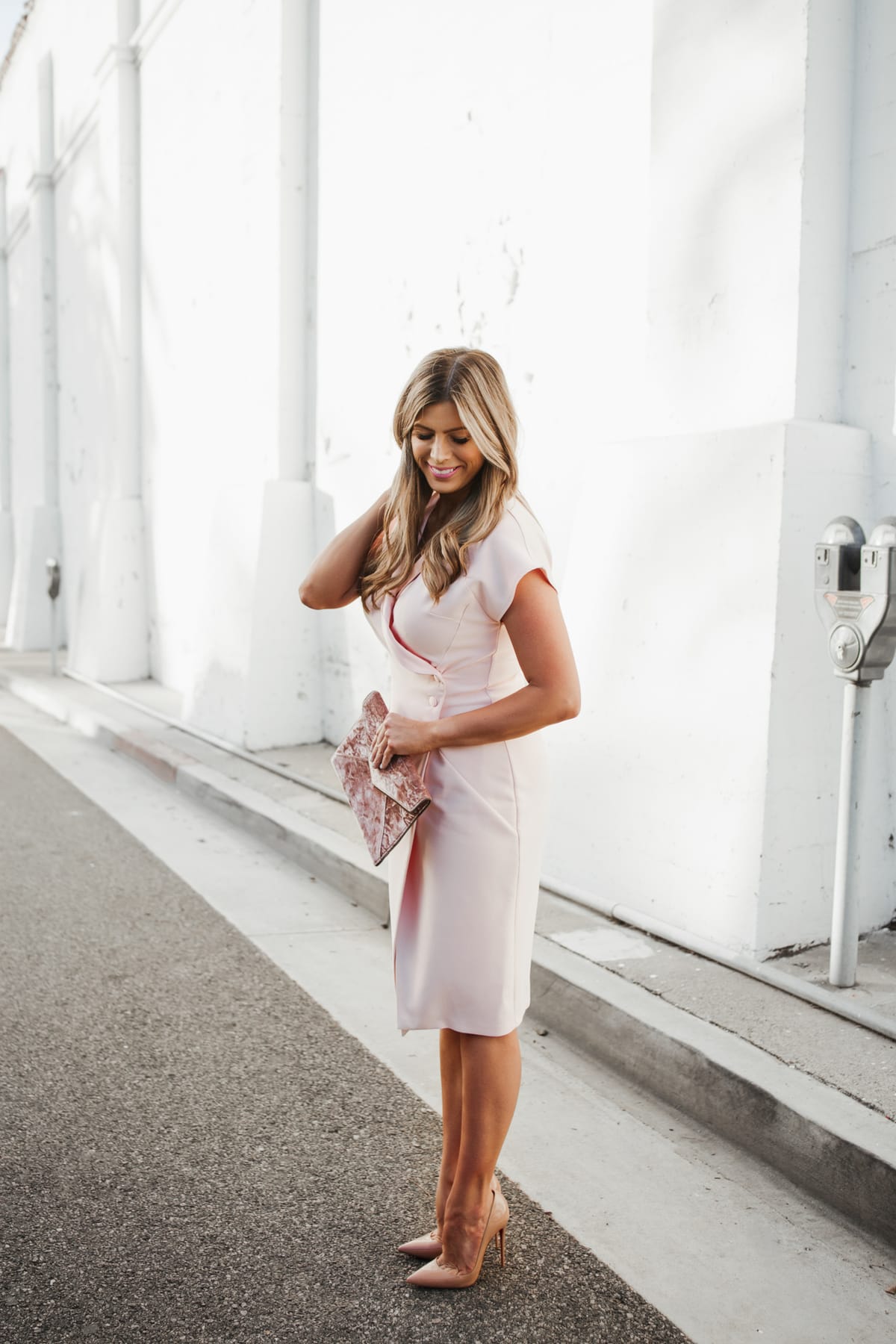 This midi wrap dress is my current favorite find at ASOS!! At UNDER $30 it's super affordable (that's why we all love ASOS so much, right??) and nursing friendly too! Plus it's my signature color. HA! It's just fitted enough that it feels flattering but it's not TOTALLY bodycon. I'd say it's the perfect combination of flattering and forgiving! The side buttons and collar also make it such a good option for you ladies that work in an office and need professional daily wear!
​An oversized clutch is one of my favorite ways to accessorize a dress for a night out to the ballet or symphony, a brunch date, or any dressy occasion where you don't need to bring a big bag, but maybe you do want a few extra lipsticks or a snack! I've had this velvet Rebecca Minkoff one for a few years now and love that it fits just the essentials without any added bulk or size! Because it's a few years old this exact one is no longer available, but I love this one and this one. There's also several affordable ones here!!
The Louboutin So Kates are basically the best AND worst shoe of all time. They're absolutely gorgeous and instantly make any outfit feel ultra glam. They will NO DOUBT make your legs look like a million bucks! They slim your legs, tone your butt, and even make your toes look cute. There is NO shoe on the market as flattering as the So Kates…but, there is also no shoe that is more uncomfortable! I hate admitting that because of how much I love wearing them, but I mostly save them for special occasions! Louboutins are a splurge for sure, but I think splurging on a classic nude pump that you'll wear for YEARS is totally worth it. If you're looking for a less expensive option these are a great dupe.
Wrap Dress
​Clutch
​Pointy Toe Pump (similar for less)
​Photos by Arielle Levy
There are so many good dresses on ASOS right now, for really REALLY good prices!! We had so much fun finding the cutest ones. Scroll through our top picks below and find something gorgeous to wear for Valentine's Day, your Sunday best, or where ever your fancy self is headed next!