We're close to wrapping up 2021 over here and I thought it would be so fun to share with you the things YOU LOVED most that we shared in THIS YEAR! There's a pretty good mix of beauty, women's fashion, and home. Let's jump right in and I'll show you your top 10 favorite things from what we shared in 2021!
1. ELEMIS Pro-Collagen Marine Cream with SPF 30 & Overnight Matrix
MARINE CREAM with SPF: Of all the beauty products I've had empties of over the years, I've emptied and re-emptied more of the ELEMIS Marine Cream than anything else! The pot will last you a really long time, but this is such a testament to how much I love it and use it. Since I started using the Marine Cream I've used it more consistently than any other moisturizer. Honestly, this is my total go-to and a tried and true fave!
OVERNIGHT MATRIX: This overnight cream is one you cannot pass up. I've tried every overnight cream from ELEMIS and this is my fave one! Each morning I wake up and can feel the difference in plumpness and moisture on my skin. Plus, it's clinically proven to dramatically improve the appearance of fine lines and wrinkles – who doesn't want that?! And it literally feels so good that I LOOK FORWARD to washing my makeup off at night, just so I can treat my skin to a healthy dose of this dreamy cream. It's hands down my very favorite night cream of all time.
2. IT Cosmetics Your Skin But Better CC Cream Duo
IT Cosmetics' CC cream has long been one of my very favorite foundations. It's basically skincare with a side of amazing coverage! It has seven amazing benefits, including a physical sunscreen, anti-aging serum, and buildable coverage.
This stuff is a CULT FAVE of soooo many beauty bloggers and beauty professionals. IN FACT, when I was at QVC a while ago, their professional makeup artist used this exact stuff on me. She picked it over the bottles and bottles of every brand of full coverage foundation I know and love (and some I haven't even tried) and when she pulled it out to use it on me, I was like "oohh I love that stuff," and she goes "I KNOW isn't it the best?!" It really is the best CC cream I've ever used. Period. And I LOVE that you can grab it in a duo!
For more info on why it's the best and how to pick the right shade, take a peek at this post!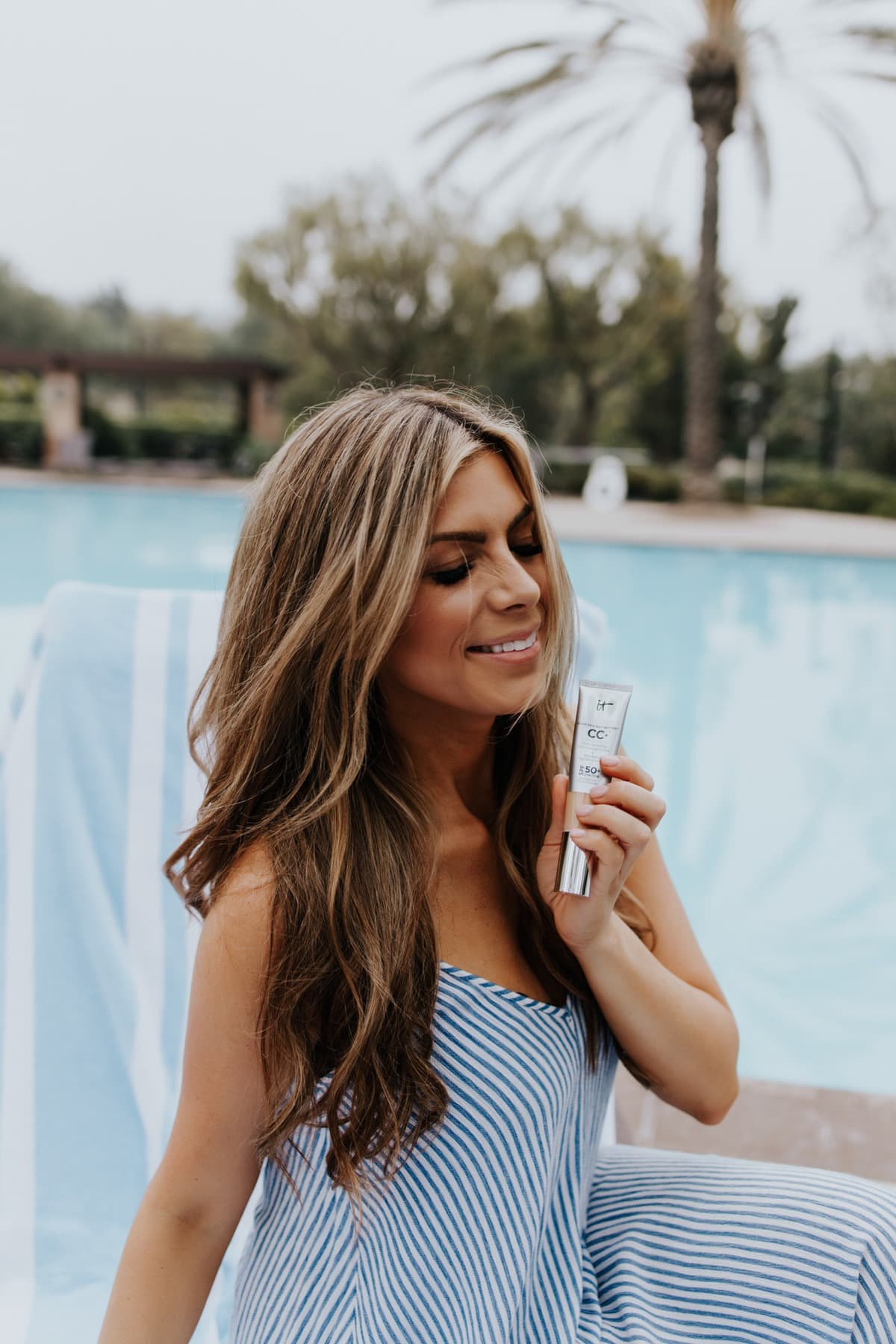 3. Good American Good Straight High Waist Ankle Jeans
These were my first pick in my top 20 Nordstrom Anniversary Sale items list, and they were FOR SURE my favorite jeans of the Anniversary Sale!!! Perfect 10/10 from me.
They're super slimming in the waist (flattering on everyone), stretchy, non-skinny (if that's a big deal to you heading into 2022!), and they just fit like a glove. The bum is super flattering, too! And I love love loved how they looked with this bodysuit. (Almost sold out, similar here!)
At $129, these are some of the very least expensive designer jeans. Sizes in these sell out FAST, so if you don't see your size, these are almost identical!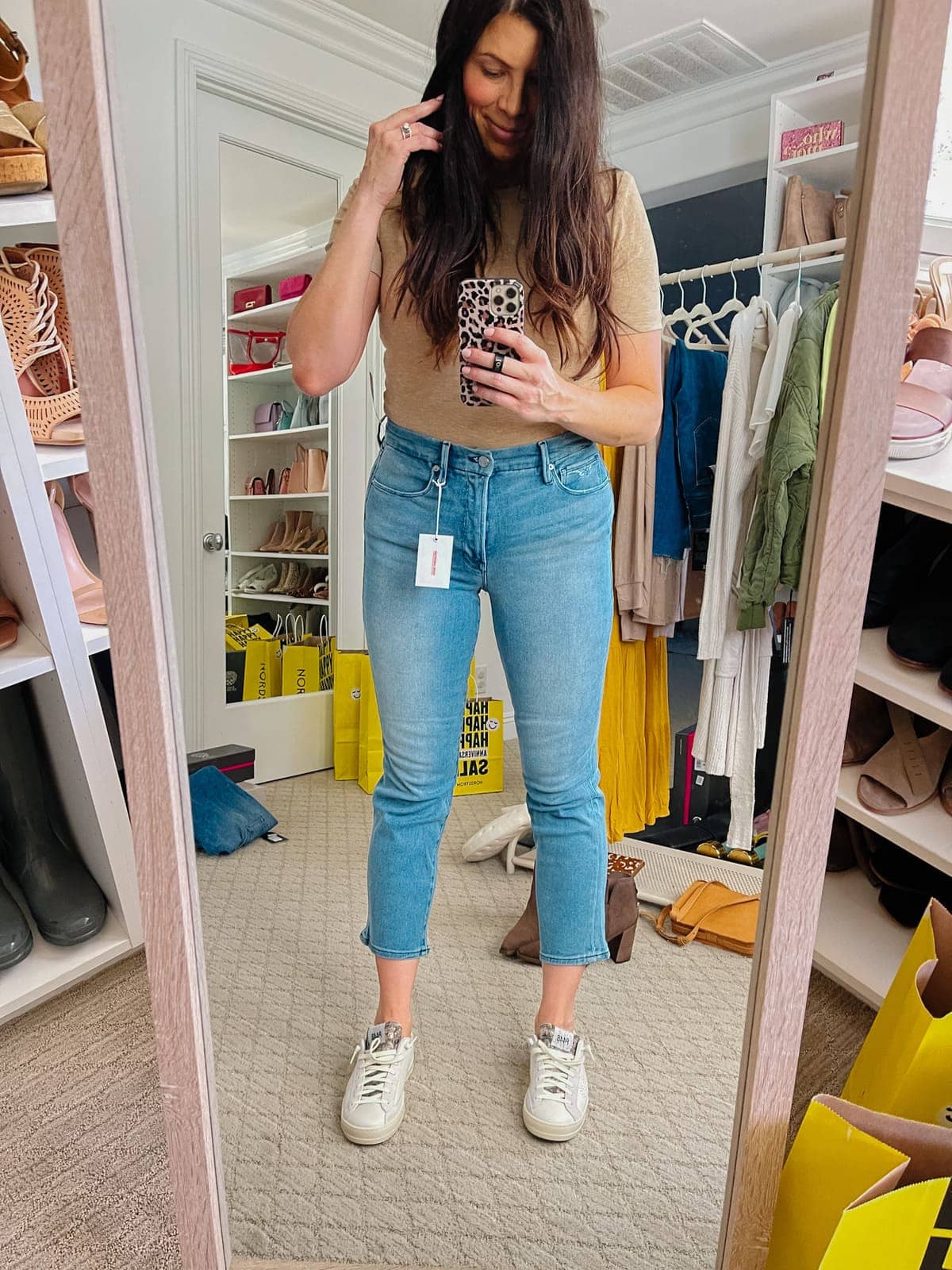 4. The Always Pan – the most amazing kitchen addition
Guaranteed you've seen this gorgeous pan during an Instagram scroll. There's a good chance you've even added it to your cart at some point during the past year. So why should you buy an Always Pan? For one, it looks beautiful sitting out. It's available in six pretty colors to match or coordinate with your kitchen.
It also cleans better than any other pan I've ever used. Things literally just slide out of it as if it's constantly coated in butter (but the non-stick coating is totally nontoxic!).
Best of all, this do-it-all wonder pan was made to replace EIGHT traditional pieces of cookware so you can do a ton with it (and always use it!). It boils pasta super quick, I love that it comes with a strainer, and we even used it to make the perfect turkey gravy for Thanksgiving dinner last year!
Despite being super well made and super high-quality, it's also surprisingly lightweight. And did I mention the spoonula and spoonula rest? Totally GENIUS! The lid even fits over the spoonula. This pan is seriously a kitchen wizard.
5. Rose Dream Underwire Bra
This highly-rated Natori Rose Dream bra is EVEN more comfortable than the Feathers bra I raved about in the past – MIND BLOWN! It's crazy, crazy buttery soft and smooth all around.
I've honestly become even more drawn to this bra over the past few years, and so have a couple other Team Mint Arrow girls – so much that we recommended it in our What to Buy First Guide of the Anniversary Sale this year.
This bra earns top marks and has over 1,700 perfect or nearly perfect reviews. The Natori Rose Dream is truly super "dreamy" and disappears under clothing. Plus it's so comfortable it's like being Team No Bra, but better!
6. Moonlight Pajamas
You know when you just love something so much that you buy it in every single color and hope that it lasts forever because you can't bear to think of your life without them? YEP. That's how I feel about these pajamas!
OBSESSED is a total understatement when talking about these Nordstrom Moonlight Pajamas – I talk about them ALL the time! They're included in my Nordstrom Anniversary coverage EVERY year, they're featured on almost all of my gift guides, and they're even included in my BEST baby registry list. They're next level good. Buttery soft, lightweight and oh so comfortable for sleeping! Every time my mom comes to visit me, she asks to borrow a pair – no joke!
7. Amazing Crewneck Sweatshirt
This sweatshirt is the BEST sweatshirt I've ever put on my body. Strong words? Maybe. But TRUE nonetheless!!
You know when you first get a new sweatshirt and you don't want to wash it because the inside is SO incredibly soft? This sweatshirt STAYS THAT WAY. Forever. It's so plush and soft, cozy, and beyond anything I've ever worn. AND it's the perfect length in front and back, which is super important to me when wearing leggings!
This sweatshirt fits TTS (maybe even a little roomy), so keep that in mind when you're choosing! A sweatshirt and leggings is my favorite no-brainer outfit that I pretty much live in for school drop-offs and pickups and alllll the other things.
8. ON Cloudflow Running Shoe
This pair of running shoes gets a 10/10 from me, especially after I put the waterproof claim to the test on a rainy day and they kept my toes perfectly warm and dry!
I have several On Cloud shoes that I've seriously loooovvveeed. They're super great quality and extremely comfortable. I love that this specific style of On shoes has elastic laces so it's super easy to just slip your shoes right on and skip the tying! Definitely a favorite of mine. I wear them a lot, and not only are they great for working out, but also for everyday errands and running around. They have super high reviews with others who have the same feelings:
"No wonder these are called the Cloud Shoe, they are incredibly comfortable right out of the box."
"These shoes come with regular laces if you prefer, but what attracted me to them was the elastic laces you don't have to worry about tying. Perfect shoe…love, love, LOVE!"
SIZING: These run TTS.
9. Zella Restore Soft Pocket Leggings
I'm a BIG fan of wearing leggings basically all the time and I'm here to tell you that these Zella leggings are the SOFTEST leggings sold at Nordstrom. PERIOD. There's not another pair of leggings that are softer than these. AND they have pockets! They're super cute and flattering, and I even own them in two colors.
10. Barefoot Dreams Blanket
The dreamy Barefoot Dreams Cardigan – but in blanket form. These Barefoot Dreams blankets are SO cozy, and can we get a round of applause for the gorgeous leopard prints?! Perfect for dorm rooms, your office, your bedroom, ANYWHERE. These make such a great gift, too!
These are a few of your favorite things…
I hope you enjoyed seeing all YOUR favorite things of 2021 in one quick and easy post! I'm excited to see what 2022 brings and find even more faves for us to all fall in love with.