I know some people are hating the heat wave but I am LOVING the unexpected sunny summer weather and step out of the normal "June gloom" we're having this year! And nothing feels more appropriate for a summer night out than a bright white maxi dress with sandals, am I right?!
White maxi dress
I loved the simple and feminine details in this white maxi dress. With a feminine sleeve, and embroidered v-neck, I only needed to add neutral sandals to complete the look.
This maxi dress is also one of those invaluable pieces that works great with a cute baby bump or any other day of your life. It's $168 and seriously worth EVERY penny. It's so versatile and is a great neutral piece to have in your wardrobe at all times!
A really nice thing about this white maxi dress is that it comes with a liner inside! It's a lot shorter than the dress itself, so if that bothers you or you want a little bit more coverage underneath, I wore a Honey of California slip dress underneath instead and it worked great! I love how it's super comfortable and never rides up.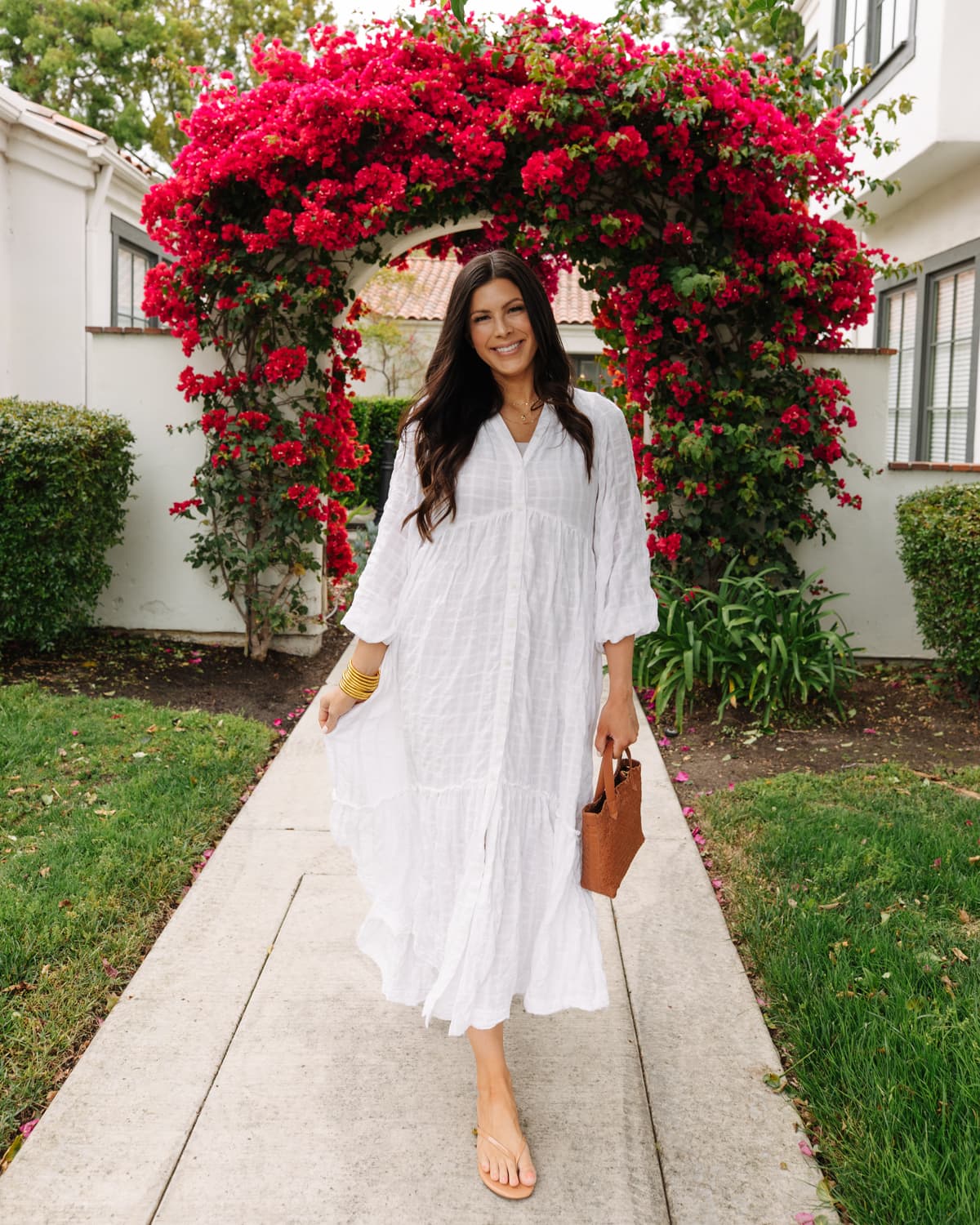 Styling tricks + tips
This Free People white maxi dress is so fun to style, because your options are limitless! There are SO many cute colors to choose from in this dress, but I especially love this white/ivory color because it's a blank palette that you can pair with anything.
You can throw on this dress and run out the door without the headache of ironing or steaming. It definitely has one of those "lived in" looks already built-in, which is totally my kind of dress. Or you can accessorize with a gold chunky bangle bracelet or some other dainty jewelry pieces. I even styled this maxi dress with a cute Anthropologie belt on Mother's Day and got a bunch of compliments. It's a staple dress in my closet, and it's easy to style it in so so so many ways. LOVE!!!
Accessorizing n' things
I said it once and I'll say it again – you can literally style this darling maxi dress SO many ways. I seriously just threw this dress on and wore some simple, plain flip flops, and paired it with a small neutral bag and voilà!! A beautiful, chic simple look.
If you're a person who loves color and something fun and vibrant, you could accessorize this dress with a colorful, fun & flirty bag, or some cute bright pumps or sandals. Whatever screams "you," you can do with this dress!
A fan favorite!
Is it obvious yet how much I looooove this dress?! I hope so because it's true, and so many other people love it, too! This FP maxi dress has almost all 5 stars and over 100 reviews. Lots of people raving about this beaut, so here are just a few words from some reviewers:
"This dress is one of my favorites. It's so versatile, perfect with boots in colder weather, and sandals in the summer. I just had a baby and it's still flattering! I love the material!"
"Omg do not hesitate!! I love this dress it's so soft and beautiful! Highly recommend."
"This dress is so dreamy. Really flowy, comfortable, and cute. It looks great as it is, or you can add a belt and play with the buttons up and down to give it a different feel."
"Bought this dress in ivory for my family photo at the beach and it was perfect! It's beautiful, hangs well, and flows so nice. Anytime I wear it I receive compliments. Plus the flowy arms hide my "mom arms"."
Need I say more? You just gotta get it and see for yourself. A DREAM!
+ other FAVE maxi dresses
These are all summer staples that can honestly be worn all year round, especially if you live in a warmer climate. How many items are feminine, versatile, and this comfortable?! Maxi dresses are a win every time! Here are a few of our other favorite white maxi dress finds from a variety of brands and prices. Do you have a current fave white maxi dress?!