All my fellow Anthropologie lovers know that it's sometimes tough to buy everything you want there because it's not exactly the least expensive place to shop. BUT, today we have the trick to getting Anthro clothes cheap!
You ready for this?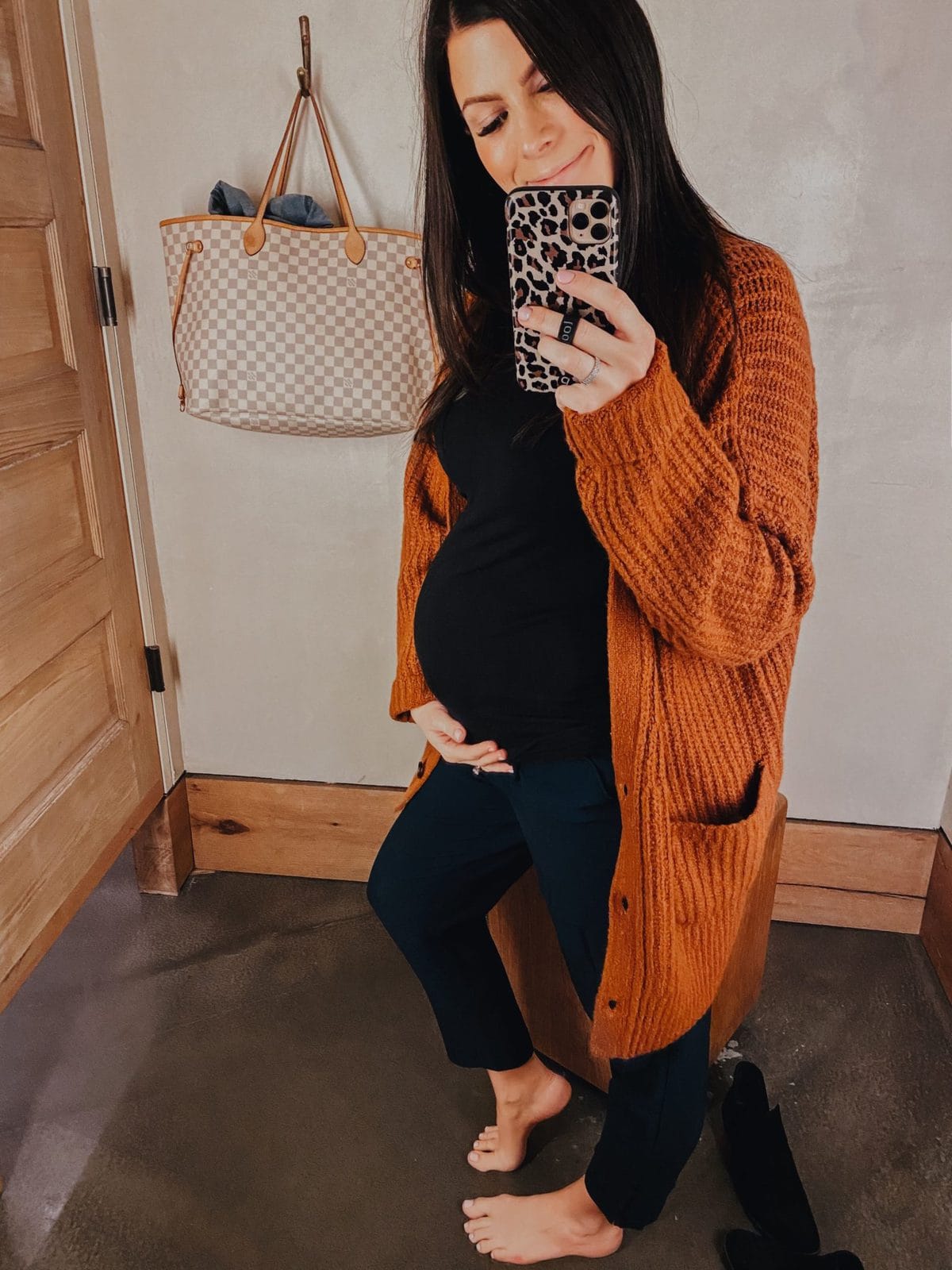 Here's the secret
The way I always tell people to get their Anthropologie clothes at the very most affordable prices: shop the SALE ON SALE. That means anytime Anthro throws an extra discount on top of their sale prices, you run! This really is the trick to getting Anthropologie clothes at Target prices, but with beautiful Anthro quality.
Sale details
Right now you can get an EXTRA 50% OFF sale items at Anthropologie, no code needed. The super low price will show once you add it to your cart! This makes my tapered pants an insanely good deal at $29.98 (reg $98)!
Tapered pants
These pants are SUPER comfy, but look nice enough to wear into an office! I love that they have an elastic waistband so I can wear them with a bump, or comfortably after while I'm recovering. Remember you can get these for ONLY $29.98 at checkout (reg $98)! CRAZY.
Honey Cardigan
This Anthropologie cardigan is SUPER duper cozy. I love that it feels like something you'd want to lounge around in at home, but it's cute enough to wear out to a nice lunch with friends! It almost gives you the feeling of wearing a robe (hello MY FAVE!) but looks like an intentional outfit.
It's a total STEAL when you stack the sale-on-sale discount, dropping it from the original price of $140 down to $44.98 at Anthro today!! This color is low stock, but it comes in a gorgeous ivory color too!
Anthropologie Faves under $45
I sifted through over a THOUSAND sale items and created a roundup below of ALL the very best steals that ring up for LESS than $45 at checkout during this crazy good Anthro SALE ON SALE. Hurry and shop my faves below because the good stuff always goes fast!
(sale faves might take just a min to load below!)