AHHHH! Kind of freaking out because a deal on the Dyson AirWrap is nearly impossible to find. IMPOSSIBLE. I have been waiting and wishing and hoping for a deal on the AirWrap and today it's HERE. I have never seen the AirWrap priced so low so this is a super-duper high sell-out risk! KEEP READING to find out how to score this insane deal.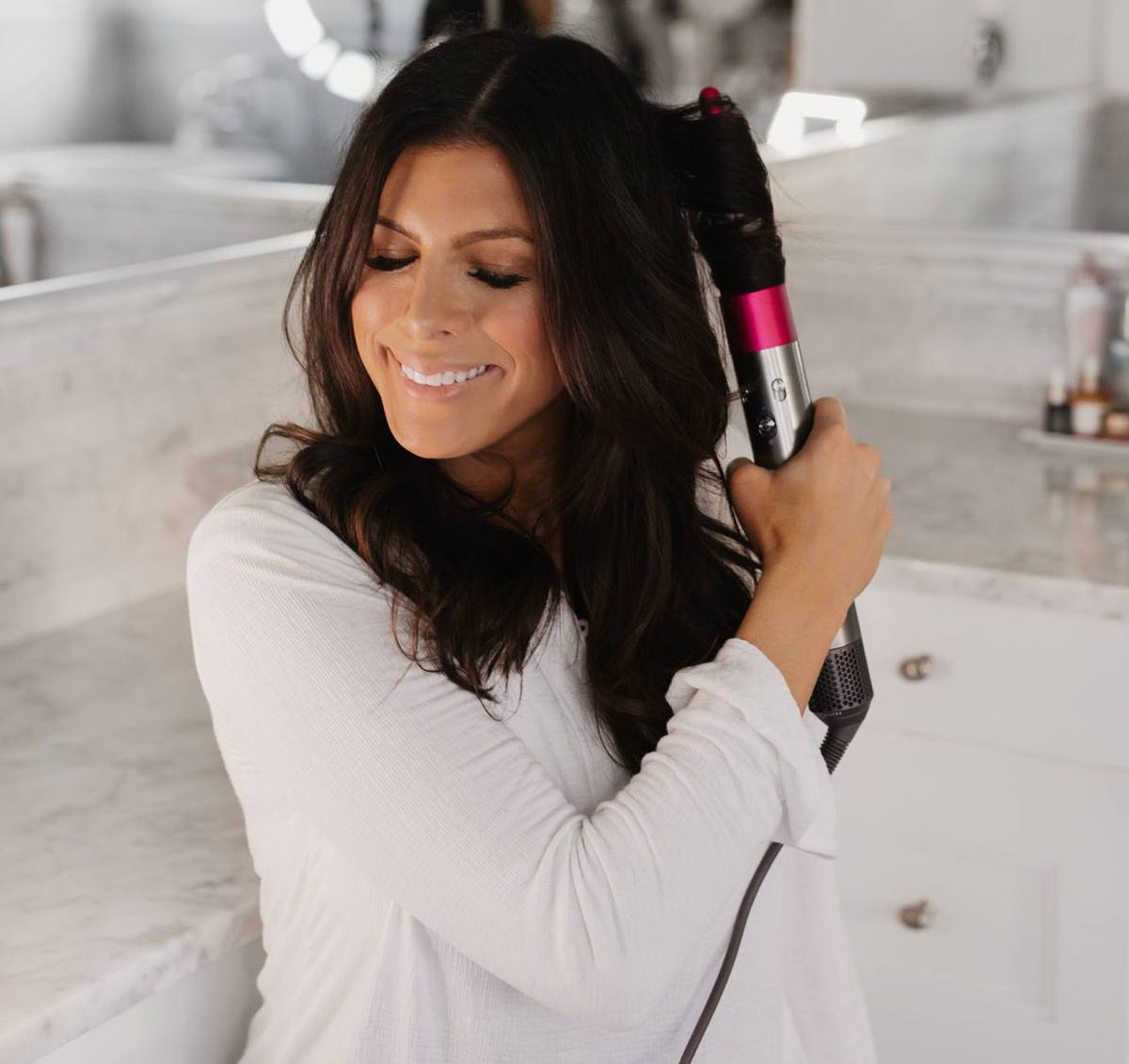 AirWrap Sale Details
Right now the Dyson AirWrap is ON SALE HERE for $449.97 (regularly $550!!!). That's $100 off and THE BEST deal I have ever seen on the Dyson AirWrap!
This is a REFURBISHED AirWrap: this means that it's been opened but has gone through a rigorous process to deem it ready for resale! My experience with buying refurbished items has been flawless. The items are just like new but can be sold to the consumer at a deep discount. It's an incredible way to get a deal on an item that is a little bit of a splurge!!
This deal ends on March 2, so if you have been waiting for a deal on the Dyson AirWrap don't wait any longer because it's only priced this low for a very limited time!
Why Do I Love the Dyson AirWrap?
I finally gave the Dyson AirWrap a spin last fall and was BLOWN AWAY (ha!) at how magical this little device was. It has 7 attachments that will straighten, round brush dry, or curl your hair. It does a minute to figure out the curling process, but once I did, I was ELATED by how smooth the process was! It really does smooth out your hair while curling each section and gives you crazy good volume as it curls.
One Tool To Rule Them All
The Dyson AirWrap is so good and such a great combo tool for drying, curling, waving, or smoothing your hair! It dries AND style all in one shot so it's a MAJOR time-saver. It's super quick and super easy and you. will. LOVE it.
Save The Hair
It also uses MINIMAL heat to protect your hair. If you're trying to damage control your hair like I am, you will love using the Dyson AirWrap to dry OR curl your hair.
Don't Miss This Deal!
This is the BEST PRICE I have ever seen on the Dyson AirWrap– for $449.97- and this will sell out fast! If you've been dying to get this, DON'T wait because the deal ends on March 2 and I have no idea how long it will be before we see these deals again!!