Spring can be hard to shop for… Doesn't it just feel like it's the shortest season? I still think it's always fun to find a few new, cute wardrobe pieces for this time of year – but my secret is to find things I can wear alllll the way through summer, too. I'm so excited to share my dressy-casual spring outfit with you today (because I'm OB.SESSED.)! I know all of these pieces will be worn over and over again for months. Let me tell you why I think you'll love them, too!
Why you should shop Zappos
First things first – all of the pieces in my spring outfit are from Zappos. They really are one of the BEST places to shop online!
Since Zappos first started nearly 20 years ago, my mom's been a BIG fan.
Back in the 1900s (my kids LOVE to say this to me), Zappos was known for their super fast shipping – you could expect your shoes to magically appear on your doorstep in 1 or 2 days! They started doing fast shipping long before all the retailers who do it today. AND you could try shoes on and send them back if you didn't like them. Zappos was truly the OG thought leaders in the online ordering world!
If you're a new shopper to Zappos or a long-time loyal fan, they don't just sell shoes anymore, they sell EVERYTHING else, too. Clothing, bags, accessories – all of it! And they have the BEST customer service ever – 365-day return policy, 24/7 customer service, become a Zappos VIP member for free, and expedited shipping! It's all amazing.
What's a true spring outfit without flowers?
I have a floral bodysuit I got a year and a half ago, and people always ask me where it's from – so, I've been on the hunt for a new bodysuit I can love just as much! This one from Zappos immediately caught my eye.
It's SO pretty and bright for spring. I love love LOVE the fit. It still has that bodysuit form so it stays tucked in all day, but it's not too tight, which means it has a veryyy flattering and flowy look.
This bodysuit is fun, but still classy, and could easily be transformed from a spring outfit into a summer date night blouse!
(TIP: the button is a little lower, so if you don't want the V-neck to go that low, add a small stitch at the top like I did here!)
Perfect, warm-weather denim
Okay, THESE JEANS!
I was so excited to try this pair of jeans because they had AMAZING reviews – and let me tell you – they fit SO well. High waisted, wide leg, and beyond comfortable!
Nothing worse than jeans that are so tight and uncomfortable with no give. I want to be able to breathe when I sit down! That's why I LOVE that these jeans have some stretch, but still hold their shape. AND they're CROPPED! Perfect for spring and summer. Fits true to size!
The heels you won't want to take off
I paired this spring outfit with these mule heels that are super IN! I own several pairs of heels that are similar to these but they're all pretty stiff – and these by far are the COMFIEST ones I've ever worn.
These heels are made of the most buttery, soft leather you could literally walk in them all day with no discomfort! I'm OBSESSED! Slip your feet in and it feels like you're wearing slippers (but not too soft where your feet slide when walking).
These are some of my favorite heels I've ever worn! I LOVE this neutral color that'll go with anything, but I might just have to go back and get the other colors too – they're THAT good.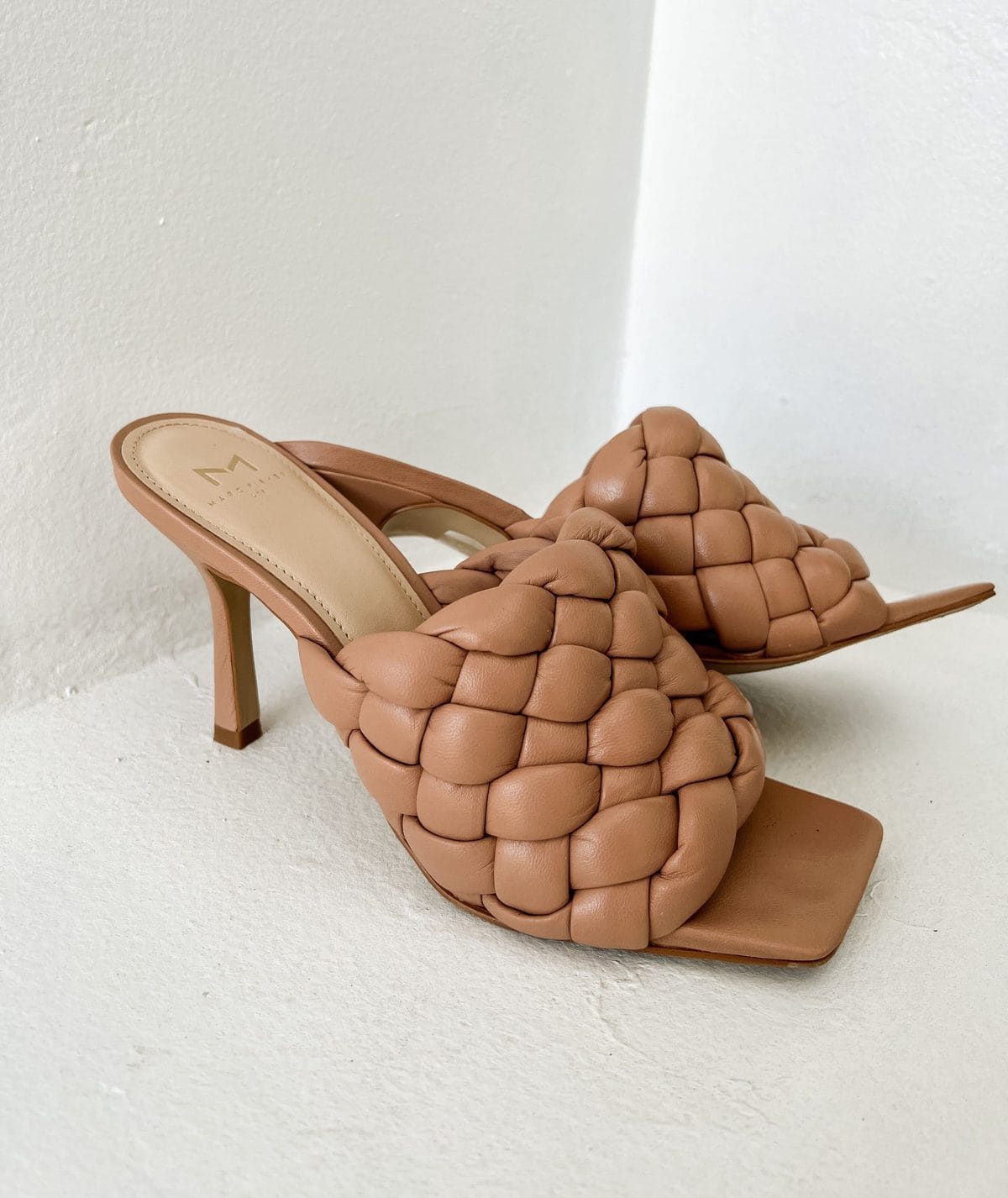 Grab-and-go blue bag
The perfect small-sized purse to fit your wallet, keys, phone, and lip gloss! I love that it has both a handle to hold on top and a crossbody that can be removed – we LOVE options!
With a zipper on top and pockets on the inside, this makes the best grab-and-go bag. It's such nice quality, but it won't break the bank. PLUS, it comes in this beautiful spring blue color with four other neutral options!
Shop my spring outfit and more
Shop all of these items and MORE on Zappos! And don't forget about their VIP membership that'll get you FREE and EXPEDITED shipping. (Nothing's better than finding the best deals and getting them right to your door in a matter of a day or two!) It's the perfect time to get spring AND summer ready – let me know what you'll be adding to cart in the comments below!