If you follow me on Instagram you know I've been raving about these pajamas because they're literally THE SOFTEST, comfiest, most perfect pajamas for summer/recovery from anything physically strenuous (i.e. birthing a baby! running a marathon! surviving motherhood! HA) and I'm here to make sure EVERYONE knows just how amazing they are. Oh, and share where I've gotten some of the cutest activewear for Ani to start up some new activities this Fall!
I won't be cleared to work out for at least 6 weeks after Millie's c-section delivery, but I've been couch potato-ing like it's a sport lately! Haha. Recovery from birthing a baby is no joke, especially after major surgery, and one of my TOP prerequisites is comfy clothes. Of course, this line was designed with recovery for athletes after exercise in mind, but I said to myself, "I wonder if these would be perfect for postpartum recovery too?!" I don't always nail it with online ordering but this time I got lucky, REALLY lucky.
These Athlete Recovery Sleepwear Joggers have become a daily wear for me. Like I hurry and wash them and hang out in my bath robe for an hour just so I can get them clean and wear them again for another 24 hours – that's how committed I am! They're so lightweight and soft that it barely feels like they're on. They're also cute enough that I feel put together if a friend stops by or I have to answer the door to sign for a package or something. And the waistband is SO wide and so SOFT that it's one of the only I've been able to wear for hours and not feel like it's bothering me one bit near my incision.
I paired the joggers with this short sleeve shirt for a head-to-toe cute and comfy look. The front is a classic scoop neck tee, but the back has a little cutout detail which is cute, but honestly I'm here for the comfort!! Like the joggers, this tee is ultra-lightweight and so comfortable, which means it's become a favorite for those long nights and cluster feedings that are keeping baby Millie growing.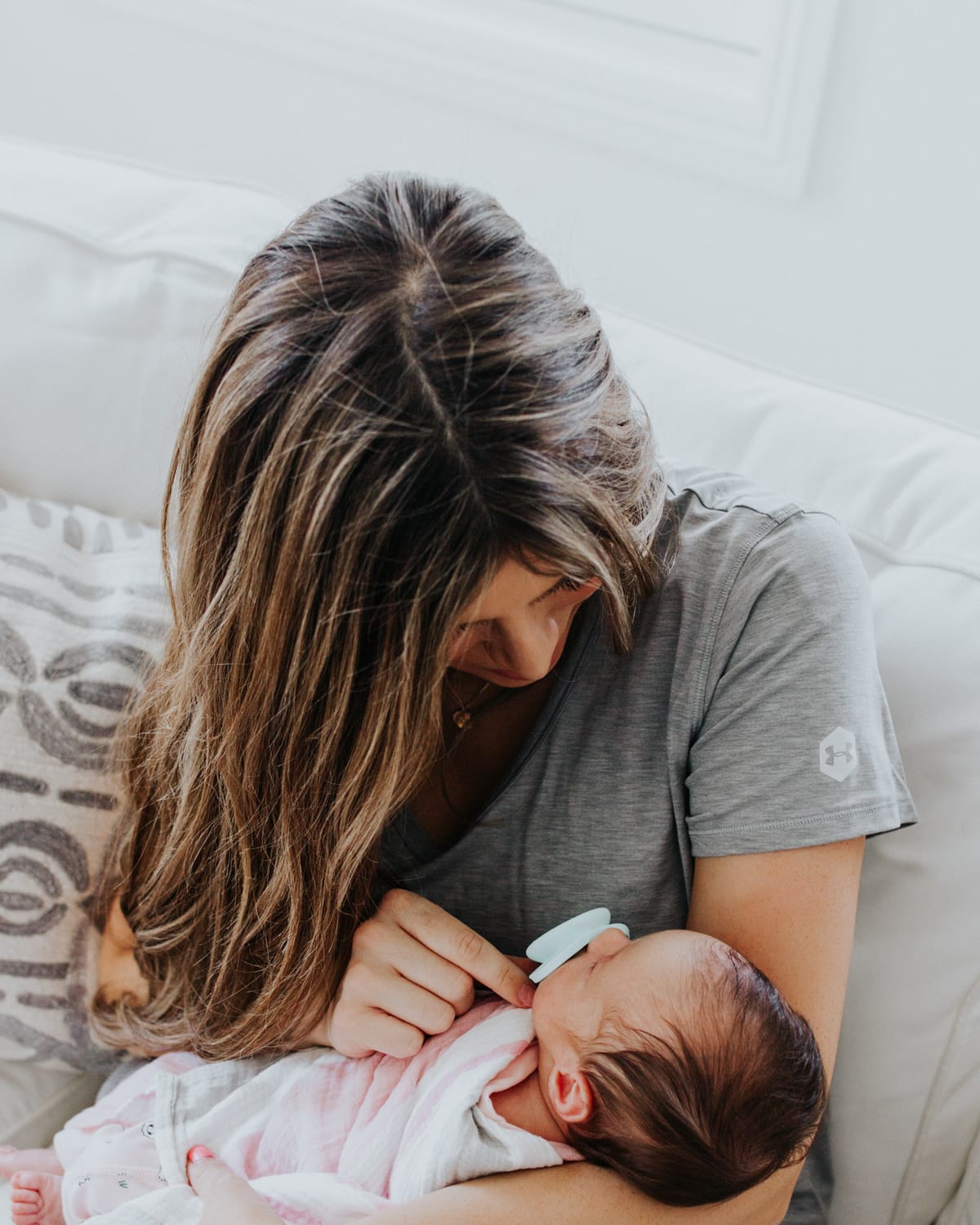 So I'm totally motivated to start working out once I get the "all clear" from my doctor, I picked out a few new workout clothes that'll make me feel ready to crush it at my first time back in the gym! The Under Armour Breathelux Leggings feel incredible. I wish you could feel them yourself! The high-waisted design will be perfect for tummy control and support, and I love that the leg vents help eliminate extra heat while exercising. My favorite feature is the back envelope pocket–perfect for storing my phone so I can listen to music or podcasts while I'm working out! I also snagged this loose-fitting tank to wear back to the gym. The longer fit with the split hem is really flattering, and I think it will be a really versatile piece to add into my workout wardrobe. I promise to share a selfie when I find myself back at the gym but really, these pajamas are LIFE for now.
One of my main motivations for staying active and strong is seeing my girls excited to follow my example and do the same. This year Ani is signed up for a dance class and I've honestly been looking around quite a bit for cute little girl dance clothes. Her new studio is really open to any type of active wear so these pieces will work for her dance class but also for any outdoor adventures we go on as a family in the coming year which is a huge plus! She still loves to practice everything she learned last year at cheer and tumbling and I wouldn't be surprised if she asks to go back there too, but for now she's excited to try something new at a dance studio.
Okay, I know you guys will agree with me on this–there is nothing more cozy than an oversized hoodie! Anabelle instantly looks as swaddled and chill as Millie when she puts this sweatshirt on. The front looks like a cowl neck, but it still has a hood in the back, so it's a perfect option for hanging out around the house or cooler evening walks. She loved the shiny rainbow detail on the back of the Finale Hoody!
I'm so relieved we found sneakers that are easy to slip on and off and she runs in and out of dance class, too. YES PLEASE to faux-shoelaces!!! It makes the whole routine go smoother when she can do her shoes by herself.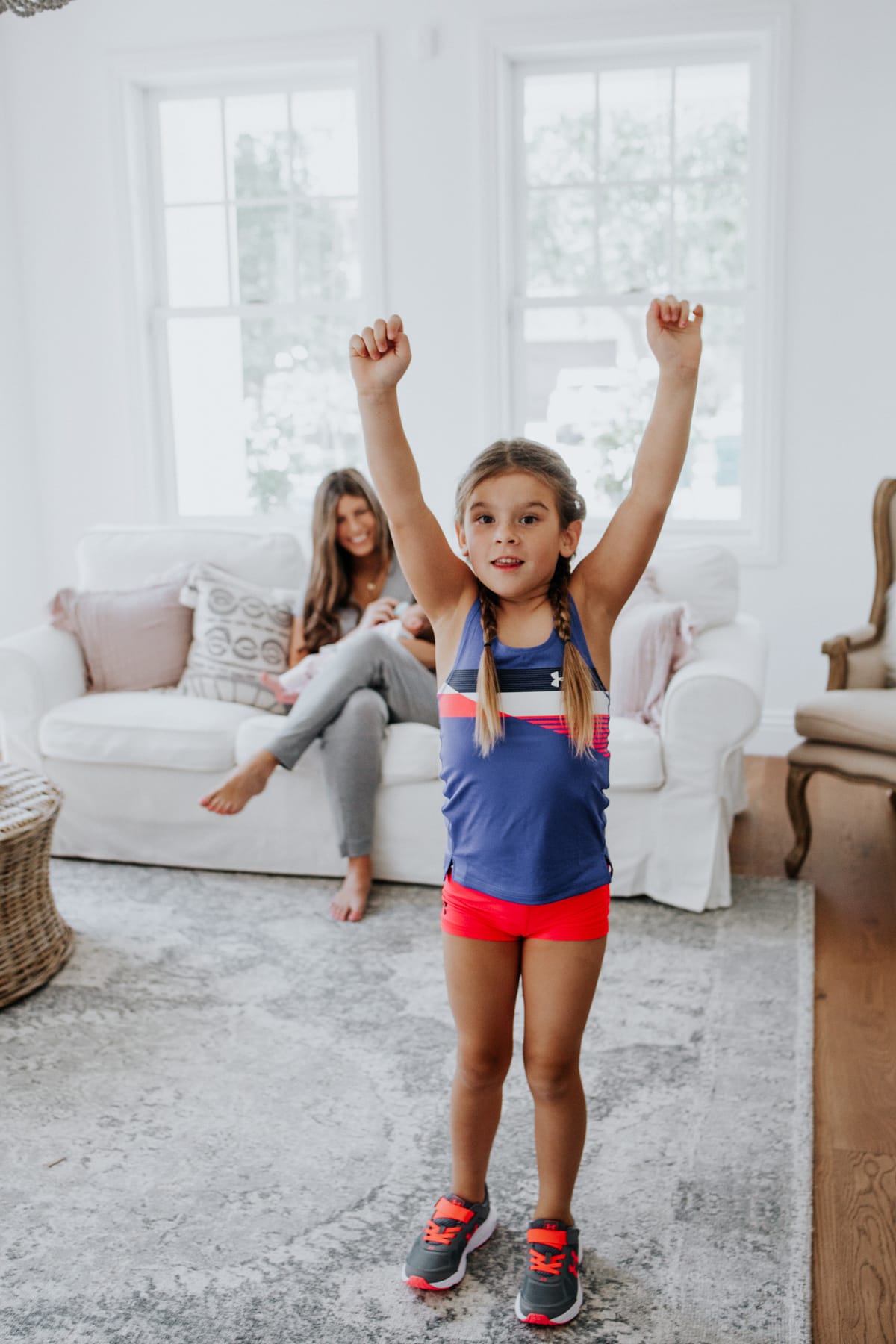 Finale Hoody
Girls Tank Top
Girls' Studio Shorts
Girls' Running Shoes
Women's Short Sleeve Shirt
Women's Joggers
Photos by Arielle Levy
I'm so happy Under Armour has options for the whole family, and I'm especially impressed that they take recovery as seriously as they take exercise. Plus I really am just so obsessed with these recovery jammies that I just had to share them. I'm feeling totally happy to keep on recovering and relaxing, but excited to jump into working out again when the time is right, and so happy that Ani is just as excited to jump into dance and being active this year too.