Have you ever thought about changing up your skincare based on your age? Like you maybe should re-evaluate that zit cream you fell in love with in middle school, or ditch the makeup wipes you've been using since you were 18, or that it's time to look into something anti-aging? If you know what a cassette tape is, or the phrase "be kind, rewind" means anything to you, it's time.
Today we're going to dive into skincare for ALL ages, what you should be looking into at your age (whatever that is) and my favorite products for each of these categories.
Just as fashion, makeup, and hairstyles change with age, so does our skin. Using the same skincare from puberty through menopause does our skin no favors! Our skincare HAS to change with our age. Raise your hand if you've ever been guilty of using a skin care product wayyyyy longer than it actually works for you (*looks around and slowly raises hand*).
Did you know just from our 20's to our 30's our skin cycle DOUBLES?! That means that in our twenties, our skin only takes about 10-20 days to turn over and create new cells. In our thirties, it can take 30+ days for us to start seeing new skin. What does that mean for skincare? We have to TELL our skin to turnover, shed, and regenerate so that we can enjoy fresh skin (plus increased collagen and elastin) more often!
First things first, when it comes to skincare, ROUTINE IS KING. You can give yourself a pat on the back for trying, but you simply aren't going to see changes from one day of washing your makeup off at night. Getting into the habit of cleansing, wearing moisturizer and an SPF is half the battle! From there, you just have to switch up your products as new needs arise. For this post I worked with one of our team members, Courtney, who is an aesthetician, to customize skincare regimens for every adult decade. We've got tried and true, splurges and saves, and everything in between for skincare at ALL AGES!
Tips for every age
There are certain skincare products that are non-negotiable, despite age! If it helps, consider these things as mandatory as brushing your teeth! Any skincare recommendations beyond these are assuming that you are ALREADY utilizing the basics.
What are these basics?
Cleanser: whether it's foamy or creamy or oil-based, you HAVE to wash your face, every day, end of story (keep reading for recommendations!)
Moisturizer: this category includes both day time AND night time moisture. Even if your skin is oily, moisturizing is necessary for ALL skin types! Our favorites are here (splurge) and here (save)!
SPF: This can be in your day time moisturizer or your makeup (preferably both), but SPF is one of the BEST preventative and healthy ways to take care of your skin (more on that later!)
Exfoliator: Did you know that you have dozens of layers of dead skin on your face at any given time? Without exfoliating, you'll be putting all your expensive skincare products on top of dead layers that are essentially impenetrable. What does that mean? You NEED to slough off dead skin for products to WORK! Whether it's a mask, a serum, a toner or scrub, utilize chemical and physical exfoliants in your routine to get the most out of all your skincare products.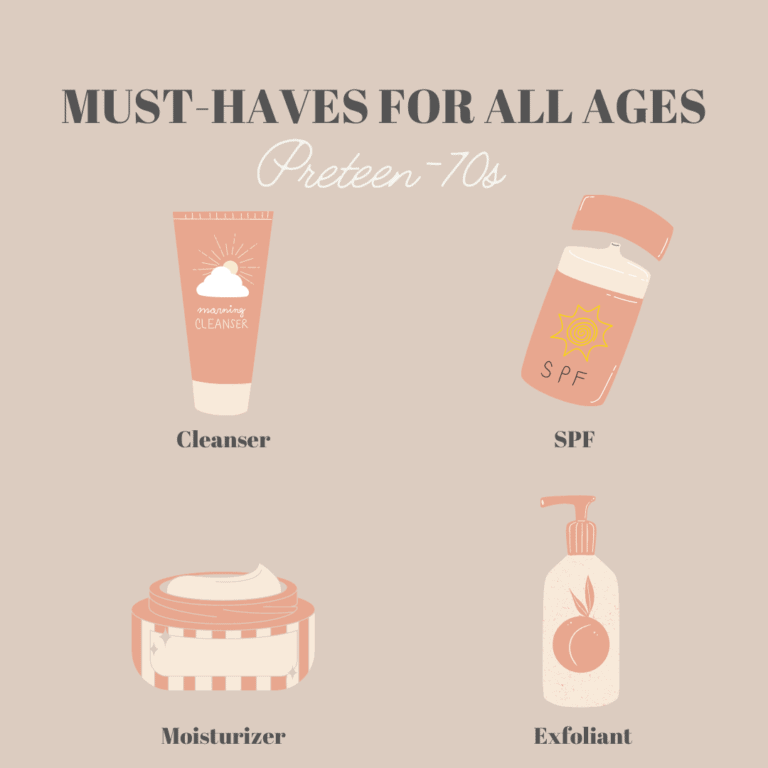 First, a word about SUNSCREEN
Why is everyone so pushy about sunscreen these days? It's not only because UV rays cause dark spots and wrinkles; unprotected sun exposure can also cause skin cancer! Here's a quick break down of UV rays: UVA rays target the deep layers of your skin, causing the signs of aging like wrinkles. UVB rays cause surface sunburns that can lead to skin cancer.
When shopping for SPF, you have to remember that not all sunscreens are created equal. There is a big difference between physical and chemical sunscreens! Physical sunscreens include zinc and titanium dioxide and are an actual physical barrier against the sun. They block the UV rays from penetrating your body!
Chemical sunscreens are the most prevalent (although so many brands are jumping on the physical sunscreen train, yay!) and include avobenzone, homosalate, etc. The problem with the chemicals is that they actually allow the rays into your body, but break them up once they are already there. The chemicals can also linger in your body for WEEKS after and disrupt hormone production. That said, the chemicals you really want to avoid are oxybenzone and octinoxacte.
Wearing sunscreen daily is the NUMBER ONE THING you can do to be preventative about your skin. Better than Botox, I promise (not as quick, but more rewarding for sure)!! Okay now that we have that disclaimer out of the way, let's take on skincare regimens by the decade!
20s: ROUTINE
Ah, the roaring 20s. When skin still has elasticity and collagen is aplenty. You *may* even start to think that your skin is invincible! Your teen acne is probably a thing of the past and you're riding the wave of your skin working at its prime.
Don't be fooled though, establishing a routine in your 20s is a make-or-break decision your skin will thank you for for decades to come. In fact, the damage you do from a poor skincare regimen, lack of sleep, and unhealthy habits WILL show up in subsequent decades! Think of your 20s as the time to show your skin some TLC and it will pay you back in spades.
The biggest mistake people make in their 20s is OVER-exfoliating. Your skin is already doing a pretty good job of renewing itself, so all it takes is a little jumpstart every so often to see results. Think antioxidants, spot treatments for leftover teenage congestion or hyper-pigmentation, and SPF ALWAYS AND FOREVER! Oh, and PLEASE, pretty please…wash your makeup off at night.
Skincare products for your 20s
30s: ANTI AGE/STRESS
Remember, your thirties is when your skin-shed cycle doubles! You'll need more than a sporadic kick in the pants to see results nowadays. You need to be exfoliating at least 2 times a week, and you can also incorporate a lightly-exfoliating cleanser into the mix!
Eye cream is your new BFF, as is retinol (she's gonna be by your side for the next few decades, too). I hate to admit that, even after all I've heard and read about it, I still haven't used retinol yet! Between being pregnant and nursing for years, I wasn't able to utilize it in my routine but, literally BECAUSE of this post, I'm trying something out new with retinol in the next week or so!
What is retinol, exactly? It is actually vitamin A, and is one of the best anti-aging ingredients because it resurfaces, increases cell turnover, diminishes the signs of aging and improves the all-over tone and texture of your skin. It also helps neutralize free radicals and boosts collagen and elastin. Whew! That retinol works harder than a mom of toddlers on a day at the pool!
Skincare products for your 30s
40s: REST & REPAIR
This decade is all about building on your earlier good habits (plus drinking lots of water, not smoking and getting plenty of sleep)! Remember, sleeping repairs our skin! And while you're at it, you probably want to grab a silk pillowcase (save option here) as well.
If you've been diligent in the previous decades, your routine will need just a few adjustments to suit your needs. Skip the foamy or exfoliating cleanser, keep being religious with eye cream and SPF and don't forget your antioxidants! Your skin can't protect itself as well as it used to, so you need products that can make up the difference.
Vitamin C is the most potent antioxidant, in that it prevents future damage and lightens dark spots. Sunscreen is a hard worker, but pairing it with an antioxidant that neutralizes free radicals that attack us on the daily will boost your skin's immunity big time.
Skincare products for your 40s
50s: HYDRATE
This decade is a good time to give up the Benzoyl Peroxide and Salicylic acids (unless you still have acne!) in favor of more giving ingredients like peptides and hyaluronic acids! Forget about stripping off layers of skin with traditional exfoliants, retinol and peptides stimulate cell turnover so there's no need for the harsh stuff. Plus, as we age, our skin is more apt to be dehydrated, so moisture is the name of the game!
Peptides promote cell activity, minimize wrinkles and help collagen production. As we age, collagen (the stuff smooth, toned, and hydrated skin is made of) says buh-bye and stops working overtime. In fact, unless we tell the collagen to come to work-via peptides-it might never show up!
Another tip in your 50s (and always, really) is EXERCISE! Did you know that when you exercise you're not only helping your body but your skin too? Exercise promotes healthy, active cells which in turn gives you more glowing skin!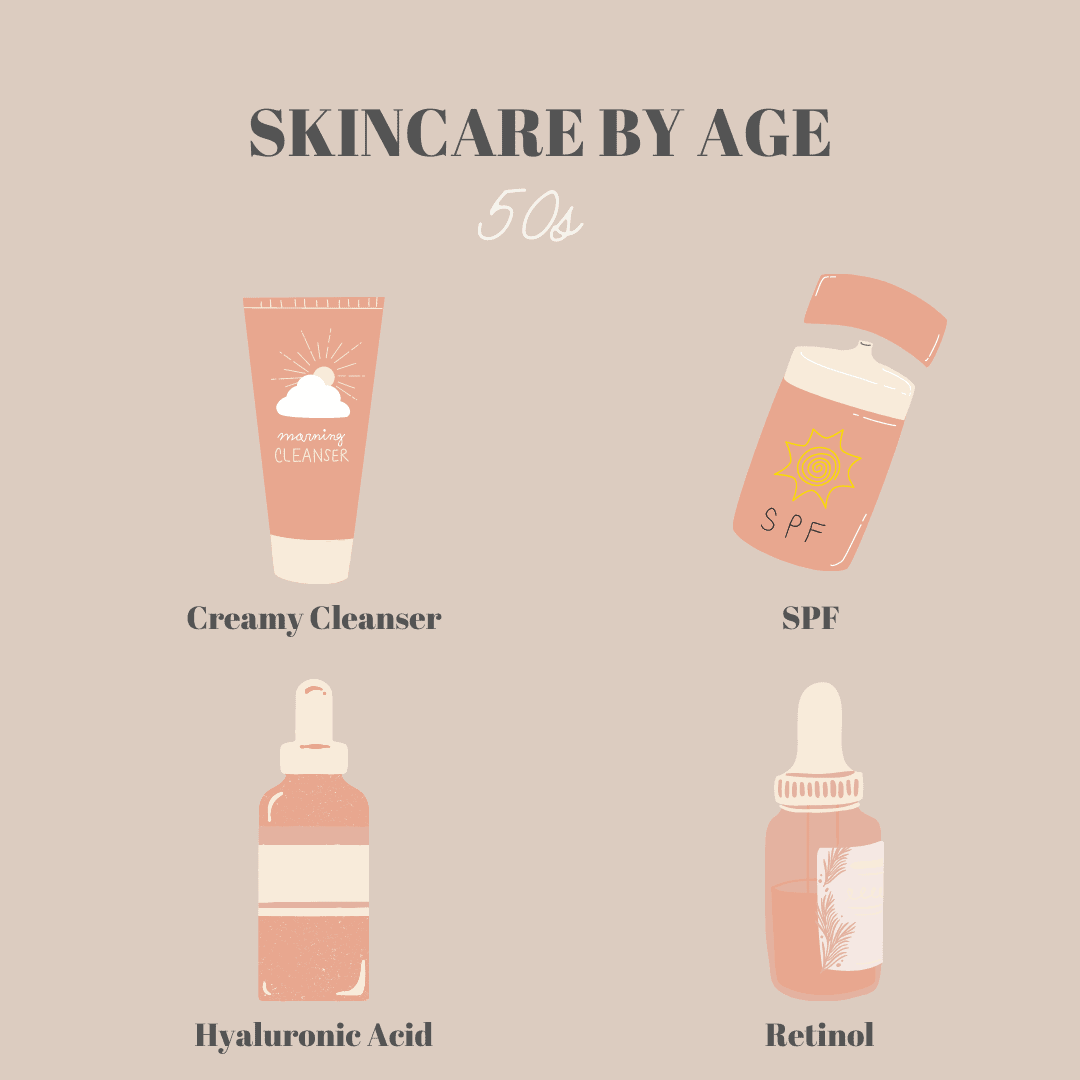 Skincare products for your 50s
60s: MAINTAIN
If you haven't already, it's time to see a dermatologist. Get any spots checked out, keep living for that SPF, and remember to be kind to yourself and your skin! Utilize your skincare regimen as a time to be grateful for the skin you're in, and keep your routine going. It's also a good idea to stay away from artificial fragrances, as your skin is probably more sensitive these days.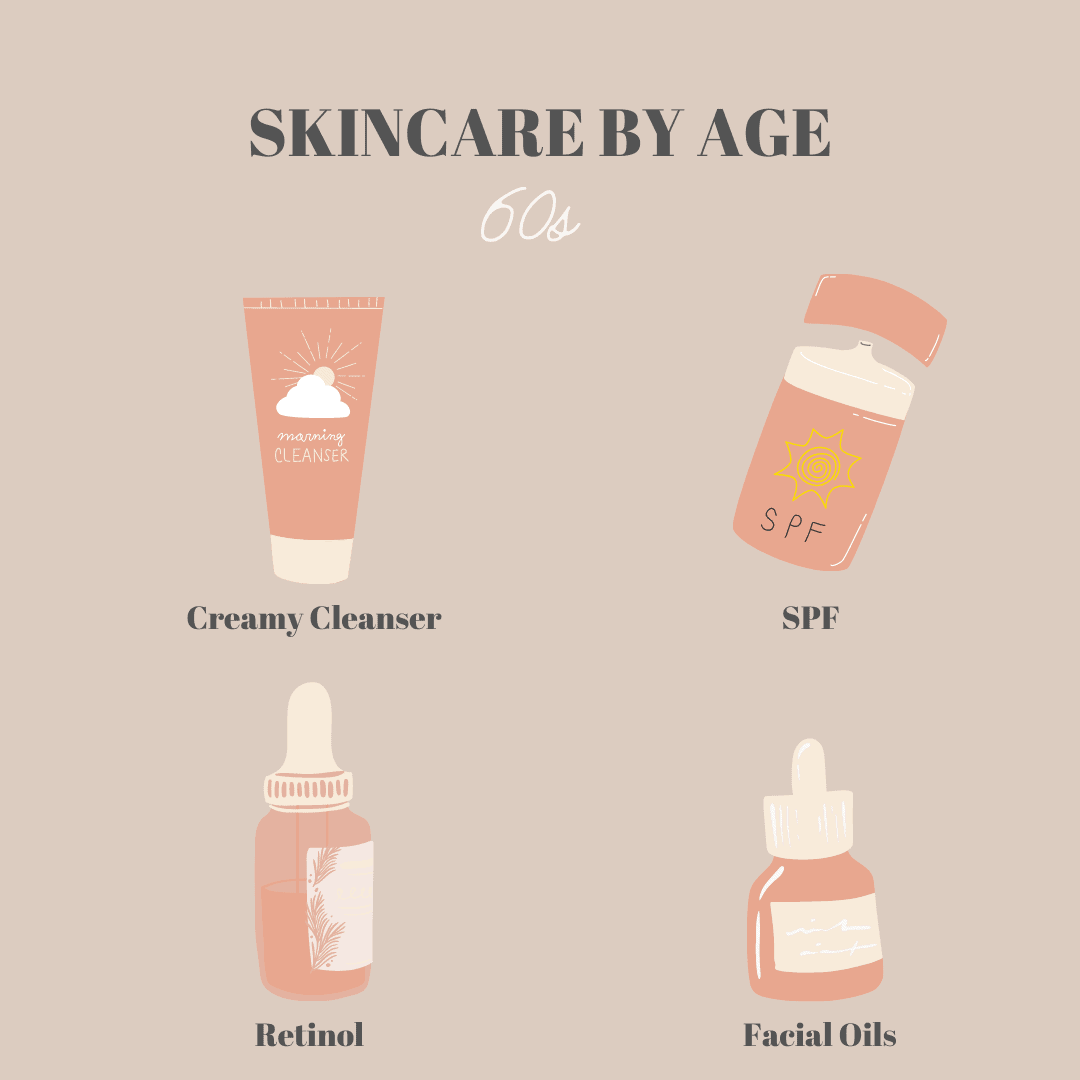 Skincare products for your 60s
70s: GENTLE
In your 70s and beyond, the biggest thing you'll want to remember is that your skin is now a lot thinner and more sensitive than it used to be. It's also less elastic so you want to be really gentle with products. It's always a good rule of thumb to apply skincare products upwards to go against gravity, but especially now when gravity is really showing us who is boss! You don't necessarily need "anti-aging" products anymore, just focus on moisture and protection!
Skincare products for your 70s
Order Matters!
When applying skincare, the order your use it makes a big difference in its effectiveness. The creamier the product, the largest the molecule. Small molecules (i.e. serum or toner) cannot penetrate through a night cream or facial oil. Here's a good rule of thumb for a basic routine:
Cleanse
Exfoliate (2-3 times a week, max, depending on age)
Tone
Eye cream
Serum
Moisturizer or Facial oil
All Ages
There are so many amazing products out there that I love for upping the skincare ante as well, all ages welcome!
Love the skin you're in!
Whatever age you are, it's so important to treat the skin you have in order to get the skin you want! Pay attention to skin cues: flakiness, large pores, makeup not applying well, etc., in order to get the skincare products you really need! If you do that, you'll be able to enjoy beautiful skin through all your decades.