I used to be so afraid, not just a little but DEATHLY afraid, of red lipstick. I would literally tell everyone who brought up the possibility of wearing a red lip, "oh no. I look like a clown in red lipstick. Trust me, I'll put it on and you'll agree." Until I finally tried the right shades of red. And then I fell in love! So today I'm sharing with you some of my favorite shades, and how to make it look good (because it's not as easy as a light pink to just smear onto your face) and WHY I love a red lip!
If you're just starting out, my very favorite red lipstick that looks good on everyone is Russian Red. It's super classic and it works with fair to olive skin tones and it will make your teeth look so white you'll practically blind people! That's what I have on in these photos, and in this post.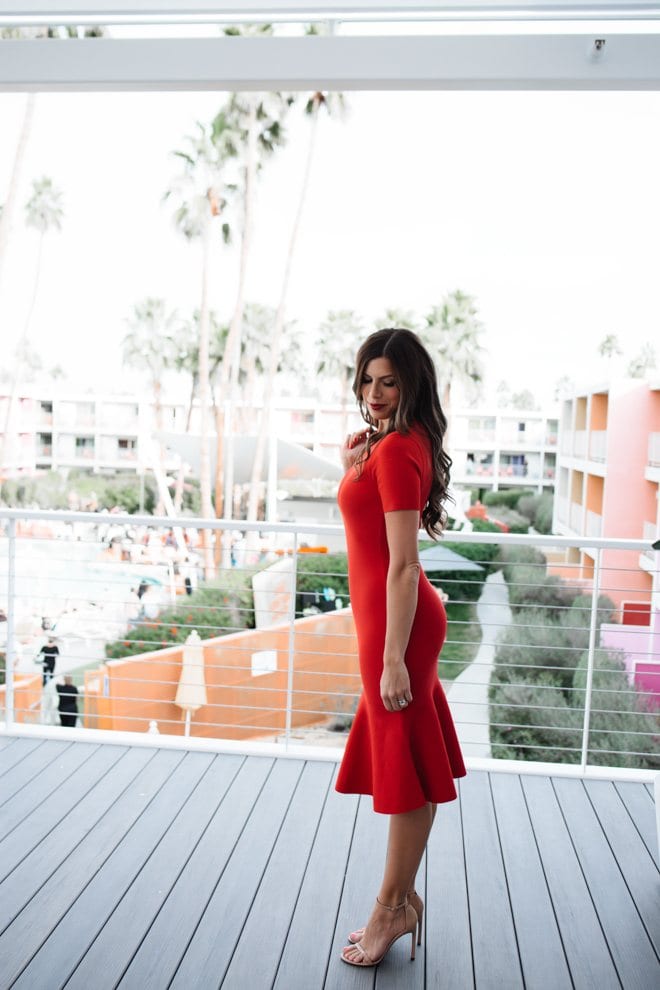 My next favorite trick for red lipstick is combining two! A lot of times the pigment from red lipstick is so intense that one color can come off a little overpowering, but there's just something magical about layering one color on top of another that just softens the look. My favorite combo right now is MAC Liptensity in life's blood and postmodern. This creates kind of a pinky red which I love!! It also goes on super smoothly.
If you're looking for a good grocery store red lip that will last for hours, I actually really love L'Oreal Infallible Pro Matte Gloss in 308 Shanghai Scarlet. It's a SUPER pretty cherry red that really pops!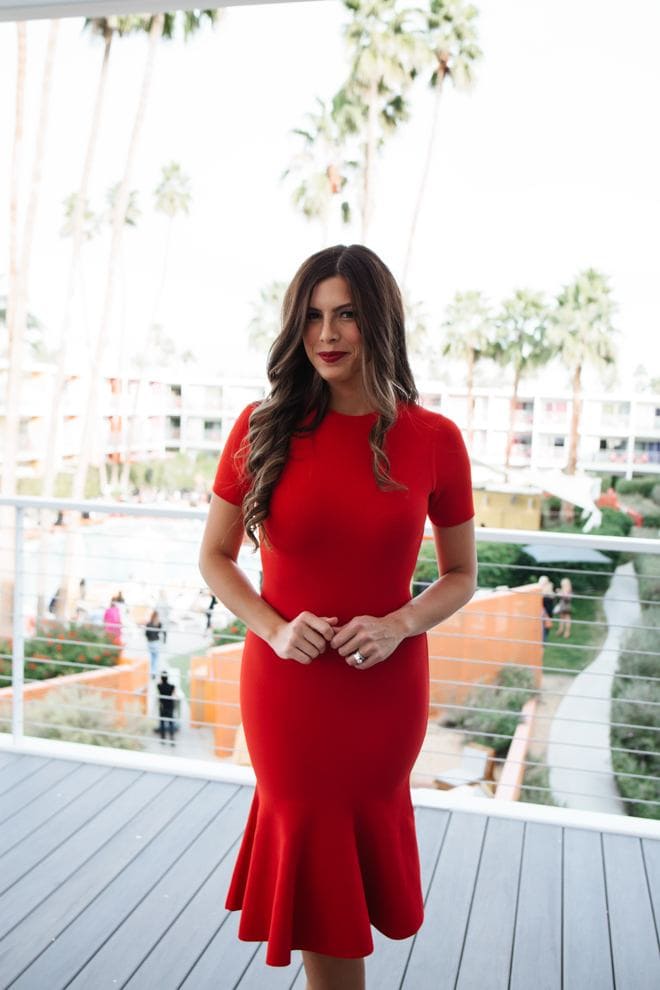 My biggest tip for starting out with red lipstick is to be sure you LINE your lips first! It's kind of like when you learned to color as a kid and you'd color around the lines first then color inside the lines, does that make sense? It will help you from going all crazy and getting the color all over your face! I actually prefer to use a little more of a nude or neutral shade to line my lips so that it's not so intense for that outer lining. I really like NYX taupe which is actually an eye pencil but I use it to line my lips for almost any color! Probably my favorite lip liner (that I can't find right now boo! ha) is my MAC lip pencil in whirl. It's just slightly darker than a nude so it's perfect for lining before a bright or dark or bold color!
Now for some red dress talk. I LOVE wearing a plain red dress because it's bold but simple. This one was a lucky find after hours of searching! I gave a keynote presentation last week at Alt Summit and wanted something colorful that would go with all the pops of color at The Saguaro where the conference was held, so my typical little black dress habit wasn't what I wanted.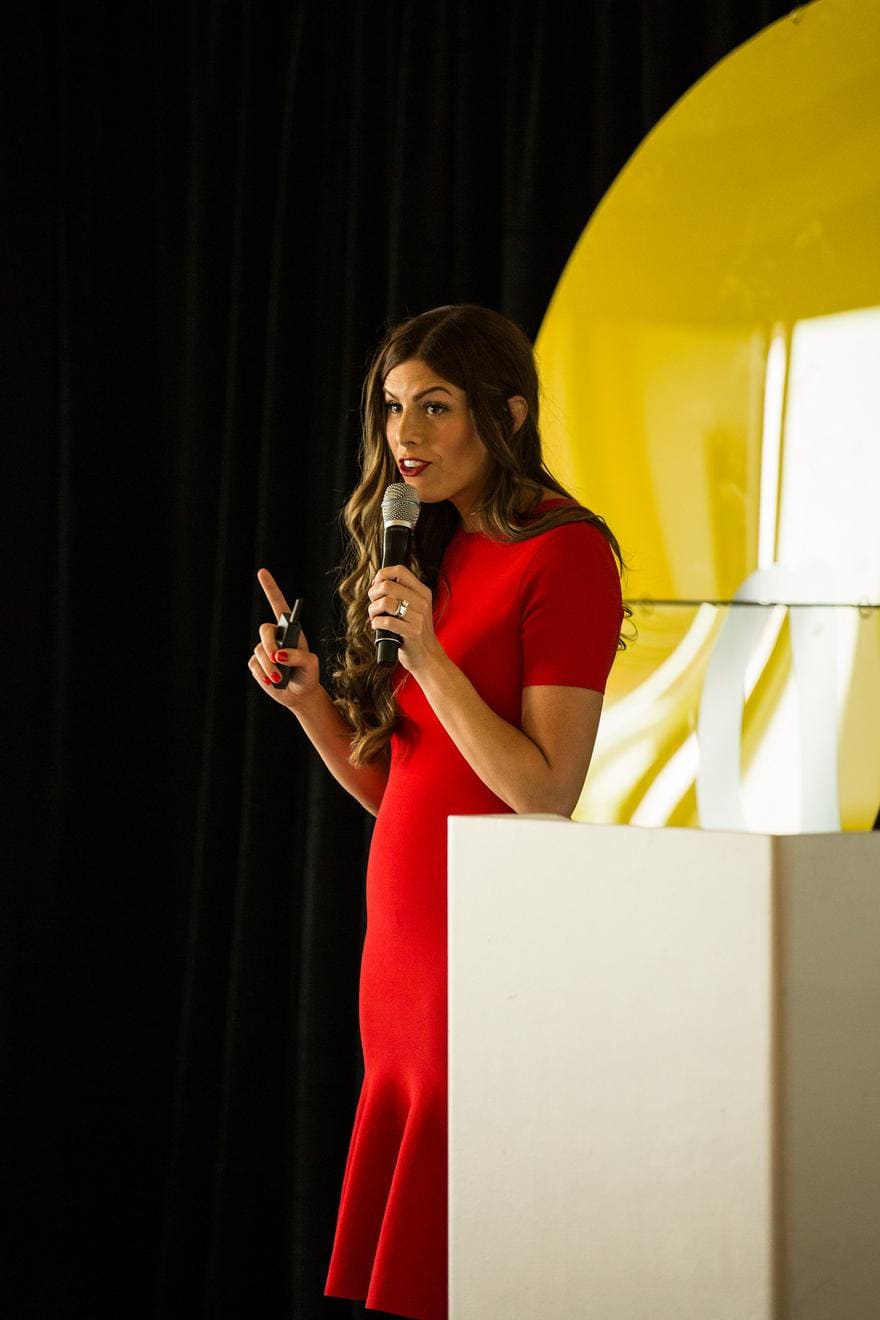 You know I mean business when my bossyfinger comes out! Ha.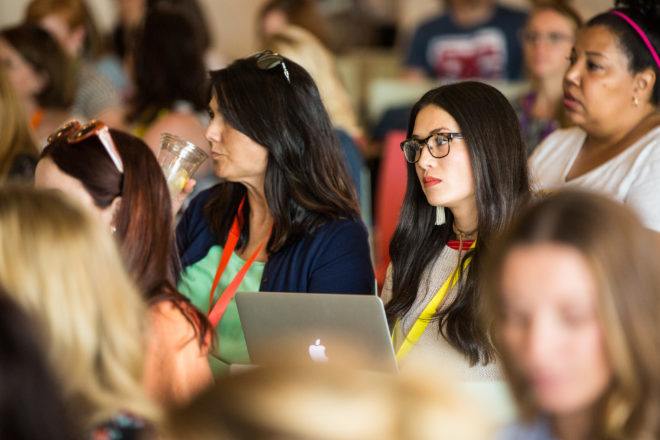 There's my cute mama and my friend Caroline supporting me in the audience.
This red mermaid dress was definitely a bit of a splurge but I'm planning to re-wear it this weekend to a charity networking event in conjunction with the Grammy's called City Gala. They bring celebrities and entrepreneurs together to raise money for programs and initiatives like advancing educational efforts, youth mentorship, entrepreneurship support, equal rights advocacy, environmental research, arts & culture programs and health and wellness organizations. I'm really excited to participate and will be posting more on social media throughout the day Saturday so be sure to follow along! And if you're in the LA area and are interested in attending, you can find more information here.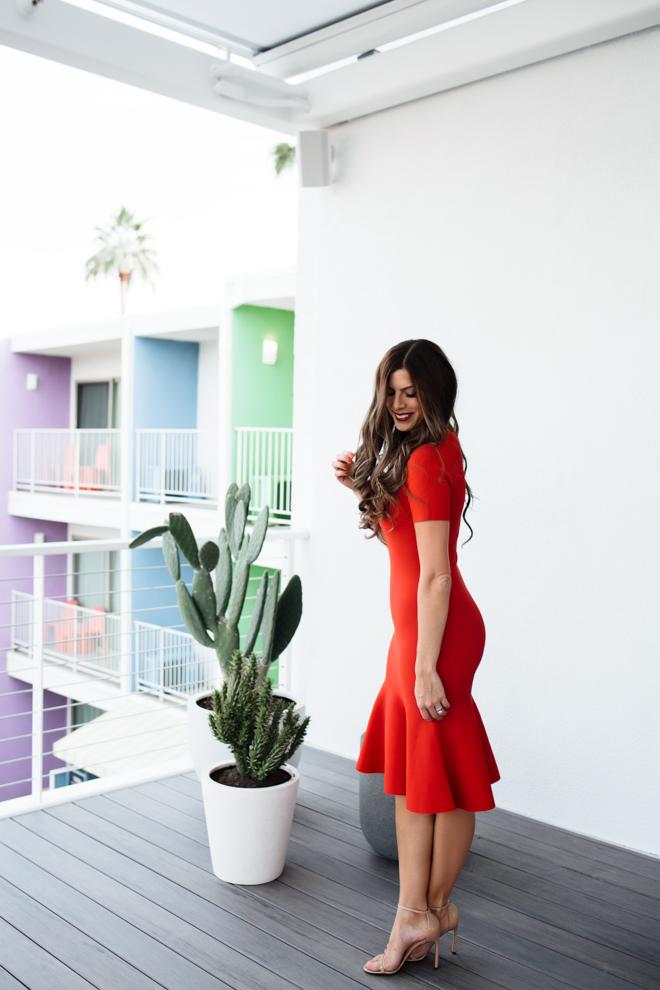 My biggest tip for wearing a bright bold red dress is to keep everything else simple, so that can be the hero piece of your outfit. I love these nudistsong sandals that almost disappear into the outfit, they're so subtle and super flattering. They're also surprisingly pretty comfortable, especially compared to their evil stepsister the nudist which rank in one of the top 3 most uncomfortable shoes I've ever worn! But they ARE beautiful shoes (ha) so I really prefer the nudistsong to achieve both the beauty and bearable comfort.

Red mermaid dress
Nudistsong heels
Red lipstick (in russian red)
Here are some of my favorite red dresses and red lipsticks and nude accessories from all over the internet right now, in a variety of price ranges!
ALSO, I'll be getting on facebook live today to show you a live demo of some of these favorite red lipsticks so make sure you're following me there to get a notification when I go live!