It's officially CHRISTMAS! We have had the tree up at our house since Halloween (Mariah Carey style) but now that Thanksgiving is over, it really is holiday time. There are many, many things that I am passionate about in life and Christmas jammies are one of those things. Because in our house jammies are LIFE and Christmas is the BEST.
One of the things I really love about the Christmas pajamas at Gap is that they coordinate really beautifully versus being too matchy-matchy. Pink and red are one of my favorite unexpected Christmas color palettes and such is a fun twist on classic holiday colors. Today I am sharing the coordinating red and pink pajamas I picked out for our 2020 family Christmas cuddle sessions, plus a Gap discount code so you can cover all your Christmas pajamas bases without spending a fortune.
Super RARE Gap discount code
Gap is very, very generous when it comes to their sales and discount codes however, their sleepwear is often excluded from their promos. This is a truly rare deal and I don't want you to miss it because sleepwear is currently INCLUDED in this site-wide discount!! Now is the time to add those Christmas jammies for your whole family to your cart for an amazing deal!
Today only Gap extended their Cyber sale! Right now you can get 50% off EVERYTHING + an extra 10% off + free shipping with code GAPCYBER at checkout!
But that's not all, Gap will be having great sales all of December. Next up 12/4-12/7 redeem the Gap cash you earned and get up to 50% off everything!
No holiday drama, just a Christmas llama
From the second I saw this llama pajama dress I was instantly obsessed. I mean, can you even handle all the holiday cuteness? I love the rose and red combo and the darling little pom-poms and the ruffle. Every single detail is just to die for. And the fabric is EXTRA super soft! My girls loved it so much too they BEGGED to stay in it for the rest of the day right when they tried them on, slept in them, and wanted to wear them to school the next day too haha.
Really really affordable right now when you used code GAPCYBER at checkout!
Falala Llama
This little llama pajama set on Millie is so much fun. My girls are currently OBSESSED with matching, so we thought these jammies would be a fun way for Millie to match with the big girls. They are so soft and comfortable with a TTS fit. Save big on this Christmas pajama set with code GAPCYBER at checkout.
Four alarm Christmas cuteness
I cannot with Harry in these adorable fire engine jammies. They are so very cute that they are unfortunately sold out! I know. Harry was sad about it too. (Okay actually Millie accidentally kicked him in the face, but he was happy 30 seconds later :))
But Gap has so many other super duper cute options to choose from like this firetruck PJ set.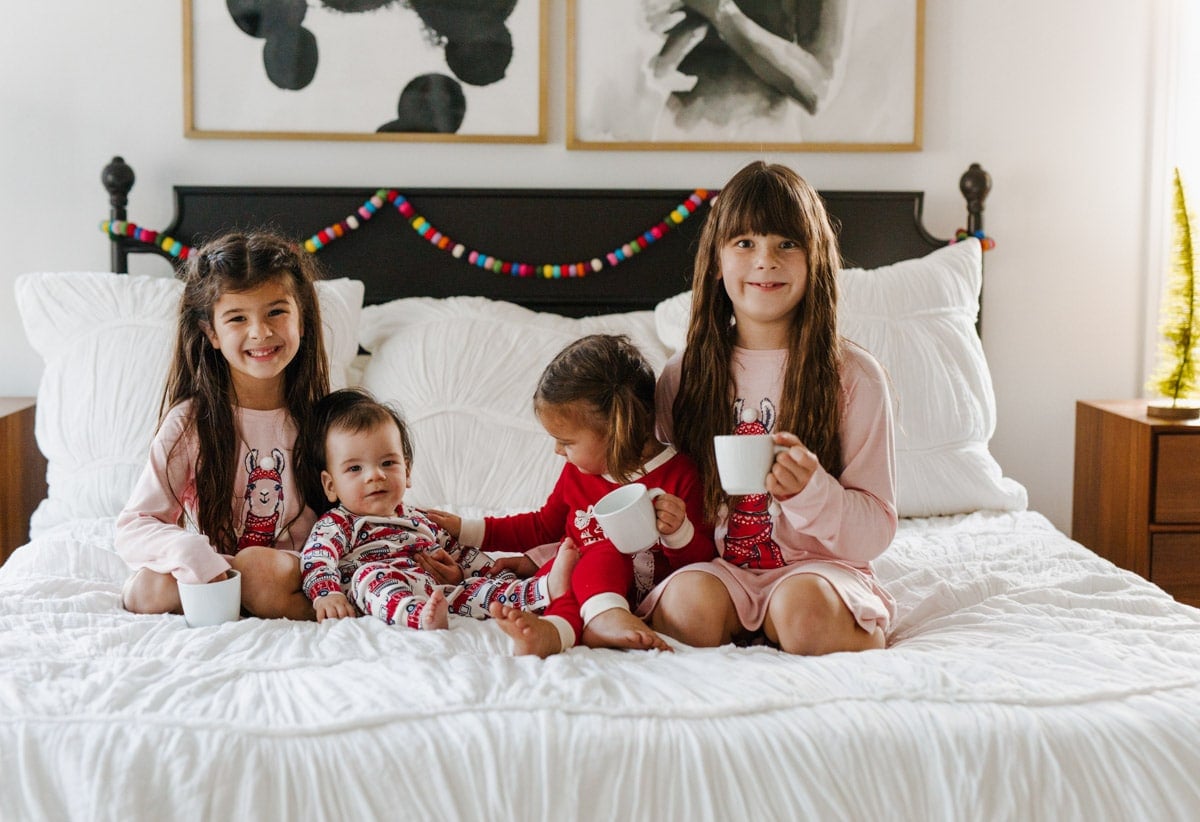 A HoliDad
Neil is by far the hardest sell when it comes to family Christmas pajamas. Once upon a time he served a mission for our church in Canada and used to wear pajama pants underneath his suit to keep warm! While he's not currently quite the lounge life lover that I am, he will still rock pajama pants in the winter as long as they're not too tight, too girly, or too uncomfortable.
I love that Gap makes cozy but manly pajamas that I know Neil will actually wear. In previous years, he's put them on for like three minutes for a picture and then never thought about them again. One year I bought him a onesie, which was super funny for the picture, but kind of a waste of money since he never wore it again. Worth it for the pic though?! But Gap's mens pajamas are cozy enough to actually look cute in our Christmas morning pics AND make casual kitchen/weekend (or like, everyday covid-time) appearances all throughout the rest of the year.
These flannel pajama pants are something that Neil is actually going to wear. They are super soft and very comfortable and the pine tree print is very gender neutral and not too overly Christmas-y. The pockets are awesome and the loose loungewear fit is perfect for Neil. Currently, $15 (reg $39.95). I got him a nice, soft but very plain red tee to wear with his pajama pants for all the Christmas vibes but way less resistance from him!
All I want for Christmas is you
These pink and red polka dot pajamas feel so insanely luxurious that I. am. dying. They feel just as yummy and soft as some very similar pajamas I have been proclaiming my love for on this blog for YEARS. It's that same delicious feel but for way less, especially when you use code GAPCYBER at checkout. These pajamas are perfect for a California Christmas because they are lightweight, stretchy, and super crazy comfortable-not your average cotton pajama! I love the idea of a flannel pajama during the holidays, but if you watch my InstaStories you know that after four babies, my body temp almost always runs HOT. Neil and I are always having temperature wars in our house! This set is cozy without being too warm.
I would choose THIS cute and cozy flannel set if you live in a colder climate, are headed to colder weather for the holidays, or you just run cold.
Kid tested, Christmas approved
We are so excited to officially welcome the Christmas season in our Gap Christmas pajamas. This seems like the ideal wardrobe choice for all the elf approved actives we have planned like making gingerbread houses, eating cookie dough, holding hands, and snuggling!
Don't miss out on this super good opportunity to save on the cutest Christmas pajamas for your whole family. A Gap code that includes sleepwear is very rare, so make sure you use code GAPCYBER at checkout to get 50% off Everything + an extra 10% off + free shipping and get ready to snuggle up together like two birds of a feather all season long.