Quick version: these are the very best Olay products according to the needs of YOUR skin!
As we're nearing the end of the holidays and the end of 2022, it's almost time to start thinking about the best way to start off the new year and refresh. And what better way to start than with new fresh skin!? There are so many skincare brands on the market, but if you're looking to get clear, refreshed skin on a budget, then Olay is the way to go! We've created a list of the top Olay skin care products to include in your daily skincare routine according to your skincare needs so you can start off 2023 refreshed.
In a hurry? Shop my picks below: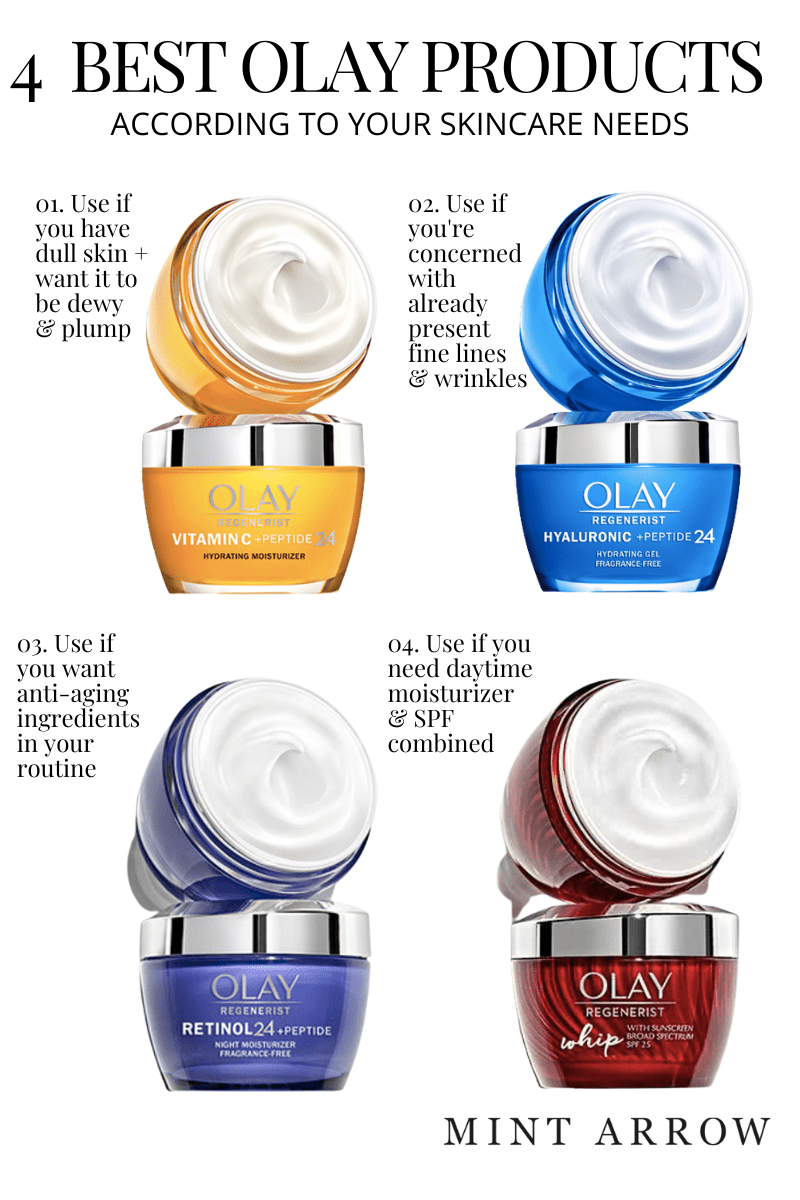 Top 4 Olay products according to your skincare needs
1. Vitamin C + Peptide 24 Face Moisturizer: AKA, Olay's "holy grail vitamin C cream". This citrus-scented, lightweight cream brightens your skin and leaves it with a healthy glow and silky touch. It's hydrating and doesn't leave any greasy residue which is always a plus! It includes Vitamin C, Vitamin B3 and peptides so it's a great moisturizer to use if you struggle with hyperpigmentation (uneven skin tone), dull or sensitive skin, or if you want to have skin that's more dewy and plump. With over 1,000 5-star reviews, this product is an obvious favorite! If you're going with this moisturizer, here are two complementary Olay products that you can add to cart that will go well with that:
2. Hyaluronic + Peptide 24 Hydrating Gel Cream: Allure's "Best of Beauty" winner with one of the best formulas! If you struggle with dryness of the skin, fine lines/wrinkles, dullness or uneven texture, then this hydrating gel cream would be a great product to add to your skincare routine. This gel delivers 24-hour hydration with Hyaluronic Acid, Niacinamide, and other peptides. It doesn't leave any sticky or tacky residue and absorbs quickly for healthier-looking skin! This product would pair really nicely with these two complementary Olay products:
3. Retinol24 + Peptide Night Face Moisturizer: The best selling + holy grail Olay Retinol NIGHT cream, and a super affordable way to incorporate retinol into your skincare routine! Plus, retinol is the #1 anti-aging ingredient in all of skincare, so this is one of the best kept beauty secrets. This is great if you're trying to prevent signs of aging in your complexion like fine lines, wrinkles, dullness, etc. Use this purchase nightly, and wake up to younger-looking, radiant skin! This would pair perfectly with these two complementary Olay products:
4. Whip Face Moisturizer: This little red jar is Olay's best-selling daytime moisturizer that HAS an SPF in it, which a lot of people want! SPF is the actual true #1 best thing you can DO for your skin to prevent aging from the sun. This Olay moisturizer seriously makes your skin soooo soft and leaves it with a light-as-air finish! This is the perfect everyday moisturizer AND SPF to combat dry skin, and keep it protected and happy.
Good skincare = happy you!
People say the best makeup you can wear is glowing healthy skin, and we couldn't agree more! Your skincare doesn't have to cost you an arm and a leg to do its job, and that's why we love these Olay skincare products. High quality products that do all the good things to your skin for a really great price! We can already tell 2023 is going to be a good skin year. What Olay products are you most excited to try?