We're SO excited!! This morning we found out that the Olaplex No. 3 hair perfector (JUMBO size) is ON SALE for 57% OFF if you use the discount code we found…This stuff is pure magic and a HOT item this year. Anytime it goes on sale, it sells out within a few hours – so let's get you the info quick so you can grab it at this super low price! You ready? Let's go!
In a hurry? Go straight to the deals below!
Sometimes our hottest deals sell out REALLY fast, so if you want to be in the know and find out FIRST, you can join our bestie group text! And don't worry, I'll only send you the VERY hottest deals that have the highest sell out risk – PROMISE. To join the list, text DEALS to 949-506-2558
Deal details
Right now you can get the Olaplex No. 3 hair perfector in the JUMBO size for 57% OFF making it only $24 (reg. $56)!!
Here's the secret on how to get that amazing price: if you're a first time QVC shopper you can use the code OFFER at checkout for an extra $15 off, making it 57% off!!!
If you're not a first time QVC shopper you can still get it for an amazing deal with the sale price right now, almost 30% off!
Why we love Olaplex
One of Corrine's very most favorite, bombsauce beloved, tried and true hair brands is Olaplex. The No. 3 hair perfector is highly rated at multiple retailers, and for good reason!! It's an at-home treatment, not a conditioner, that reduces breakage and visibly strengthens hair, improving its look and feel. It will restore your hair's healthy appearance and texture by repairing damage and protecting hair structure!
SO many reviewers can attest to this and it's truly one of the best treatments you can buy at home to fix hair damaged by heat, color, etc. Normally, the 3.3 oz size is $28, so the fact that you can potentially get the 8.5 oz size for only $24 is seriously insane!!! (If it's your first QVC purchase make sure to use code OFFER at checkout to get this amazing price!).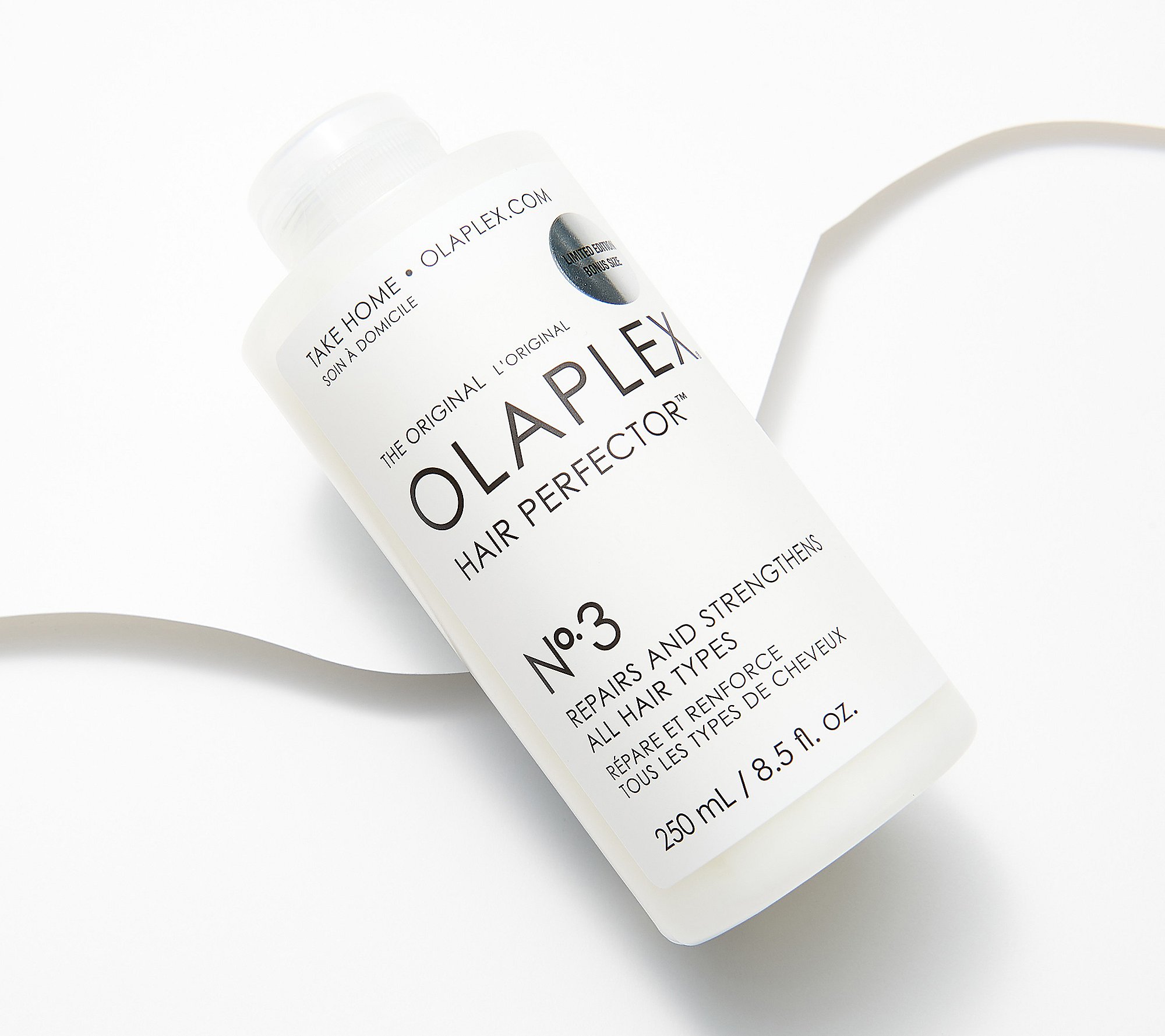 Hair heaven
Olaplex is one of the best brands you can buy to treat damaged hair. Damaged by heat, color, you name it – this stuff is MAGIC. And we're SO happy you can still take advantage of this insane deal, although we know it's going to sell out fast!! 57% OFF retail value for the No. 3 hair perfector jumbo size with code OFFER at checkout (if it's your first QVC purchase)! 30% off if you're already a QVC shopper.
Once you have this in your hands, your hair will see some serious changes. Now run and grab it while it's still in stock!