We've got a fever that NO amount of cowbell will cure! Spring fever is going around and we've got it real bad. I'm completely ready for a warm weather vacation! All about the eat-sleep-beach-repeat life. Although, this year it will probably be a staycation for us. Ha!  Whatever kind of trip you have planned I'm here to help you pack your bags!
In case you guys weren't aware, I kind of love Nordstrom. (Understatement of the century). I love buying anything and everything possible from there. If I could buy groceries from there I probably would because they have THE best customer service in the entire world. Nordstrom always offers FREE shipping and FREE returns. Plus they have an insanely handy Getaway Guide that rounds up everything you need from luggage to swimsuits to travel beauty onto one super easy to navigate page. Shopping doesn't get much easier or stress free and isn't that how every good vacation should start?
I've been touting these Tory Burch Miller sandals as my favorite flip flop of all time for years, so I'm not going to stop now! I take them on every trip, because they're super comfortable but just a little bit fancier than your average flip flop. When I say comfortable, I mean comfortable-I wore these all over Europe a few years ago and had zero issues!
These tassel earrings are so colorful and fun. Throwing on a pair of bold statement earrings is a quick way to make your coverup restaurant ready without having to change your clothes! #lifehack They're super lightweight for all day wear, which is important for a statement earring!
Also I've had my eye on this weekender for like EVER and finally grabbed it for myself and man do I love it!! NO WONDER it gets 84 rave reviews. I can't wait to take it on quick getaways or even day trips when I need to take more than my average tote bag can handle. And I LOVE that it's priced just right, under $80!
I'm pretty super duper picky when it comes to the perfect beach bag. It has to be big enough to carry a towel, sand toys for my kids, sunscreen, sunglasses, a portable radio, And most important OF ALL, it has to have an interior zipper pocket to keep my phone from being destroyed by tiny granules of sand. This little blue and white stirpe beach bag checks off ALL my wishlist items, AND its ridiculously cute, AND it's priced perfectly at under $65.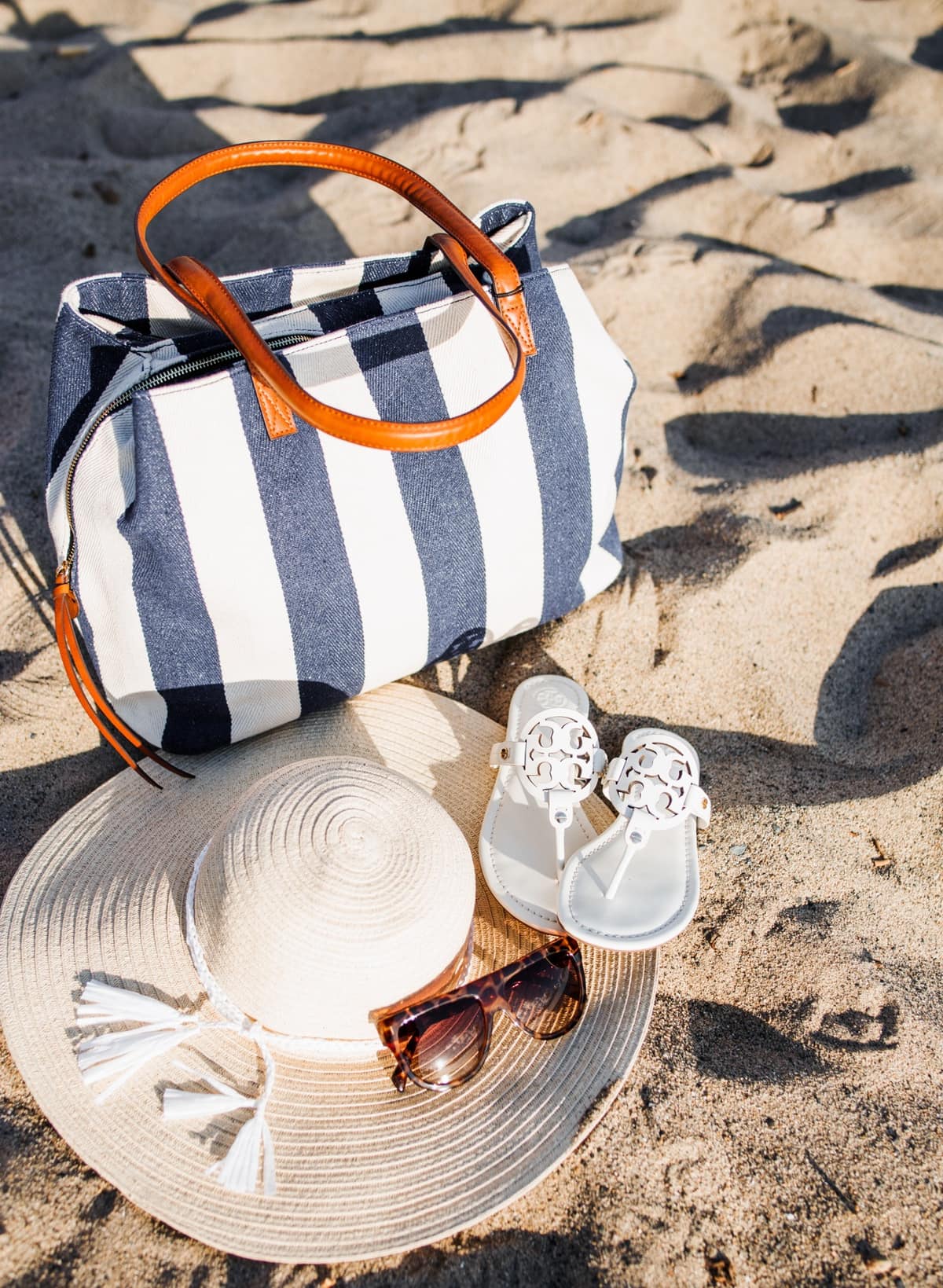 A good hat is a must when you're spending the day out in the sun. There's something so fun and glamorous about a good floppy hat for the beach or the pool. It automatically turns any trip to the beach into a "vacation" or something. I love how affordable this one is and it's such a classic color.
$14 sunglasses? Yes, please! I love having an inexpensive pair of sunnies to take on vacation (especially with kiddos), because amidst all the sun and fun sometimes they get lost or scratched or broken. It's nice to have a super cute pair that you can wear worry free! They're the perfect dupe for a popular pair of Celine sunnies but without the designer price tag!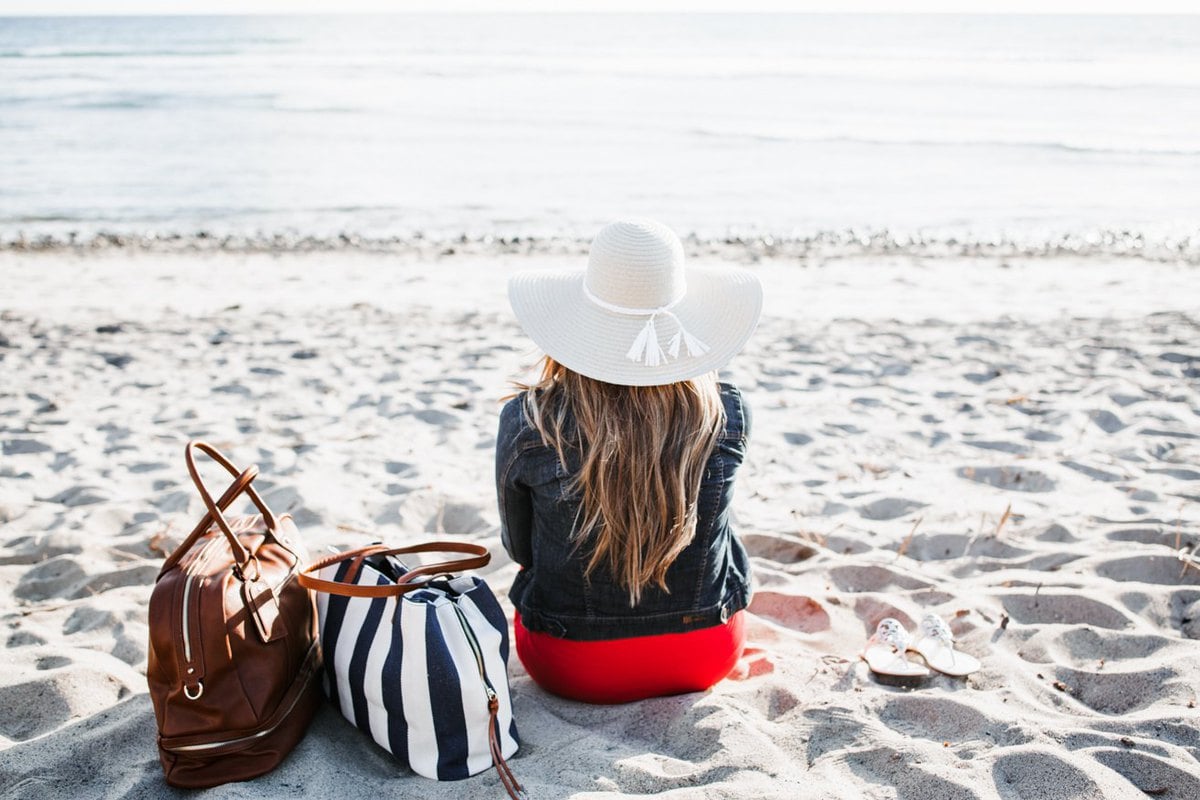 This racerback dress is the tank version of my favorite pajama dress. It's one of those dresses that hugs all the right curves and looks good on all body types! It's super flattering and is the softest cotton. The perfect dress from going from beach to eats and back again, because it can easily be dressed up or down!
Because it's a bit chilly here (and when I say a bit, I really do mean winter temps of 55 instead of 70 HAHA) I threw on this perfect denim jacket that has over 250 crazy-good reviews, that I've loved for a few years now! I think it runs a bit big so I'm wearing a small for reference. Also it's such a good price at just under $75!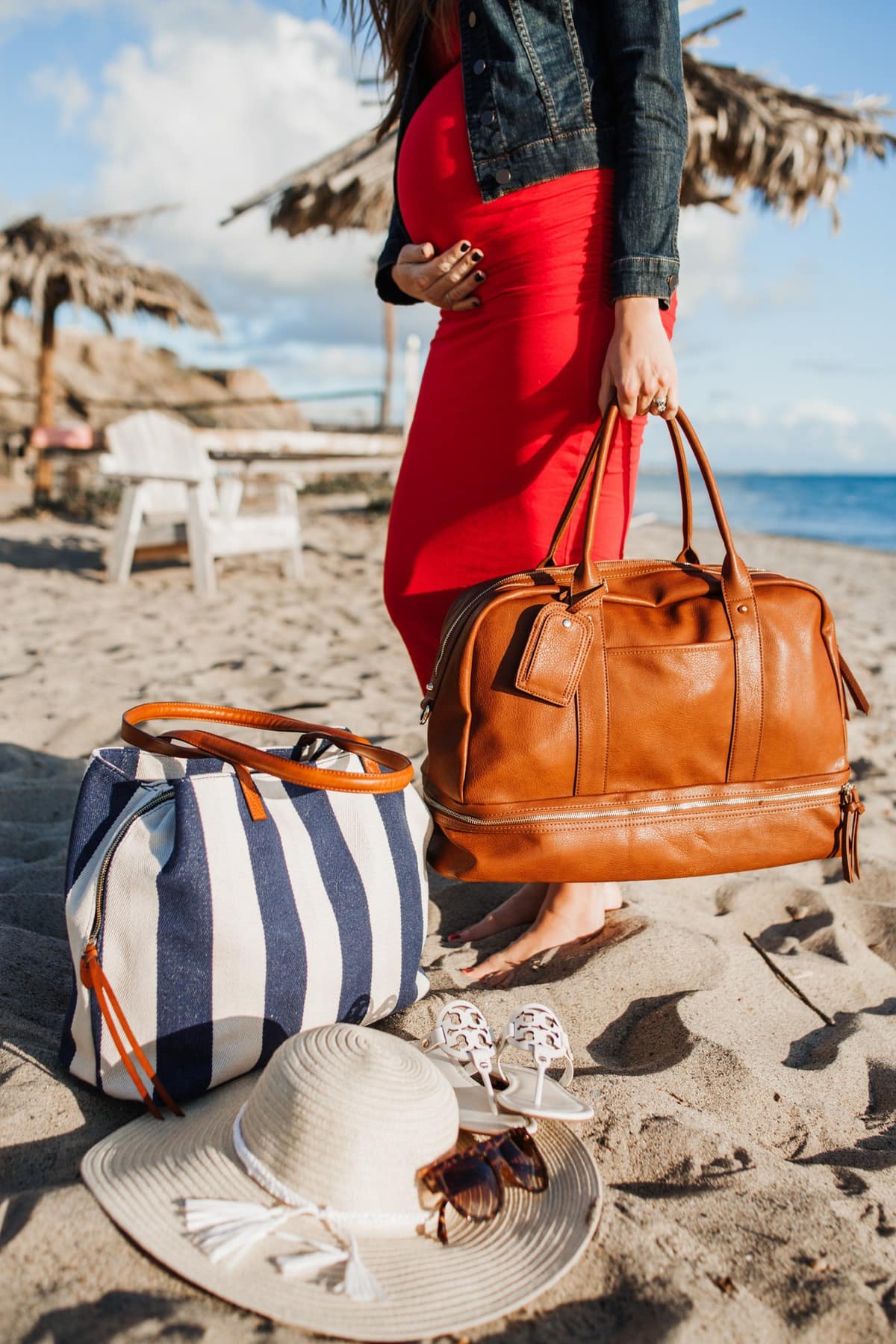 Tassel Fringe Earrings
Mason Weekend Bag
Sunglasses
Oversize Stripe Print Tote
Floppy Hat
Racerback Midi Dress
Perfect denim jacket
Tory Burch 'Miller' Flip Flop
Photos by Arielle Levy
I don't know if you noticed but everything except my sandals were under $100!!! So I went ahead and rounded up ALL my vacay faves from Nordstrom under $100 that you can shop easily below!