i know there are other loyal fans and lovers of nena and co here and so i am beyond thrilled to share this little collab i've had cooking for a while with a coupon code!
i tried a few times to write about the origin of nena and co but i just couldn't construct anything as beautifully written as they did, so here it is from their mouth: Nena & Co. bags are uniquely handcrafted and capture the magic and depth of the Maya people. When you purchase our bags you're helping create jobs at home and also provide freedom from poverty for the beautiful, hardworking women of the Maya highlands. I get goosebumps just thinking about it!
so, not only are these bags beautiful but they contribute to a beautiful cause! win-win. also, i know you guys come to me for the deals so i'm thrilled to say you can get 15% off your entire order at nena and co now through sunday 7/20/14 with code MINTARROW15 at checkout.
below are a couple of ways i've used my nena and co weekender bag, that i lovingly call my "mary poppins bag" because i can literally fit everything i need into this amazingly ginormous bag! traveling, going on a picnic, everything i need for a beach day, an extra large diaper bag, it's never too small for any day i have planned. and that's my kinda bag 😉
out for a sunday stroll and fully equipped with a picnic blanket, snacks, toys, and my camera.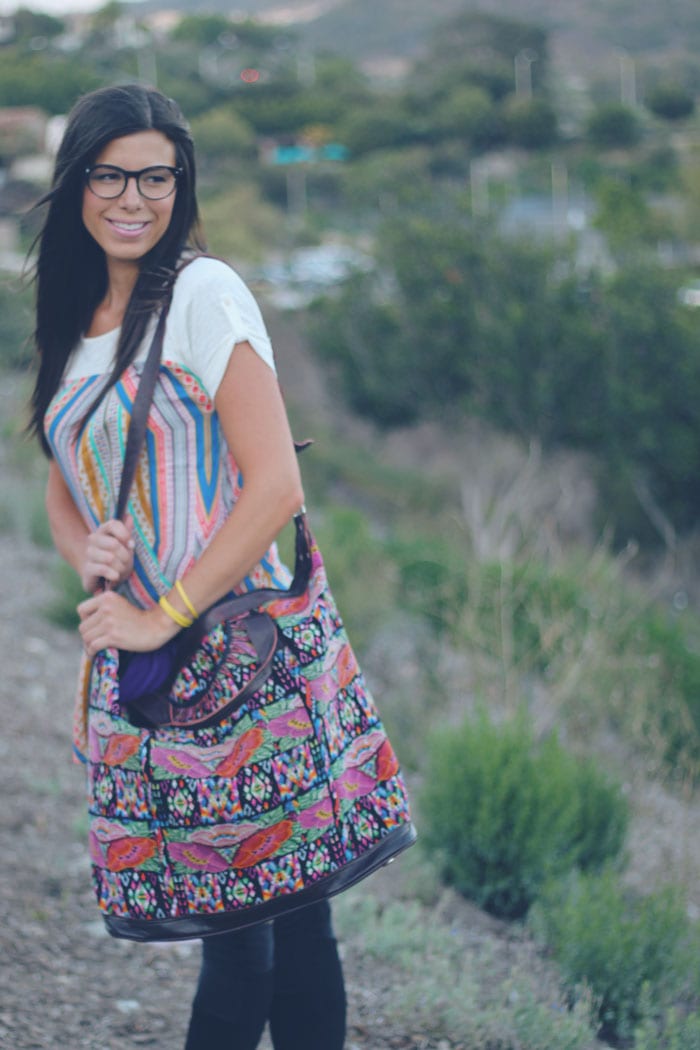 outfit details:
shirt: anthropologie
denim: j brand photo ready (on sale!) – also worn here
glasses: coastal – also worn here
flip flops: gap (on sale!)
yellow bracelet: hum stitchery
my go-to carry on bag!
shirt: nordstrom (no longer available)
purple denim: asos (on sale for $17!!)
shoes: gap (on sale!)